Tomato Soup – A classic creamy, gluten-free soup served with crispy bread croutons. This fresh tomato soup ticks all the boxes of a perfect vegetarian soup. So easy to make, full of flavors, and an ultimate bowl of comfort food. Do you need more reason to check out the recipe?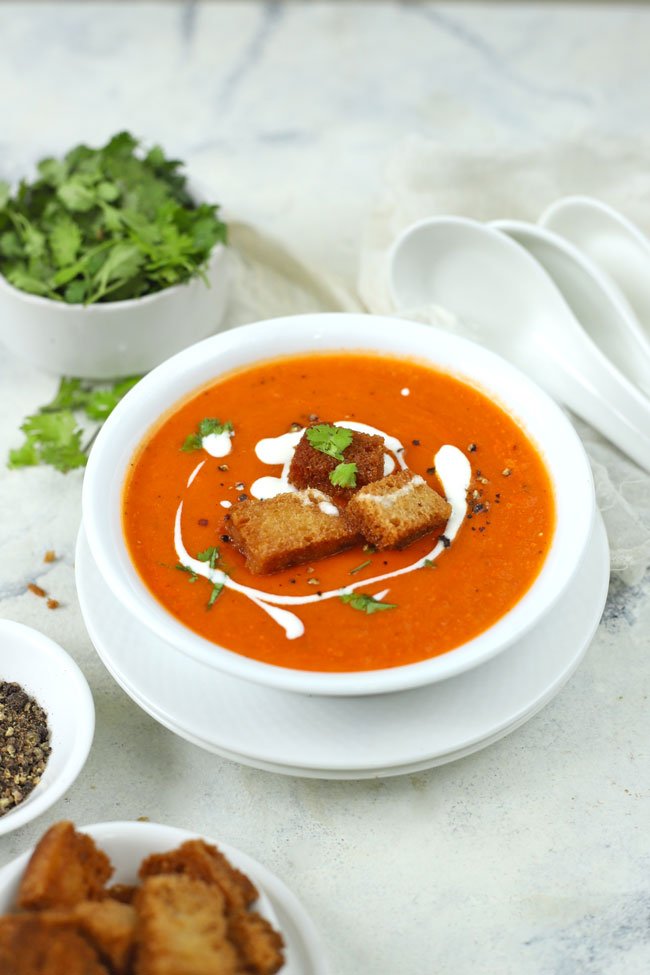 Indian Style Creamy Tomato Soup
What could be more comforting than a bowl of hearty tomato soup with the right amount of tanginess, sweetness, creaminess and a secret ingredient to give it that perfect crunch – the bread croutons.
Cream of tomato soup is much loved all over the world, but the Indian style version of the dish is a total delight.
It is prepared with the addition of – bay leaf, ginger, garlic, onion, and fresh cream. There is a hint of earthiness and spiciness to balance the acidic taste of the tomatoes.
It is a one-pot, gluten-free, vegetarian soup that is super easy to make at home.
Fresh Tomato vs Canned
A bowl of perfect tomato soup is always prepared with fresh, juicy tomatoes. Try to use the best available local variety of lush and ripe tomatoes to make this soup. 
This is a fresh tomato soup recipe.
However, you can use the canned tomatoes as well to make the soup. Taste the canned tomatoes and adjust the seasoning accordingly.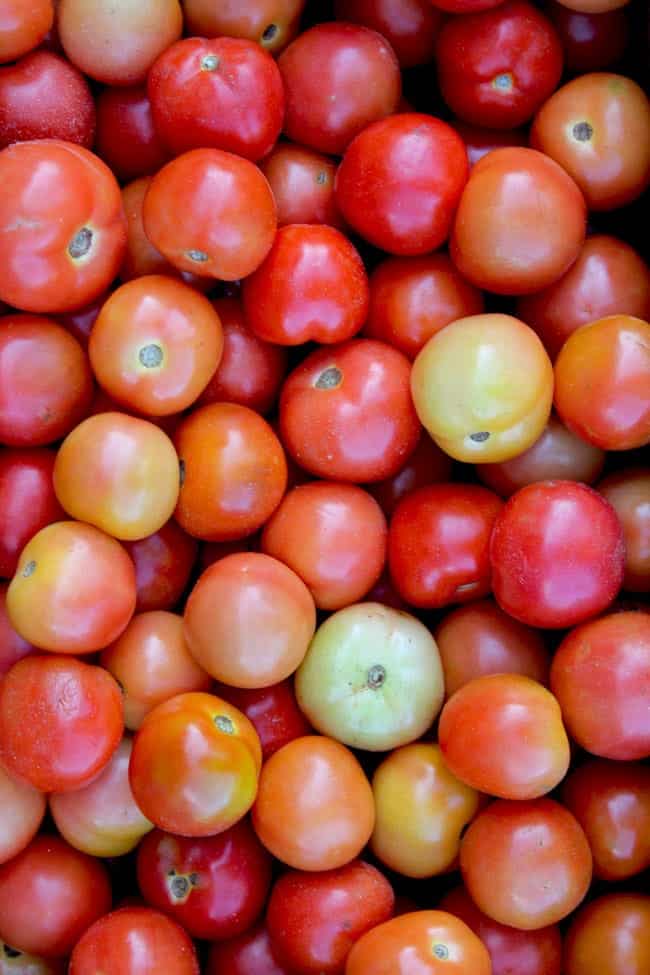 Recipe Variations
There are tons of tomato soup recipe variations. Each region has its particular favorite version of this soup recipe.
Here are a few of my favorite tomato soup recipe variations that you can try:
Vegetables: Along with tomato for taste and creamy texture, you can add – carrot, potato, sweet potato, squash, onion, cauliflower, or leek. Or you can add green leafy vegetables like kale, swiss chard, baby spinach, or bok choy to make the soup more wholesome.
Herbs: The fresh herbs like – basil, thyme, sage, and cilantro work like a charm in a tomato soup.
Flavors: You can make a delicious bowl of tomato soup by adding unique flavoring ingredients – garlic, ginger, bay leaf, cumin, celery, or red chilies.
Vegan: To make a vegan tomato soup replace 1/4 cup dairy cream with coconut milk, or you can add 1 – 2 potato for the desired creaminess.
Gluten-Free: This is a gluten-free soup. I have not used any thickening agent to get a creamy texture.
Instant Pot: To make tomato soup in an instant pot, use saute mode for 5 minutes, and then pressure cook mode for 5 minutes. Blend the soup in the instant pot itself. Set saute mode again for 5 minutes, add remaining ingredients, stir, and the soup is ready.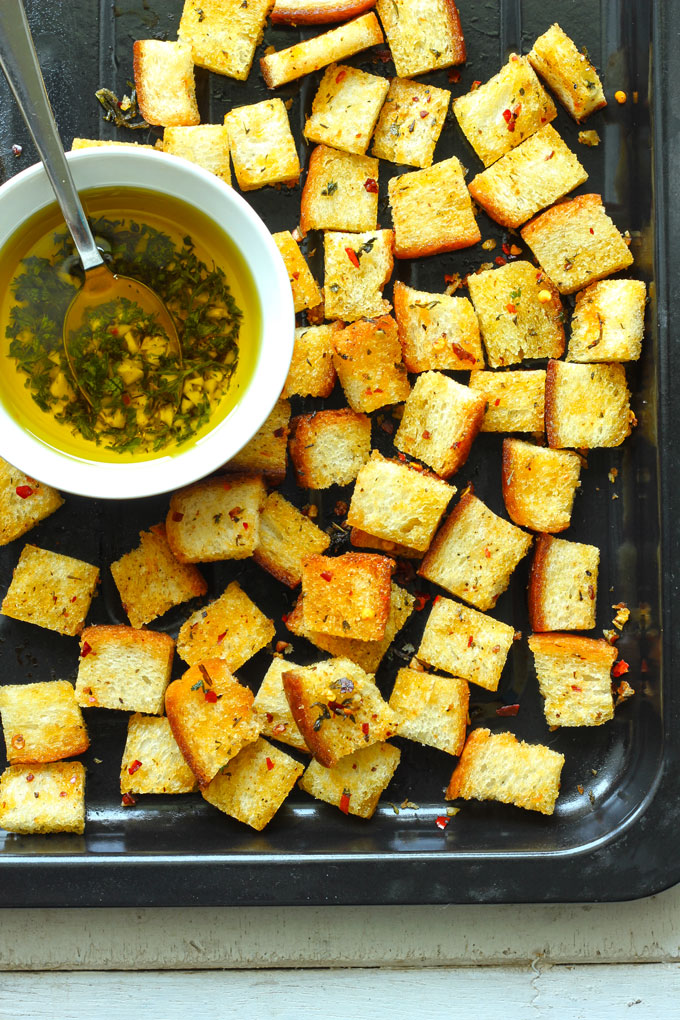 The Bread Croutons
For me, bread croutons are the highlight of this Indian style tomato soup.
Who else remembers fighting for extra croutons as a child while slurping the delicious soup?
Those fried bits of bread were probably never as tempting and gratifying to us, as they were when served with a bowl of homemade soup.
Here I am sharing two methods to make bread croutons from scratch at home:
Stovetop Method: Any kind of sandwich bread is good enough to make croutons. Start with removing the edges of the bread slices. Cut each slice of bread into bite-size squares or cubes.
Heat 2 – 4 tablespoon of olive oil in a frying pan. Once the oil is heated, add the bread cubes, gently toss and fry till they turn light brown in color and crisp. Transfer to a plate, sprinkle a little bit of salt and black pepper. Enjoy with your favorite soup.
Oven/Baking Method: Grease a large baking tray with olive oil. Preheat oven to 200 degrees Celcius.
In a bowl combine salt, thyme, red chili flakes, extra virgin olive oil, and chopped garlic cloves. Whisk nicely. Pour this dressing over the bread cubes and gently toss. Evenly, spread the bread cubes on a greased baking tray. Bake in a preheated oven for 5 – 10 minutes or until light brown in color and crisp.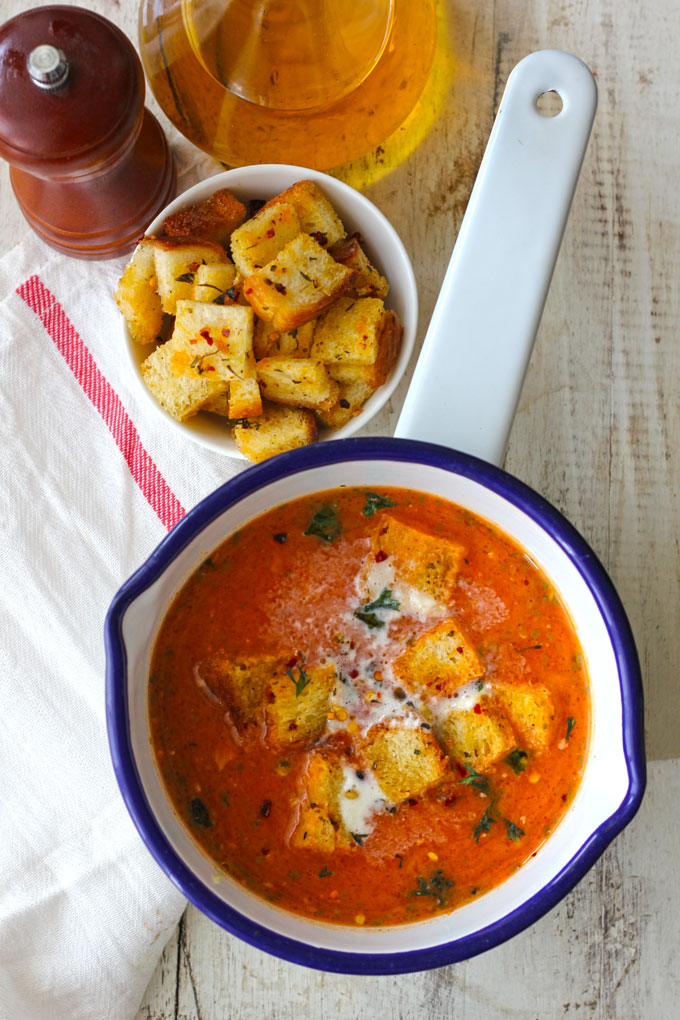 My Tried & True Tips
Ideally, butter is used to make the tomato soup. The slightly sauteed butter gives a sweet taste to the soup. However, you can use olive oil as well.
Avoid adding too much liquid in the soup else you will not get a thick consistency. Allow the tomatoes to release their juices before adding any type of liquid. 
Never, ever, forget to sieve the blended soup. Else the texture of the soup will not be smooth and silky. 
Vegetable stock is always a better choice than plain water to cook the soup ingredients. It makes the soup way more flavorsome and delicious.
If the tomato soup is too tart…balance the acidity or tartness by adding sugar or tomato ketchup. You can increase the quantity of cream as well.
If the tomato soup is too liquid...add a corn starch slurry or any other thickening agent to get the desired consistency. Simmer the soup till it is thick enough, taste and adjust the seasoning.
Watch Tomato Soup Recipe Video:
More Soup Recipes For You:
For more such fun recipes in your life subscribe to our weekly newsletter or follow us on Instagram for all the daily updates.
If you try this recipe and love it, please leave a comment and a Star Rating. This helps us grow and reach many other food lovers like you, who are looking for a perfect tried and tested recipe.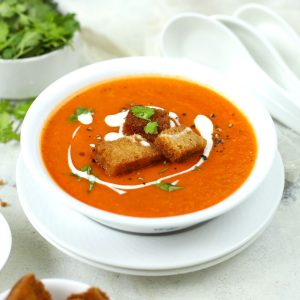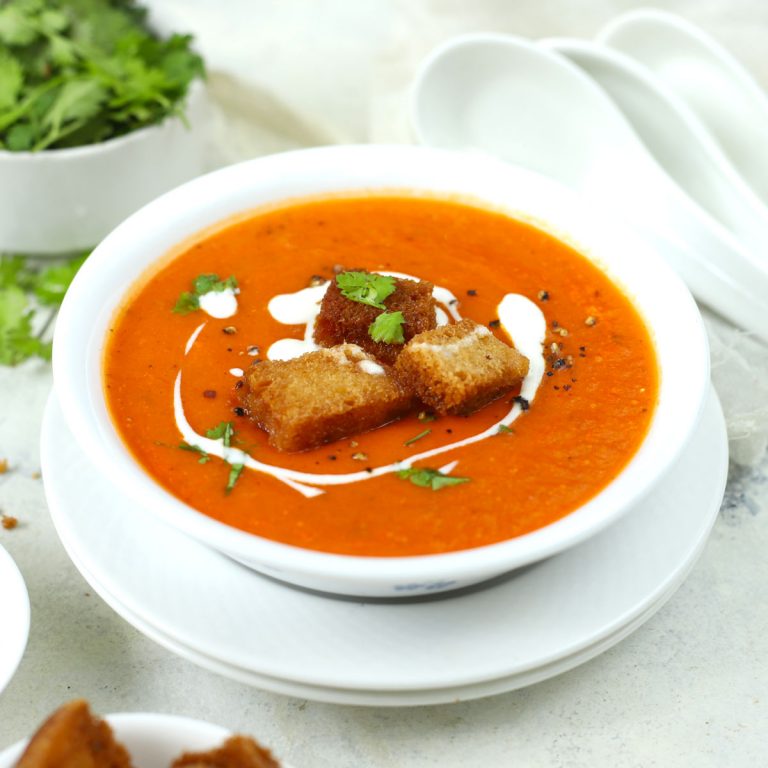 Creamy Tomato Soup recipe
Tomato Soup is a classic creamy, gluten-free soup served with bread croutons and fresh cream. Learn how to make fresh tomato soup from scratch.
Print
Pin
Rate
Ingredients
500

gram

tomato, roughly chopped

4

tablespoon

olive oil or butter

1

bay leaf

1

tablespoon

finely chopped ginger

1

tablespoon

minced garlic

1/2

Cup

chopped onion

1/2

Cup

carrot, diced

Salt to taste

1

teaspoon

black pepper powder

2 – 3

Cup

vegetable stock or water

1

tablespoon

tomato ketchup

1/4

Cup

light cream
Instructions
Prep Work For Tomato Soup:
Roughly chop onion, garlic, ginger, tomatoes, and carrot before starting the soup.
How To Make Fresh Tomato Soup:
Heat oil in a saucepan or a heavy bottom pan.

Add the bay leaf, chopped garlic, ginger, onion and saute till the aroma of herbs is released. No need to brown the onions or garlic.

Next, add the chopped carrot and saute for a 2 – 3 minutes.

Add the chopped tomatoes, salt and saute for 5 minutes. Cover the saucepan with a lid and allow the tomatoes to cook over low heat.

Once the tomatoes turn mushy and release their juices, remove the lid. Gently mash the vegetables using the back of the ladle/spoon. Turn off the heat.

Once the vegetables cool down a bit, transfer the vegetables to a blender and make a smooth puree.

Place a sieve over the same saucepan. Pour the vegetable puree over the sieve. Gently stir to get the smooth soup into the saucepan. Turn on the heat.

Add black pepper, tomato ketchup, cream and water to the soup. Stir to combine.

Simmer the tomato soup for 3 – 5 minutes over low heat. If the consistency seems too thick add a little bit more water. Taste and adjust the seasoning accordingly.

Serve tomato soup with bread croutons, a drizzle of fresh cream and chopped fresh coriander leaves.
Recipe Notes:
You can make this soup vegan by using coconut milk or cream. 
For thickness, add 1 cup diced potato while sauteeing carrot. 
This tomato soup can be easily done in an instant pot or pressure cooker. It takes only 10 minutes in an instant pot. 
Instead of tomato ketchup, you can use tomato paste or tomato pasta/pizza sauce. 
Nutrition
Calories:
207
kcal
|
Carbohydrates:
15
g
|
Protein:
2
g
|
Fat:
17
g
|
Saturated Fat:
3
g
|
Cholesterol:
8
mg
|
Sodium:
1231
mg
|
Potassium:
388
mg
|
Fiber:
2
g
|
Sugar:
8
g
|
Vitamin A:
4435
IU
|
Vitamin C:
20
mg
|
Calcium:
31
mg
|
Iron:
1
mg
Love this? Pin it for Later!
Follow @hinagujral on Pinterest!