This is a one-pot, vegetarian pearl barley soup recipe. It is a healthy, low-calorie soup packed with vegetables. Be sure to watch the video!
About Barley
Barley is one of the oldest-grown grains worldwide. It is a plant-based ingredient used in various cuisines to make bread, flour, soup, salad, and stew or as a source of malt to make beer or alcoholic beverages.
It has a nutty taste and a chewy texture.
Barley has become so popular worldwide because of its health benefits.
it is high in fibre,
it is a fantastic vegan ingredient
a wholesome alternative to rice and pasta
aids in weight loss and improves digestion
helps in reducing cholesterol and blood sugar levels
However, whole-grain, hulled barley is more nutritious than refined, pearled barley. For this soup recipe, we use pearled barley because it absorbs the flavour nicely, cooks quickly, have a less nutty taste and has a soft texture.
Pearl Barley Soup
Pearl Barley Soup is a wholesome, comforting meal in itself. What makes it so delicious is the variety of vegetables and the stock.
The barley absorbs all the soup's flavour and simultaneously increases its nutritional value and makes it fulfilling.
Barley Soup takes 30 minutes in an instant pot. But you can make it in a saucepan as well.
More Reasons To LOVE Barley Soup
nut-free
meal prep friendly
easy one-pot meal
ready in 30 minutes
vegan and vegetarian
healthy and wholesome
Ingredients Required
Barley: Use pearl barley for this soup recipe, not whole barley grain or hulled barley, which takes a long time to cook. Pearl barley is without hull, and the bran, resulting in a pale white grain, cooks faster and is less chewy.
Vegetables: Carrot, Green Peas, Mushroom, Onion, Zucchini, Onion
Flavouring Agents: Garlic, Celery, Thyme, Coriander Stalks, Bay Leaf
Stock: Either use vegetable stock, broth, or stock cube. Plain water would not give depth of flavour to the soup. If you use a stock cube, pick a quality one without MSG (Monosodium glutamate) and animal products. Most of the stock cubes come with a lot of preservatives and MSG. Hence, they are not fit for daily consumption.
Other Ingredients: Extra Light Olive Oil, Oregano, Salt, Black Pepper, Coriander and Celery Leaves
Watch Barley Soup Video
Serving and Storage Suggestions
Vegetable Barley Soup is a wholesome, fulfilling meal in itself. You can serve it with a toasted bread slice. It's full of nourishing vegetables with enough starch to give you energy and keep you full until your next meal.
Like pasta or noodles, barley absorbs liquid when left overnight or for a few hours. It will become softer than ideal and thicken the soup's consistency.
So while storing the leftover barley soup, add extra stock or broth. So that while reheating, you have enough liquid in the soup.
More Soup Recipes
Subscribe to our weekly newsletter or follow us on Youtube for video recipes.
If you try this recipe and love it, please leave a comment and a rating. This helps us grow and reach other food lovers like you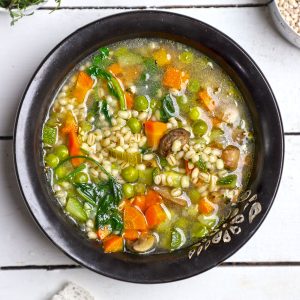 Vegetable Barley Soup Recipe
This is a one-pot, vegetarian pearl barley soup recipe. It is a healthy, low-calorie soup packed with vegetables.
Print
Pin
Rate
Ingredients
⅓

Cup

Pearl Barley

2

tablespoon

light olive oil

1

tablespoon

chopped garlic

1

tablespoon

chopped celery stalk

1

tablespoon

finely chopped coriander stalks

2

teaspoon

fresh thyme or dried thyme

¼

Cup

chopped onion

¼

Cup

chopped carrot

¼

Cup

chopped zucchini

¼

Cup

chopped mushrooms

¼

Cup

green peas

2

teaspoon

oregano

Salt and black pepper to taste

1

stock cube

1

litre

water

¼

Cup

cilantro leaves

¼

Cup

celery leaves
Instructions
Rinse the barley in a colander under tap water, then leave it for a few minutes to drain before using.

Set the SAUTE mode of your instant pot for 6 minutes.

Add olive oil to the inner pot. Add garlic, celery, coriander stalks, thyme, bay leaf, and onion. Saute them for 20 – 30 seconds to release the aroma of herbs and infuse their flavour into the oil.

Add carrot, zucchini, mushroom, green peas, and pearled barley. Saute for 1 minute.

Add oregano, salt, pepper, stock cube, and water. Stir to combine. Cancel the SAUTE mode. Close the lid of the instant pot.

PRESSURE COOK barley soup for 20 minutes. Allow the steam to release naturally, or you can do a Quick Release manually.

Add fresh greens like cilantro, basil, or celery leaves. Stir to combine. Taste and, if required add more seasoning.

Serve vegetable barley soup warm.
Recipe Notes:
You can make barley soup on  a stovetop saucepan. It takes 30 – 35 minutes over low heat. 
From a variety of mushrooms, green beans, potato, squash, cabbage, or spinach, you can add easy-to-cook vegetables in this soup. 
When it comes to fresh green herbs, you can add Italian basil, parsley, cilantro, celery, or any other aromatic herbs of choice.
Nutrition
Calories:
152
kcal
|
Carbohydrates:
19
g
|
Protein:
3
g
|
Fat:
7
g
|
Saturated Fat:
1
g
|
Polyunsaturated Fat:
1
g
|
Monounsaturated Fat:
5
g
|
Cholesterol:
0.04
mg
|
Sodium:
277
mg
|
Potassium:
252
mg
|
Fiber:
5
g
|
Sugar:
2
g
|
Vitamin A:
1639
IU
|
Vitamin C:
9
mg
|
Calcium:
53
mg
|
Iron:
1
mg
For Behind The Scene updates
Subscribe to our newsletter!