Indian food recipes like Gluten Free Masoor Dal Cutlet Recipe is a satiating party appetizer or teatime snack with a crisp exterior and soft kebab like texture underneath. At times, when you want to let go of the calorie count meter and indulge in a sinful food experience, then cutlet fits well into the picture.
The term cutlet defines a flat croquette of minced meat, nuts, or pulses, typically covered in breadcrumbs and shaped like a veal chop. There are no second thoughts about cutlet being not deep-fried. The crunchy outer layer is the disguise for mouth melting layer inside. And needless to say, the gluten-free masoor dal cutlet is always accompanied by a delectable relish to compliment the flavours. There is undoubted snack food comfort in dunking hot cutlet in chilled dressing. On certain evenings a bowl full of cutlet paired with a refreshing dip and a glass of chilled beer is all you need to compensate for a mundane day.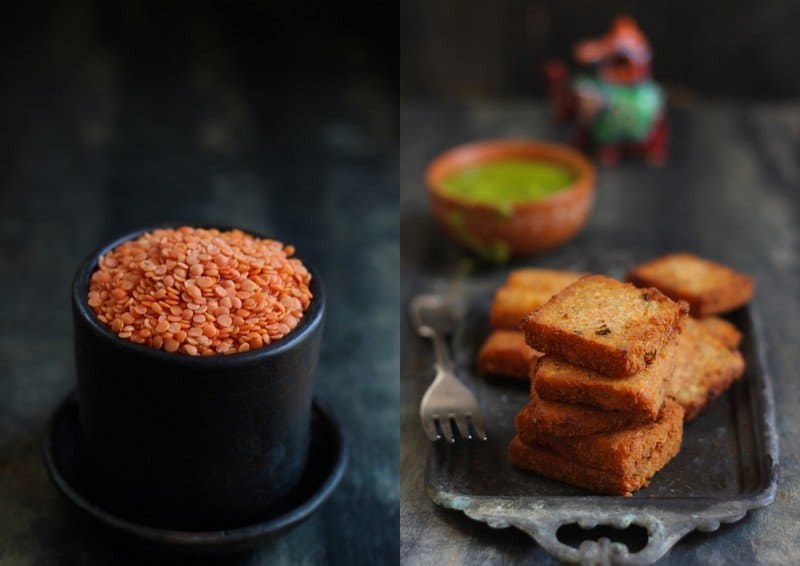 Masoor Dal Cutlet is prepared with pink lentils, hence making it a fantastic gluten-free appetizer choice. These Masor Dal Cutlets become our in-house special party appetizer since New Year eve's get together. That was the first time I tried the recipe inherited from a distant aunt. No doubt it stole the limelight from the dinner table. The bold dhaniya – pudina chutney (coriander and mint chutney) was the perfect choice of accompaniment for these gluten-free masoor dal cutlet.
On one of the occasions, I served these Masor Dal Cutlets heaped with tomato salsa and green chutney. The combination was a delightful symphony of flavours and also a fuss-free finger food. The trick to storing Masoor Dal Cutlet for more than a day is not to fry it, simply shape the cutlet and store in an airtight container in the fridge. For a pre-planned jamboree ate home or potluck dinner parties, a large batch of Masor Dal Cutlet prepared well in advance, always comes handy.
If you try this Indian food recipe and love it, please leave a comment and a rating. This helps us grow and reach many other food lovers like you, who are looking for a perfect tried and tested recipe.
Learn How To Make Gluten Free Masoor Dal Cutlet