Bright, colourful and delicious these homemade salad dressings recipes will help you create tons of healthy salads and complement almost all Indian food recipes as sides. These salad dressing recipes are easy to follow, naturally gluten-free and give a perfect finishing touch to your everyday salads. Make them over the weekend and store in the fridge. Enjoy a variety of salads throughout the week dressed in exquisite, D-I-Y salad dressings.
Eating healthy salads every day is a big challenge. And a larger challenge is, how to create those healthy salad recipes along with tasty dressings. We have got you 6 best tried and tested salad dressing recipes. In my opinion, homemade salad dressings are any day better than the store bought ones. Why? Because they are prepared with best of ingredients, totally preservative free and can be customized as per preference. Like you can adjust the amount of sweetness, salt content and the portion size of a dressing. Which is so not possible in a packaged dressing.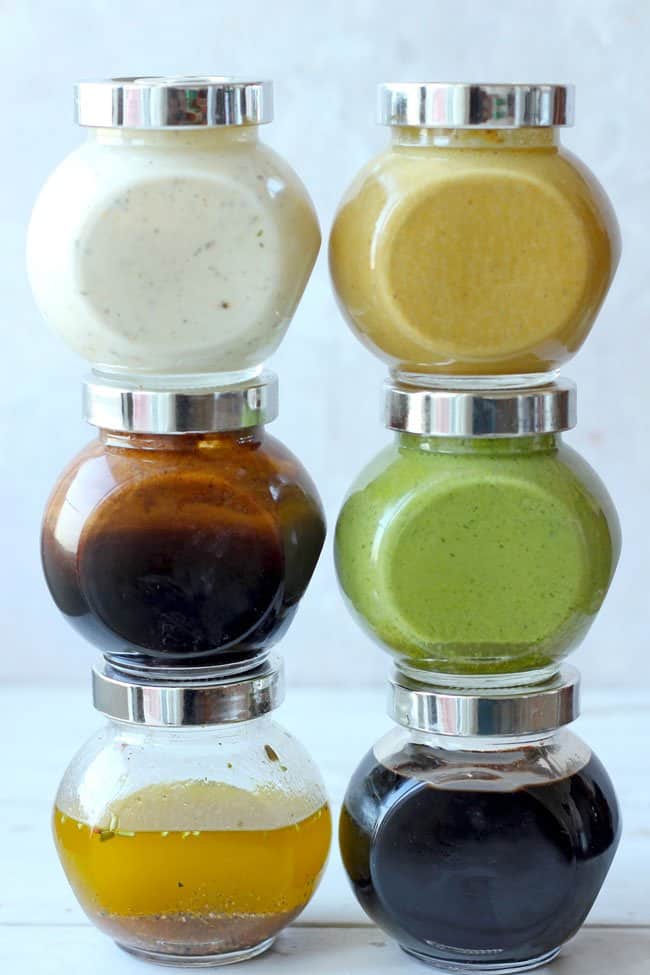 What You Need To Make Best Salad Dressing Recipes?
Clean and dry jars with a tight-fitting lid. I try to use glass jars which are easy to carry and can be stored in the fridge as well.
A good quality extra virgin olive oil. Do not compromise on the quality of the olive oil while making dressing at home.
Loads of fresh herbs. If you are looking for a flavoursome salad dressing then keep fresh herbs handy while making them.
Freshly crushed pepper. The powdered black pepper is a big NO for salad dressings. Try to use the crushed pepper for a better taste and texture.
Measuring cups and spoons. You need to be accurate with the quantity of the ingredients. It is best to measure each ingredient precisely for the best salad dressing.
Here are 6 Best Salad Dressing Recipes You Should Make At Home:
1) Classic Vinaigrette – The classic vinaigrette is one of the basic salad dressing recipes. So simple to prepare, it is just perfect for light and hearty salads. That does not require robust or creamy salad dressings. A good quality olive oil and the vinegar are the key ingredients to make a perfect vinaigrette. Just make sure to add the precise amount of olive oil and vinegar for the right texture and balanced flavour. The classic vinaigrette is naturally gluten-free and vegan-friendly.
Use It: Green Leafy Salads, Fruit Salads, Classic Greek Salad, Farm Fresh Pasta Salad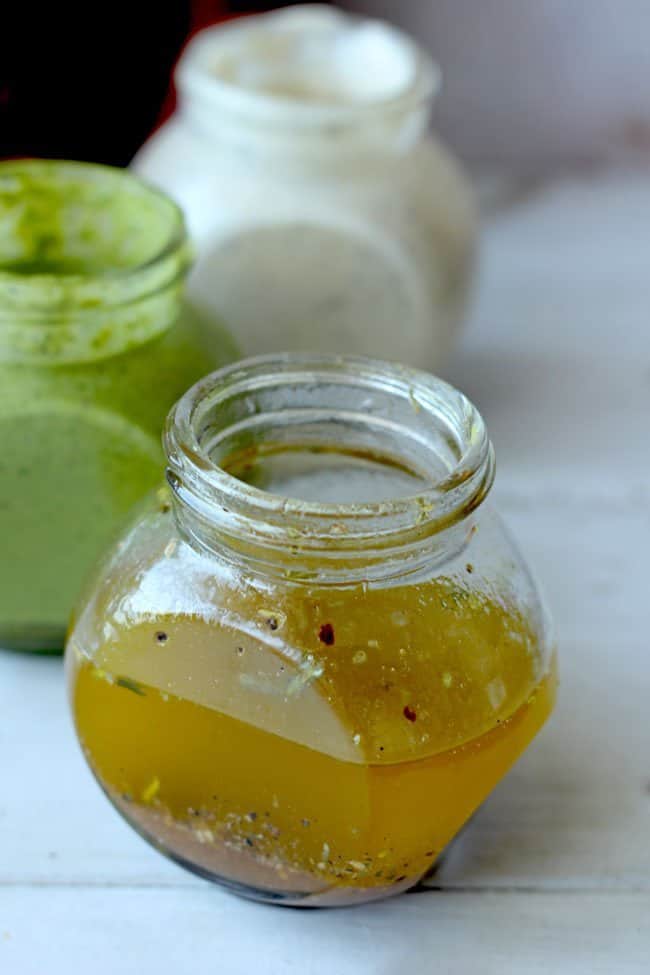 2) Italian Dressing: We all need a good Italian dressing recipe. Why? Because it makes any salad so delicious. The creamy texture of the dressing comes from the parmesan cheese. This is quite a versatile dressing that can be used for pasta salads, Caesar salad or a simple BLT kind of salad. I must tell you, this one is not an authentic Italian dressing but the tweaked version of the classic dressing. You can totally customize its taste as per your preference by adding fresh herbs, minced shallots or dried seasoning.
Use It: Caesar Salad, Continental Salad, Summer Pasta Salad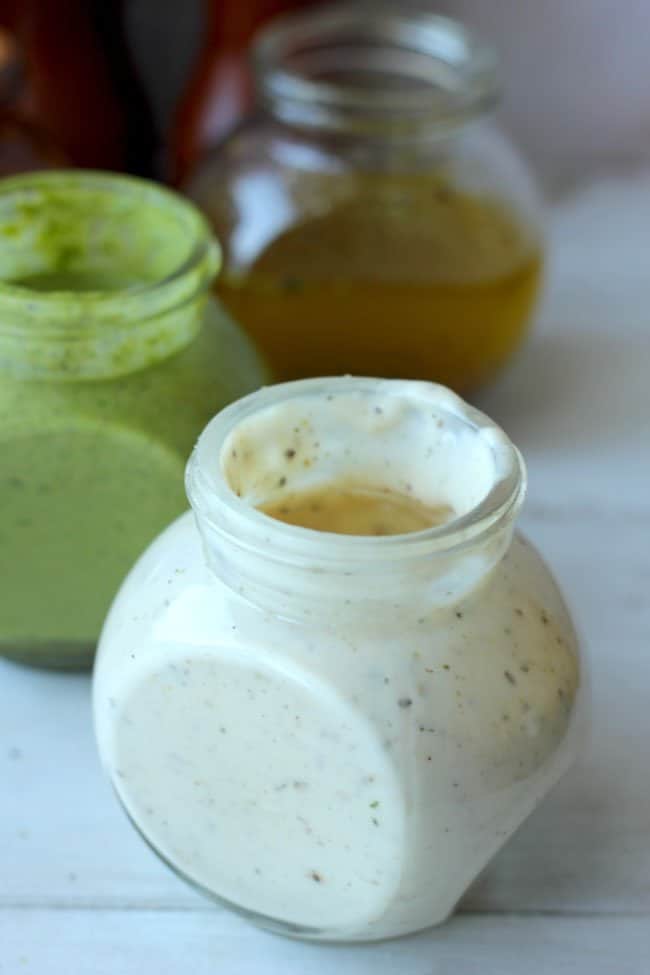 3) Asian Dressing: Craving for sweet, savoury and a spicy salad. This Asian dressing will satisfy all your umami cravings. What is so unique about my signature Asian dressing? I have added peanut butter to it. And trust me, it takes the flavour of the dressing to another level. The only tipping point while making this dressing is the amount of salt to be added. The peanut butter has some tone of saltiness and the soy sauce too. So add the salt cautiously. At times, I prepare the dressing, taste and then if required, add a pinch of salt. Otherwise, this one good to go.
Use It: Cold Noodle Salad, Raw Papaya Salad, Mango Salad, Thai Salad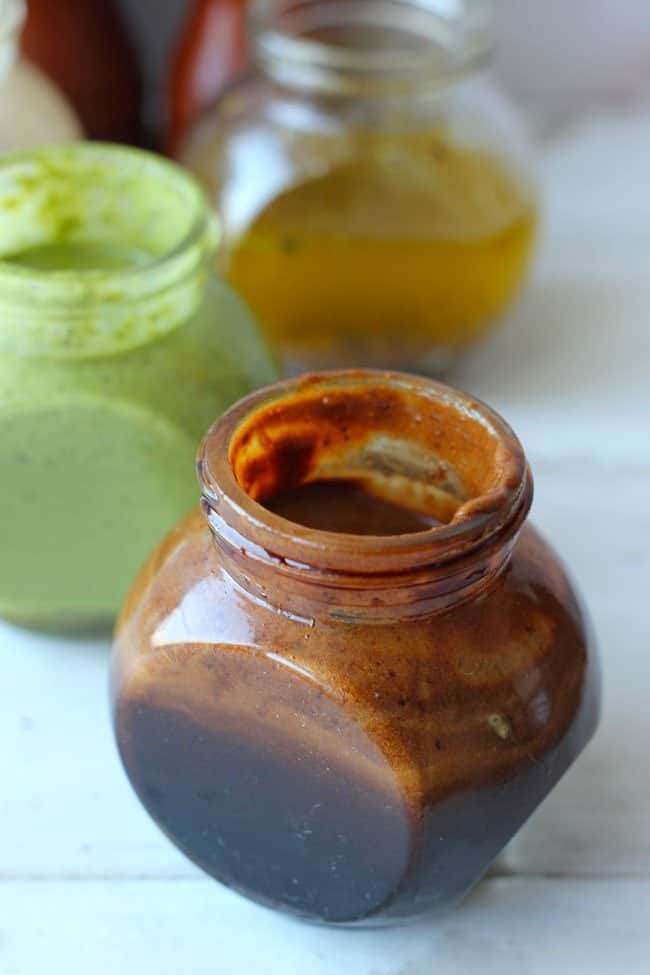 4) Honey Mustard Dressing: Over the years I have been obsessed with honey mustard dressing. I just love to add it to my salads, sandwich filling and technically anything, that requires the punch of mustard with a dash of sweetness. On many occasions, I serve it with deep-fried snacks as a dipping sauce. Finally, I am so glad that I can make it at home whenever required. Try to use a good quality mustard paste and honey to make this dressing. The quality of ingredients really matters for the taste and texture of the dressing.
Use It: Dipping Sauce, Meat Marination, Sandwich Dressing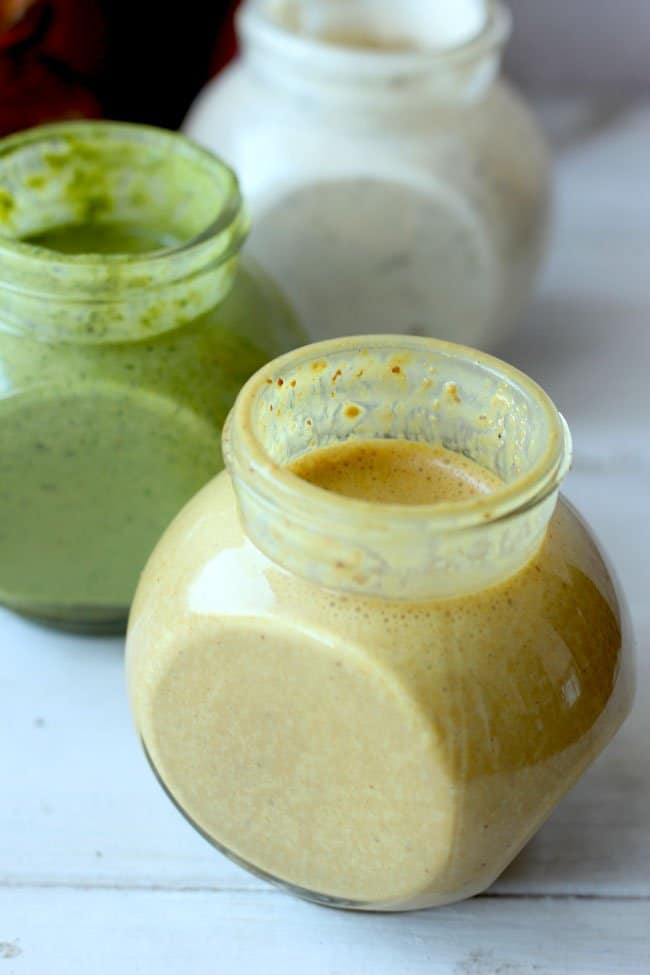 5) Balsamic Vinaigrette – Ditch the store-bought over sweetened balsamic vinaigrette and try this super awesome recipe. It is bold, distinct and just perfect for the robust salads. The better the quality of the balsamic vinegar the better the flavour of the dressing. All I would suggest, this balsamic vinaigrette flavour gets better with time. So prepare it at least few hours before using. I usually prepare it over the weekend and use it over the next few days with Indian food recipes.
Use It: Fresh Strawberry Salad, Fruit Salad, Meat Marination, BBQ Marination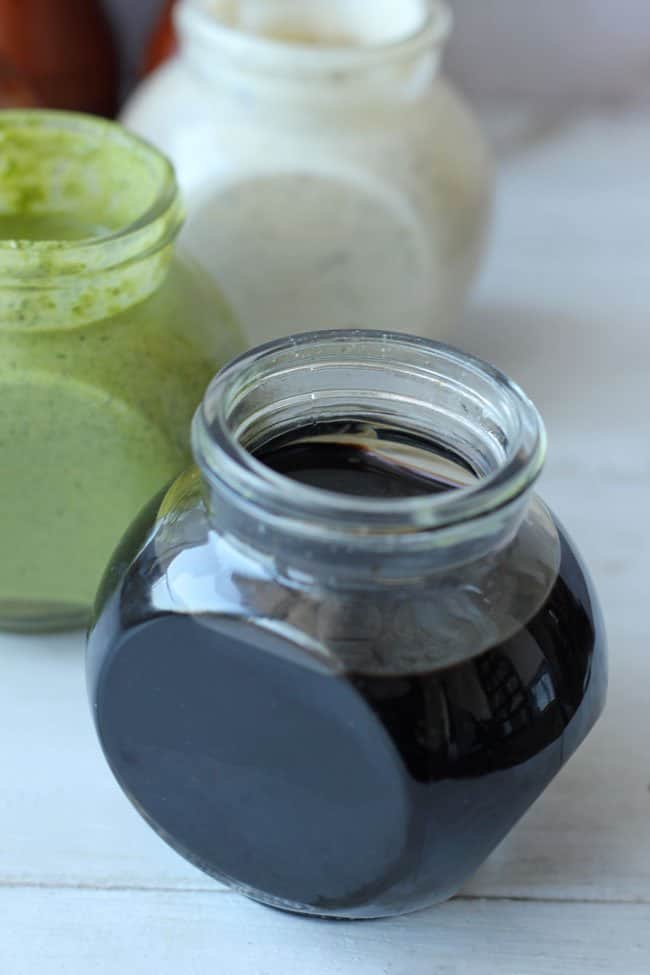 6) Green Goddess Dressing: It is one of the coolest and creamiest salad dressings. That is absolutely refreshing too. Green Goddess Dressing is more of a dipping sauce. My recipe is loaded with the plenty of fresh coriander that is so easily available in India and you can very well serve it with many Indian food recipes. But any kind of green herb – mint, kale, parsley, basil or tarragon can be used to make this vibrant dressing. My version of green goddess dressing is without any anchovy paste. That makes it 100% vegetarian salad dressing.
Use It: Dipping Sauce, Healthy Salad