Adrak-Lehsun Ki Sabzi is one of the best gluten-free curry recipes we have come across. If you are somehow connected to a Punjabi household, then there this curry is known as Chitt (Ch-itt). It is no ordinary curry. I'm talking about the kind of curry that hits the perfect score when it comes to – easy cooking, minimal ingredients, soul comforting and robust flavors. We usually crave for chitt on a cold winter evening to dip Phulkas for dinner. There is not one single thing I don't love about this type of simple, everyday curries. They are nutritious, quick, simple and comfort food to the max. I think there is no reason to not try this Adrak-Lehsun Ki Sabzi at home.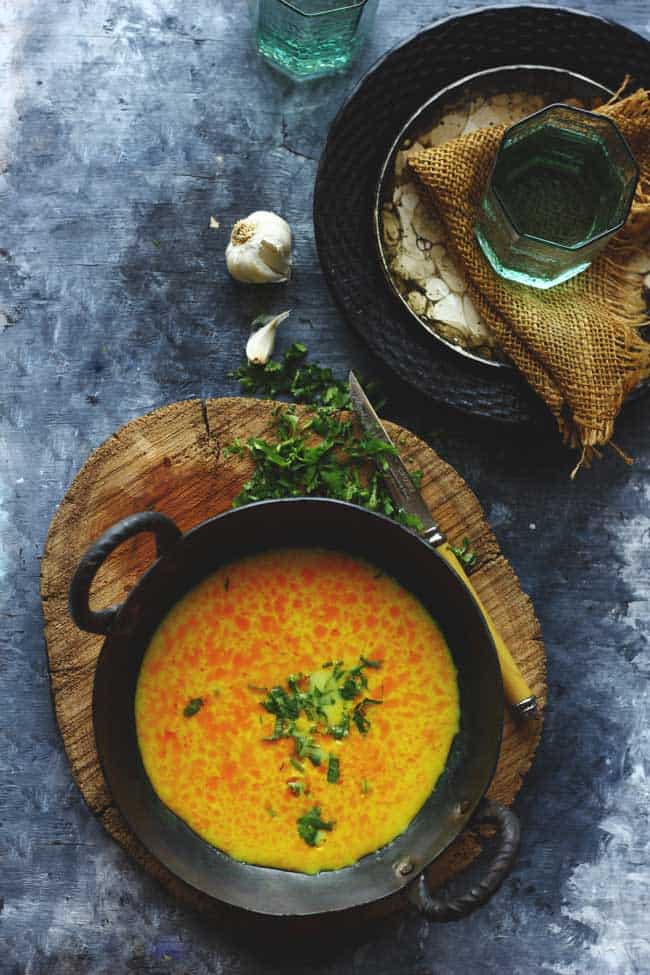 You know those recipes that you make once, and then you make twice, and then eventually they become part of the weekly menu. Adrak-Lehsun Ki Sabzi is our dinner ritual during the winter season. Reason – ginger and garlic being excellent natural balmy herbs for the freezing winters. Adrak-Lehsun Ki Curry is more like a therapeutic food that tastes delicious too. Usually served in small quantities, just enough to relish one or two Phulkas with it. On certain bad throat days, we prefer sipping Chitt on its own. One thing to keep in mind while making Punjabi Chitt, store bought ginger-garlic paste never works for this curry. The homemade ginger-garlic paste prepared from scratch is what you need to build the flavor explosion. And that is the soul of this curry. No shortcuts to that.
Serve Adrak-Lehsun Ki Sabzi with garam-garam Phulkas for dinner. Other gluten-free, winter curries you might like to try for dinner – Palak Anda Curry, Pahadi Aloo Paani, Mooli Ke Patton Ka Saag.