The regular aloo paratha is too dull for me. That is the reason I am always looking ways to combine aloo stuffing with some additional flavours to create a wholesome flatbread. Sometimes, back we shared the Makki and Aloo Ka Paratha. This time, it is Aloo Methi Paratha. Packed with excitement; that describes the Aloo Methi Parathas best of all!
The mashed potato mixture is tucked inside the flavoursome fenugreek-laced dough and rolled out to make pillowy parathas. Who could say no to them? Served with simple raita, freshly churned white butter and aam ka achaar, these Methi Parathas are one of our favourite winter breakfast. Almost, a weekly ritual all over the season, till the family had enough of them.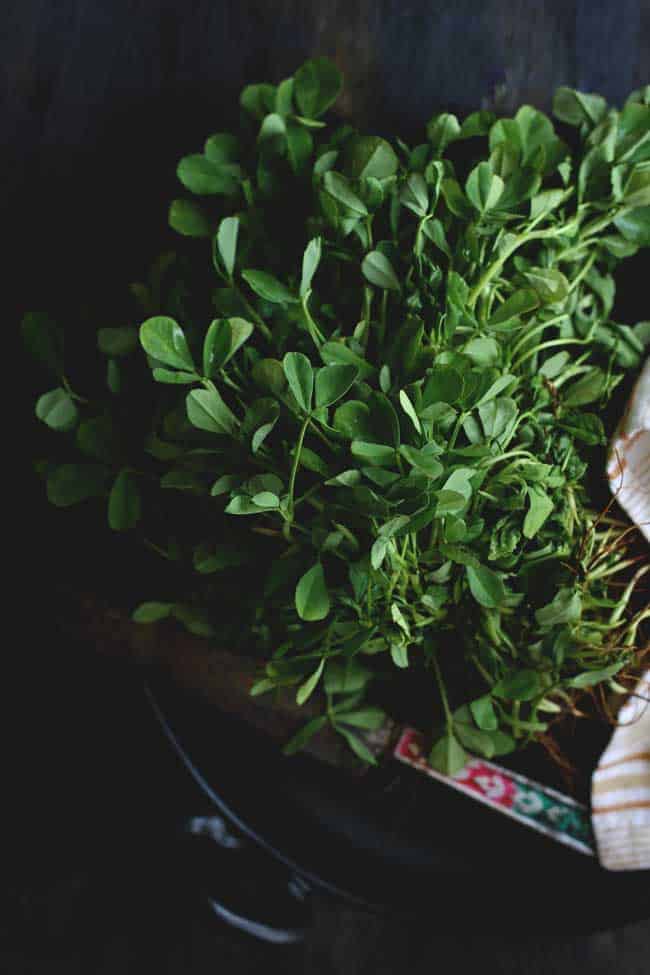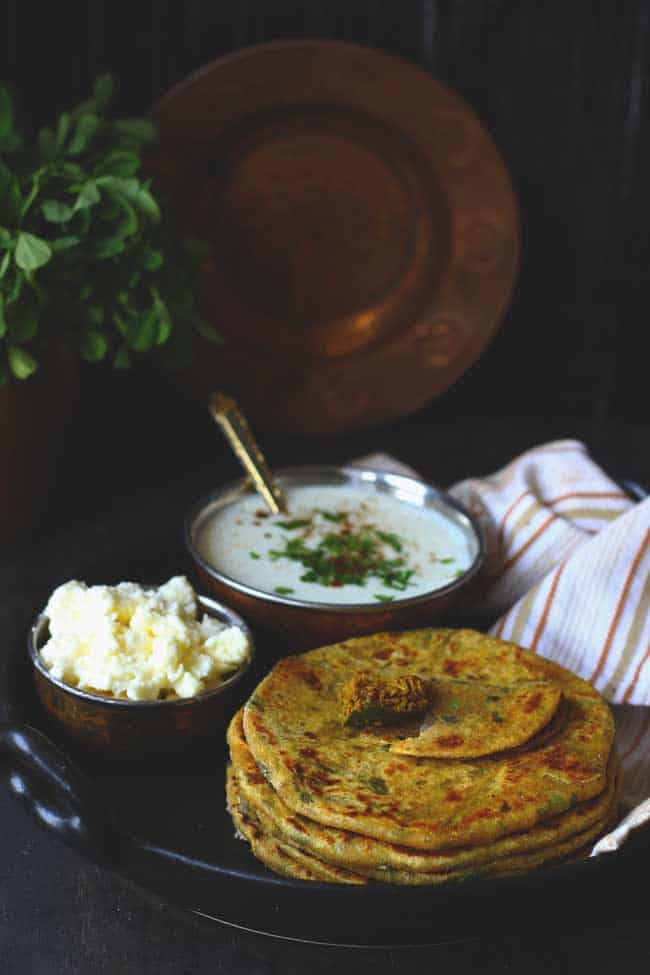 Our vegetable wala is strictly instructed to bring a fresh bunch of methi (fenugreek leaves) every alternate day. We don't mind the tedious process of hand picking, cleaning, chopping the fresh fenugreek leaves. They are absolutely worthy of time and effort. Whether it is the methi paratha or basic methi ki sabzi, the fresh fenugreek leaves make so much difference to the taste of the dish.
That pungent taste, the sharp aroma, the slight bitterness, is what makes us go ga-ga about the methi leaves during the season. Are you a green lover or hater? I'm a lover, most of the time. With their intense colour and earthy flavour, greens can be a versatile ingredient. I and husband share a common liking for greens. We never had enough of them. The greens provide a nice counterpoint to the dish and turn it into something that is so good in taste, healthy and wholesome.
We are not promising, but assuring to share more of green recipes this winter season. As we are having a seasonal hook-up with them. Till then, I leave you with Aloo Methi Paratha Recipe.
For more such fun recipes in your life, follow along on Facebook, Instagram, or subscribe to our Youtube Channel.
If you try this recipe and love it, please leave a comment and a rating. This helps us grow and reach many other food lovers like you, who are looking for a perfect tried and tested recipe.