Pasta has become weeknight favorite in our house and the reason being it's easy to prepare, delicious and extremely versatile. It can be rich and satisfying when combined with meat, light and luscious when tossed with vegetables, or simply mouth watering when layered and baked until golden and bubbly. This Spaghetti and Meatballs combination is so delicious that I simply can't resist making them over and over again for dinner. And the leftovers make an excellent lunch for the next day. Why do I call it easiest spaghetti and meatballs? Because this recipe is really straightforward and easy to understand.
These meatballs are so addictive that I simply keep on snacking them while preparing the sauce. Sometimes, when I am too lazy to prepare a sauce I serve them just like that along with a bowl of green salad and trust me nobody misses the pasta and the sauce. But these meatballs are best served hot and fresh so I prefer shallow frying them at the last minute to keep them soft, juicy and tender. And of course, allow them to simmer for few minutes in the tomato sauce to swallow the flavor and aroma.
Hope you know how much I love pasta dinners? Some of my favorites are –
Spaghetti Alio Olio, Chicken Stroganoff with Spaghetti, Creamy Pasta Salad

and

Pesto Pasta

.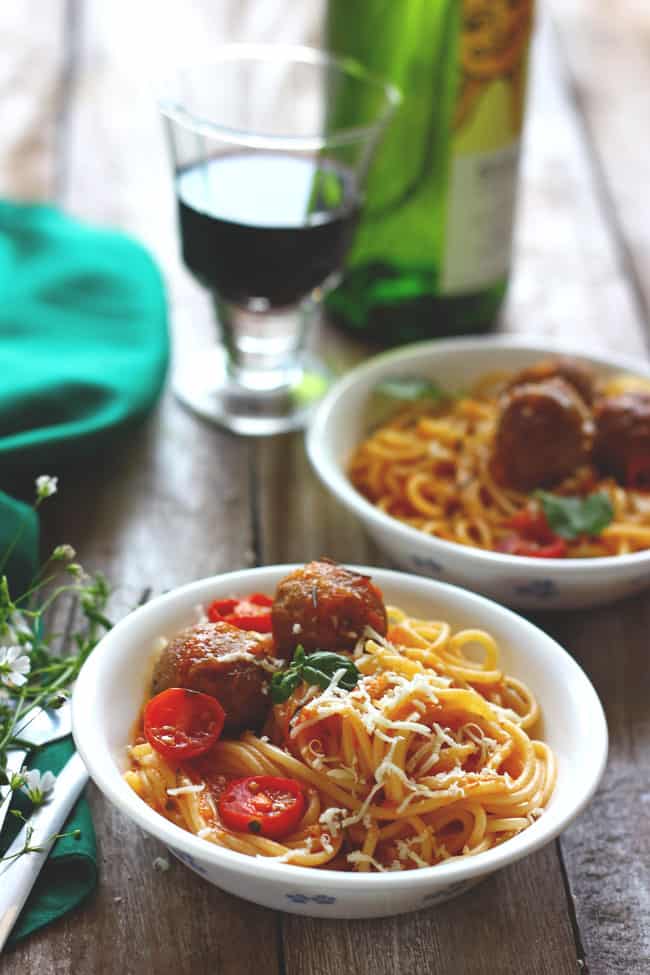 Making spaghetti and meatballs is actually not so tiresome as it may sound. With few planning tips under your sleeve, you can make it like a pro for the weeknight dinner. Don't worry I am going to share some of my secret quick spaghetti magic tips with you as well.
How To Plan For Spaghetti and Meatballs?
Always keep a bottle of pasta sauce in your fridge. Either

homemade

, like I do or the good quality ready made one. That makes life so much easier.
If you are planning spaghetti and meatballs for the dinner, prepare the meatball mixture in advance and store in the fridge. I usually do it during the lunch hour or in the morning itself.
If you are not having chicken stock, use chicken stock cubes blended with water or the boiled pasta water.
At times, you can make the sauce and meatballs over the weekend and keep in the fridge. Last minute, just reheat and serve with freshly cooked pasta.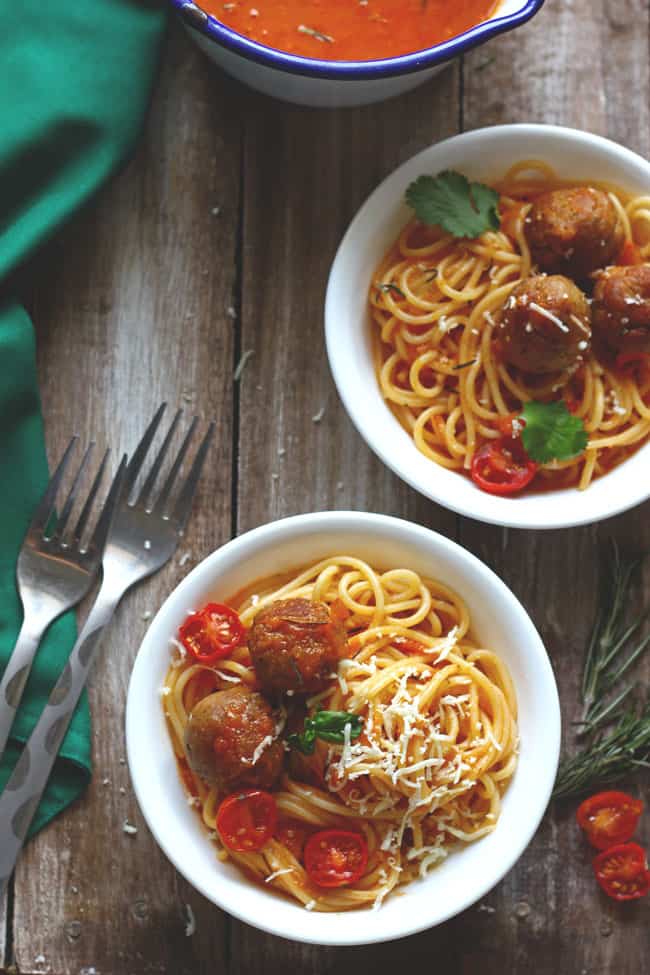 For more such fun recipes in your life, follow along on Facebook, Instagram, or subscribe to our Youtube Channel.
Spaghetti and Meatballs Recipe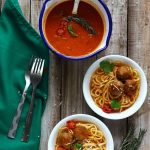 Print This
Ingredients
Ingredients For the meatballs:
500 g quality minced chicken (keema)
1 teaspoon rosemary
1/4 Cup bread crumbs
1 heaped tablespoon Italian seasoning
1 large egg
Salt to taste
olive oil to fry the meatballs
Ingredients For the Sauce:
1 medium – size onion
1 Cup pasta sauce (see recipe)
5 – 6 fresh basil leaves
2 cloves of garlic½ a fresh or dried red
1/2 teaspoon red chili flakes
2 tablespoons balsamic vinegar
2 tablespoons balsamic vinegar
1 Cup chicken stock or boiled pasta water
2 tablespoon olive oil
Salt to taste
Method
To make

meatballs

, pluck the rosemary leaves off the woody stalks and finely chop them.
Combine chicken, rosemary, seasoning, bread crumbs, salt, and egg.
With clean hands scrunch and mix up well until the chicken mixture turns into a sticky dough.
Divide the mixture into small lemon sized balls. And shape them into the round of even size.
Drizzle them with olive oil. Put them on a plate, cover, and place in the fridge until needed.
Meanwhile prepare sauce, heat oil in a large saucepan.
Add onion and saute for around 3 – 4 minutes or until softened and lightly golden.
Then add the garlic, and as soon as they start to get some color add the large basil leaves. Add the pasta sauce and the balsamic vinegar.
Add chicken stock/boiled pasta water and bring the sauce to the boil. Taste and adjust the seasoning.
To shallow fry, the

meatballs

, heat oil in a large frying pan.
Shallow fry the meatballs in small batches. Stir them around and cook for 8–10 minutes or until golden. Check for doneness by opening one and tasting.
Add the

meatballs

to the sauce and simmer until the pasta is boiled.
Boil the pasta as per packet instructions.
To serve Spaghetti and Meatballs, arrange a portion of boiled spaghetti on a plate.
Add a generous helping of sauce and meatballs over the pasta. Garnish with cheese and herbs.
Serve Spaghetti and Meatballs warm.