Kali Mirch Gobi is a simple vegetarian side dish of cauliflower sautéed in cream and black pepper masala. Kali Mirch Gobi is one of the signature dishes of my Mother-in-law, who is a great self-taught cook like most of the Indian women. She also developed a flair for the art of home making after marriage and over the period of years spend in kitchen developed some of her signature recipes. Her recipes are always well liked and turn out perfect in the first trial itself. Maybe it is the years of experience in the kitchen which has made even her intuitive measurements so accurate. And after marriage when I stepped into this new family along with many other traditions and rituals family recipes were also passed on to me her. It took me few years to embrace the new culture and recipes both, but now both have made a special place in my life as well as in my blog.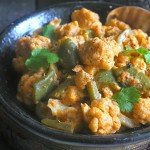 Kali Mirch Gobi
2016-02-23 01:03:38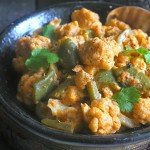 Serves 4
Ingredients
500g cauliflower florets
2 medium size tomato, pureed
1 capsicum, cut into 1 inch cubes
Thumb size piece of ginger, peeled and grated
¼ Cup light cream/ fresh cream from milk (malai)
2 tsp crushed black pepper
Salt, as per taste
2 tbsp oil
Instructions
Wash cauliflower florets under running water to get rid of any dirt particles. Transfer to a colander to get rid of excess water. Let cauliflower sit in colander for 15 minutes.
Meanwhile heat oil in a large saucepan over medium heat. Once oil is heated add grated ginger and saute till ginger change color to dark brown this takes 2 – 3 minutes. You can smell aroma of roasted ginger in the air.
Now add pureed tomatoes along with salt. Saute over medium heat for 5 minutes stirring once or twice in between.
Once tomato puree is nicely sauteed add cream and black pepper. Stir and let it simmer for 5 minutes over medium heat.
Add cauliflower florets and capsicum mix nicely to evenly coat vegetables with the masala. Add 1 Cup of water and cover the pan with the lid for the vegetables to cook evenly.
After 15 minutes open the lid and give vegetable a nice stir, check for doneness if still cauliflower not cooked through put the lid back on and cook for some more time until cauliflower is cooked.
Before serving sprinkle some crushed pepper on top.
Serve Kali Mirch Gobi warm with Chapati.
Fun FOOD and Frolic http://www.funfoodfrolic.com/