Cauliflower Rice Pilaf is an Indian style vegan, gluten-free, keto and a paleo friendly dish. This Indian Cauliflower Rice Pilaf is 100% healthy and loaded with the benefits of a superfood spice – turmeric. Ready in approximately 30 minutes, this pure vegetarian pilaf is one of our recent favorite quick and easy dinner recipes.
My cauliflower pilaf is loaded with all the delicious Indian flavors you expect in a pilaf (fried onion, cashews, spices and fresh peas) and it is guaranteed deliciously delicious.
In India, we love our basmati rice to the core. And needless to say, it is the staple diet for most of the Indians. I was little apprehensive about trying this brand new alternative to rice – the cauliflower rice. Because I have grown up eating cauliflower only in curries or stir fry or stuffed flatbread aka paratha. But not as a complete dish on its own. The Indian cauliflower rice pilaf changed my perspective about this low carb new age rice.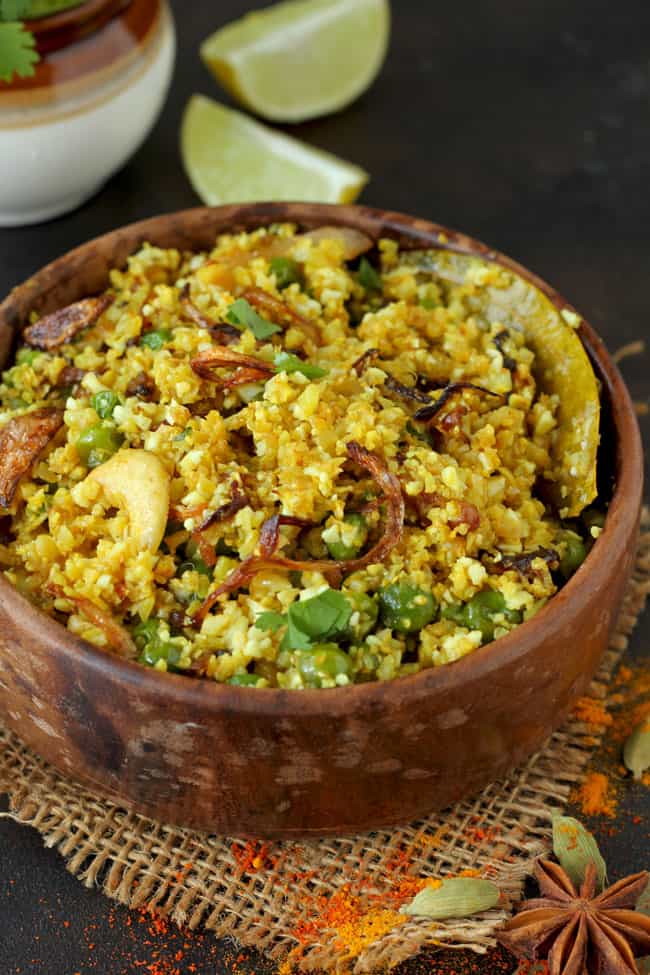 What Is Cauliflower Rice?
When the whole cauliflower head is grated manually or pulsed in a food processor the end result is small rice grain or couscous like tiny bits. That my dear friend is rice prepared with cauliflower. Or I must say cauliflower rice is the new name of the grated cauliflower. Why rice? Because this grated cauliflower can be used as a fantastic substitute for rice in most of the dishes.
How To Make Cauliflower Rice?
Cauliflower Rice can be prepared in a food processor or a manual box grater. How? Simply, remove the thick and green stems from the cauliflower. Cut the cauliflower head into florets. If you are using a food processor, pulse them for less than a minute. We don't need very fine granules of cauliflower. A bit of rice size cauliflower granules are just perfect to make any dish. Else, you can shred the whole head of cauliflower using a manual grater. But use the bigger holes of the slicer to grate the cauliflower.
What To Prepare With Cauliflower Rice?
There are endless possibilities to make dishes using cauliflower rice. You can easily use it instead of regular rice in these everyday rice recipes – lemon rice, mushroom matar pulao and pineapple fried rice. Serve it with a cooling raita and a fresh salad for a low carb wholesome and nourishing meal.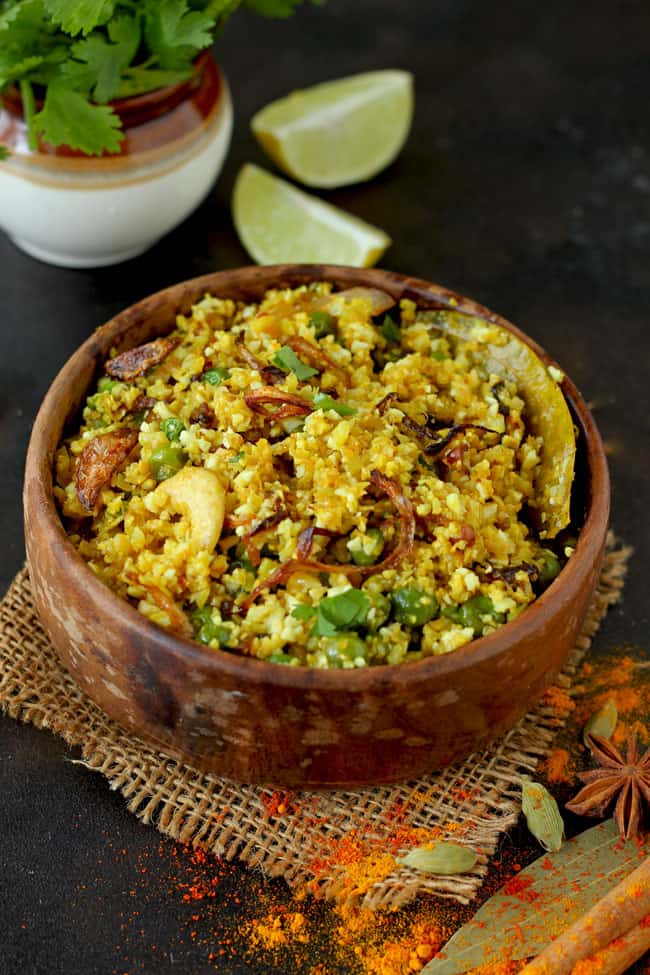 In my opinion, cauliflower rice needs to be consumed the same day. The cauliflower just gets so overly cauliflower-smelling the following day. And the whole fridge starts stinking like anything. I don't prefer preparing a large batch of cauliflower rice and storing for next few days. It is best to consume it fresh and fast.
At times, in life, you need a clean and detoxifying meal that is tasty too. Hence, Indian Cauliflower Rice Pilaf is my way to deal with all the April nourishment obligations.
For more such fun recipes in your life, follow along on Facebook, Instagram, or subscribe to our Youtube Channel.
If you try this recipe and love it, please leave a comment and a rating. This helps us grow and reach many other food lovers like you, who are looking for a perfect tried and tested recipe.