Chop Suey is one of the most popular American Chinese fusion dishes. This Chinese Chop Suey is sweet, spicy, and saucy, packed with vegetables and served on crispy fried noodles. Be sure to watch the video!
The Story of Chop Suey
The Chinese migrants settled in America and gave birth to this fusion of Chinese Cuisine suited for the local tastebuds.
Chop Suey, Fried Rice, Spring Rolls, and other similar American Chinese fusion dishes are now popular among food lovers worldwide.
The idea behind Chop Suey is to cook leftover vegetables, meat, and mushrooms in a thick sweet, spicy, savoury sauce and serve it with rice, noodles, or pasta as a meal.
Difference between American Chopsuey and Chinese Chopsuey
There are two types of Chop Suey Recipes – American and Chinese.
The American Chopsuey is sweet and sour with a bright orangish-red colour. It is like a one-pot macaroni pasta meal cooked with beef and vegetables in a sweet tomato sauce. Whereas the Chinese Chop Suey is savoury and spicy, served with rice or noodles.
But in the Indian-Chinese Fusion Cuisine, the chop suey is always served on a bed of crispy fried noodles, often topped with a fried egg.
I am sharing a fusion Indian Chinese style vegetarian Chop Suey Recipe that I have grown up eating and absolutely love. It is so indulgent and delicious.
The Sweet and Spicy Sauce
The best part of this Chinese Chop Suey recipe is undoubtedly the garlicky sweet and spicy sauce. It is finger-licking good.
This sweet and spicy sauce is quite a multi-purpose one. From vegetables to fried chicken, anything tastes good with it.
Once you nail this sauce, there is no going back to the restaurant for Chinese Chop Suey.
The highlights of this sauce are – garlic, ginger, celery, chili sauce, and tomato sauce. The perfect combination of sweet, spicy, garlicky, and earthy flavours.
Crispy Fried Noodles
The crispy fried noodles are the soul of Indian Chinese Chop Suey.
You can fry boiled noodles in hot oil on a stovetop or air-fry them. I have tried both cooking methods, and my BIG THUMBS UP is for air fryer crispy noodles because there is less oil wastage, fewer calories, and the same crunch.
You can store fried noodles for 10 – 15 days. Use them as crunchy toppings for soup, stews, or even curries.
I often make Indian-Chinese Style Noodle Salad (Bhel Puri) or Chinese Chicken Salad with them.
Watch Chop Suey Video
Serving Suggestion
Chop Suey is a main course dish and a meal in itself. You can serve it with my smashed cucumber salad or a fried egg on top of it.
How to Store Leftovers
Store the leftover chop suey sauce and fried noodles separately.
Transfer the sauce to an airtight container and store it in the refrigerator for 1 week. Reheat to the desired temperature in a stovetop saucepan or a microwave before serving.
The crispy fried noodles remain fresh at room temperature in an air-tight jar for 2 – 3 days.
I would not recommend storing the final assembled chop suey as the fried noodles will become soft.
More Indian-Chinese Recipes
Subscribe to our weekly newsletter or follow us on Youtube for video recipes.
If you try this recipe and love it, please leave a comment and a rating. This helps us grow and reach other food lovers like you.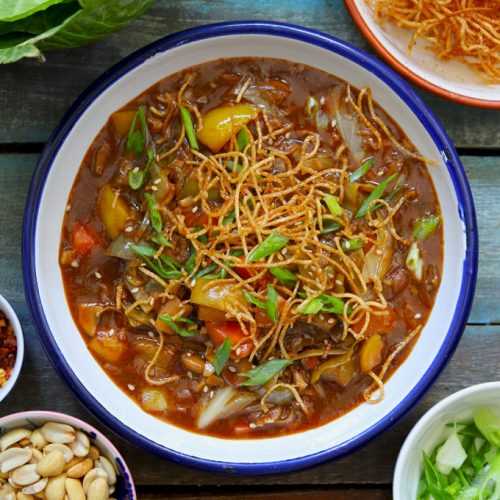 Veg Chinese Chop Suey Recipe
This Chinese Chop Suey recipe is sweet, spicy, saucy packed with loads of vegetables served on crispy fried noodles. Learn how to make Indo Chinese restaurant style chop suey at home.
Print
Pin
Rate
Ingredients
Ingredients for Fried Noodles:
200

gram

noodles

6

Cup

water (to boil noodles)

1

tablespoon

Salt

2

Cup

vegetable or refined oil
Ingredients for Chop Suey Sauce:
¼

Cup

Schezwan sauce or chili sauce

(see recipe)

1

tablespoon

light soy sauce

4

tablespoon

tomato sauce
Other Ingredients:
4

tablespoon

cooking oil

1

tablespoon

garlic, finely chopped

1

tablespoon

ginger, finely chopped

1

tablespoon

celery stalk, finely chopped

½

Cup

onion, chopped

½

Cup

capsicum, diced

diced

½

Cup

yellow bell pepper, diced

diced

½

Cup

carrot, diced

½

Cup

mushroom, diced

diced

½

Cup

cabbage, shredded

2

tablespoon

white vinegar

1

tablespoon

cornflour (starch)

2 ¼

Cup

water

Salt & black pepper

¼

Cup

spring onion, chopped
Instructions
How To Make Crispy Fried Noodles:
Boil water in a saucepan with salt. Once the water starts bubbling, add noodles and cook till they are al dente or cooked through.

Drain water from the boiled noodles, transfer them to a colander, and wash them under cold water to prevent more cooking. Let them sit in the colander to drain out all the water for 15 – 20 minutes. You can do this process at night and store the noodles in the refrigerator.

Next heat oil in a deep-fry pan over medium-high flame. Deep fry boiled noodles in small batches in the hot oil till crisp from both sides. Drain on a paper towel to get rid of excess oil. Similarly, fry all the noodles. Set them aside.
Prepare Sauce:
Once noodles are fried prepare the sauce for the chop suey. Combine soy sauce, red chili sauce, and tomato sauce. Stir to mix nicely. Set aside.
Prepare Chop Gravy:
Heat oil in a work. Add chopped garlic, ginger, celery, and fry for 1 minute to release the flavor into the oil. No need to brown them.

Add chopped onion and again stir fry over high heat for 1 minute.

Next, add the diced vegetables, cabbage, and stir-fry over high heat for the next 1 -2 minutes to cook the vegetables yet keep them crunchy.

Add salt, pepper, white vinegar, and stir fry for 10 – 20 seconds.

Add the sauce mix and water. Stir to combine, and simmer the gravy for 2 – 3 minutes.

Combine corn starch with water, make a smooth paste, and add to the bubbling gravy. Stir continuously to avoid any lump formation. Allow chop suey gravy to simmer for 2 – 3 minutes or till it thickens a bit. Turn off the heat.
Serving
To serve the Chinese chop suey, in a bowl add the sauce topped with fried noodles or vice versa. Sprinkle chopped spring onion on top along with sesame seeds. Serve Chinese Chop Sue immediately.
Recipe Notes:
Chop Suey is best consumed hot, crispy, and fresh. After assembling, do not leave it for too long else fried noodles will become soggy.
Nutrition
Calories:
2664
kcal
|
Carbohydrates:
112
g
|
Protein:
18
g
|
Fat:
248
g
|
Saturated Fat:
180
g
|
Trans Fat:
1
g
|
Sodium:
4559
mg
|
Potassium:
829
mg
|
Fiber:
8
g
|
Sugar:
25
g
|
Vitamin A:
5849
IU
|
Vitamin C:
116
mg
|
Calcium:
113
mg
|
Iron:
3
mg
For Behind The Scene updates
Subscribe to our newsletter!