We are back with another exciting lunch box menu plan for the coming week. For you this week, we have fun and fusion lunch box recipe ideas, meal prep tips, and a print-friendly menu.
Hope you know that we share a new lunch box menu plan every week. Suppose you want to see the previous week's lunch box menu; type 'LUNCH BOX' in the search bar of my website. And you will get all the weekly ideas at your fingertip.
This lunch box series includes FREE printable menu plans every week, including my meal prep tips for the Indian kitchen.
In this weekly lunch box plan, you will get:
practical lunch box ideas for adults
easy to follow menu plan with recipes
Indian Cuisine inspired recipe ideas
helpful meal prep tips for Indian kitchen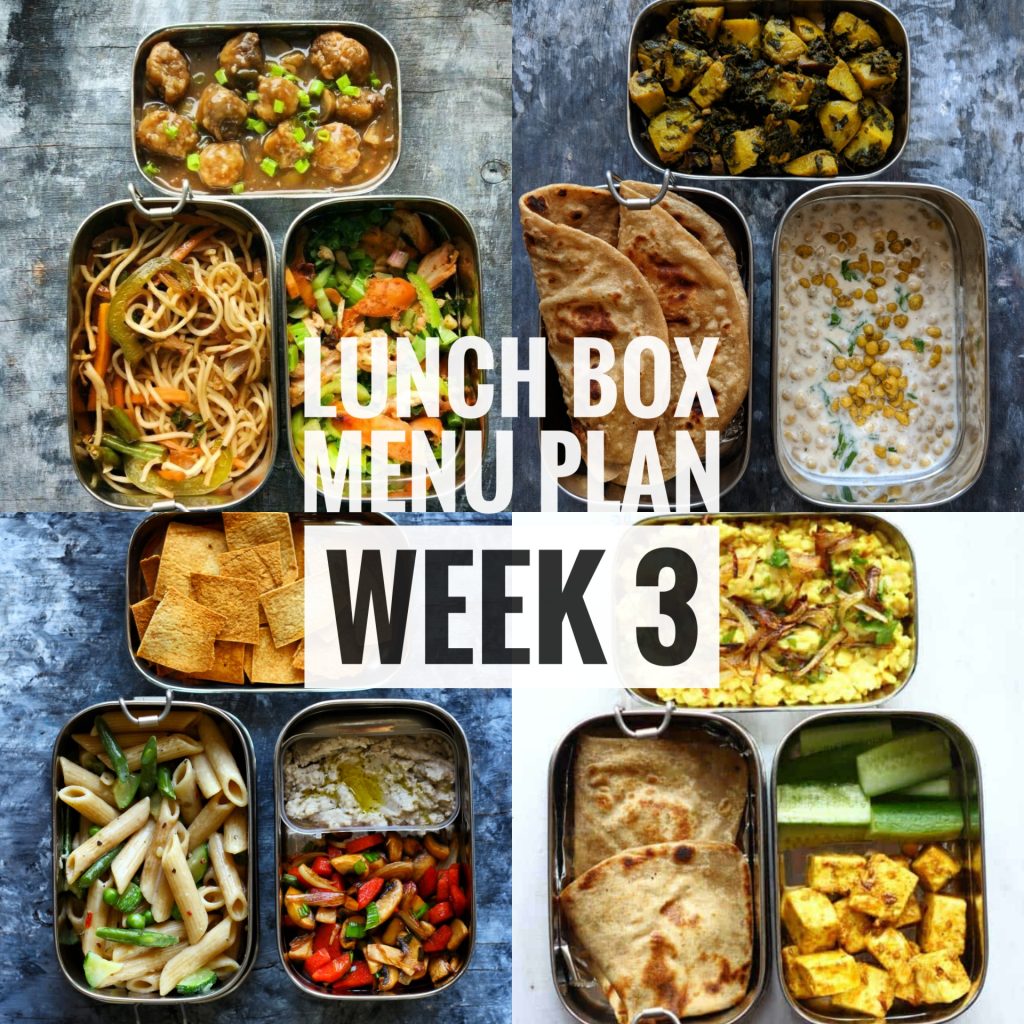 Week 3 – Lunch Box Menu Plan
Monday: A winter special hearty Indian lunchbox.
Aloo Methi Sabzi (Main Course), Boondi Raita (Side Dish), Paratha (Side Dish)
Meal Prep Tips: I clean, wash, and cut the fresh fenugreek leaves over the weekend. Store them in an airtight container lined with a paper towel in the refrigerator. Prepare chapati dough and store it in the fridge for the next two days.
Tuesday: A Mediterranean Cuisine inspired lunchbox
Stir Fry Pasta (Main Course), Grilled Veggies (Side), Hummus (Snack), Pita Chips (Snack)
Meal Prep Tips: Chop the vegetables for pasta and stir fry. Store them in the refrigerator. I make a big batch of hummus and other dips over the weekend. They remain fresh in the fridge for 2 – 3 days.
Wednesday: Packing flavors of South Indian for lunchbox.
Masala Potato Fry (Main Course), Beetroot Poriyal (Side Dish), Lemon Rice (Side Dish), Paratha, and Masala Buttermilk (Beverage).
Meal Prep Tips: Steam/boil and keep beetroot in the fridge for poriyal. Use leftover cooked rice to make a delicious batch of fried lemon rice.
Thursday: A protein-packed Punjabi style lunch
Punjabi Sookhi Urad Dal (Main Course), Paratha (Side Dish), Grilled Masala Paneer (Snack), and fresh cucumbers for fiber.
Meal Prep Tips: Marinate the paneer cubes in the masala and keep them in the refrigerator overnight. I boil the urad dal at night while making dinner. In the morning, heat it and add tadka of fried onions. Whole Wheat dough is always sitting in my fridge to make paratha or chapati for the lunchbox quickly.
Friday: A Friday special fun and fusion lunch box
Vegetable Manchurian Gravy (Main Course), Chilli Garlic Noodles (Side Dish), and Chicken Vegetable Stir Fry (Side Dish)
Meal Prep Tips: Prep the Manchurian balls mixture and store it in the refrigerator. Boil the noodles a day before. Similarly, I finish all the chopping work at night and keep it in airtight containers in the fridge.
The Right Lunchbox: A great meal might taste meh because of the wrong lunch box. You can find and shop a few of my all-time favorite lunchboxes at my Amazon Store. I have been using these lunchboxes for many years and highly recommend them for packing lunch.
For more such fun recipes in your life subscribe to our weekly newsletter or follow us on Instagram for all the daily updates.