Rice Kheer Recipe is an age-old traditional Indian pudding prepared with three basic ingredients – milk, rice, and sugar. It is a gluten-free kheer with a creamy, melt-in-mouth texture. I am sharing with a tried and tested rice kheer recipe of my family.
Kheer – The Indian Pudding
Kheer is a creamy, luscious, purely vegetarian Indian milk pudding. One of the most common types of kheer made on every auspicious occasion is the rice kheer. Also, known as chawal ki kheer. 'Chawal' is the Hindi term for rice.
In India, we love our desserts, puddings dressed up in vivacious colors, luring perfumes embellished with edible adornment. But opposite to this, rice kheer has an elegant appearance. The fine layer of flavors, the adequate hint of saffron and cardamom perfume, and an uncomplicated air around rice kheer are few good enough reasons to make this pudding an Indian festive favorite dessert.
In my house, most of the gleeful festive mornings are unfolded with a large pot of rice kheer brimming over the stovetop.
The natural starch of the rice and the right condensation of the milk give chawal ki kheer its creamy texture. The addition of slightly crushed green cardamoms instills a subtle aroma in the pudding.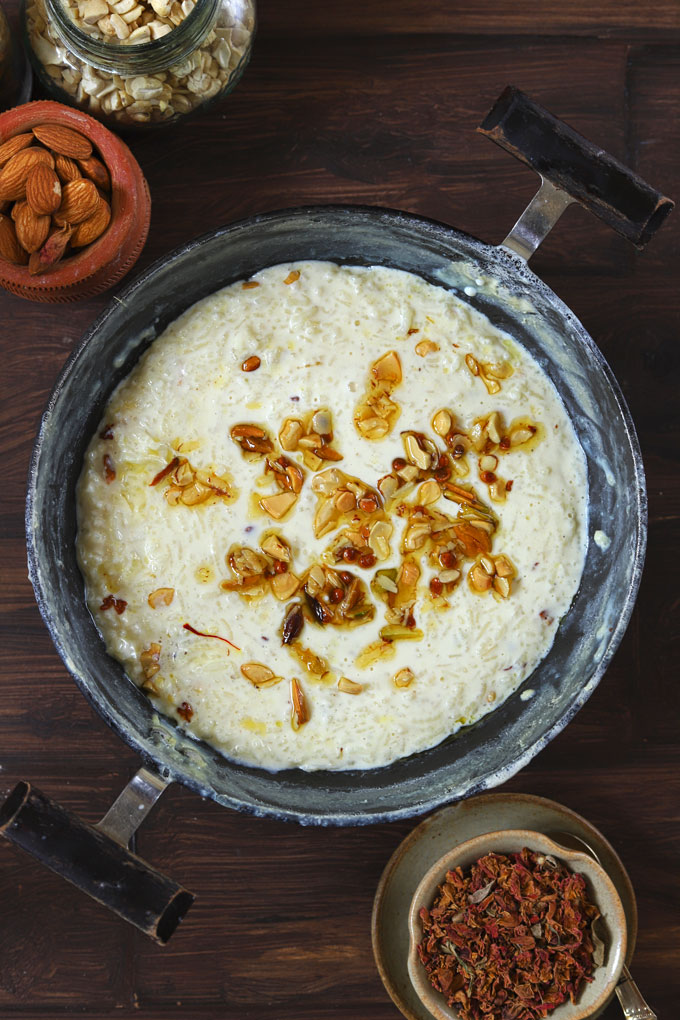 My Mom's Rice Kheer Recipe
On a festive morning, while gliding around the kitchen skillfully completing the remaining chores, my mother would simultaneously prepare her signature rice kheer with – rice, milk, and sugar.
While the kheer bubbles and simmers calmly in the pot, she would take out a box full of dry fruits from the wooden cabinet in the kitchen. She thinly slices them manually for the kheer. The expensive spices like saffron, edible flowers are never part of her kheer recipe, still, it has a delicious taste to it.
The secret behind her delectable rice kheer is the organic buffalo milk, handpicked tukda basmati rice, both sourced from the local farmer's market and the last, slow cooking process.
If you are in a hurry then chawal ki kheer is not the right dessert to plan, as a rich, flavorful bowl of kheer is the virtue of patience.
Ingredients Required
You need only a handful of ingredients to make the most delicious rice kheer.
Rice: The broken basmati or the tukda basmati is what I use to make an aromatic kheer. You can use any short – medium grain rice like Jasmine, Gobind bhog, Jeera Samba, Sharbati, or any other similar variety of rice.
Milk: Full fat cow or buffalo milk along with cream (malai) is the soul of a good kheer.
Sugar: You can add either granulated white sugar or jaggery powder.
Green Cardamom Powder: For a subtle aroma and taste.
Ghee: To fry the rice and nuts
Nuts: Almonds, pistachio, cashew, chironji, raisins. You can add a combination of either of these nuts.
Step-By-Step Cooking Process
Rinse the rice till the water runs clear. Soak for 20 minutes.
After 20 minutes, drain all the water from the soaked rice. Heat ghee in a pan. Add rice, fry for 3 – 5 minutes to soften the rice.
Add milk, cardamom powder, stir and reduce the heat to the lowest setting. Now, slow cook the kheer till rice is soft, mushy, and the milk is thick.
Once the texture of the kheer turns creamy, add sugar. Stir and simmer the kheer till sugar is completely dissolved.
The rice kheer is ready!
Additional Topping
Heat ghee in a small pan. Add sliced nuts and dried fruits. Fry for 1 – 2 minutes without burning.
Pour these ghee-fried nuts over the rice kheer before serving. They give a delicious crunch to the kheer.
My Tried & True Tips
Tip 1: Picking Right Rice
In my view, the best rice for kheer is medium grain, uncooked white rice. Avoid using long grain rice like basmati for making rice kheer, as it does not give a creamy mouth feel. Brown Rice or any rice with husk is also not my first choice for making any authentic kheer.
Tip 2: Uncooked Rice
Many readers in the past asked me about using cooked/steamed rice for making Indian kheer. I strongly said 'NO'. Please do not use cooked rice for making kheer. The rice has to be slow-cooked in milk for a desired creamy texture.
Tip 3: The Milk
U prefer using full fat, organic cow or buffalo milk for making rice kheer. You can use non-dairy milk like coconut or almond for a vegan kheer.
Tip 4: The Right Time To Add Sugar
The sugar is always added towards the end of the cooking process. Once the milk is thickened, and the rice is perfectly mushy, then add sugar. If you will add sugar at the beginning of the process the cooking time gets double and the milk does not thicken properly.
Tip 5: Stir and Slow Cook
While slow-cooking chawal ki kheer, continuously stir it using a ladle at regular intervals. You can use the slow cook mode of an instant pot as well for making a delicious bowl of rice kheer. But other than slow cooking there is no shortcut to making a perfectly creamy rice kheer.
Tip 6: Consistency
The rice kheer firm up as it cools. Hence, adjust the consistency accordingly. Do not thicken the kheer too much while cooking. Otherwise, after a few hours till will become a thick, semi-solid goop.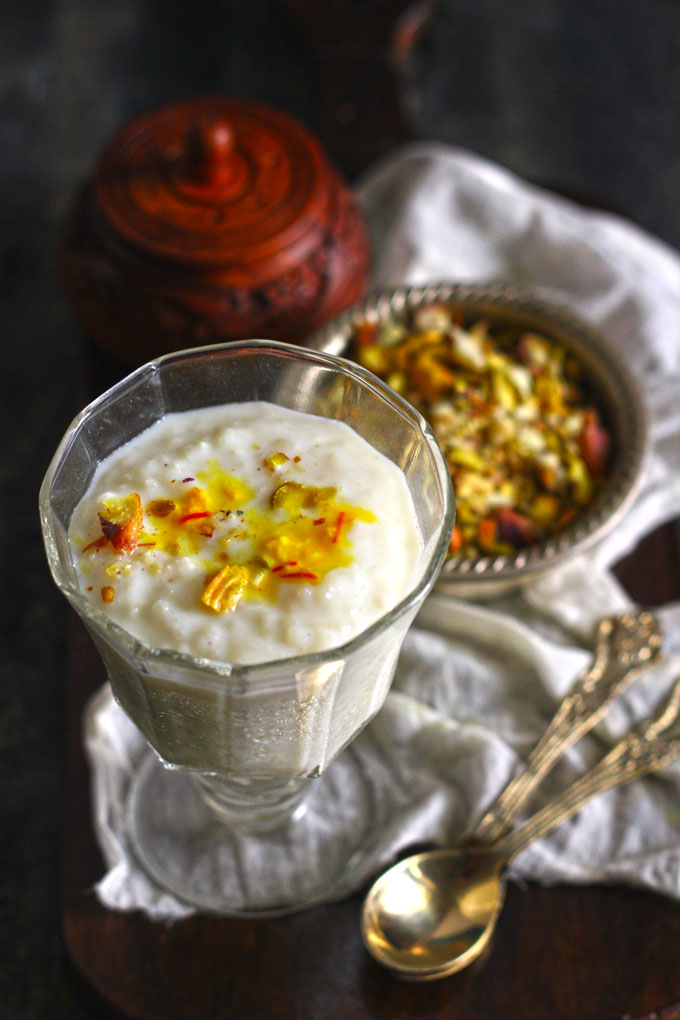 Serving & Storage Suggestion
Rice Kheer is best enjoyed warm. But I love it chilled like a thick milk pudding.
Store the leftover rice in a refrigerator for 1 week. Heat in the microwave and add a splash of water to loosen it up. It reheats very well. Store the
More Indian Kheer Recipes
For more such fun recipes in your life subscribe to our weekly newsletter or follow us on Instagram and Youtube for video recipes.
If you try this recipe and love it, please leave a Star Rating. This helps us grow and reach many other food lovers like you, who are looking for a perfect tried and tested recipe.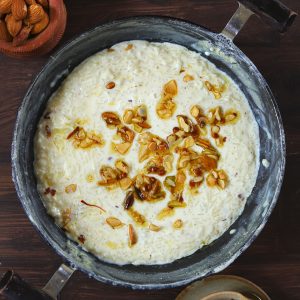 Rice Kheer Recipe
I am sharing with a tried and tested rice kheer recipe of my family. Learn how to make the best chawal ki kheer in a few simple steps.
Print
Pin
Rate
Ingredients
2

tablespoon

ghee

¼

Cup

white rice (short to medium size)

1

litre

full fat milk

1

teaspoon

green cardamom powder

½

Cup

white granulated sugar or to taste

¼

Cup

pistachio and almonds, sliced
Instructions
To prepare the rice kheer, rinse the rice with water 2 – 3 times or till the water runs clear. Soak the rice in enough water for 20 minutes.

After 20 minutes, drain all the water from the soaked rice. Transfer rice to a colander to drain all the water.

Heat 1 tablespoon of ghee in a heavy bottom kadhai or casserole. Add rice, saute for 3 – 5 minutes, or till the grains of rice turn translucent.

Add milk, cardamom powder, stir to avoid any lump formation and let it come to a boil. Reduce the heat to low, and let the milk simmer. Keep on stirring the rice at regular intervals.

The whole process of slow cooking the rice in the milk takes about 30 – 40 minutes on a low flame. Continuously stir the kheer while it is simmering to avoid sticking it to the bottom of the pan. Also, scrape the sides of the pan and add this layer of cream into the kheer.

Once the rice is cooked and the kheer is thickened, that is the signal it is ready. Add sugar, mix, and allow the kheer to simmer for 5 minutes to dissolve the sugar.

Meanwhile, heat the remaining ghee in a small pan. Once hot, fry the sliced pistachio, almonds, raisins, chironji for 1 minute or till slightly brown. Pour this over the prepared rice kheer.

Serve Rice Kheer warm or chilled garnished with saffron and dry fruits.
Recipe Notes:
The best rice for kheer is medium grain, uncooked white rice. Do not use pre-cooked or instant rice for making kheer. 
You can make rice kheer in a slow cooker as well. 
The rice kheer firm up as it cools. Hence, do not make it too thick otherwise after cooling down it will become like a semi-solid pudding. 
Adding saffron to the rice kheer is optional. You can add it for sweet aroma and beautiful colour.
Nutrition
Calories:
250
kcal
|
Carbohydrates:
37
g
|
Protein:
2
g
|
Fat:
11
g
|
Saturated Fat:
5
g
|
Polyunsaturated Fat:
1
g
|
Monounsaturated Fat:
4
g
|
Cholesterol:
19
mg
|
Sodium:
1
mg
|
Potassium:
99
mg
|
Fiber:
1
g
|
Sugar:
26
g
|
Vitamin A:
32
IU
|
Vitamin C:
1
mg
|
Calcium:
14
mg
|
Iron:
1
mg
For Behind The Scene updates
Subscribe to our newsletter!