Should I buy an instant pot for Indian cooking? My answer to this question is always loud and clear – YES. I am sharing the 5 most important uses of instant pot in the Indian kitchen and why you should buy it.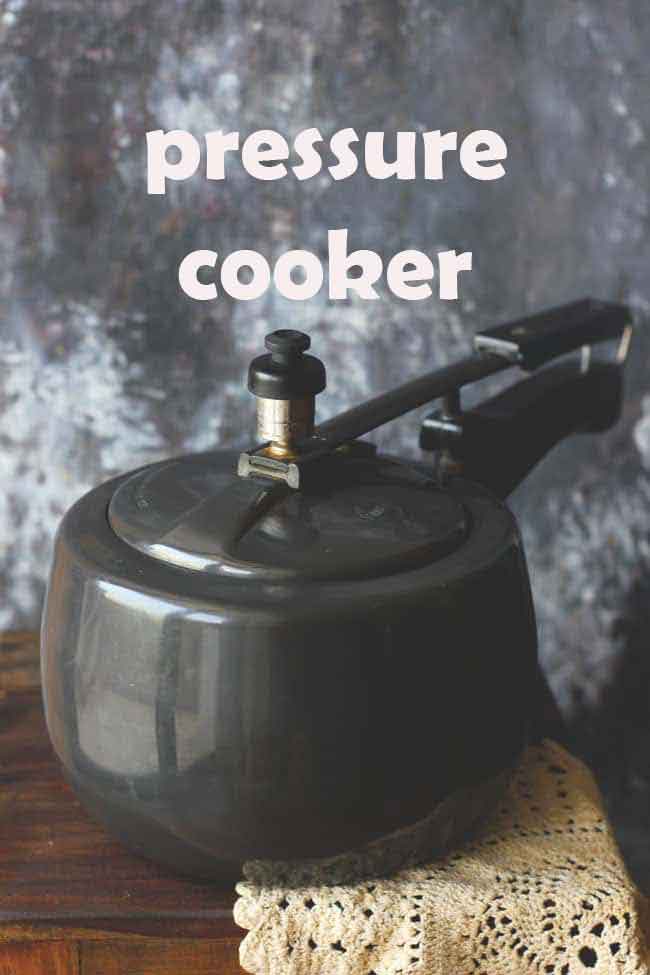 Pressure Cooker and Indian Cooking
A traditional stovetop pressure cooker is the essential cookware in the Indian kitchen. It is used at least once or twice to cook various dishes daily. The loud railway engine-like whistles of the pressure cooker are part of our daily humdrum of life.
I could not have imagined my life without a stovetop pressure cooker until I met the Instant Pot a few years back. While many would swear by their traditional stovetop pressure cooker, I love my instant pot for Indian cooking.
Instant Pot vs. pressure cooker can be a lengthy discussion, so I decided to share a detailed guide with all the pointers and my final verdict. In that guide, you can find:
Which is easier to use?
Which is safer to use?
Which is a smart choice?
Today in my Indian kitchen, instant pot has become an essential gadget. And I am sharing with you how I use it for everyday cooking.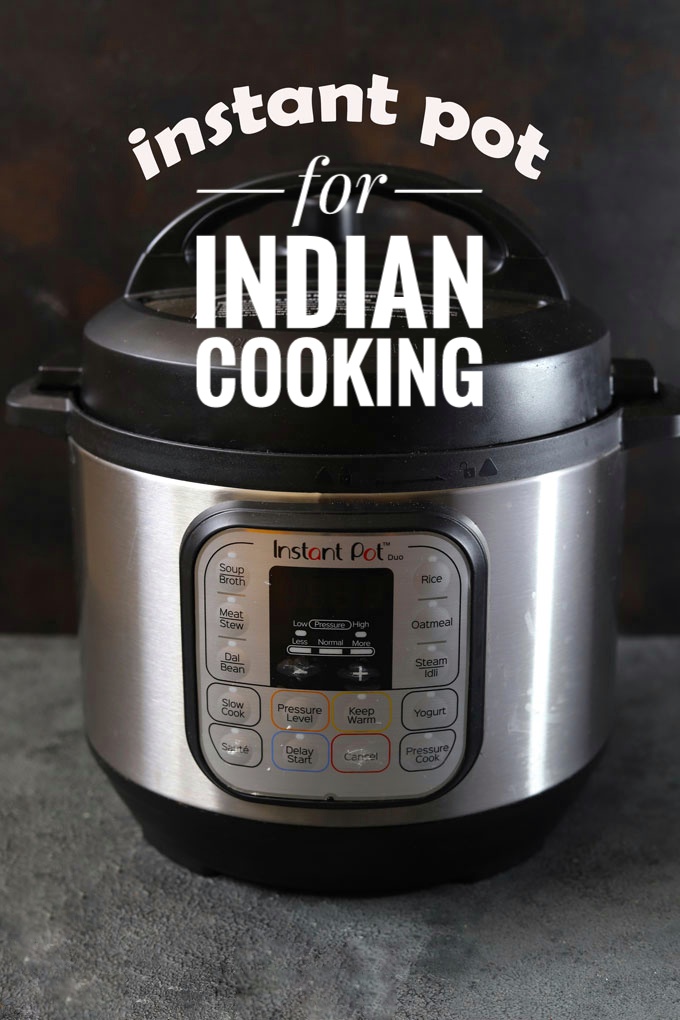 1) Pressure Cooking
Pressure Cooking is one of the many cooking modes in an instant pot. But it is far more efficient, less noisy, technology-driven, safer to use, and, more importantly, does not require babysitting. You can dump the food in it, set the pressure cooking time temperature, and forget about it. The result is always a gratifying bowl of comfort food.
I use the pressure cooking mode of instant pot for making Indian curries, pulao, fluffy basmati rice, and one-pot meals like Ven Pongal or khichdi.
I am happy to declare that pressure cooker is the most frequently used mode of instant pot in my kitchen.
2) Slow Cooking
As we all know, many Indian dishes like dal makhani, langar wali dal, kheer, or a traditional mutton curry require slow cooking. And it is so complex and nearly impossible to slow cook the food on a stovetop without overcooking it. Plus, it requires continuous monitoring.
The slow cook mode of the instant pot is perfect for Indian cooking. The impressive heat distribution in the slow cook mode will always give you the creamiest bowl of slow-cooked dal makhani or the most tender, fall of the bone mutton curry. Then, all you have to do is set the time (e.g., 1 hour, 2 hours, or 8 hours), heat level, and forget about it.
I cook all my meat dishes in slow cook mode of the instant pot. And trust me, after using it, you will never go back to the traditional pressure cooker for making meat curries.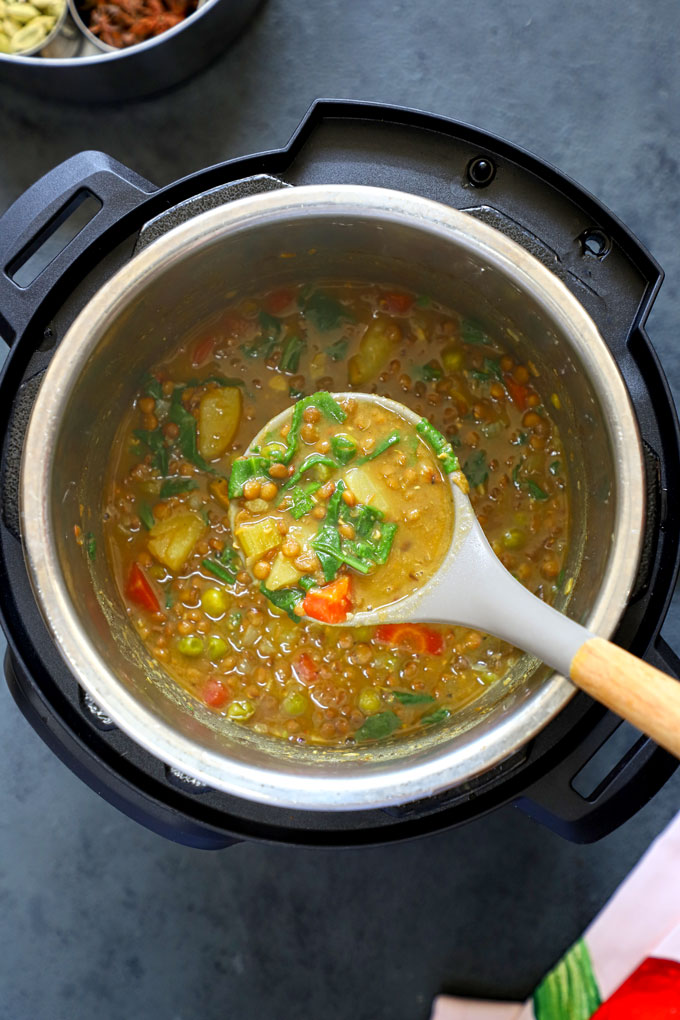 3) Steam and Stew
Whether it is steaming the perfectly soft and spongy idli/dhokla or stewing a delicious bowl of sambar sadam, the instant pot is my one-stop solution. Now I don't need a separate steamer and million other gadgets.
The steam and stew modes of instant pot are extremely helpful for Indian-style cooking.
4) Fermenting Batter
You will be surprised to know that the idli/dosa batter ferments perfectly in an instant pot. The instant pot makes fermenting any kind of batter foolproof – even during colder months. For example, I use the instant pot to ferment my traditional dhokla batter, naan, focaccia, or pizza dough.
Now, there is no need to wrap the dough in blankets or keep fingers crossed while praying for a perfectly fermented batter. From the batter fermenting process to steam cooking, you can do it all in one gadget, i.e., instant pot.
5) Setting Yogurt/Curd
We all know how curd is essential for cooking everyday Indian meals. But did you know that instant pot has the function of setting yogurt? This functionality takes out the guesswork from the equation and will give you the best homemade curd.
Instant Pot Yogurt function assures each time to yield failproof thick and creamy yogurt or curd.
Apart from these five functions, I use instant pot in my Indian kitchen to make soups, hard boil eggs potatoes, cook a variety of one-pot meals, and bake cakes. Then, of course, you can check out my easy, delicious instant pot recipe collection.
Here are more reasons:
why you SHOULD BUY INSTANT POT
"Set and leave" – no babysitting needed!
Safe to use for everyone- no worrisome accidents or burns.
Multi-function– replaces a lot of small kitchen appliances in one.
Delivers perfectly cooked dishes 100% – it has never failed me.
Easy to clean – you can put inner cooking pot in the dishwasher!
Portable– bring it with you anywhere.
Sleek and silent– elegantly designed to fit a small kitchen.
Comes in different sizes and models- choose what works for you best.
No need for a cooking gas supply – all you need is an electricity socket.
Most Frequently Asked Questions
Is instant pot useful in the Indian kitchen?
Yes, it is very useful and a better replacement for traditional stovetop pressure cookers. You can cook almost all Indian curries, rice dishes, and desserts in the instant pot.
Is instant pot available in India?
The original instant pot and many other varieties of multi-pot are available in India on Amazon.
Is instant pot good for Indian cooking?
Yes. The taste and texture of the Indian dishes turn out much better in the instant pot than in the stovetop pressure cooker, especially dals, curries, rice, and meat dishes.
Is an instant pot better than a pressure cooker for Indian cooking?
Yes. You can find my detailed review of this topic here.
Is instant pot expensive in India?
In India, instant pot and a variety of multi-pots from other brands start at INR 6000.
But don't take my word for it; buy one and experience it yourself. Once you have it, my Instant Pot 101: Guide for Beginners will tell you everything you need to know about first-time use and its functions.
Subscribe to our weekly newsletter or follow us on Instagram, Youtube for video recipes.