Khaman is a sweet and savory vegetarian snack from the state of Gujarat in India. I am sharing a soft and spongy instant khaman recipe that takes less than 10 minutes in a microwave. Be sure to watch the video!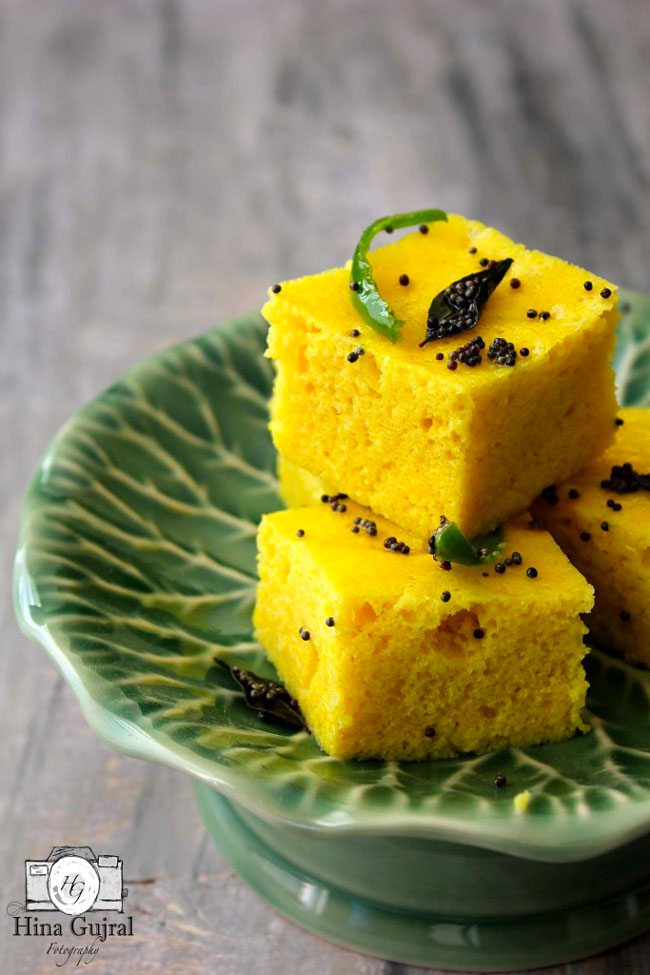 About Khaman
Khaman is a widely popular Indian snack from the state of Gujarat. It is served as a teatime snack or 'farsan' as they say in Gujarati, with a variety of sweet and spicy chutney.
A khaman is prepared with gram flour (besan). Hence, it is an excellent gluten-free and vegan snack.
Every family has its own way of making khaman from scratch.
In my experience, it is one of the easiest Indian snacks, but also, at the same time, one needs to understand as a cook the chemical reaction happening behind the scene to master the art of making khaman.
If you want to make this khaman in a smaller quantity serving one or two people, try my unique 10 minutes mug dhokla recipe.
Instant Khaman Dhokla
Over the years, I tried and tested a lot of khaman recipes. After dumping many batches of it into the trash, I somehow curated this microwave-friendly instant khaman dhokla recipe. It works like a charm.
There is nothing authentic about this khaman recipe. It is the cheat version of the traditional dhokla recipe. The traditional Gujarati style dhokla batter requires a tedious, overnight fermentation.
This instant khaman dhokla recipe has the fermented taste like an authentic dhokla, whereas instant fermentation comes from leavening agents like baking soda, citric acid, or fruit salt. Hence, we call it a khaman dhokla.
But when it comes to the taste, there is nothing fluke about this khaman recipe. It yields perfectly light, soft, and spongy khaman.
My Tried & True Tips
Pay close attention to the proportion of ingredients. Always use measuring cups and spoons.
Make sure to sift gram flour for making the batter. We need a fine gram flour powder for making the khaman.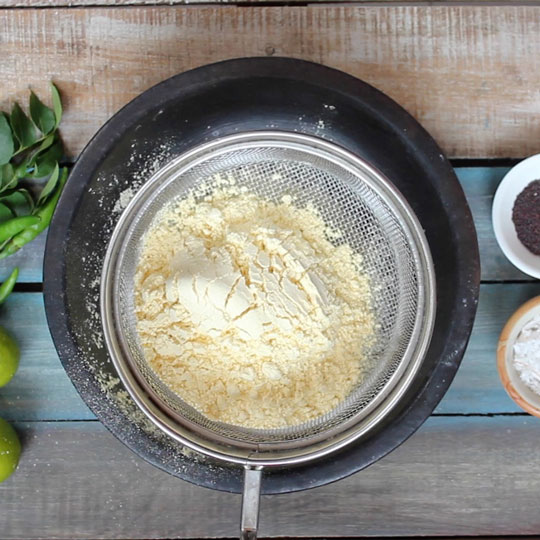 Whisk the batter in one direction clockwise for 5 minutes. This step ensures the batter turns light and fluffy.
After whisking the batter, allow it to rest for 5 – 6 minutes. We want gluten strands of the gram flour to relax and strengthen the structure of khaman.
Before adding fruit salt or baking soda to the batter, make sure the steaming setup is ready and within the reach of your hand.
If you are using fruit salt, make sure to use plain flavor. Also, check the expiry date on the sachet for freshness.
DO NOT MIX the batter for too long after adding the fruit salt or baking soda. Otherwise, you will end up with a flat and hard khaman.
Place a cup of water in the microwave while steaming the khaman dhokla. This will create enough moisture inside the microwave to make a soft and spongy khaman.
Insert a toothpick and check khaman for doneness. If it is sticking to the toothpick, it needs more steaming time.
While tempering the khaman, ensure it is warm but not piping hot. Allow it to cool down a bit before adding the sugar syrup.
FAQs Related To Khaman Recipe
What is the difference between khaman and dhokla?
Dhokla is made with ground, fermented batter of rice, and lentils like chana dal or urad dal. While the khaman recipe is made only with gram flour (besan). Khaman batter is not fermented, unlike dhokla batter. Khaman and dhokla both are highly popular vegetarian Gujarati snacks (farsan).
How to steam khaman on a gas stovetop?
Fill your stovetop steamer with water. Place the pan with the batter inside the steamer and cover with the lid. When you place the pan with the khaman batter, the water should already be boiling or hot. Steam for 12 to 15 minutes.
How to steam khaman in an instant pot?
Fill the inner pot with two glasses of water to steam dhokla in an instant pot. Place a tall trivet in the inner pot. Arrange the pan with the batter on the trivet (I prefer using a small-size round cake tin that will fit easily inside the instant pot). Close the lid. Set the steam valve to the venting position. Set the Steam Mode for 10 minutes. The IP timer does not work in steaming mode; hence you will need to set an external timer. After the set cooking time, open the lid, and insert a toothpick to check dhokla for doneness. Let dhokla sit in the pan for 10 minutes to cool down.
How to make khaman without eno?
Substitute one teaspoon of fruit salt with a baking soda or cooking soda. Both act as a great instant fermenting agent to make a fluffy khaman. But if fruit salt or baking soda is added in too much quantity, your khaman might get a soapy taste. So be careful!
Can I substitute lemon juice with citric acid?
Yes, you can. 1 tablespoon lemon juice = ¼ teaspoon citric acid (in powder form). But make sure to use a good quality, edible citric acid.
How to store khaman?
Transfer the leftover khaman to a large air-tight container along with the liquid. Store it in the refrigerator.
Why did my dhokla turn orange or red?
Turmeric powder reacts with baking soda or fruit salt to give orange or red colored patches in khaman dhokla. Add only a pinch of turmeric powder to the batter.
Watch Khaman Video
More Teatime Snack Recipes
Subscribe to our weekly newsletter or follow us on Youtube for video recipes.
If you try this recipe and love it, please leave a comment and a rating. This helps us grow and reach other food lovers like you.
Instant Khaman Recipe
I am sharing with you a soft and spongy instant khaman recipe that takes less than 10 minutes in a microwave. Be sure to watch the video!
Print
Pin
Rate
Ingredients
1

Cup

Gram flour (besan)

½

Cup

water, room temperature

1

teaspoon

grated ginger

1

teaspoon

chopped green chili

salt to taste

¼

teaspoon

turmeric powder

¼

teaspoon

baking powder

1

tablespoon

powdered sugar

1

teasppon

cooking oil

1

tablespoon

lemon juice

1

teaspoon

Eno fruit salt
Ingredients For Tempering:
2

tablespoon

cooking oil

1

tablespoon

mustard seeds (rai)

5 – 6

curry leaves

2 – 3

green chilies slit into half lengthwise

Juice of 1 medium-size lemon

2

tablespoon

granulated white sugar

1

Cup

water
Instructions
Combine 1 cup water with grated ginger and chopped green chili. Set aside till required.

Sift the gram flour in a bowl. Add salt, turmeric powder, sugar, baking powder and mix nicely.

In small quantity add the ginger water, oil, lemon juice to the sifted flour and stir to combine. Whisk the mixture nicely for next 5 – 10 minutes.

Cover the batter and set aside to rest for 5 – 6 minutes.

Prepare a microwave safe bowl by greasing with a teaspoon of oil. Keep aside.

Add fruit salt or baking soda to the dhokla batter and mix nicely. The batter will rise and turn frothy. Do not whisk the batter for too long, once combined stop whisking.

Pour the batter into the greased microwave-safe bowl and arrange it in a large bowl. Fill ¼ of the large bowl with water. Cook dhokla in the microwave for 5 minutes.

Insert a toothpick in the center to check the doneness. Once cooked, allow the dhokla to cool down for few minutes before inverting and cutting into pieces.
Dhokla Tempering:
Heat oil in a small pan over medium heat. Add mustard seeds, once seeds crackle, add curry leaves, green chilies. Sauté for few seconds and then add the white sugar. Mix nicely.

Pour water and stir to dissolve the sugar nicely. Once sugar is dissolved, turn off the heat.

Allow tempering to cool down a bit. Squeeze lemon juice and mix.

Pour this tempering over the dhokla. At this stage, you can keep Dhokla in the fridge to chill down and soak the syrup flavors or you can serve it immediately.

Garnish dhokla with grated coconut and chopped coriander leaves.
Recipe Notes:
It is important to sift the gram flour for making dhokla. 
Whisking the batter nicely ensures a soft and fluffy dhokla. 
Do not mix the batter for too long after adding the fruit salt. It needs to be steamed immediately. 
Do not add lemon juice in the piping hot tempering. The taste of sugar syrup might turn bitter.
Before tempering the dhokla, make sure the dhokla and tempering are not piping hot. They should be warm to touch but not fuming. 
Allow the dhokla to sit in the sugar syrup tempering for at least one hour before serving. Keep in the fridge.
Nutrition
Calories:
122
kcal
|
Carbohydrates:
15
g
|
Protein:
4
g
|
Fat:
5
g
|
Saturated Fat:
0.4
g
|
Polyunsaturated Fat:
2
g
|
Monounsaturated Fat:
3
g
|
Trans Fat:
0.01
g
|
Sodium:
247
mg
|
Potassium:
154
mg
|
Fiber:
3
g
|
Sugar:
7
g
|
Vitamin A:
59
IU
|
Vitamin C:
32
mg
|
Calcium:
23
mg
|
Iron:
1
mg
For Behind The Scene updates
Subscribe to our newsletter!