Avocado Hummus is a gluten-free Mediterranean dip loaded with the goodness of avocado and chickpeas. A healthy, creamy, green hummus perfect for chips, crackers, fattoush, or falafel.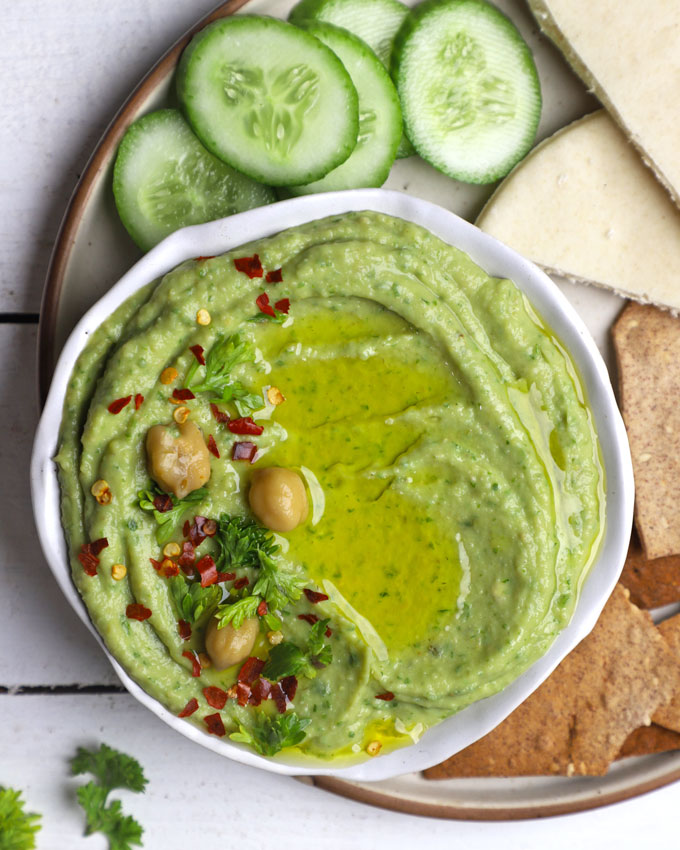 Avocado Hummus is a beautiful marriage between chickpea hummus and guacamole.
The ripe avocado gives a buttery twist to the classic hummus. But, apart from that, it has the freshness of cilantro, the nuttiness of tahini, and the creaminess of yogurt.
You should try my beetroot hummus. It's full of flavors and colors.
When it comes to dips, it's hard to find one that's both healthy and delicious. Avocado hummus is a guilt-free dip that you can afford to indulge in (and in large quantities) because:
Ingredients Required
Chickpeas – Use regular white chickpeas (chana) or garbanzo beans for making hummus. You can boil them from scratch at home or use the canned ones.
Avocados – Ripe and buttery avocados are the star of this dip. DO NOT use unripe avocado.
Tahini Paste – The tahini or the sesame seed paste is an essential ingredient for making hummus.
Yogurt: The plain Greek yogurt gives a creamy mouthfeel to the avocado hummus. But it is an optional ingredient, especially if you are making a vegan dip.
Herb: Fresh cilantro or parsley gives a refreshing twist to the hummus.
Extra Virgin Olive Oil – A good quality of cold-pressed EVOO is the secret to any good salad dressing or dip (it makes the difference in the taste of the dip).
Other Ingredients: Salt, Lemon Juice, Garlic, Ice Cubes
A good blender, this avocado dip is all about that smooth texture.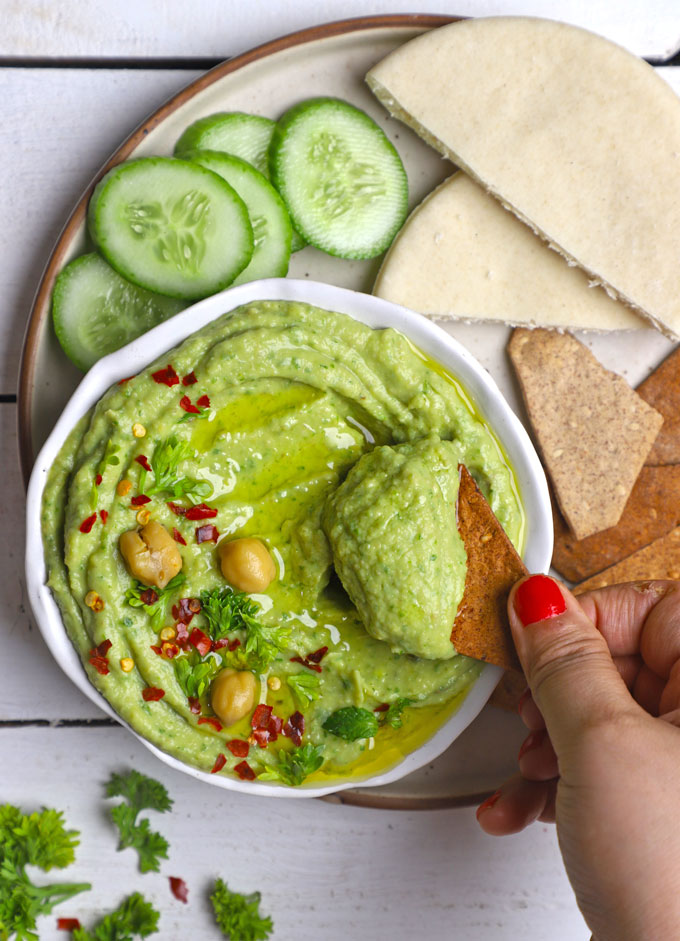 My Tried & True Tips
Creamy Hummus: Overcooked, soft, mushy, or over-cooked chickpeas are perfect for a creamy hummus recipe. Remove the skin of the chickpeas after boiling. Try this step for super creamy hummus, and thank me in the comments below.
Buttery Mouthfeel: Perfectly ripe avocados with brown skin, tahini paste, and the yogurt gives you the buttery hummus. Of course, you can always play around with the quantity of these three ingredients to get the desired taste.
Bright Green Color: The addition of fresh herbs will give you that sort after bright green color.
Add a few ice cubes while blending the avocado hummus to control the heat generated inside the blender and avoid the blackening of herbs.
Use the reserved liquid from the boiled chickpeas to get the mouth-melting texture of the hummus. It is one of the magical ingredients that transforms hummus from ordinary to finger-licking good.
A few extra minutes on the food processor/blender will always give you super creamy hummus.
How To Make
Step 1) Combine chickpeas, avocado, tahini paste, lemon juice, yogurt, garlic, olive oil, parsley, and salt in the bowl of a food processor or blender. Add 2 ice cubes.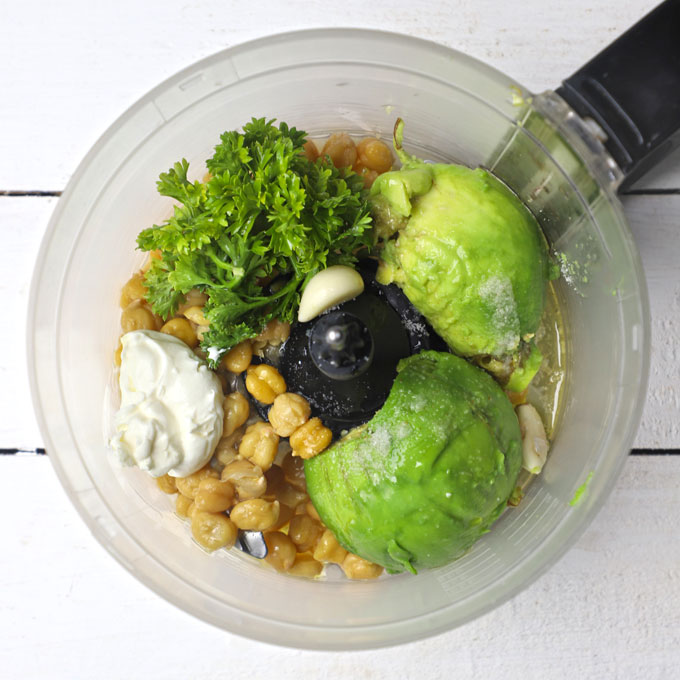 Step 2) Blend until smooth. Use extra virgin olive oil or reserved chickpea water to get a smooth consistency while blending. And the hummus is ready!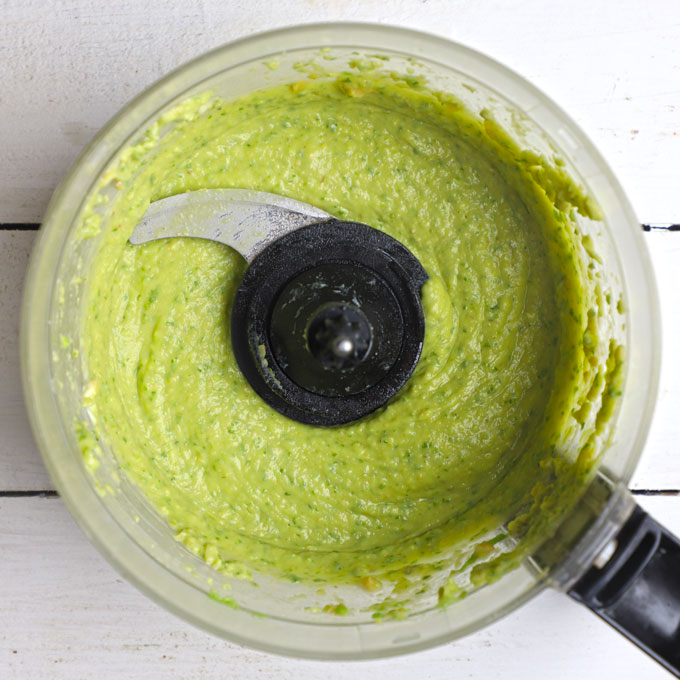 FAQ Related To Avocado Hummus
How to boil chickpeas for hummus?
Soak them for six hours in water. Pressure cook with salt for 25 minutes in an instant pot or 4 whistles over low heat on a stovetop pressure cooker. Later, reserve the liquid in which chickpeas are boiled. Use it for blending hummus instead of plain water.
How to use canned chickpeas for making hummus?
Transfer canned chickpeas to a saucepan. Add 1 cup of plain water to the same saucepan. Boil for 10 minutes. Discard the skin of the chickpeas. Use the extra liquid for blending hummus.
Can you freeze avocado hummus?
You can freeze the avocado hummus for 1 – 2 months in a freezer-friendly zip lock bag or airtight container. But later, its taste and texture are not the same. Hence, it is advised to consume it within 1 – 2 days.
How to avoid black avocado hummus?
Do not blend hummus with green herbs and avocado for too long. The heat of the blender will turn them black. Also, add a few ice cubes while blending to retain the bright color of the hummus.
Serving Suggestion
Avocado Hummus pairs well with pita bread, meat kebabs, fattoush, crackers, or falafel.
It is served alongside other Mediterranean dips like labneh, roasted red pepper dip, and baba ganoush on a mezze platter.
This avocado hummus is an excellent vegan spread for falafel wrap or sandwiches.
More Dip Recipes
Subscribe to our weekly newsletter or follow us on Youtube for video recipes.
If you try this recipe and love it, please leave a comment and a rating. This helps us grow and reach other food lovers like you.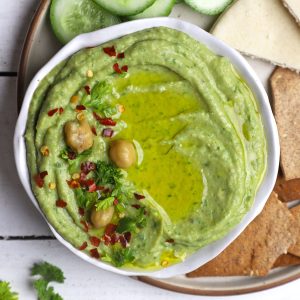 Avocado Hummus Recipe
Avocado Hummus is a gluten-free, vegan hummus. Learn how to make creamy Mediterranean-style avocado dip in a few simple steps.
Print
Pin
Rate
Ingredients
1

Cup

cooked chickpeas (white chana/garbanzo beans)

1

ripe

avocado

¼

Cup

fresh parsley

1

tablespoon

tahini paste

1

tablespoon

plain Greek yogurt

2

garlic cloves

4

tablespoon

extra virgin olive oil

1

teaspoon

salt or to taste

1

tablespoon

lemon juice
Instructions
How To Cook Chickpeas for Hummus:
You can use tinned or canned chickpeas to make the hummus or you can boil them at home from scratch. In either case, discard the skin of the chickpeas and reserve the liquid of the chickpeas to blend the hummus.

Cut the avocado into two halves. Remove the stone using a knife. Scoop out the the avocado pulp with a spoon. Transfer it to the blender.

Combine chickpeas, avocado, tahini paste, lemon juice, garlic, olive oil, parsley,, salt, and yogurt in the bowl of a food processor. Blend until smooth.

Pour hummus into the serving bowl. Garnish with parsley and red pepper flakes. Drizzle with olive oil and serve.
Recipe Notes:
How To Boil Chickpeas at home:
Rinse and soak them in water for 5 – 6 hours.

After 5 – 6 hours drain the water from the soaked chickpeas. Transfer them to a pressure cooker or instant pot. Add approximately 2 cups of water and a teaspoon of salt.  

Close the lid of the pressure cooker. Cook the chickpeas over medium heat for 3 – 4 whistles.

Transfer the boiled chickpeas to a colander or sieve. Allow them to cool down completely. Remove the skin of the chickpeas. Reserve the boiled chickpea liquid. 

Drain out the water in the chickpeas completely before blending, otherwise, it will ruin the consistency of the dip.
Alternatives for tahini paste – Low-fat yogurt (dairy), coconut cream (dairy-free yogurt), or plain Greek yogurt).
You can use canned chickpeas as well for making the hummus. 
Nutrition
Calories:
883
kcal
|
Carbohydrates:
53
g
|
Protein:
20
g
|
Fat:
69
g
|
Saturated Fat:
10
g
|
Polyunsaturated Fat:
11
g
|
Monounsaturated Fat:
45
g
|
Cholesterol:
1
mg
|
Sodium:
2359
mg
|
Potassium:
675
mg
|
Fiber:
14
g
|
Sugar:
9
g
|
Vitamin A:
1330
IU
|
Vitamin C:
30
mg
|
Calcium:
154
mg
|
Iron:
7
mg
For Behind The Scene updates
Subscribe to our newsletter!