Cheela, crepes or pancakes are the most popular breakfast dishes all over the world. Whether it is Indian cheela made of lentils, savory Asian crepes or Western thick sweet Pancakes, everybody loves them. Let's not get into the discussion which came first because that is quite a debatable topic, all I know is I devour all three with equal enthusiasm. Moong Dal Cheela is one of our favorite breakfast dishes. It is so simple to make and yet so delicious. With an addition of potato or paneer stuffing, it turns into a fulfilling breakfast meal. If you are little experimental when it comes to flavors, then try the stuffing of feta cheese and sun-dried tomato, the combination tastes superb with Moong Dal Cheela.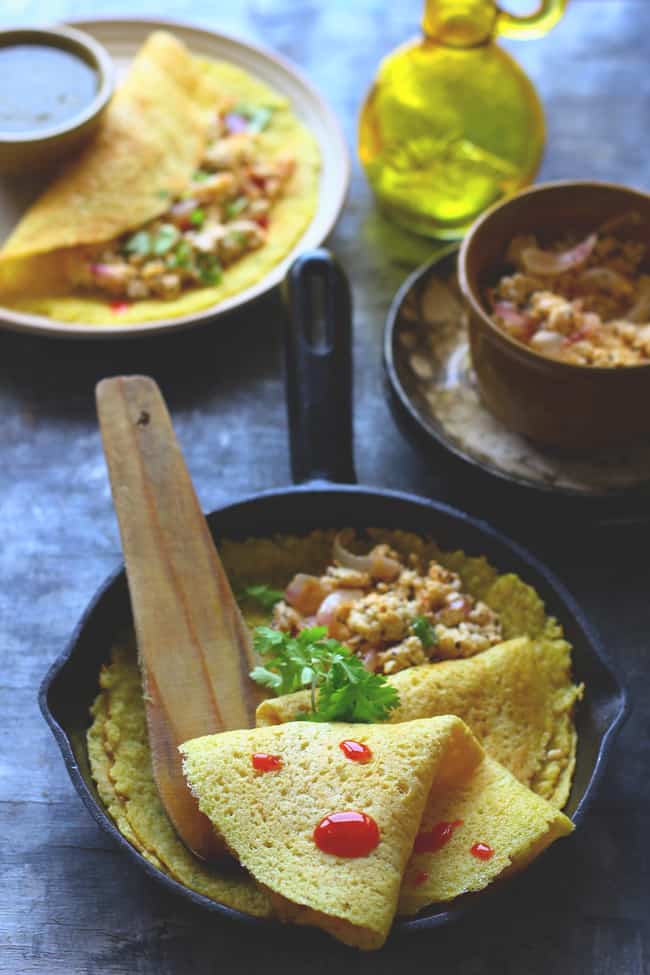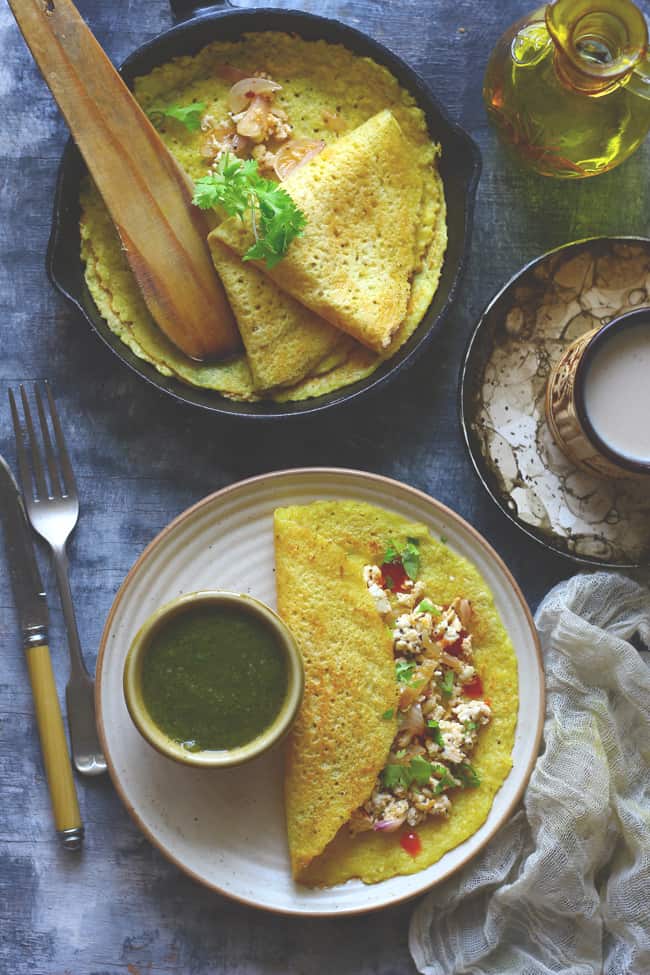 Moong Dal Cheela
is a 100% gluten free breakfast/lunch recipe. In my opinion, if you are looking for a low-calorie diet than Moong Dal Cheela is a great choice. For a more healthy version, replace regular paneer/potato stuffing with tofu or low-fat paneer. We usually eat
Moong Dal Cheela
almost every week. The basic
Moong Dal Cheela Recipe
has paneer stuffing but it's optional. They taste great without any stuffing too. On a busy weekday, we often skip the stuffing part and serve them with
green chutney
and tomato ketchup.
Learn how to make Moong Dal Cheela in few simple steps.
Also, don't forget to follow our
Pinterest Board
for more such delicious recipes.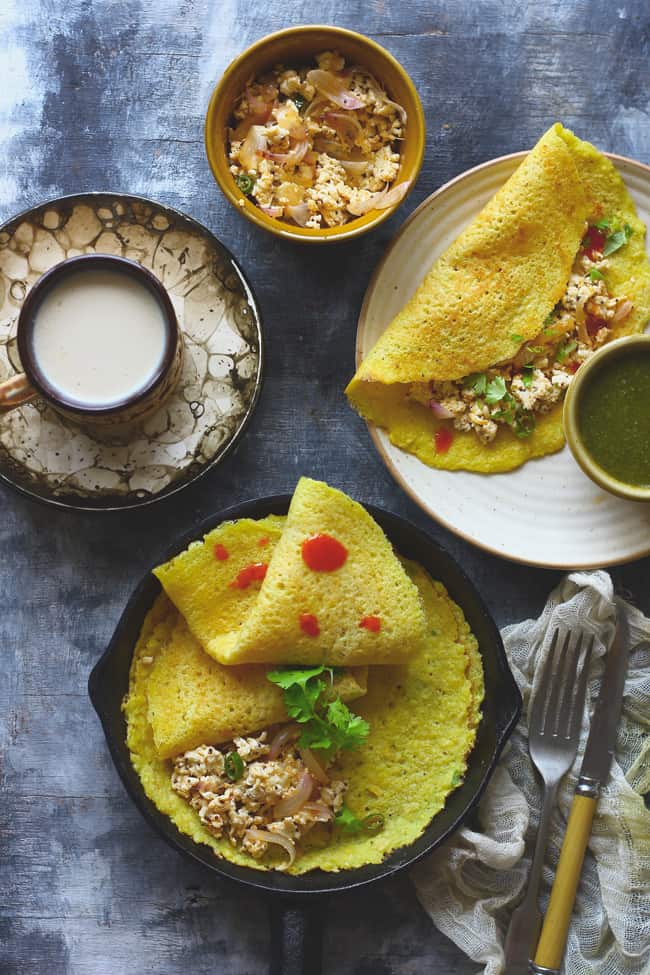 Moong Dal Cheela Recipe
2016-07-28 06:07:12
Serves 6
To be grind into paste
1 Cup Yellow Moong Dal
1 green chilli chopped
1 tsp chopped ginger
2 cloves of garlic
Other ingredients
Salt to taste
1 tsp turmeric powder
1 tsp red chili powder
1 tsp cumin powder
Oil for cooking the Cheela
Ingredients for the stuffing
1 Cup grated paneer (cottage cheese)
1 small-size onion sliced
1 tsp mustard seeds (rai)
1 green chilli fine chopped
Salt to taste
1 tsp turmeric powder
1 tsp red chili powder
1 tbsp chopped coriander
2 tbsp cooking oil
Instructions
Wash and soak the moong dal in water for 3 - 4 hours.
Drain water from the soaked dal. Grind it to a smooth paste along with green chili, ginger and garlic. The batter should be smooth dosa batter like consistency.
Transfer the batter to a mixing bowl. Add spices, salt and mix well. Set aside.
Next prepare the stuffing for Cheela. In a pan heat oil.
Add mustard seeds, once seeds start spluttering, add sliced onion and green chili.
Fry till onion turn translucent and light pink in color.
Add grated paneer along with salt and spices. Stir to mix. Cook for a minute or so.
Turn off the heat. Add chopped coriander and mix. Set the stuffing aside.
Heat a nonstick pan and grease it with a tablespoon of oil.
Keep a bowl full of water next to the cheela batter.
Pour a ladle full of batter in the centre of the pan. Dip the back of the ladle in water and then using it spread the batter in circular motion into a thin round.
Drizzle a teaspoon of oil on the sides of the cheela and cook on medium heat till the underside is done. Once the edges start to brown then insert the spatula under the edges of the cheela to loosen. Carefully flip over, drizzle another teaspoon of oil and cook for a minute or so.
Once again flip the cheela, spread a spoonful of paneer stuffing on one side of the cheela.
Cover the paneer stuffing with the other half of the cheela. Transfer to a plate.
Serve Moong Dal Cheela with green chutney ( see recipe ).
Fun FOOD and Frolic http://www.funfoodfrolic.com/