Vermicelli Upma is a terrific easy to prepare Indian breakfast recipe. It is super simple to prepare and fits perfectly under the criteria of an ultimate comfort breakfast cum snack. Don't shy away from making a little extra helping of semiya upma and enjoying it with your evening cup of tea. Serve it with mint and coriander chutney for that extra oomph flavour.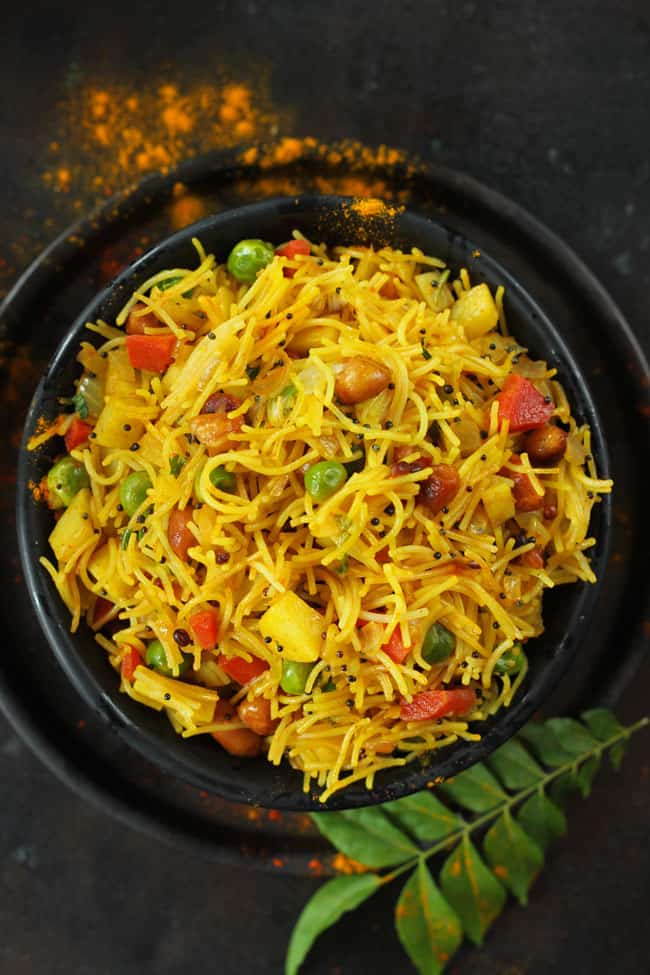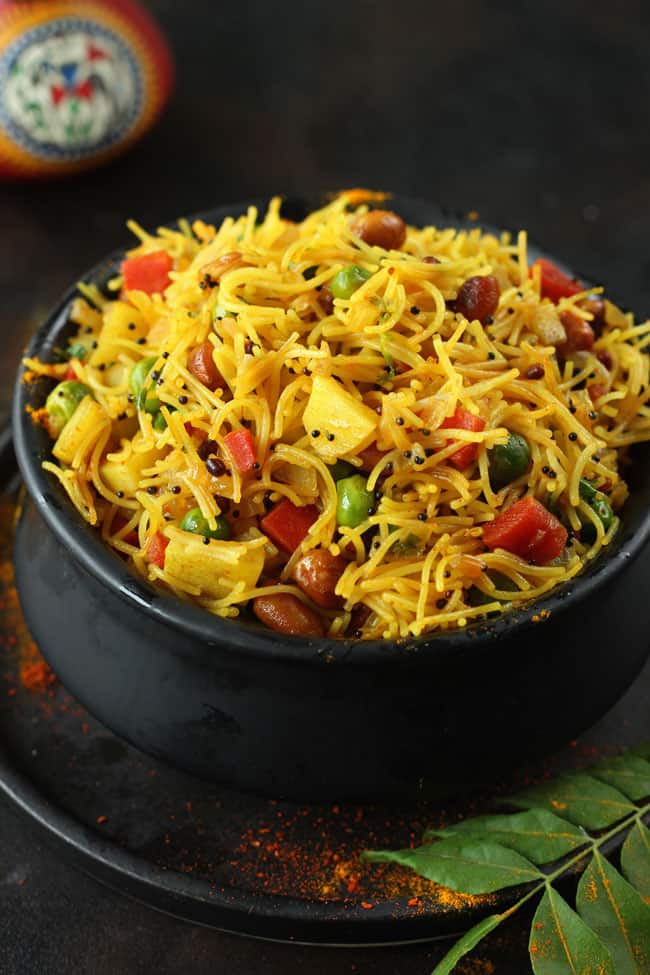 On busy weekdays I am not much in the favour of time taking breakfast recipes. Keeping it simple, wholesome and fulfilling is my main parameter while planning breakfast. The vegetable semiya upma perfectly qualifies all these criteria of a fast and quick totally delicious Indian breakfast.
With each season the ingredients of my vermicelli upma also keep changing. During the winters, it is loaded with bright and shiny vegetables – green peas, carrot, beans etc. But around hot summer days, we like to keep it minimal. So many possibilities. My favourite is lemon semiya upma with only peanuts, cashews, a lot of lemon juice and fresh coriander. Plain and refreshing!
Did I mentioned earlier that this vermicelli upma is lunchbox friendly as well? The best part about this breakfast recipe is you can do some of the preparation work for it during the night itself. Like, chop the vegetables (except potato), keep them in an airtight container or a ziplock bag and store in the fridge. Usually, I boil the vermicelli as well during the night, toss it gently in a teaspoon of cooking oil and keep it in the fridge. Last minute, all you need to do is cook the upma and that does not take more than 20 minutes. A light and delicious breakfast is on the table without spending hours in the kitchen.
What are some easy to make 'healthy' Indian breakfast food?
There are many Indian breakfast recipes that can be easily prepared with few basic ingredients, are wholesome and absolutely healthy. Here are few 'healthy' Indian breakfast food recipe ideas:
Watch How To Make Vermicelli Upma in Few Simple Steps:
For more such fun recipes in your life, follow along on Facebook, Instagram, or subscribe to our Youtube Channel.
If you try this recipe and love it, please leave a comment and a rating. This helps us grow and reach many other food lovers like you, who are looking for a perfect tried and tested recipe.