Here is our weekly lunch box menu plan. For you this week, we have Indian-style bento lunch box recipe ideas, meal prep tips, and a print-friendly lunch box menu. I hope you guys like it!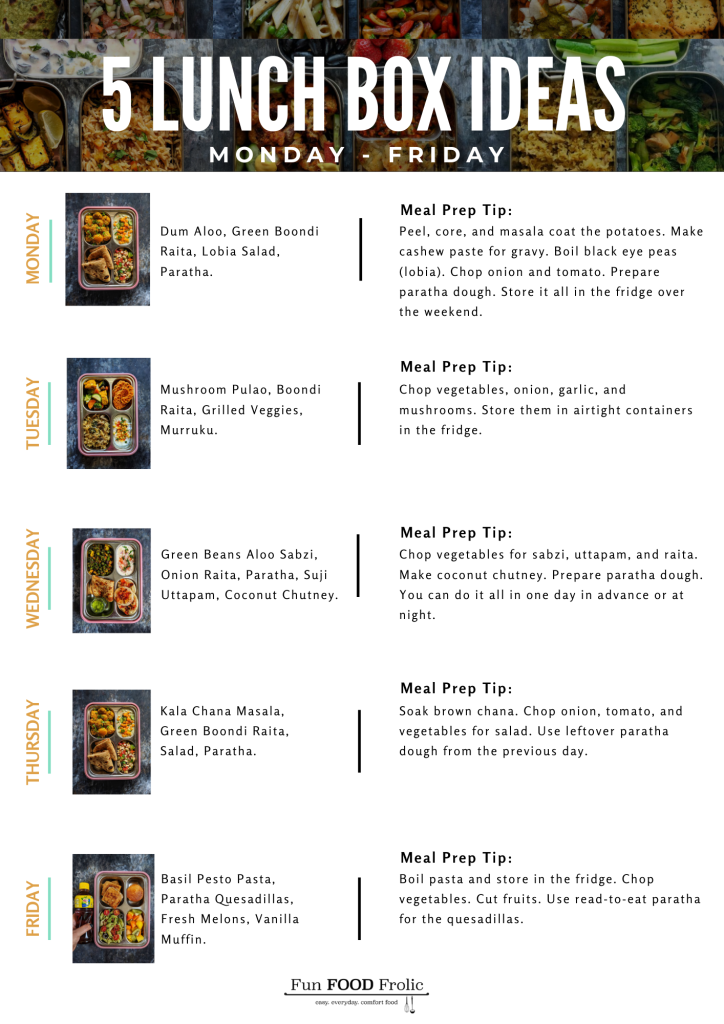 You can DOWNLOAD & PRINT THIS LUNCH BOX MENU.
We share a new lunch box menu plan every week. If you want to explore the entire lunch box series, type 'LUNCH BOX' in the search bar of my website. And you will get all the weekly lunch box plans at your fingertips.
Every week, the lunch box series includes FREE printable menu plans, including my meal prep tips for the Indian kitchen. In this series you will get:
practical lunch box ideas for adults
easy to follow menu plan with recipes
Indian Cuisine inspired recipe ideas
helpful meal prep tips for Indian kitchen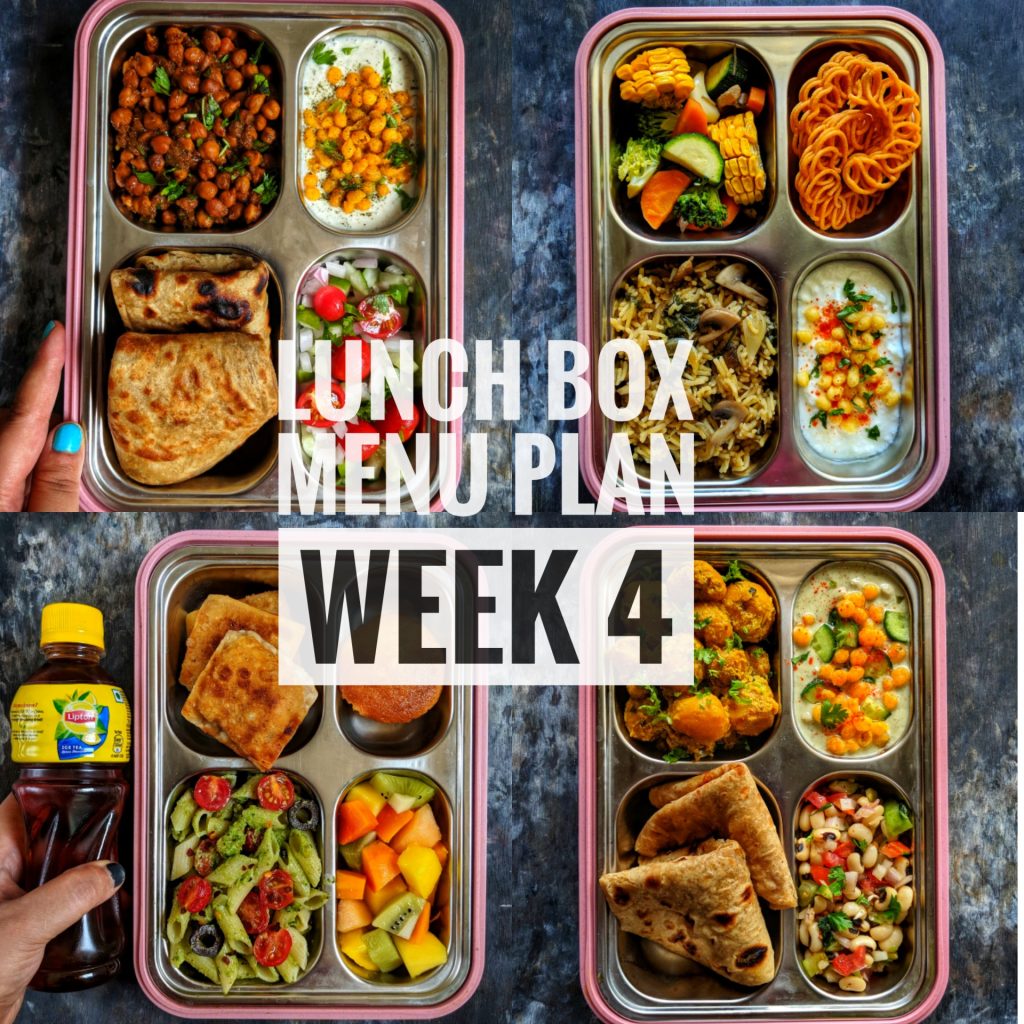 Week 4 – Lunch Box Menu Plan
Monday: A truly Punjabi style lunch box menu
Dum Aloo (Main Course), Green Boondi Raita (Side Dish), Lobia Salad (Snack), Paratha
Meal Prep Tip: Peel, core, and masala coat the potatoes. Transfer them to an airtight container. Make cashew paste for gravy. Soak and boil black eye peas (lobia) a day before. Chop onion and tomato. Prepare paratha dough. Store it all in the fridge over the weekend.
Tuesday: A light and tasty gluten-free lunch box
Mushroom Pulao (Main Course), Boondi Raita (Side Dish), Grilled Veggies (Snack), Murruku (Munchies)
Meal Prep Tip: Chop vegetables, onion, garlic (use ready-made peeled garlic), and mushrooms. Store them in airtight containers in the fridge.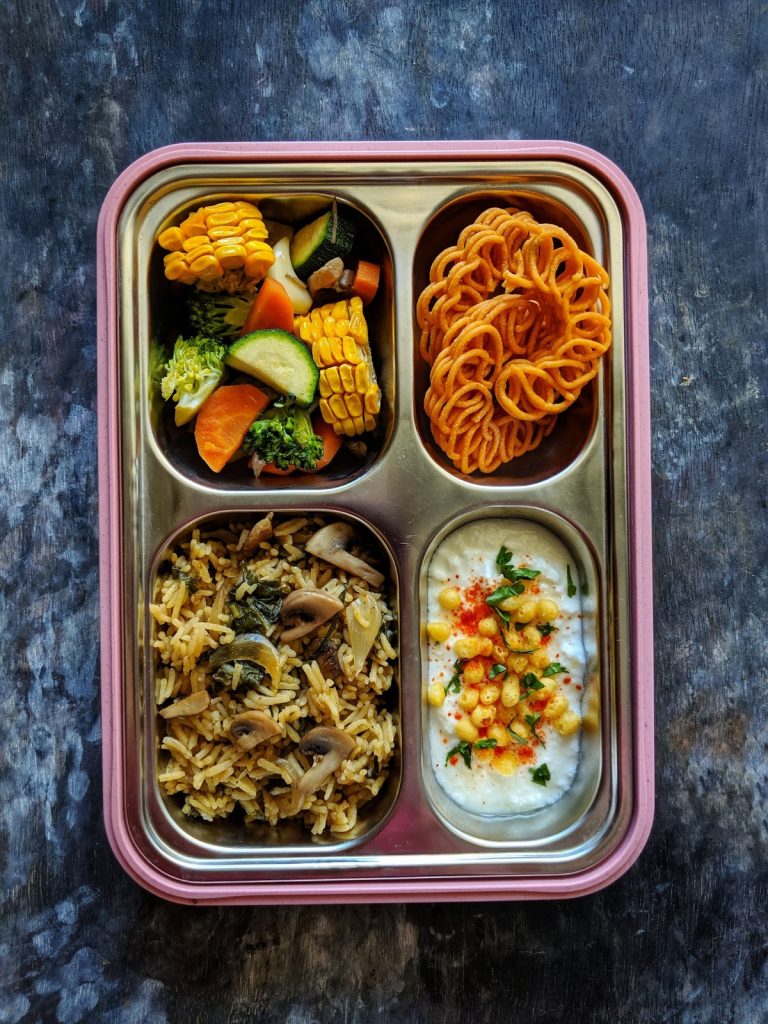 Wednesday: A simple yet delicious and fulfilling lunch box
Green Beans Aloo Sabzi (Main Course), Onion Raita (Side Dish), Paratha, Suji Uttapam (Snack), Coconut Chutney (Dip)
Meal Prep Tip: Chop vegetables for sabzi, uttapam, and raita. Make coconut chutney. Prepare paratha dough. You can do it all in one day in advance or at night.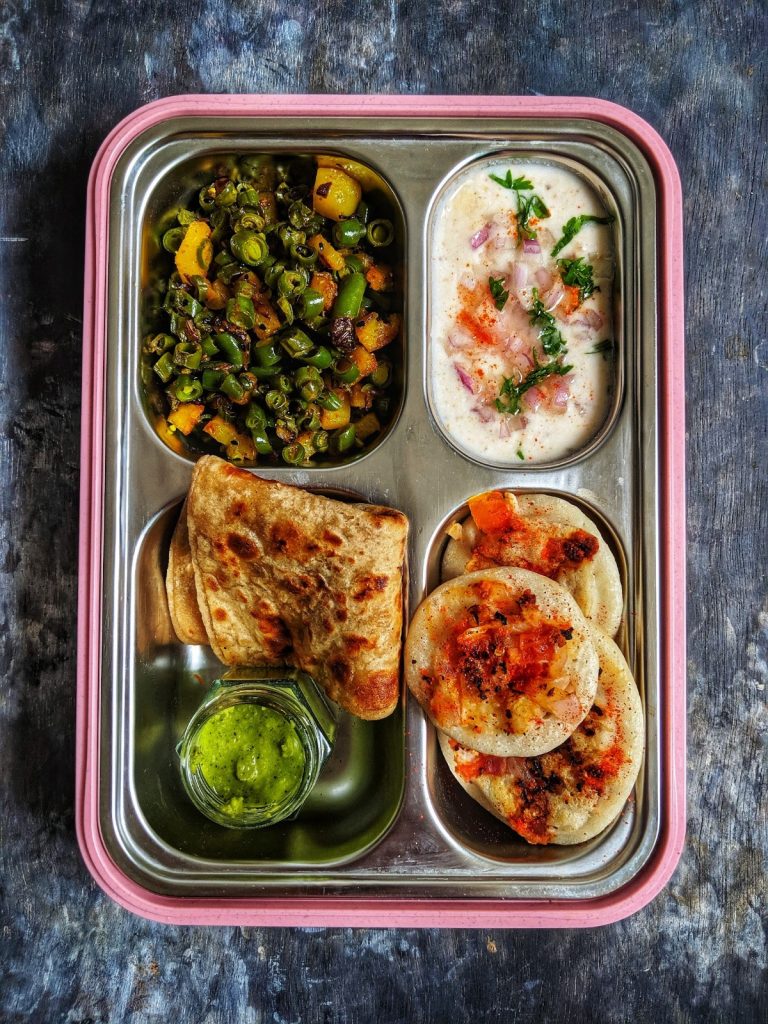 Thursday: A wholesome and vibrant lunch box menu
Kala Chana Masala (Main Course), Green Boondi Raita (Side Dish), Salad, Paratha
Meal Prep Tip: Soak brown chana. Chop onion, tomato, and vegetables for salad. Use leftover paratha dough from the previous day.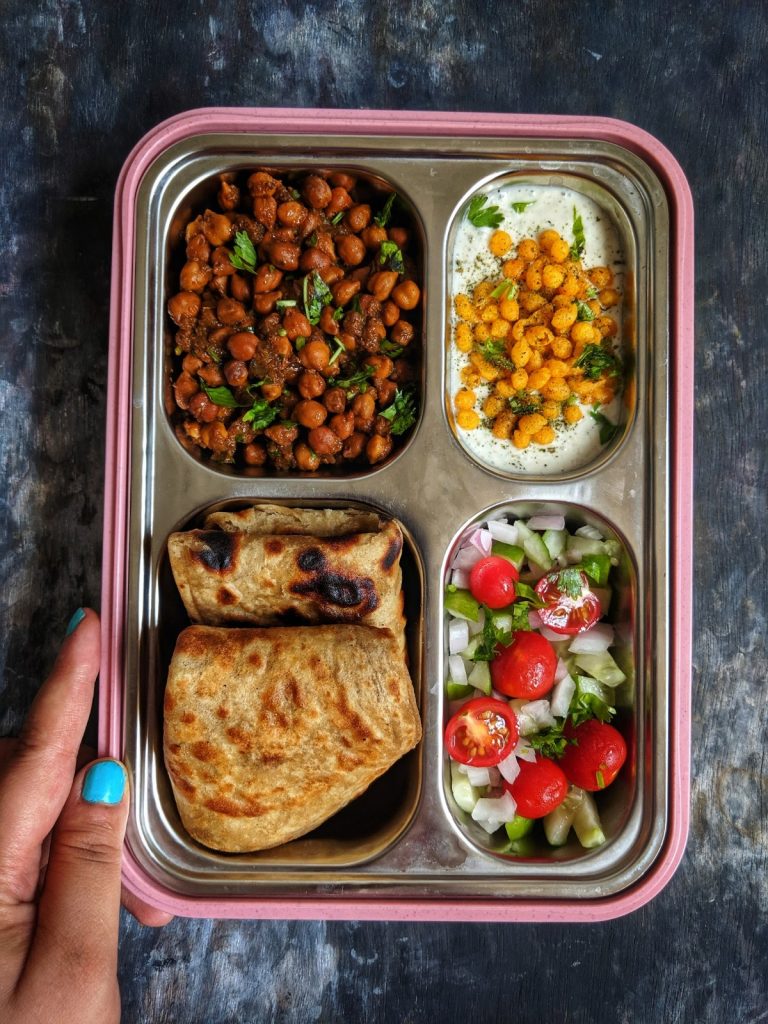 Friday: A fusion lunch box for Friday fun
Basil Pesto Pasta (Main Course), Paratha Quesadillas (Side Dish), Fresh Melons (Snack), Vanilla Muffin (Sweet)
Meal Prep Tip: Boil pasta and store in the fridge. Chop vegetables. Cut fruits. Use ready-to-eat paratha for the quesadillas.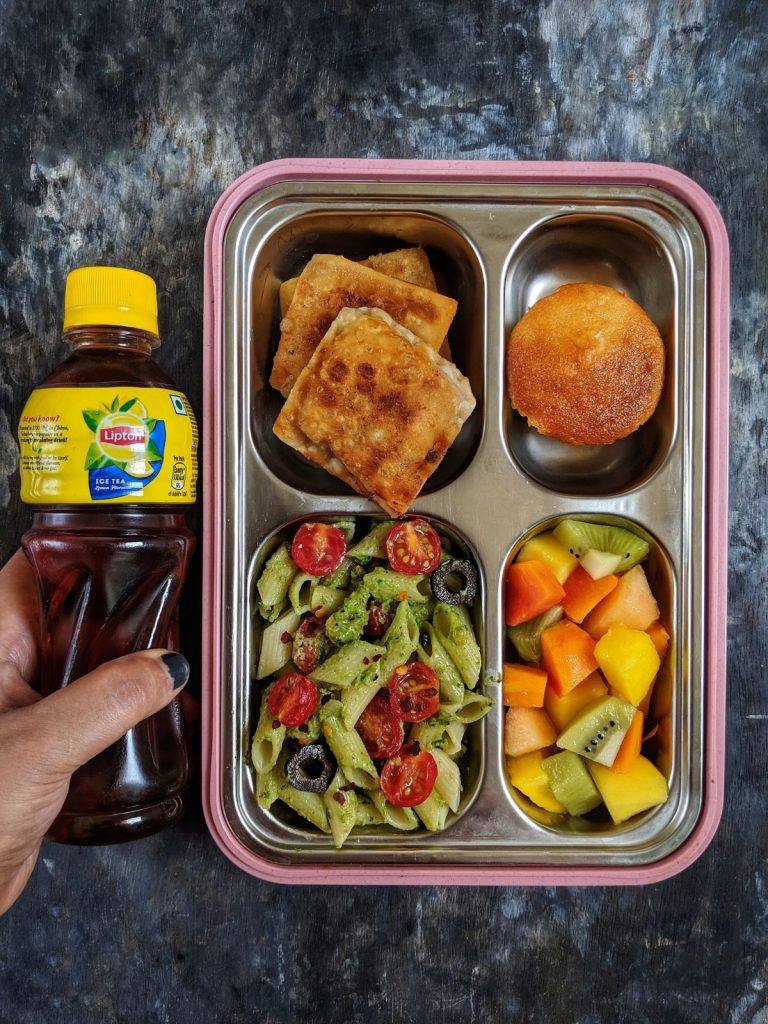 The Right Lunchbox: A great meal might taste meh because of the wrong lunch box. You can find and shop a few of my all-time favorite lunchboxes at my Amazon Store. I have been using these lunchboxes for many years and highly recommend them for packing lunch.
Subscribe to our weekly newsletter or follow us on Instagram Youtube for video recipes.