Jain Paneer Makhani is a delicious, rich and creamy Indian curry prepared without using any onion and garlic. And you will be surprised to know that this Jain Paneer Makhani can be prepared in 30 minutes. It has a smooth and luscious gravy that is perfect to relish with chapati or naan. The bright color of the gravy comes from the red bell pepper and the tomato puree. The magic ingredient in the no onion and garlic Paneer Makhani is the red bell pepper. Who could have thought that a bell pepper based sauce would taste so good in an Indian curry?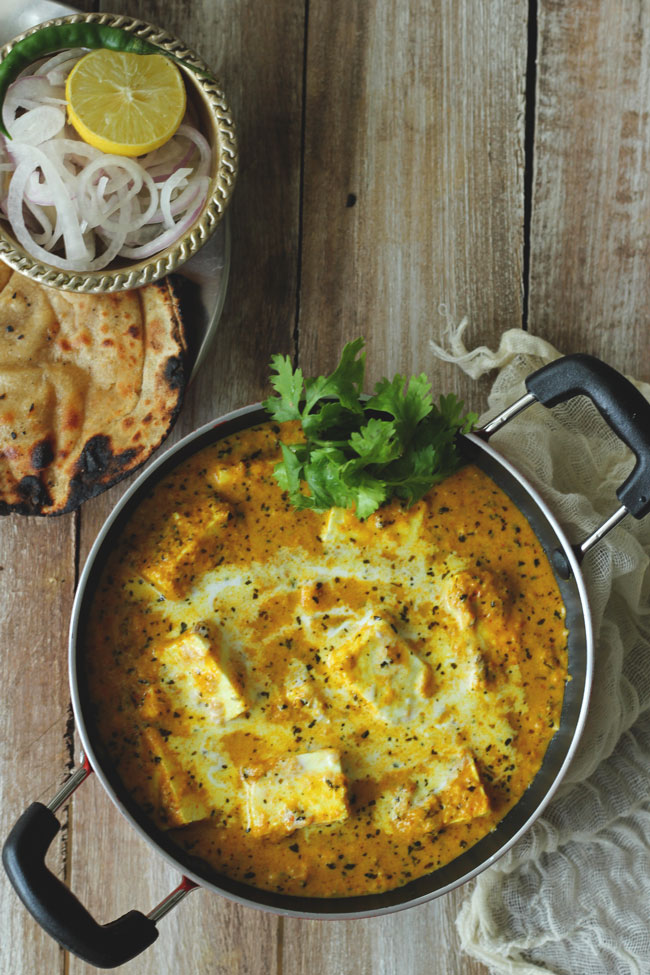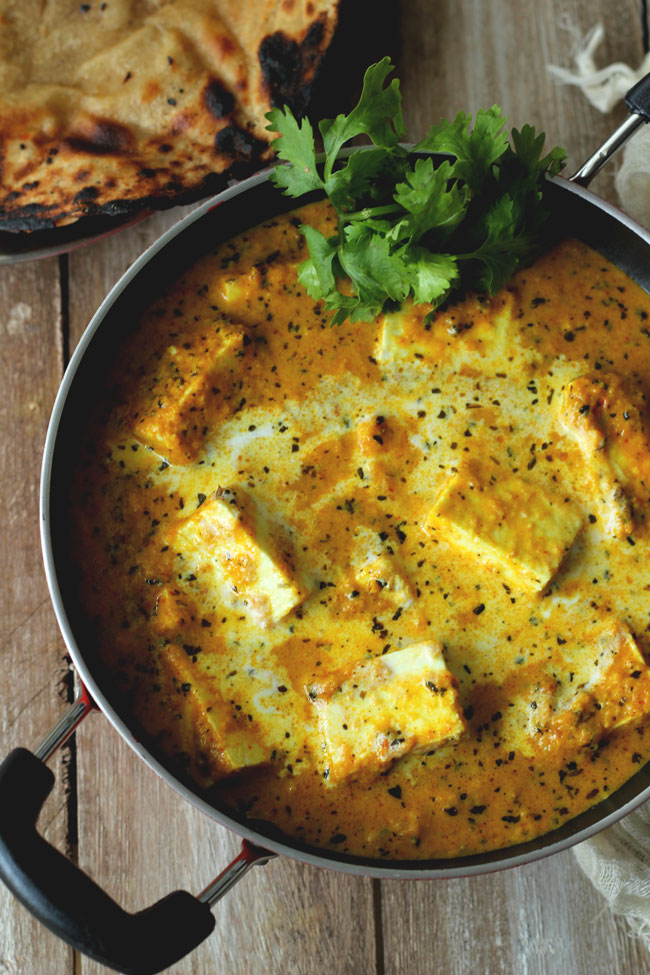 In India, no onion, and garlic diet regime are one of the most common food preferences. A large number of the Indian population observes this kind of Sattvic diet regime. But at times it is difficult to prepare the rich and creamy Indian curries without using any onion or garlic. For such situations, recipes like Jain Paneer Makhani, Pakodi Ki Sabzi or Punjabi Chana Masala, are worth bookmarking. Jain Style Paneer Makhani is so good in taste, easy to prepare and far from boring.
Curries like Paneer Makhani or Butter Chicken have a reputation for being difficult to make. But we always try our best to make these classic recipes simple and easy to understand for our readers. So that they can prepare them on a routine basis at home without fussing much about the long ingredients list. No artificial color or tastemaker is added in the making of these dishes. It is all natural, homemade curry sauce that does the magic and the end result is a real outburst of flavors. After all, cooking should be fun and not some tedious, time-taking responsibility.
For more such fun recipes in your life, follow along on Facebook, Instagram, or subscribe to our Youtube Channel.
Jain Paneer Makhani Recipe
Serves 4 | Prep Time: 10 Mins | Cook Time: 20 Mins
Ingredients:
250-gram paneer (cottage cheese) cut into cubes
1/2 cup green

peas

2 medium-size tomato, blanched and pureed
1 red bell pepper, cubed
1 green chili chopped
2 tablespoons ghee
Salt to taste
1/4 cup fresh cream
1/4 Cup milk
1 tsp sugar
1 tsp red chili powder
1 tsp

Garam masala powder

2 tbsp

Kasuri Methi (Dried Fenugreek Leaves)
Method:
Heat one tablespoon of ghee in a heavy bottomed saute pan.
Add the bell pepper and green chili. Sauté them until they turn translucent. Once done, allow them to cool down. Blend it in a mixer using a little water to form a smooth paste.
Blend it in a mixer using a little water to form a smooth paste.
Next, heat another tablespoon of ghee in the same pan. Add the tomato puree and sauté for 2 – 3 minutes.
Athe bell pepper paste, sugar, salt, garam masala, peas and red chili powder. Cook till the oil starts separating from the paste.
Sauté the contents of the pan for another 5 minutes, finally stirring in the milk and fresh cream along with 1/4 cup of water. Boil everything together on high heat for about 10 minutes, stirring occasionally.
Bring the gravy to a boil once, reduce the heat and allow to simmer for 10 minutes over low heat.
Now add the paneer cubes to the pan, reduce the heat to low, cover and cook for 5 minutes.
Add the crushed kasuri methi leaves and mix.
Serve the Jain Style Paneer Makhani with chapati or naan.