Tandoori Chicken Satay is the easiest and the best way to relish grilled chicken. The ingredient list is short and simple, requires few basic sauces and voila! you have the best Chicken Satay ready in less than 30 minutes. The cheat trick is to marinade the chicken a day before or the previous night and next day all you need to do is grill them. A peanut dipping sauce on the side and some sliced onions won't hurt as well. I bet you can not only get started making this grilled chicken in the next two minutes, you will save the recipes away for all your future grilled chicken needs. I love satay because one need not to sit at one particular place and enjoy it, with satay skewer in one hand you can sneak peek all over the house and sip your drink as well.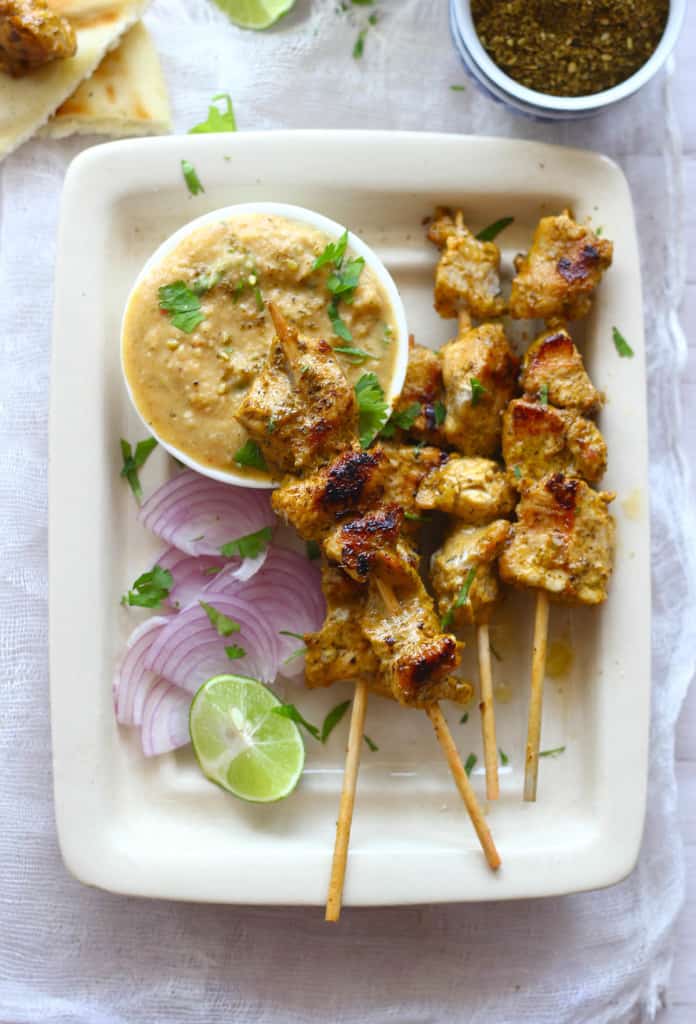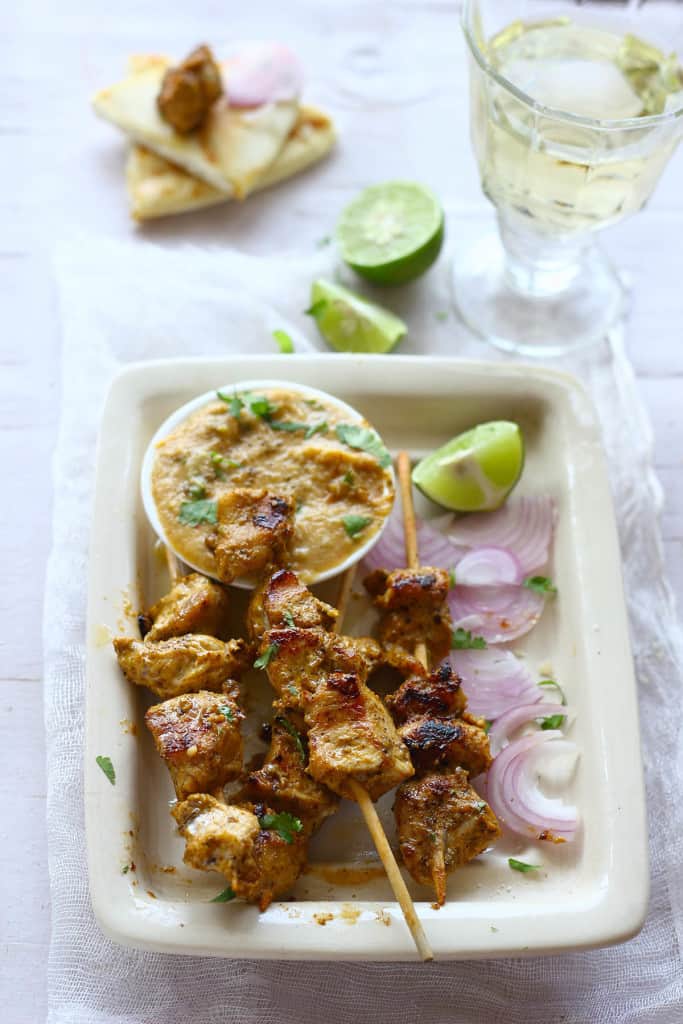 I have been trying to make some room in my freezer lately and in doing so I have been coming across all sorts of interesting things that I had forgotten about. One of them was Cremica Tandoori Mayo and the other was a pack of boneless chicken. The first thing that came to my mind was Tandoori-Style Chicken Satay. Why Satay always have to be Thai flavored? Why not some spicy, bold, Indian Style Satay? And hence, we got Tandoori Chicken Satay Recipe. I am a huge fan of skewered grilled meat and this chicken satay is no exception! It is super simple to make, only require a bit of marinating time and then you just throw it on the grill. The chicken came out nice and tender and light and fresh and it was packed full of flavor.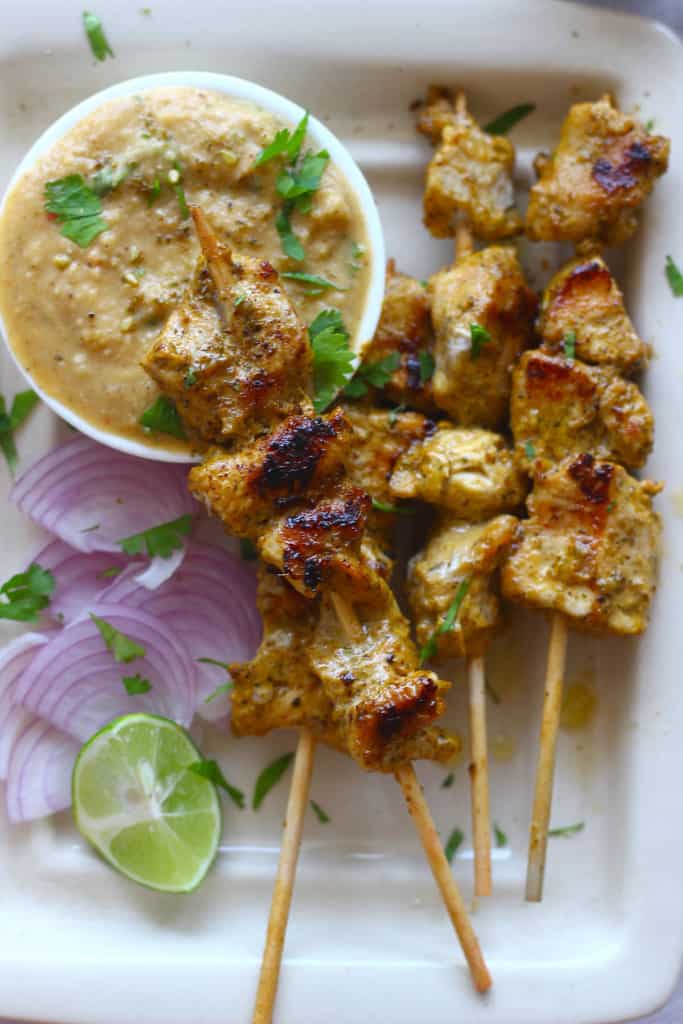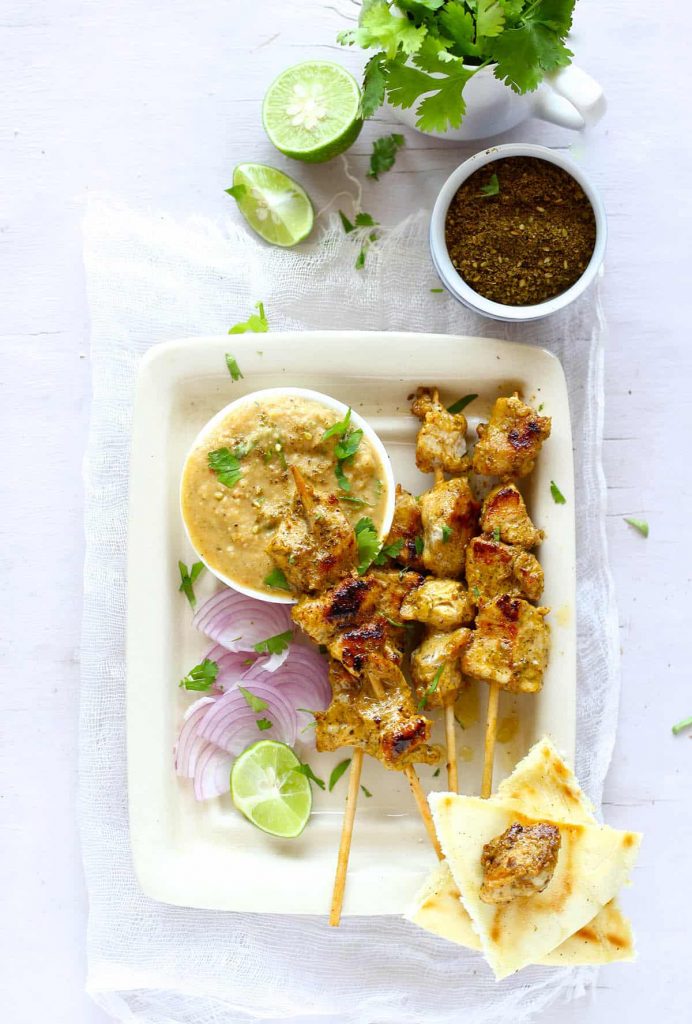 Okay! Now you must be worry about not having a huge barbecue grill in your backyard where you can grill Chicken Satay or set-up Tandoor. No worries, you can grill these chicken skewers in the tiny indoor barbecue or use your OTG for the purpose even if that not possible then stick to good quality grill pan for the purpose. A couple of times, we have grilled chicken on the grill pan and it turns out super delicious. So do give it a shot! This grilled chicken goes well with just about everything, including but not limited to Mint and Coriander Chutney, or Peanut Dipping Sauce. Learn how to make Tandoori Chicken Satay in few simple steps: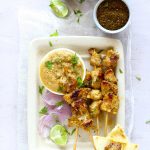 Tandoori Chicken Satay
2016-04-21 02:50:38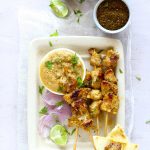 Serves 5
Ingredients
500g boneless chicken pieces
Ingredients for marinade
4 tbsp Cremica Tandoori Sandwich Mayo ( buy it here )
1/2 tsp garam masala
1/2 tsp za'taar spice mix
1/4 tsp red chili powder
Salt to taste
Juice of 1 lemon
1 tsp ginger-garlic paste
Oil to brush the chicken while roasting
Ingredients for serving
Peanut dipping Sauce
Sliced Onion
Juice of half lemon
Instructions
Clean, wash and dry the chicken pieces.
Mix all the ingredients for marinade in a bowl, add chicken pieces to the marinade and mix nicely using your fingers.
Cover with a cling film and keep in the fridge at least an hour or overnight.
While chicken is being marinated soak bamboo skewers ( buy it here ) in water for 30 minutes to prevent from burning while grilling.
Pat dry the skewers and grease nicely with oil.
Thread marinated chicken pieces into oiled skewers and make sure not to leave any space between each piece while threading.
Grill the skewered chicken in the barbecue/charcoal/oven or in the grill pan.
Keep on brushing the chicken skewers with oil.
Cook chicken skewers till chicken pieces are cooked and turn golden from outside.
Keep on turning the skewers while grilling and basting with the leftover marinade.
To serve, squeeze lemon juice on top and sprinkle sliced onion and enjoy with Peanut Sauce.
Fun FOOD and Frolic http://www.funfoodfrolic.com/