Stone Fruit, otherwise known as the summer fruit, certainly live up to their reputation. They have juicy, fibrous, aromatic, sweet taste and texture. In short, a perfect fruit to bake with. Eating a Vanilla Cake with fresh apricots or peaches and cream is so pleasurable, especially during the summer. So why not combine these two flavors and create Fresh Apricot Cake to uplift your dull summer mood.
Baking with stone fruits is a summer ritual, that we follow diligently. Last year, same time, we baked Eggless Sponge Fruit Cake – a simple vanilla flavoured sponge cake transformed with a few decorative ingredients into a layered summer stone fruit cake. This time, Fresh Apricot Cake was on our mind even before the apricot started appearing in the market. This Apricot cake has summer goodness written all over it. I highly recommend serving this cake with Vanilla Ice-Cream, chopped fresh apricots and a drizzle of honey. So so good!
For making the cake batter, I always use my Philips Hand Blender. No, it is not a sponsored post, but many a times friends and readers come back with a question, 'What is the best way to get a light and airy cake?' And my answer to them is, use a hand blender to prepare the batter. This way, you can incorporate the required amount of air in the batter and the cake has a fantastic texture due to uniform whisking. Why Philips Hand Blender? One, I have used it personally and liked it. Second, it is pocket-friendly as well. On certain, flash sale days at Amazon, you can get it for INR. 1,500, so budget friendly isn't it? I have personally used two hand blenders – KitchenAid and Philips. Both are equally good. Of course, you can get both of these hand blenders on our beloved Amazon (here for the KitchenAid, and here for the Philips), hopefully, both of them will get delivered at your doorstep. Even for our Indian kitchen, Hand Blender is a must-have kitchen gadget. From whisking dal paste for vada, dosa, churning white butter or making lassi it does it all with the blink of an eye. There are zillions of creative ways to use the Hand Blender in everyday cooking. You can start with something as simple as Fresh Apricot Cake.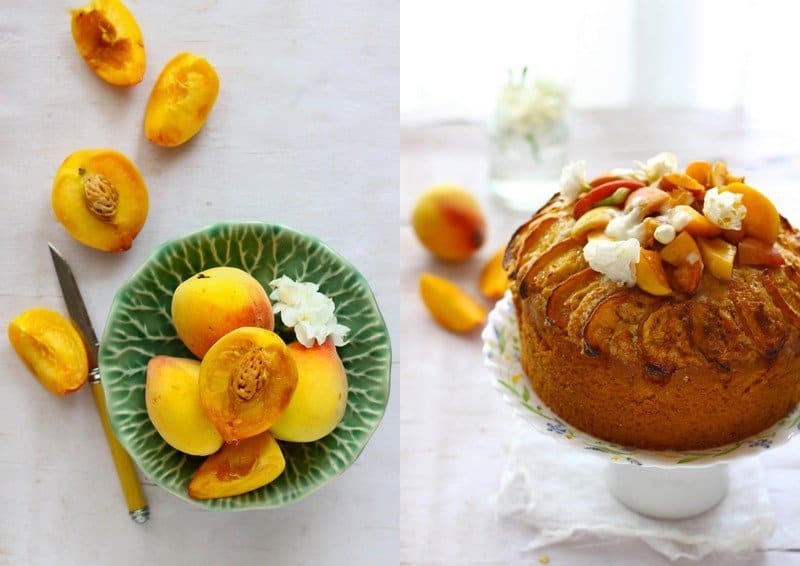 Learn how to make Fresh Apricot Cake in few simple steps using a hand blender:
Disclaimer: The product links in this post are Amazon affiliate links and this is not a sponsored post.