Packing a wholesome and fulfilling lunch box for the office throughout the busy week requires pro-level planning. We are sharing with you a guide with an Indian-style lunch box weekly menu plan, easy recipes, meal prep tips, and the tools. Let's get started!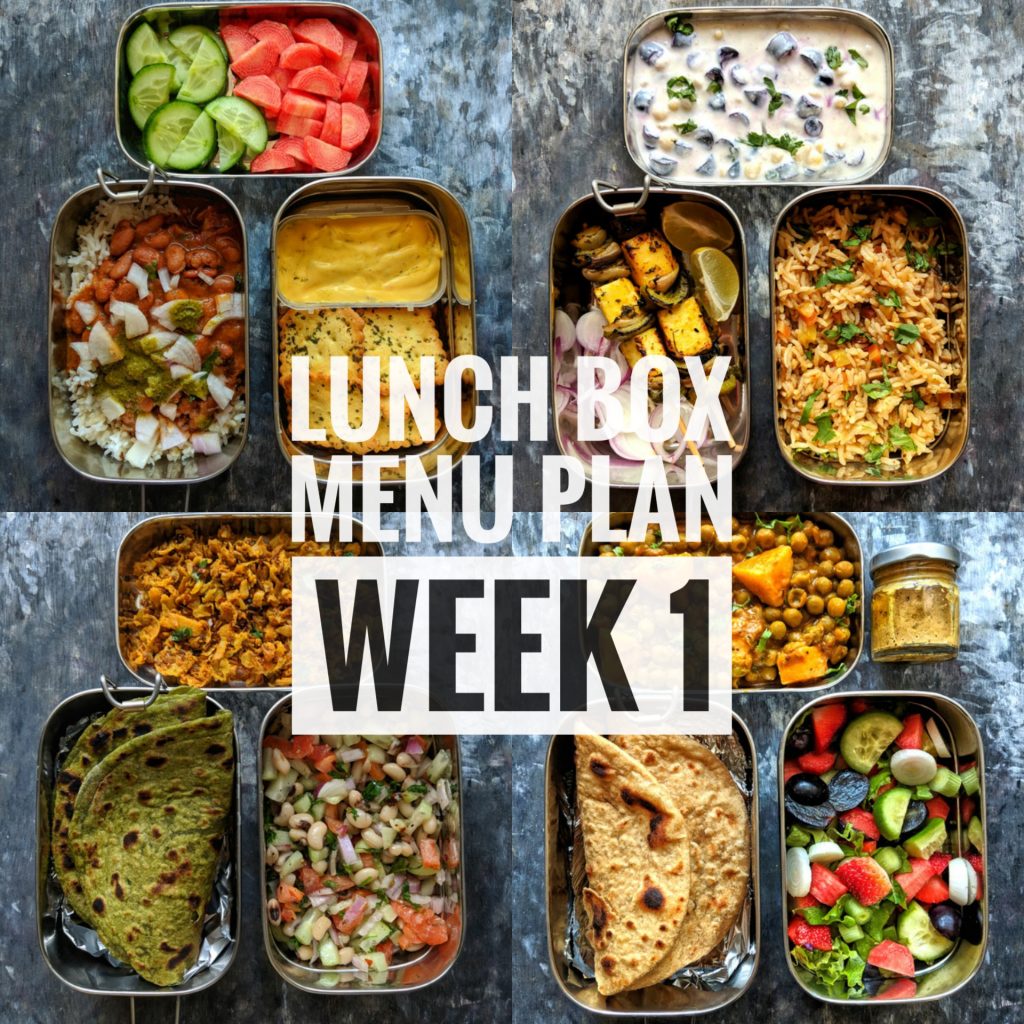 What To Expect
When I pack lunch boxes for my husband, I don't bother about their Instagram or Pinterest friendliness. Instead, I focus on keeping his lunch box menu wholesome, fulfilling, and with minimally processed food items. Something which might look good on social media might not be edible in reality.
In this weekly lunch box menu plan, you will get:
practical lunch box ideas for adults
easy to follow menu plan with recipes
Indian Cuisine inspired lunch box menu
helpful meal prep tips for Indian kitchen
So now you can DOWNLOAD WEEKLY LUNCH BOX MENU PLAN.
This weekly lunch box menu plan includes FREE printable meal plans for every week along with my tried and true meal prep tips for an Indian kitchen to pack a homemade lunch for the office every week like a pro.
Week 1 – Lunch Box Menu Plan
Monday: A purely vegetarian, protein-packed lunch box.
Paneer Bhurji (Main Course), Palak Paratha (Side Dish), Lobia Chaat or Salad (Snack).
Meal Prep Tips: Crumble or grate paneer and store it in the refrigerator a day before making the bhurji. You can make the dough for palak paratha 1 day in advance. It is refrigerator-friendly. I boil a big batch of black eye peas over the weekend and store them in the refrigerator for making salads or curries. Salad vegetables you can chop, mix, and store in an airtight container.
Tuesday: A fun and delicious vegetarian lunchbox.
Tawa Pulao (Main Course). Paneer Tikka (Side Dish). Black Grapes Onion Raita (Side Dish).
Meal Prep Tips: Use leftover cooked rice to make quick Tawa pulao aka Indian masala fried rice. Marinate the paneer and vegetables for tikka. Store them in the refrigerator overnight or for 24 hours. Then, while packing the lunchbox, all you need to do is grill the paneer tikka.
Wednesday: A fun and fusion lunch box to deal with mid-week blues.
Baby Corn Chilli Sauce (Main Course). Garlic Fried Rice (Side Dish). Spicy Mango Dip (Snack). Cheese Crackers (Snack).
Meal Prep Tips: You can chop and store all the vegetables for chili baby corn in the refrigerator. I make a big batch of spicy mango dip and keep it handy in the fridge for lunch boxes. Use leftover cooked rice for making fried rice.
Thursday: A classic, widely popular Indian lunch box.
Rajma Chawal (Main Course). Salad (Side Dish). Spicy Mango Dip (Snack). Cheese Crackers (Snack).
Meal Prep Tips: Soak rajma (red kidney beans) overnight for making the curry. Use leftover rice and spicy mango dip from the previous day. Pick the crackers or chips of your choice to accompany the dip.
Friday: A colorful, nutritious lunch box.
Potato Peas Curry (Main Course). Paratha (Side Dish). Strawberry Salad (Snack). Honey Mustard Dressing.
Meal Prep Tips: Prepare dough for paratha and store in the refrigerator. Similarly, you can make the honey mustard dressing in advance and store it in a glass jar with the lid.
The Right Lunchbox: A great meal might taste meh because of the wrong lunch box. You can find and shop a few of my all-time favorite lunchboxes at my Amazon Store. I have been using these lunchboxes for the past many years and highly recommend them for packing lunch.
You can follow my detailed guide for essential vegetables (onion, cilantro, garlic) meal prep in the Indian kitchen.
For more such fun recipes in your life subscribe to our weekly newsletter or follow us on Instagram for all the daily updates.