This is a tried and tested foolproof vegan falafel recipe. Crispy from the outside and fluffy from the inside, this easy falafel recipe is totally worth bookmarking. I am sharing both fried and baked version! Be sure to watch the video.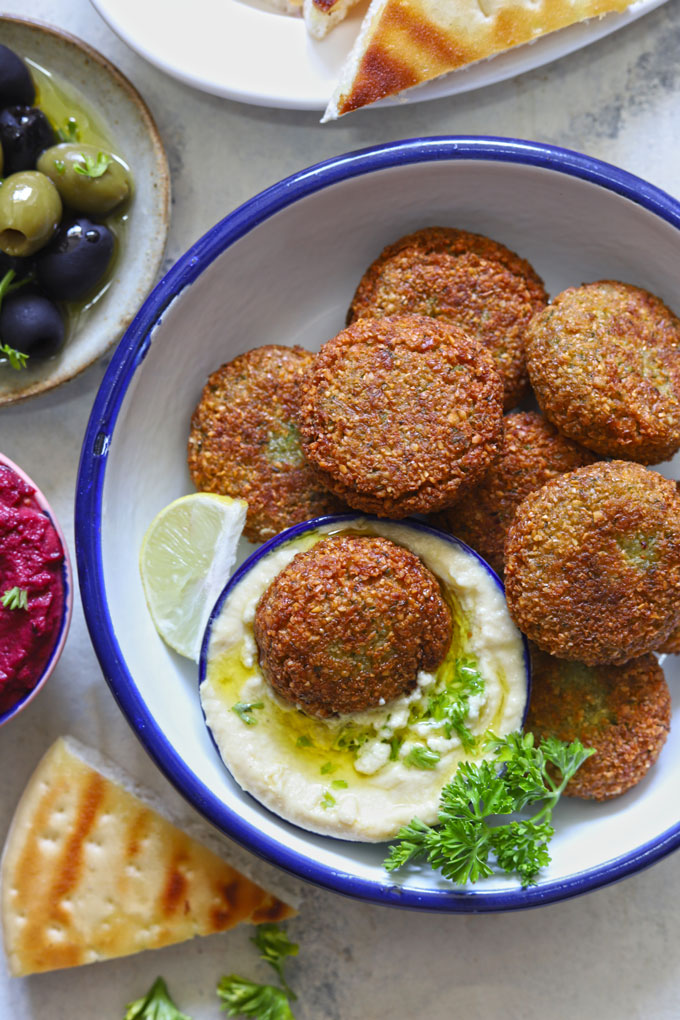 About Falafel
Falafel is a widely popular Mediterranean & Middle Eastern snack. It is a deep-fried, vegetarian fast food made with dried chickpeas (chana) or fava beans, onion, garlic, spices, and a lot of fresh herbs.
Falafel is best served with a variety of authentic Mediterranean dips or tucked inside the fluffy pita bread.
Today, the humble falafel has become one of the most popular fulfilling, vegan snacks for adding in salad bowls, sandwiches, or Mezze platter.
There are many versions of a falafel recipe. I am sharing a simple and basic chickpea falafel recipe that requires a few pantry staples.
Reasons To LOVE Falafel
possible gluten-free
vegan and vegetarian
easy to bake or air-fry
fulfilling and wholesome
meal-prep and freezer friendly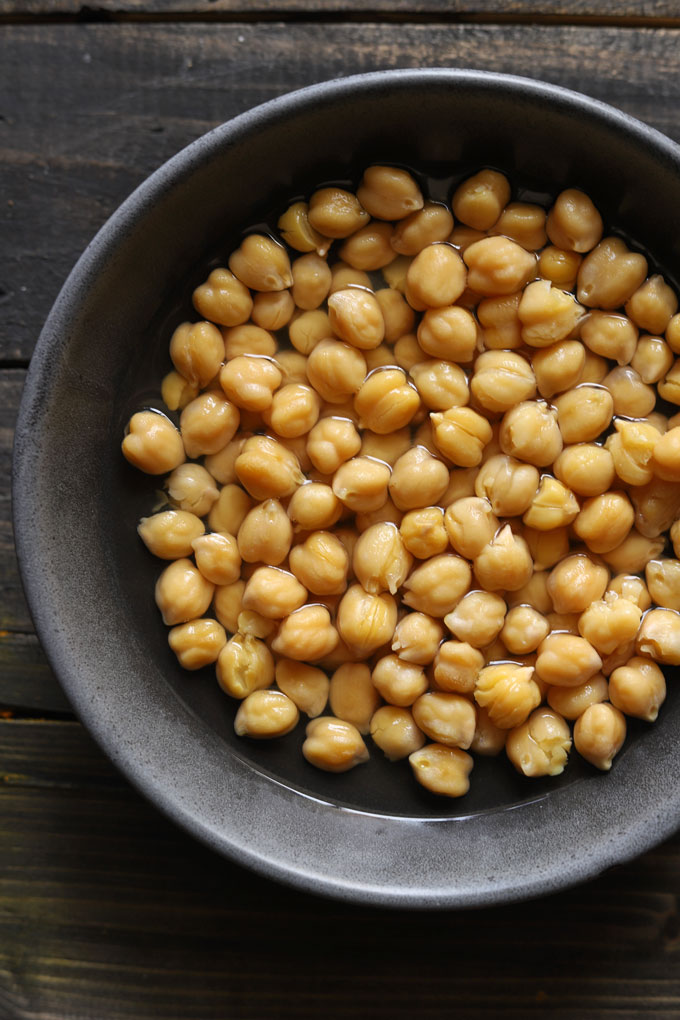 Ingredients for Falafel
You will be surprised to know that a few basic ingredients are required to make falafel from scratch at home.
Chickpeas: Dried chickpeas (white chana) are the key ingredient for making falafel. DO NOT use canned or pre-cooked chickpeas.
Onion: Yellow onion, white onion, or red onion, feel free to add either of these.
Garlic: Fresh garlic pods give flavor to the falafel. Adjust quantity as per taste preference.
Fresh Herbs: From cilantro, parsley, coriander, spring onion, to dill, feel free to add either of these or a combination of herbs to the falafel mixture.
Seasoning & Spices: Cumin Powder, Coriander Powder, Green Chilli, Red Chili Powder, and Salt are the main ingredients for seasoning falafel.
Sesame Seeds: An authentic falafel recipe is incomplete without white sesame seeds.
Baking Powder: It gives a fluffy texture to the falafel and makes them easy to bake.
Flour: Either use gluten-free chickpea flour (besan) or all-purpose flour to bind the falafel.
Oil: For frying falafel, use flavorless vegetable oil.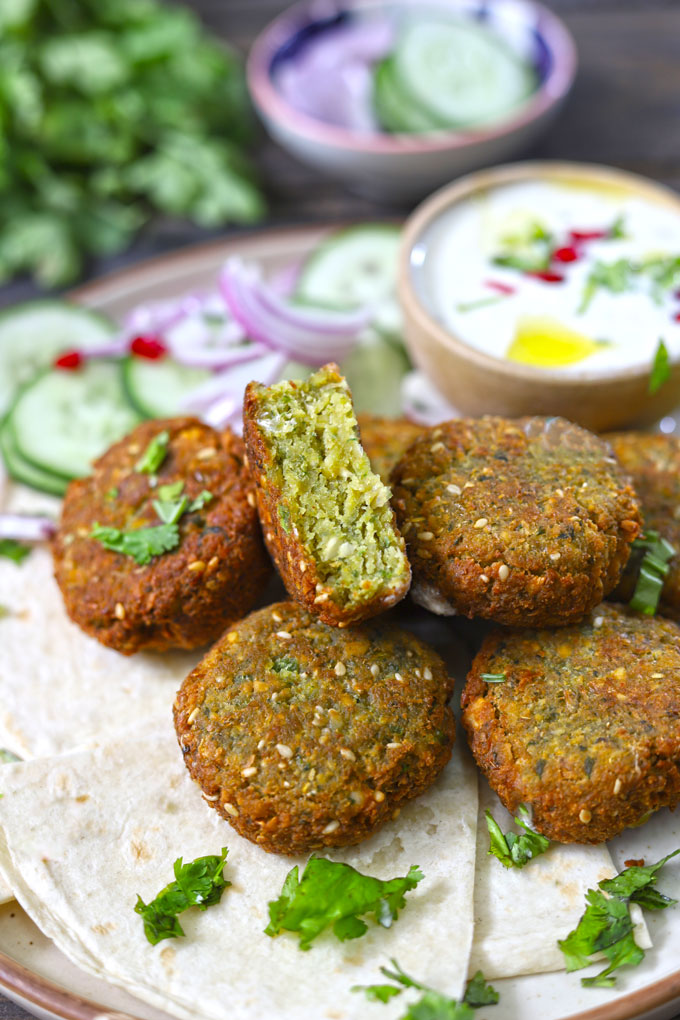 How To Cook Falafel – 3 Method
Frying: This is a pan-fried falafel recipe. But you can shape falafel into round balls and deep-fry as well. Make sure to fry the falafel in small batches in hot oil till crisp and golden.
Baking: Grease a baking sheet with oil. Arrange falafel in the sheet. Spray/brush them with cooking oil. Bake falafel at 190 degrees celsius for 15 – 20 minutes on each side.
Baked falafel is less crispy, soft, and pale brown in color. But taste is exactly same as fried ones.
Air-Fry: You can air-fry falafel at 190 degrees Celcius for 20 – 25 minutes till crisp and golden. Don't forget to turn them half way through cooking time.
Lately, I have started using my Instant Pot Crispy Lid for cooking falafel. The end result is crisp but slightly dry falafel. The color of the falafel is also pale brown. Set Crispy Lid at 180 degrees Celcius. Cook each side for 15 minutes.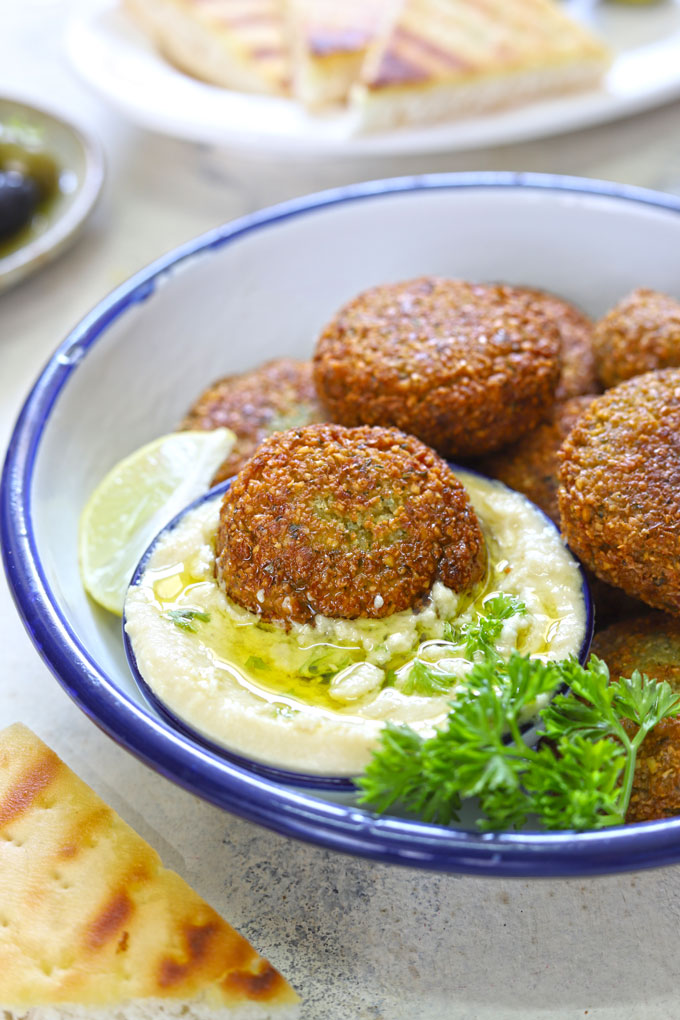 My Tried & True Tips
Soaking Chickpeas: The essential step of this falafel recipe is soaking the dried chickpeas in water for 5 – 6 hours. DO NOT use cooked, boiled, or canned chickpeas for making falafel. It does not work.
Keep in Fridge: To avoid soggy or oil soaked falafel, keep falafel mixture for 10 – 15 minutes in the refrigerator to chill. Trust me, this trick will always give you best crispy falafel.
Binding Agent: I strongly believe the falafel mixture needs one binding agent in the form of all-purpose flour or chickpea flour. Otherwise, it is difficult to make them crisp and crunchy.
Frying: Make sure the oil is preheated to the right temperature before frying the falafel. Either use a thermometer to check the oil temperature or drop a tiny ball of falafel mixture in hot oil and check.
If the oil is cold or not heated to the right temperature, falafel will turn out oil-soaked. Or if the oil is too hot, the falafel will burn from the outside and uncooked from the inside.
While frying do not flip falafel again and again. Once crisp and golden from one side, flip to the other side.
Watch Falafel Recipe Video
Serving Suggestion
Mezze Platter: The best way to serve falafel is in an appetizer platter with other Meditteranean finger food.
Dips: Falafel is commonly served as a snack with dips like hummus, baba ganoush, tzatziki, tahini sauce, or muhammara.
Pita Bread: To make a wholesome meal from falafel serve them on top of the flatbread with roasted veggies or tucked inside fluffy pita bread as a sandwich.
Salad Bowl: To make a vegetarian salad more fulfilling and delicious add baked falafel.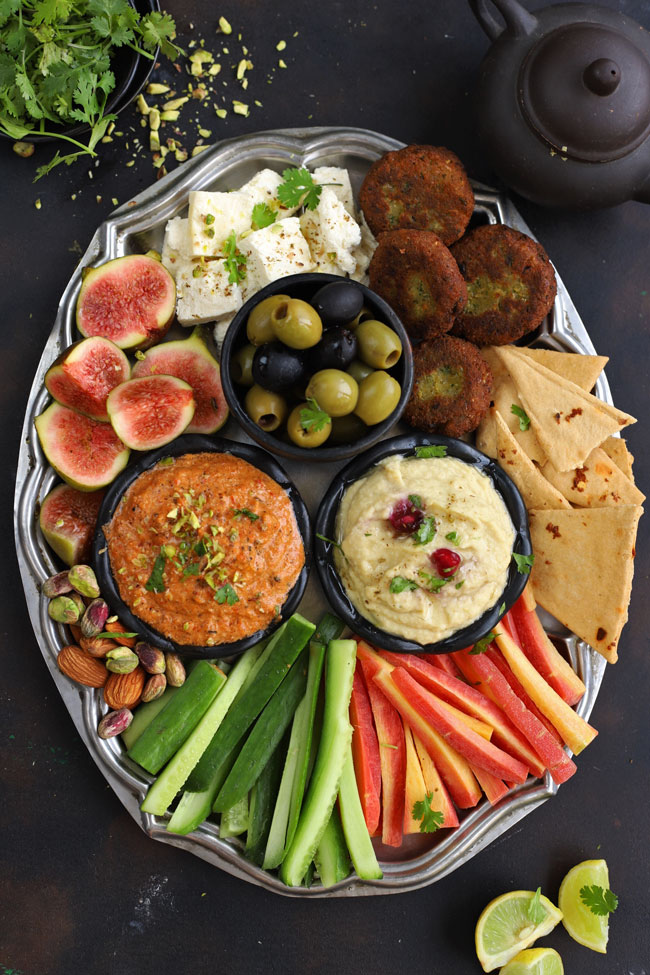 Storage Suggestion
Meal-Prep: You can make falafel mixture in advance and store it in the refrigerator for 2 – 3 days. Bake or fry the falafel before serving.
You can shape the falafel and keep them in the refrigerator until ready to cook.
It is best to consume cooked falafel within 2 – 3 hours else they become soggy. I would not recommend storing them.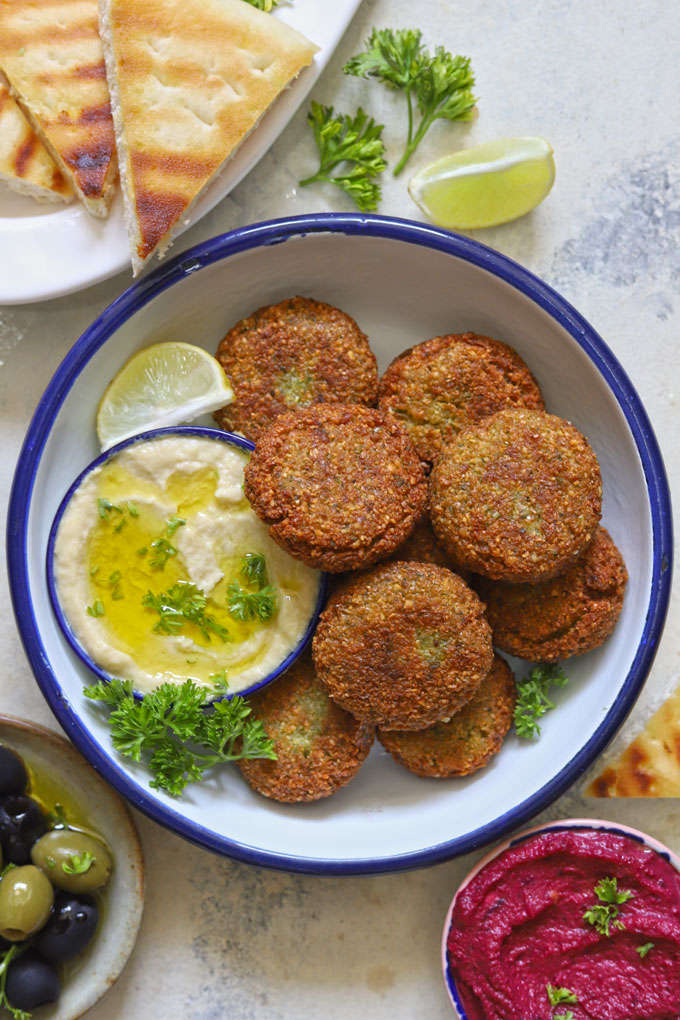 More Snack Recipes For You
For more such fun recipes in your life subscribe to our weekly newsletter or follow us on Instagram, Youtube for all the daily updates.
If you try this recipe and love it, please leave a Star Rating. This helps us grow and reach many other food lovers like you, who are looking for a perfect tried and tested recipe.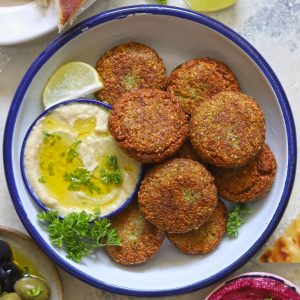 Falafel Recipe
This is a tried and tested foolproof vegan falafel recipe. Crispy from the outside and fluffy from the inside. Be sure to watch the video.
Print
Pin
Rate
Ingredients
2

Cup

dried chickpeas (white chana/chole)

1/2

Cup

onion, roughly chopped

5 – 6

garlic cloves or to taste

1 – 2

green chili

1/4

Cup

spring onion (greens), roughly chopped

1/2

Cup

fresh coriander or cilantro or parsley

2

tablespoon

all purpose flour (maida)

1

tablespoon

cumin powder (jeera powder)

1

tablespoon

coriander powder

1

teaspoon

baking powder

1

teaspoon

red chili powder or red paprika

Salt to taste

1

tablespoon

sesame seeds (white til)

2

Cup

vegetable oil, for pan or shallow frying
Instructions
Start by cooking the dried chickpeas in water for 5 – 6 hours. Once chickpeas are bigger in size after soaking, drain all the water and transfer them to a colander.

Add soaked chickpeas, onion, garlic, green chili, fresh herbs, spices, and salt in a food processor with a blade attachment. Use the PULSE function without using any water, scraping down the sides of the processor if needed to grind the ingredients but at the same time keep the texture coarse and not a smooth paste.

Transfer the falafel mixture into a large mixing bowl. Add sesame seeds and mix nicely. Keep in the fridge for 10 – 15 minutes or until ready to use.

Heat oil in a frying pan to shallow or pan fry the falafel.

Meanwhile, shape the falafel into a round disc of 1/4 inch thickness. Arrange the shaped falafel in a plate.

Pan Fry the falafel in small batches until golden and crisp on both sides. Transfer to a plate lined with an oil absorbent paper.
Baking Falafel:
Preheat oven at 190 degrees Celsius. Grease a baking sheet with oil. Arrange falafel at an equal distance on the greased baking sheet. Spray or brush them with cooking oil.

Bake falafel for 15 – 20 minutes on each side. Flip and bake for the same time from the other side. Baking time may vary depending upon the size and setting of the oven.

Baked falafel is less crispy, soft, and pale brown in color. But the taste is exactly the same as fried ones.

Serve Falafel warm with pita bread and hummus.
Recipe Notes:
Use dry white chickpeas (kabuli chana/chole) soaked 5 – 6 hours in the water for making the falafel batter. 
Use a strong and sharp blade food processor to grind the ingredients for the falafel. A slightly coarse or grainy texture of the ingredients is fine for making falafel. 
If the ingredients including chickpeas aren't grinding well add 1 tablespoon or so of water. Otherwise, there is no need to add any water to the falafel mixture. 
If the falafel is not holding shape while deep-frying, add more flour to the mixture, mix nicely, and then try. 
Nutrition
Calories:
363
kcal
|
Carbohydrates:
19
g
|
Protein:
6
g
|
Fat:
31
g
|
Saturated Fat:
24
g
|
Sodium:
41
mg
|
Potassium:
298
mg
|
Fiber:
5
g
|
Sugar:
3
g
|
Vitamin A:
115
IU
|
Vitamin C:
4
mg
|
Calcium:
52
mg
|
Iron:
2
mg
Love this? Pin it for Later!
Follow @hinagujral on Pinterest!