This Quinoa Falafel is my idea of tasty, comfort food – just load up the tortillas with falafel, grilled veggies and tuck in!!! This versatile falafel can be served just like that with any spicy dip or make a great vegetarian filling for pita bread. Falafel is a common dish eaten throughout the Middle East, usually made of chickpeas, fava beans or both. I usually love to tuck falafels inside the sandwiches and burgers. They make any regular sandwich/burger so much wholesome and fulfilling. If you have yet not tried falafel inside a burger then you are missing out some seriously good combination.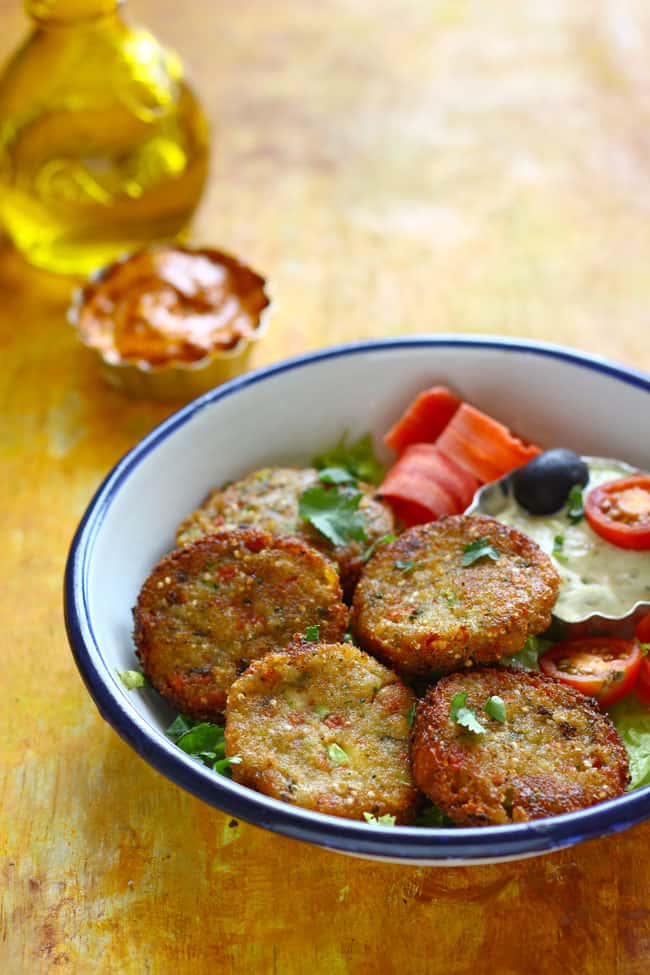 You can serve any variety of spicy, flavorsome dip along with the
falafel
. Traditionally, the harissa, sour cream and tzatziki are served with falafels. But I always love to experiment when it comes to condiments served with the falafel. In my experience, they taste extremely delicious with the
roasted red pepper dip
or a garlicky yogurt dip. And of course, with the Indian
mint chutney
. It is so much fun to create a D-I-Y falafel bowl meals. How does one do that? Arrange all the dips, salad vegetables, bread (pita/tortilla) and falafel on the table. And allow your guests to assemble their very own, customized
falafel
meal bowls.
Why have I added quinoa in this falafel recipe?
Quinoa
adds a lovely crunch to the falafel. Also, it provides a nutty flavor and acts as an excellent binding agent. In case you do not have quinoa in your pantry, don't worry. Quinoa can be replaced with any other whole grain like millet, broken wheat or maybe couscous. The addition of the whole grains makes a whole lot of difference in the taste and texture of the falafel. Though in an authentic falafel recipe no such additions are done. But as they say in any recipe there is always room for creativity. And the food isn't any fun until and unless it has the personal touch of the person who's cooking it.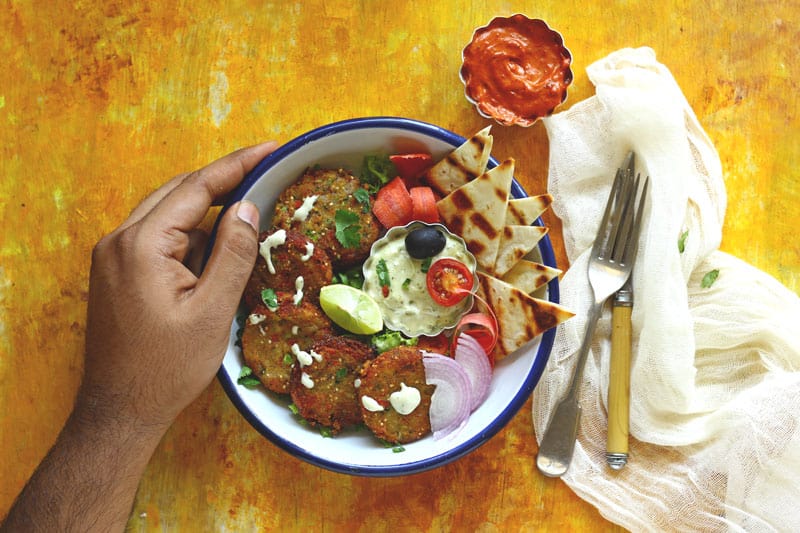 For now, I leave you with these quinoa falafels, try them and let me know via your comments, how they turned out.
For more such fun recipes in your life, follow along on Facebook, Instagram, or subscribe to our Youtube Channel.
Learn how to make Quinoa Falafel: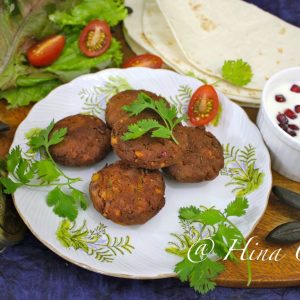 Ingredients
1

cup

chickpeas

white chole, boiled

1/2

Cup

quinoa uncooked

1

medium-size coarsely chopped

2

large cloves of garlic

1 1/2

tsp

cumin powder

1 1/2

tsp

coriander powder

1/2

tsp

red chili powder

half a bunch of coriander leaves

roughly chopped

Juice of one lemon

1

– 2 tbsp plain flour

maida, for shaping the falafel

Salt

as per taste

Olive Oil for shallow frying
Instructions
Start by cooking the quinoa and chickpeas.

Pressure cook or boil the chickpeas until cooked through.

Drain the cooked chickpeas in a colander until there is no excess water left. Set aside.

Cook the quinoa as per packet instructions.

I cook quinoa in boiling water over medium heat until soft.

Drain in a metal colander and set aside.

Once chickpeas come to room temperature put them in a food processor along with chopped onion, garlic, lemon juice and coriander leaves.

Pulse until combined without using any water, scraping down the sides of the processor if needed. The mixture will not be smooth, but it should not have large chunks.

Scrape out the mixture into a clean bowl. Keep in the fridge for 30 minutes or until ready to use.

Remove the chickpea mixture from the refrigerator.

Add spices, cooked quinoa and salt to the falafel mixture. Mix nicely using your fingers.

Add enough oil to a large frying pan so it reaches 1/2-inch up the sides.

Heat oil over medium-high flame to shallow fry the falafel.

Meanwhile, shape the falafel into round disc of 1/4 inch thickness.

Arrange the shaped falafel in a plate dusted with all-purpose flour.

Shallow fry the falafel in small batches until golden and crisp on both sides.

Drain in a plate lined with an oil absorbent paper.

Serve Quinoa Falafel warm with pita bread and spicy dips.
Love this? Pin it for Later!
Follow @hinagujral on Pinterest!