Chicken Chettinad Masala is a traditional spicy chicken curry from Tamil Nadu. This chicken chettinad recipe is bursting with the spiciness of goontur chillies, whole peppercorns, and plenty of shallots.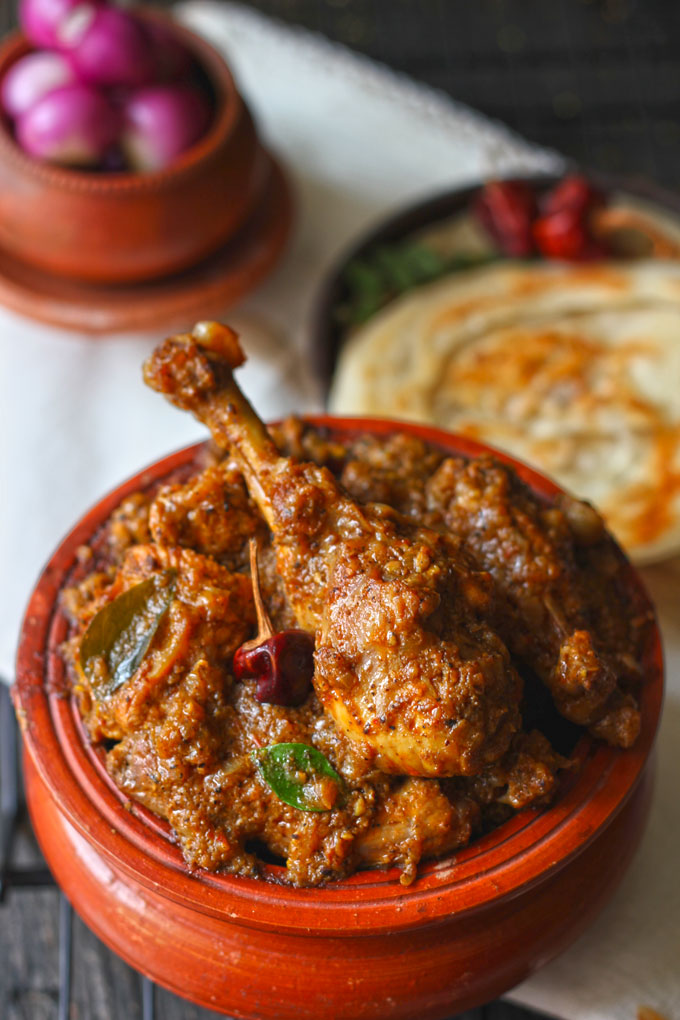 The Chettinad Cuisine
In ancient times, the Chettiyars were a wealthy trading community hailing from the Tamil Nadu region in India. They were mainly the whole spice traders. Hence, the heavy influence of spices can be seen in Chettinad Cuisine.
Chicken Chettinad Pepper Masala is the flag bearer of the Chettinad Cuisine and, to a degree, South Indian food recipes.
If there is one dish that food lovers know of, Chettinad Cuisine, Chicken Chettinad Pepper Masala is it! I love this chicken chettinad recipe so much that it was among the first 20 curry recipes I had finalised for my debut cookbook.
The process of making Chicken Chettinad is very similar to other Indian chicken curries – a lot of masala, frying, and patience are involved. But the taste and aroma of Chicken Chettinad leave a long-lasting impression on the culinary senses.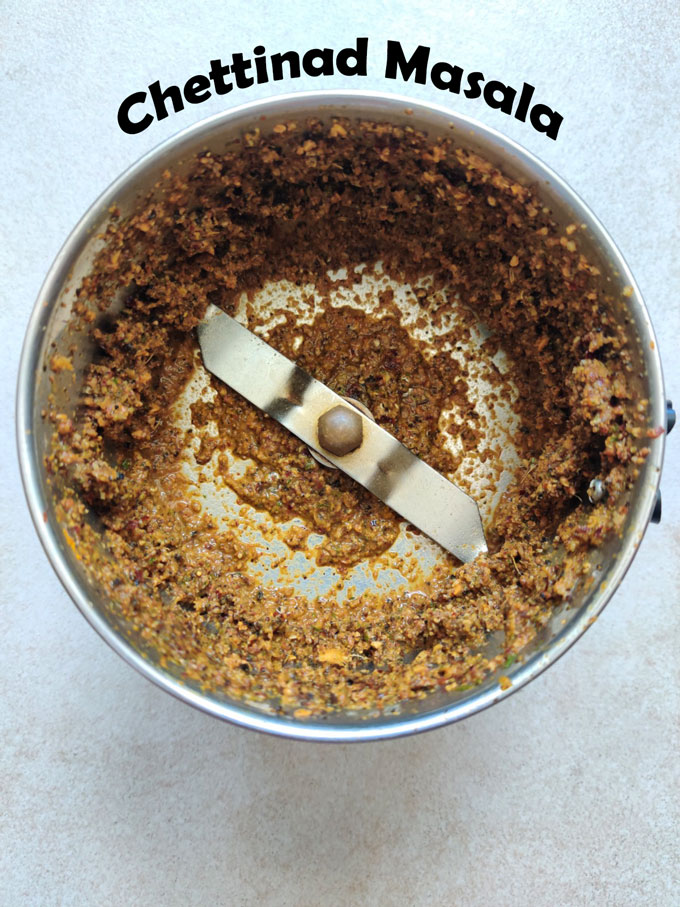 The Chettinad Masala Paste
What makes this chicken curry special is the flavoursome, homemade Chettinad Masala made from scratch.
The key ingredients of Chettinad Masala are – fennel seeds, black peppercorns, cumin seeds, dry red chillies, coriander seeds, ginger, and garlic.
Dry roast the spices briefly and grind to a coarse paste.
I use it as a versatile masala paste to make Chettinad Prawn Curry, Egg Curry, or a rich mutton curry in Chettinad style.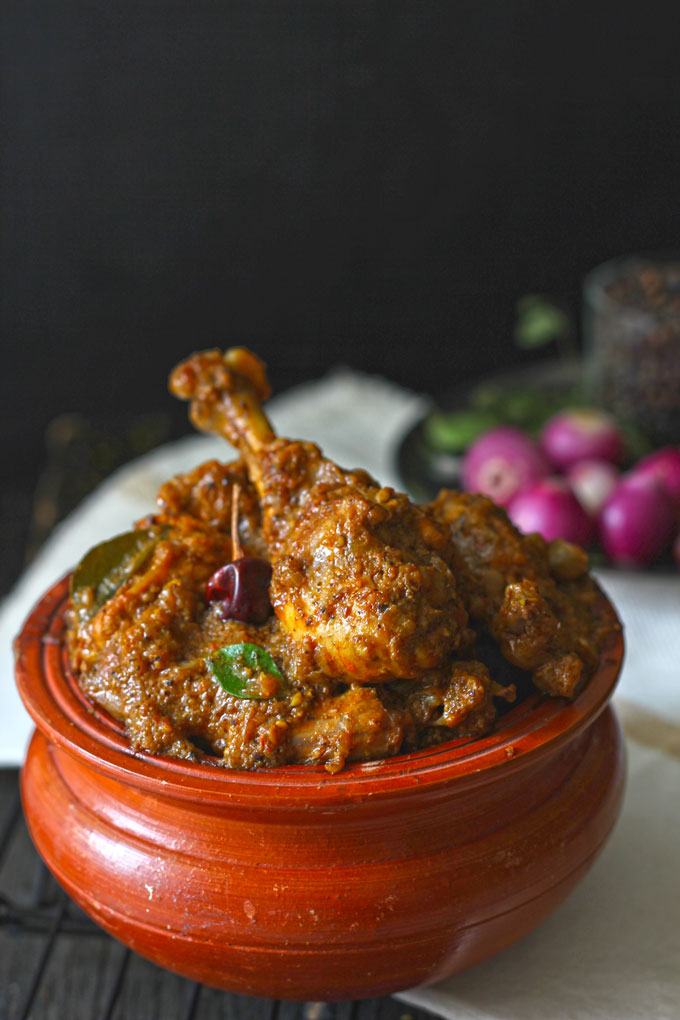 Is this curry spicy?
The answer is YES! The Chettinad Chicken Masala is a spicy curry. If your palate is not accustomed to spices, proceed with caution.
However, you can tone down the spiciness at home by reducing the number of red chillies and peppercorns in the curry paste.
Also, a splash of coconut milk in the curry can help calm the spices' heat.
Best Cut Of Chicken
To make Chicken Chettinad, the best choice would be bone-in meat pieces. The chicken bones lend a delicious flavour to the curry.
You can use a combination of bone-in chicken thigh and the leg piece.
This curry can be made with boneless, skinless chicken pieces as well. Try to use boneless chicken thighs, which are much juicier and don't get dry, unlike chicken breast.
If you use boneless chicken breast pieces, try not to use frozen ones and avoid over-cooking them.
How To Make Chicken Chettinad
Start with making the Chettinad Masala Paste. It is a two-step, easy method. Dry roast the spices, and then grind them.
For this chicken chettinad recipe, you do not need to marinate the chicken.
Next, prepare onion and tomato masala by frying for the curry.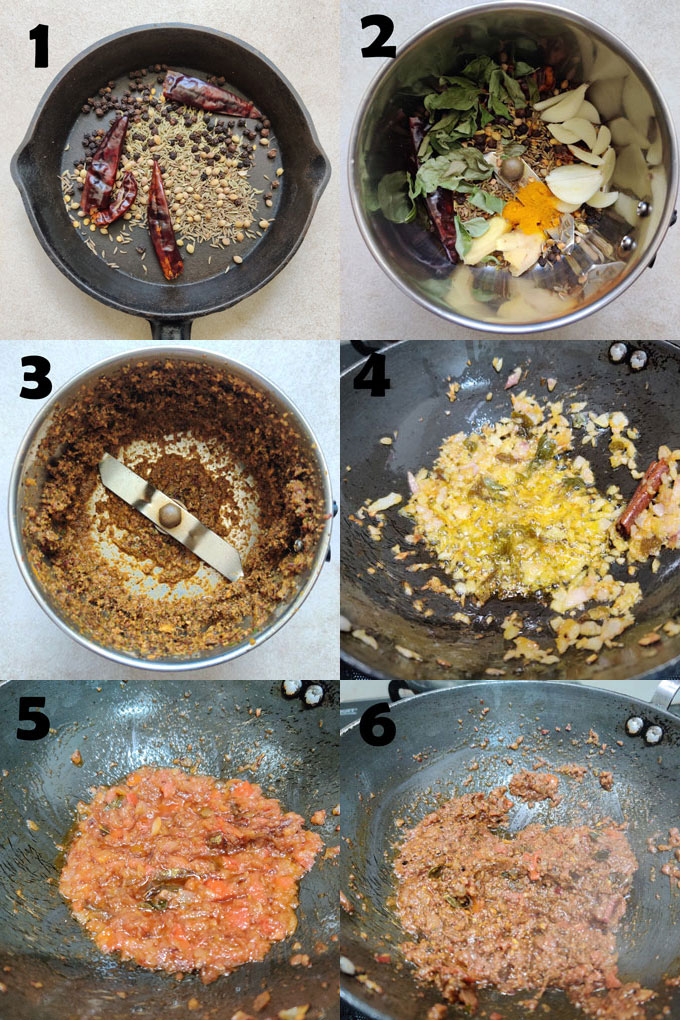 Add the Chettinad curry paste, chicken, and salt, slow cook till the meat is tender, and the Chicken Chettinad is ready!
Serving Suggestion
I love relishing Chicken Chettinad Pepper Masala with tomato garlic rasam, parotta or dosa, and steamed white rice. This is my favourite ultimate comfort meal.
You can enjoy Chettinad Chicken with other Indian bread, such as whole wheat paratha, naan, or chapati. It tastes good with jeera rice or coconut rice also.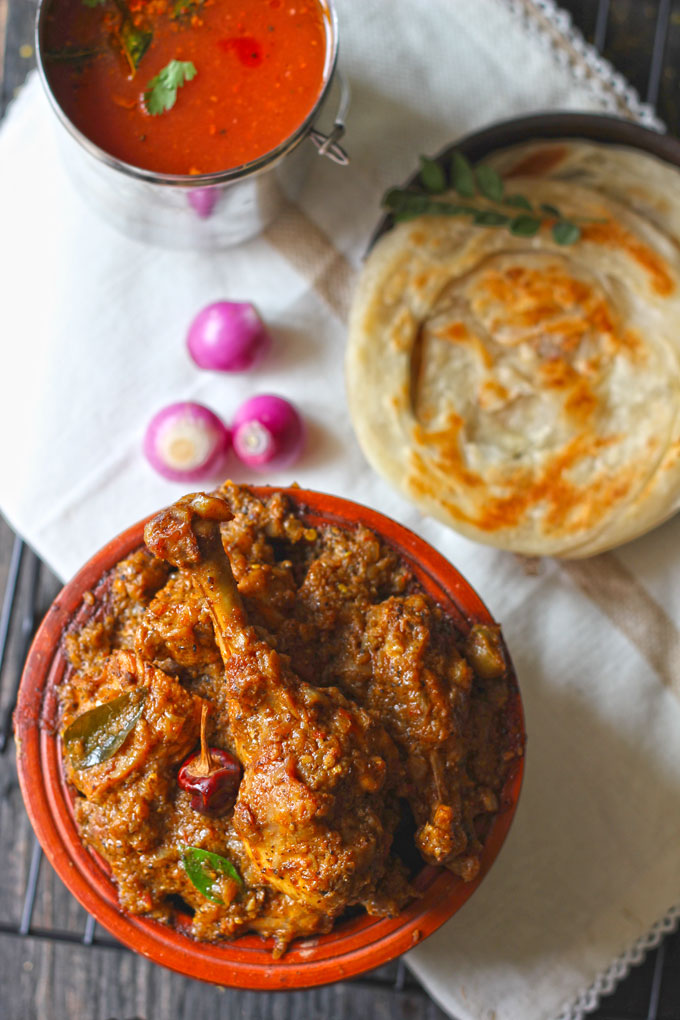 Subscribe to our weekly newsletter or follow us on Youtube for video recipes.
If you try this recipe and love it, please leave a comment and a rating. This helps us grow and reach other food lovers like you.
Chicken Chettinad Recipe
Chicken Chettinad Masala is a traditional style spicy chicken curry. Find tried and tested authentic chicken chettinad recipe.
Print
Pin
Rate
Blender

Heavy Bottom Kadhai
Ingredients
500

gram

chicken with bone, cut into curry size pieces

1

(an inch in size)

piece of cinnamon

2

green cardamom

3 – 4

curry leaves

1

Cup

finely chopped onion

½

Cup

tomato paste (grind 2 small-size tomato)

1

teaspoon

turmeric powder

Salt to taste

4

tablespoon

gingely oil/coconut oil/mustard oil
Ingredients For The Masala:
1

teaspoon

fennel seeds (saunf)

2

teaspoon

black peppercorns

1

teaspoon

cumin seeds

4

dried red chilies,

esp goondu milagai variety

1

teaspoon

coriander seeds

4

garlic pods

1

tablespoon

chopped ginger
Instructions
Make Chettinad Masala:
To prepare Chettinad Chicken, first clean, wash and pat dry the chicken pieces with a kitchen towel. Keep aside covered in a bowl.

Dry roast fennel seeds, black pepper, cumin, red chilies, coriander seeds till fragrant and slightly darkened. Add ginger, garlic, and grind them in a mixer to a smooth paste using little water. Keep aside until required.
Prepare Chicken Chettinad Curry:
Heat oil in a large kadhai over medium flame. Add the cinnamon, cardamom pods, curry leaves and saute for few seconds till fragrant. Add the chopped onion and saute over low heat till onion is light brown in color.

Next add the tomato paste, salt, turmeric and fry the masala for 10 minutes or so over low heat. The indication of masala being ready is oil starts separating from it.

Now add the Chettinad masala paste and stir to combine. Continue to saute the masala scraping the bottom of the kadhai, till the masala takes deep brown color and nicely roasted.

At this stage add the chicken pieces, salt and stir coat the chicken pieces with the spice mixture. Fry the chicken pieces till they turn pale white in color. Do not add water.

Cover and cook the chicken over low heat till it releases its juices and full cooked.

Open the lid, check the chicken for doneness. At this stage, if you want to make gravy, add 1 cup of water or coconut milk, stir, and simmer the curry for 8 – 10 minutes.

Serve Chicken Chettinad Masala with rice or parotta.
Recipe Notes:
To make Chettinad chicken curry, the best choice would be bone-in meat pieces. You can use a combination of bone-in chicken thigh, and the leg piece.
Adjust the number of red chilies and peppercorns in the masala according to personal taste. 
Add coconut milk to flavor the curry and to balance the heat of the spices. 
You can store Chettinad Masala for a week in the refrigerator. 
If the

goondu milagai variety of red chilli is not available use any variety of dry red chili.
Nutrition
Calories:
318
kcal
|
Carbohydrates:
15
g
|
Protein:
14
g
|
Fat:
24
g
|
Saturated Fat:
4
g
|
Cholesterol:
45
mg
|
Sodium:
305
mg
|
Potassium:
565
mg
|
Fiber:
3
g
|
Sugar:
6
g
|
Vitamin A:
650
IU
|
Vitamin C:
47
mg
|
Calcium:
68
mg
|
Iron:
3
mg
For Behind The Scene updates
Subscribe to our newsletter!