Date and Apple Kheer is a delicious, gluten-free Indian pudding. During fasting planning desserts is a bit mind boggling task and then come to rescue our Indian desserts, which are usually eggless and made of minimal ingredients. For me, fasting is not at all possible without desserts or I should say sugar because sugar is one ingredient, which always uplifts my energy levels. Though he is not a huge fan of Indian desserts but once in a while he also does not mind a chilled bowl of Indian pudding or a piece of rich Indian sweet.
Last week before Navratri started I bought a dozen of apples for the Apple Pie but sadly that apple pie remained in my planning only and could not make it to the oven, some of those delicious apples I had for breakfast but then few of them were left and staring at me to be used, with dessert to be done on one hand and on the other with sweet ripe apples, pudding was the first thought that crossed my mind.
But unlike other fruit puddings apples cannot be added directly to the boiling milk without cooking beforehand, as apples are full of acids, which might curdle the milk, so it is always recommended to caramelize apples along with sugar. Apple and cinnamon are best friends but if you do not like the flavor of cinnamon in your pudding you can totally give it a miss. Any Indian variety of apples are perfect for this recipe condition given, should be ripe and sweet in flavor, also if you have noticed I have used only 4 tbsp of sugar for the pudding that is because dates and apple both are naturally sweetened, so adjust the amount of sugar as per taste.
If you try this recipe and love it, please leave a comment and a rating. This helps us grow and reach many other food lovers like you, who are looking for a perfect tried and tested recipe.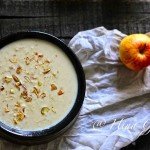 Date and Apple Kheer Recipe
Date and Apple Kheer is delicious Indian milk pudding made using fresh apples and dates. Learn how to make sugar-free apple kheer in few simple steps.
Keyword:
apple kheer recipe, diabetic friendly dessert recipe, healthy kheer recipe
Ingredients
2

– 3 firm and ripe apples

peeled and grated

1

litre full fat milk

¼

Cup

roughly chopped dates

4

tbsp

sugar or as per taste

¼

tsp

cinnamon powder

1

– 2 crushed cardamom pods

¼

Cup

chopped cashewnuts
For garnish
Chopped pistachio and almonds
Instructions
In a heavy bottomed saucepan heat milk and add chopped dates, cardamom pods and cashews. Cook on a medium flame while stirring continuously until milk thickens and reduced to almost half.

Meanwhile combine grated apples, sugar and cinnamon in a broad non-stick pan and stew till sugar melts and continue to cook till most of the moisture evaporates and apples turn golden in color with thick jam like consistency.

Remove from the flame, allow it to cool completely and keep aside.

Once cooled, add the prepared apple mixture to the reduced milk. Stir nicely.

Bring to boil once and then remove from the flame.

Serve hot/chilled garnished with chopped nuts.