I am sharing an easy moong dal halwa recipe you can make from scratch without spending hours in the kitchen. The goodness of ghee-roasted moong dal and nuts makes it a perfect festive dessert. Be sure to watch the video!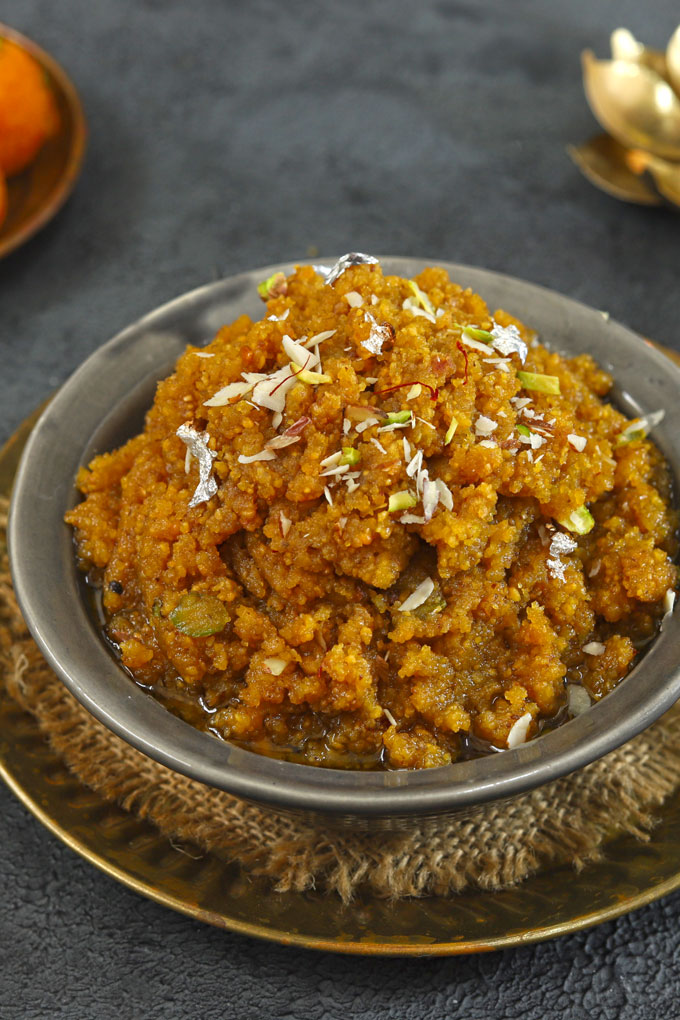 What is 'Moong Dal Halwa'?
Halwa is an Indian sweet dish. It is an eggless, purely vegetarian sweet pudding. The dish is inspired by the Persian dessert called halvah. There are a variety of halwa variants popular across the Indian subcontinent. Moong Dal halwa is one of them.
The two words that come to my mind while talking about dal halwa are – patience and practice.
It is one of those Indian desserts that require a lot of patience to make and a fair understanding of the cooking process.
But the taste of a good moong dal halwa is truly scrumptious and worth all the labor. It melts in your mouth, leaving a nutty flavor of roasted dal along with the sweet notes of ghee and sugar. There is no other Indian dessert-like dal halwa.
It is a rich, indulgent, royal Indian pudding.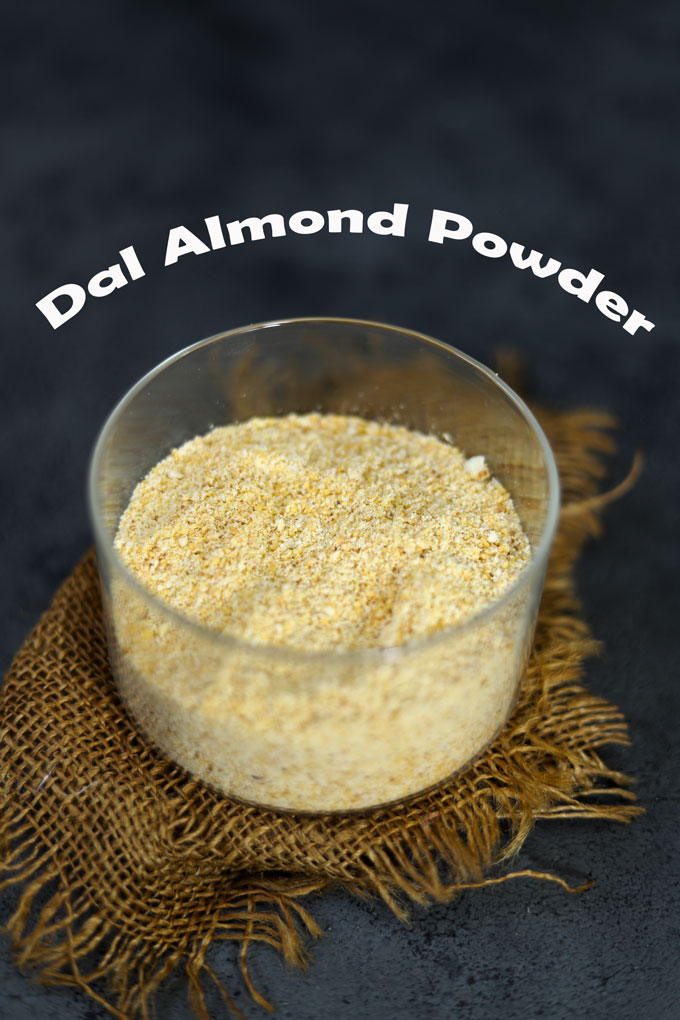 My Dal Badam Halwa Recipe
My dal badam halwa recipe is perfect for home cooks to make a delicious bowl of dessert without sweating in the kitchen for hours or ending up with a sore arm.
In the dal badam halwa name, dal is for yellow moong dal, and badam is the Hindi word for almonds. The powder for halwa consists of roasted yellow moong dal and almonds. The almonds give halwa a sweet and nutty taste and, at the same time, increase its protein value.
Reasons to LOVE Dal Badam Halwa
perfect dessert for festive occasions
protein-rich and gluten-free
no artificial colors/flavors
easy to follow halwa recipe
requires pantry staples
meal prep friendly
Making a perfect moong dal halwa is an art. There are two ways of making this halwa.
Method 1 – make a wet paste of dal, and then fry it in ghee.
My Verdict: I find Method 1 a bit tedious, time taking, and tricky. For me, the wet paste took 1 hour to reach the desired texture and color before adding milk. Plus, continuously frying wet paste requires a lot of muscle power. Hence, I am not a big fan of spending nearly 2 hours in the kitchen for a single dessert bowl.
Method 2 – make a dry powder of dal and proceed like atta halwa
My Verdict: This is my favorite way to make dal halwa. It requires lesser time and muscle power. The roasted dal powder is meal prep friendly. You can store it for 1 – 2 weeks at room temperature. No need to start each time from scratch by soaking dal and making a paste. Simply grab the dal powder and start making halwa.
Ingredients Required
A few Indian pantry staples required for the dal halwa recipe are:
Dal: The yellow mung (moong) dal is the key ingredient. You need dry, uncooked moong dal for this halwa recipe.
Ghee: It is the soul of moong dal halwa. The good fat of ghee balances the protein of lentils. There is no way to skim or skip ghee in the halwa recipe.
Almond: It gives a nutty and delicious mouth feel to the halwa. Plus increases its protein value.
Gram Flour and Semolina: One tablespoon of each gives a perfect texture to the halwa and makes it easy to roast the dal powder.
Milk: A full-fat milk, preferably with cream (malai) is the ideal choice. While slow roasting, the full cream milk turns into khoya (mawa).
Sugar: Granulated white sugar. The brown sugar or jaggery powder does not do justice to the dal halwa taste and texture.
Other Essentials: Saffron gives a beautiful hue to the halwa, The green cardamom powder is added for a lingering aroma.
The Cooking Process
Cooking moong dal halwa is a multi-step process. And each step of the process requires an equal amount of attention.
Step 1) Rinse, Soak, and Dry
Rinse the moong dal until the water runs clear. Soak in water for 1 hour. After the set timing, drain all the water from the soaked dal. Transfer it to a metal colander. Once all the liquid is drained out, spread it in a single layer on a baking tray lined with a clean kitchen towel. Air-dry the lentils or keep them under the sun for 10 minutes. I put them under the fan for quick drying.
Step 2: Dry Roasting, Grinding
Once dal is not wet to touch, dry roast over low heat till light golden. Keep stirring at regular intervals. Transfer to a blender. In the same pan, add almonds to the skin. Dry roast for 1 minute. Blend with roasted lentils to a coarse or fine powder.
Step 3: Saffron Milk
Combine saffron, cardamom powder, and hot milk. Keep aside. This step helps release saffron's color and aroma into the milk.
Step 4: Ghee Roasting
Roast the dal badam powder in ghee, gram flour, and semolina until it becomes pale brown. The lentil powder should absorb all the ghee at first and then starts oozing out the fat towards the end of the process.
Step 5: Second Last Stage
Add saffron-infused milk. Continuously stir the halwa. Cover it with a lid because there is a lot of bubbling and sputtering. Once the dal absorbs all the liquid, add more ghee and roast the halwa.
Step 6: The Finale
At last, add sugar, and stir to combine. Cook till the sugar is completely dissolved, and the ghee starts oozing from the sides of the halwa. These two are the signals that moong dal halwa is ready!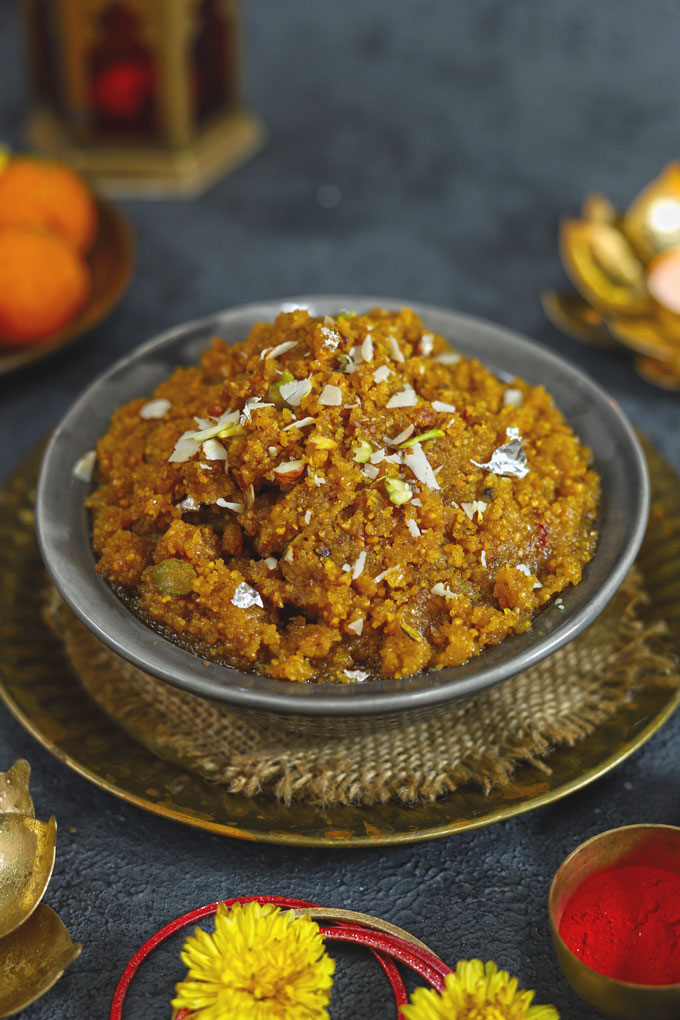 My Tried & True Tips
Tip 1: Be Patient
Moong Dal Halwa is a labor of love and patience. Be patient while dry roasting the dal until it gets a light brown color. Similarly, fry the halwa till the ghee starts oozing from the sides. There are no shortcuts in making a moong dal halwa.
Tip 2: Add Ghee in Batches
Moong Dal absorbs a lot of ghee. Hence, while making halwa, the ghee is added in different phases of the cooking process. It is best to divide the quantity of ghee mentioned into two batches. Add the first batch in phase 1. The second batch is added in small quantities throughout the process till the halwa is ready.
Tip 3: Full Fat Milk
Avoid using skimmed or toned milk for making dal badam halwa. In the Indian subcontinent, full-fat milk with cream (malai) is easily available. You can use full-fat milk only if there is no cream (malai). Many dal halwa recipes use khoya (mawa) instead of milk. I prefer using milk.
Tip 4: Tested Signals
The best signal of halwa being ready is the ghee oozing from the corners of the halwa after adding sugar. The moong dal halwa always has a fat-dripping, moist surface. It is never dry or hard.
Watch Dal Halwa Video
Storage Suggestion
The moong dal halwa tastes best warm straight out of the pan. It remains fresh at room temperature for 4 – 5 hours.
Store the leftover in an airtight container in the refrigerator for 1 week. Reheat in a microwave for 5 minutes. This helps melt the solidified ghee. Or you can reheat in a pan with a few full-fat milk or water splashes.
More Indian Halwa Recipes
Subscribe to our weekly newsletter or follow us on Youtube for video recipes.
If you try this recipe and love it, please leave a comment and a rating. This helps us grow and reach other food lovers like you.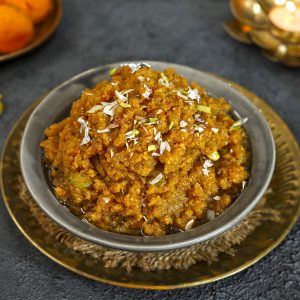 Moong Dal Halwa Recipe
I am sharing with you an easy moong dal halwa recipe that you can make any time from scratch without spending hours in the kitchen.
Print
Pin
Rate
Blender

Heavy Bottom Kadhai
Ingredients
1

Cup

yellow moong dal (mung bean)

¼

Cup

almonds

½

Cup

ghee

1

tablespoon

gram flour (besan)

1

tablespoon

semolina (rava/suji)

2

Cup

full fat milk

clarified butter

½

teaspoon

saffron (kesar)

1

teaspoon

green cardamom powder

⅓

Cup

granulated white sugar

2

tablesponn

almonds + pistachio, sliced
Instructions
Rinse moong dal until water runs clear. Soak for 1 hour.

After 1 hour, drain all the water from the dal. Transfer it to a colander to drain all the liquid. Spread it in a single layer on a baking tray lined with a kitchen towel. Put this tray under the fan or sun for 10 – 15 minutes for dal to dry completely.

Once dal is dry to touch, transfer it to a wide pan. Dry roast over low to medium heat till it is light brown in color (refer to image/video). Keep stirring while roasting. Transfer to a blender. In the same pan, dry roast the ¼ cup almonds for 2 – 3 minutes. Transfer to the same blender as dal.

Grind roasted dal and almonds to a slightly coarse powder. Transfer to an airtight container to store or use immediately.

Next, soak saffron and cardamom powder in hot milk. Stir, and keep aside until ready to use.

To make halwa, heat ¼ cup of ghee in a heavy bottom wide pan/kadhai/casserole

Add gram flour, semolina, and roast for 2 – 3 minutes or till a sweet, nutty aroma is released.

Next, add dal badam powder. Mix nicely with ghee. Start roasting it over low to medium flame. After 5 minutes, it starts oozing ghee in the pan and turns deep brown in color. That is your cue to add milk.

Add in saffron infused milk, and 1 tablespoon of ghee. Continuously stir the halwa to avoid any lump formation and to make sure milk is absorbed by the dal paste. If there is spluttering and bubbling, cover the pan with a lid. Keep it that way for 1 – 2 minutes or till bubbling is settled.

Once the milk is absorbed by the halwa, add the leftover ghee, and the sliced nuts. Continuously stir and roast the halwa till ghee starts oozing from the sides. This is the signal that moong dal halwa is ready.

Garnish moong dal halwa with sliced almonds, pistachio, saffron, and edible silver leaf. Serve warm.
Recipe Notes:
Divide the ghee into two equal portions to be used at two different stages of cooking halwa. 
Combine hot milk, saffron, and cardamom powder. Do this step at the beginning itself so that the color of saffron is combined with the milk. 
Use fine rava (chiroti rava) and gram flour for this halwa. If you want to keep it gluten-free, skip adding semolina. 
⅓ – ½ Cup of white sugar is enough for dal halwa. It's best to taste after adding sugar and if required, add more.  
Use a combination of sliced almonds and pistachio for garnishing the dal halwa. If you prefer, you can ghee roast the nut as well before slicing and adding to the ghee. 
Nutrition
Calories:
592
kcal
|
Carbohydrates:
60
g
|
Protein:
20
g
|
Fat:
32
g
|
Saturated Fat:
17
g
|
Polyunsaturated Fat:
2
g
|
Monounsaturated Fat:
10
g
|
Trans Fat:
1
g
|
Cholesterol:
70
mg
|
Sodium:
70
mg
|
Potassium:
256
mg
|
Fiber:
7
g
|
Sugar:
24
g
|
Vitamin A:
299
IU
|
Vitamin C:
1
mg
|
Calcium:
186
mg
|
Iron:
3
mg
For Behind The Scene updates
Subscribe to our newsletter!