Vegetable Manchurian with Fried Rice is one congenial Indo-Chinese comfort food when I say Indo-Chinese it refers to an Indian version of Chinese dishes which are revamped over the years to suit the Indian palate. Manchurian which has always topped the menu cards of Indian Chinese serving restaurants got its name from Manchuria, which is actually a historical name for Northeast China. Light, spongy golf ball sized deep-fried vegetable dumplings plunged in piquant peppery sauce relished with stir-fried rice. This divine combination is always been in-house favorite Friday night meal and despite being relishing it almost every month we are still not humdrum by the dish.
In the last few decades, this Indo-Chinese food fare has become so popular among the food lovers, especially in the Northern region of the country, reason being its simplicity, bursting flavors and hint of spicy savour, making it quintessential dish for hot and sour flavors quenching taste buds. February month theme of #thekitchendivas (an endeavor to create a collection of recipes of Traditional Indian Cuisines in collaboration with a few bloggers who share the same passion of cooking) recipes revolves around Indo – Chinese Cuisine, so there will be an array of interesting popular recipes from the cuisine during the entire month. With Khara Bhath and other traditional Karnataka recipes, the theme of January came to an end leaving behind near about twenty conventional recipes from the state cuisine along with wide appreciation from the readers.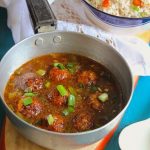 Vegetable Manchurian
2015-04-17 23:33:29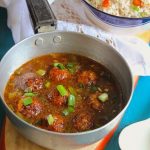 Serves 4
Light, spongy golf ball sized deep fried vegetable dumplings plunged in piquant peppery sauce relished with stir-fried rice.
Ingredients
For the Manchurian balls
1 small size cabbage
2 medium size carrot
¼ Cup finely chopped spring onion greens
2 tbsp bread crumbs
1 tsp freshly crushed black pepper
2 tbsp all-purpose flour
2 tbsp cornflour
Salt, as per taste
Oil for deep frying
For the Manchurian sauce
1 large onion, finely chopped
3 – 4 cloves of garlic, finely chopped
1-inch piece of ginger, finely chopped
2 red chilies, fine chopped
1 medium size capsicum, cut into small cubes
1 tbsp corn flour dissolved in 2 tbsp water
1 tbsp soya sauce
1 tbsp tomato sauce
1 tbsp white vinegar
2 water or vegetable stock
1 tbsp green chili sauce
1 tsp freshly crushed black pepper
Salt, as per taste
Oil for cooking
Instructions
To prepare the Manchurian balls, first wash cabbage, carrot and spring onion in water. Pat dry with kitchen towel.
Now grate carrots and transfer to a bowl. I used Food Processor to do the job of chopping cabbage or mincing it, cabbage can be grated also.
Mix all the ingredients except oil in a large bowl. Combine with your fingers to get soft pliable dough like mixture. Keep aside for 10 minutes.
Pinch small portion out of the mixture and shape into small round balls. Once all the balls are ready keep them in the fridge for sometimes till oil is heated. Keeping manchurian balls in fridge for 10 – 5 minutes make them firm and there is less chance of balls falling part while deep frying.
Meanwhile heat oil in a deep frying pan over medium heat to fry the manchurian balls.
Deep fry balls on boil over medium heat in small batches, do not overcrowd the frying pan at one time else balls will not get fried properly.
Once balls are deep brown from outside transfer to a plate lined with paper towels. Turn off the heat and set balls aside until required.
To prepare the sauce, heat oil in a saucepan add onion, ginger, garlic, chilies and fry over high heat for 2 – 3 minutes or until you can smell the aroma. No need to fry the onion for too long.
Now add chopped capsicum, soya sauce, vinegar, chili sauce, tomato sauce, salt, black pepper and fry for 5 minutes over medium to high heat.
Add water or vegetable stock whatever you are using I prefer using stock. Stir to combine and let sauce simmer for 5 minutes.
Add the cornflour paste to thicken the sauce and again simmer the sauce over medium heat. Once sauce is thickened as per desired consistency add the manchurian balls to the sauce and simmer for 1 – 2 minutes.
Turn off the heat garnish with chopped spring onion greens.
Serve hot with fried rice.
Fun FOOD and Frolic http://www.funfoodfrolic.com/
Vegetable Fried Rice
2015-04-17 23:35:01
Serves 4
Ingredients
1 cup long or medium grained rice
4 Cup water
¼ cup each of finely chopped spring onion whites,
1 medium size carrot, finely chopped
Other vegetables (capsicum, beans, mushrooms) finely chopped
3 – 4 cloves of garlic finely chopped
1 tsp soy sauce
1 tsp vinegar
Salt and black pepper, as per taste
2 cooking oil
For Garnish
Chopped spring onions greens
Instructions
To make fried rice first, clean and rinse rice till the water runs clear of starch. Soak rice in water for at least 30 minutes.
Drain soaked rise and transfer rice to a bowl.
Boil water in a large pan with salt. When water comes to a gentle boil add drained rice and stir so that rice does not stick to the bottom of the pan.
On a low to medium flame cook rice stirring occasionally without lid.
When the rice becomes al dente (80% cooked) or just cooked, turn off the heat and drain rice in a colander. Rinse boiled rice with water and let sit in colander for few minutes.
Meanwhile heat oil in a wok over medium heat. Add chopped white onion, garlic and stir fry over high heat for few minutes.
Then add all the finely chopped vegetables and fry on high heat for 5 minutes. Make sure to continuously toss and stir while frying so that the vegetables are uniformly cooked and do not get burnt and remain crunchy.
Add soy sauce, vinegar, salt and pepper. Stir to combine and add the rice. Stir-fry for a few minutes till everything is evenly combined.
Turn off the heat garnish with chopped spring onion greens.
Serve the veg fried rice hot.
Fun FOOD and Frolic http://www.funfoodfrolic.com/