This 20 Minute Maggi Stir Fry is a terrific fridge and pantry forage meal, made with your favourite Maggi Noodles. All it requires is a simple tasty stir-fry sauce and whatever protein and veggies you like to add. And the deal is if you cook it for more than 20 minutes than it is overcooked. If you are looking for a quick, delicious dinner for a busy weeknight then this Maggi stir fry could be your favourite recipe pick.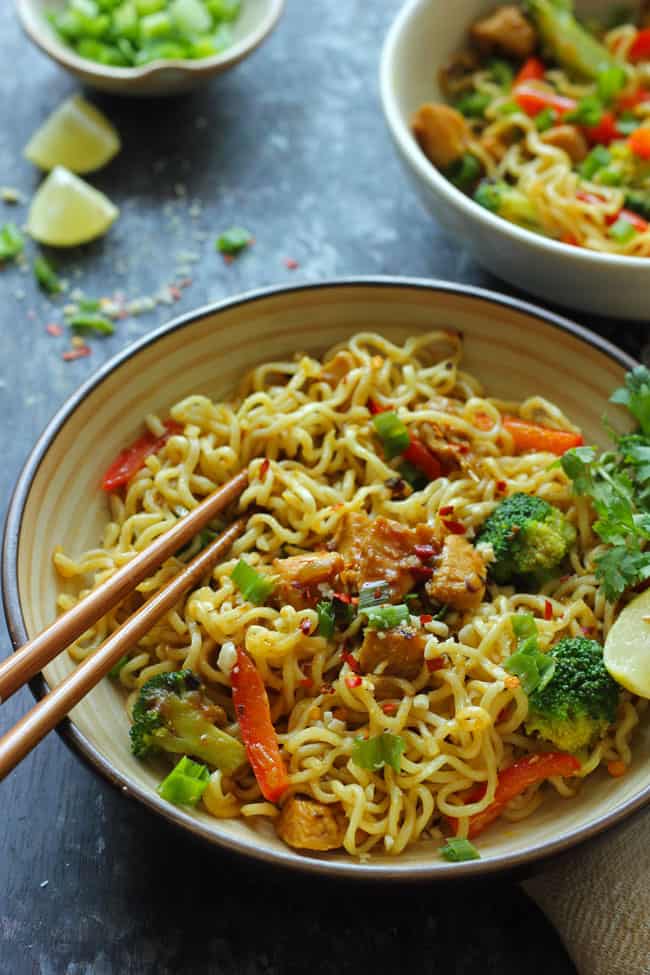 With noodles taking exact 2 minutes to get boiled this stir fry is on the table in less than 30 minutes. Why only 2 minutes? Because a Maggi Noodle goes through a rigorous 5 step cooking process before packaging. They are steamed, then baked, and at last quickly fried to make them safe for packaging and storing. This long process also ensures that when the noodles reach your kitchen they get cooked in 2 minutes precisely. Saving you a lot of time near the gas stove!
Many a times friends ask me, how I maintain a balanced body weight despite being around so much of good food. I think it is all about eating a balanced meal and doing the right amount of physical workout. When I say a balanced meal, I prefer something rightly loaded with veggies, greens, protein and the fat such as this tasty bowl of stir-fry noodles. Hope you know that Maggi has less than 1/5 of daily fat requirement. So this quick stir-fry rain checks my criteria of a balanced meal. And I can happily devour it each day for lunch and dinner.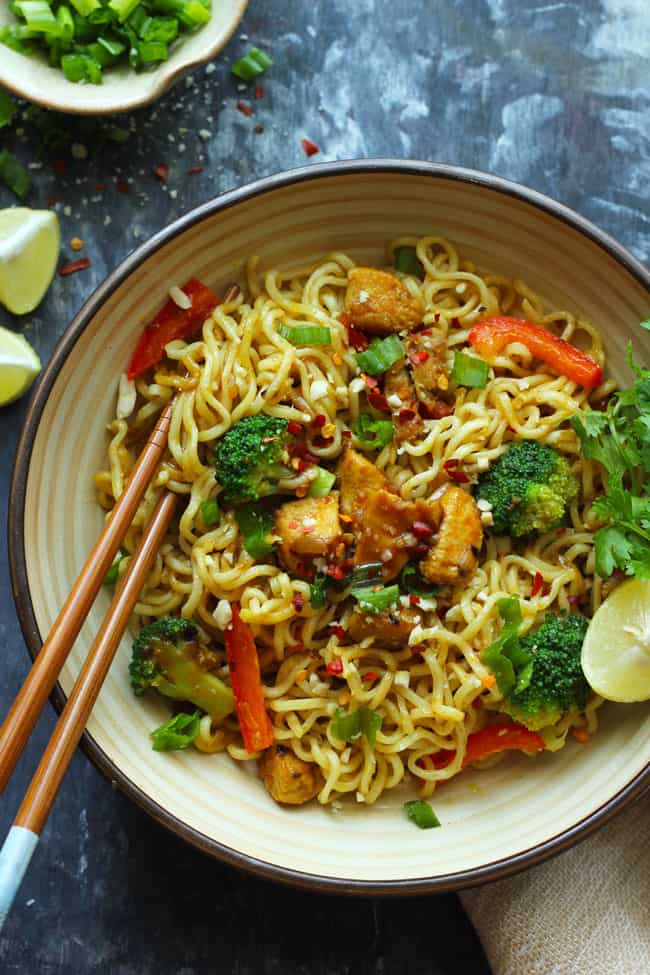 How can you transform the regular pack of noodles into a complete meal? Combine your favorite veggies then select the right kind of meat or seafood to cook with the veggies, and at last pick your popular sauces to flavor the dish. That is pretty much the only rule with this Maggi Stir Fry.
So next time you're wondering what to make for dinner try this 20 Minute Chicken Maggi Stir Fry.
For more such fun recipes in your life, follow along on Facebook, Instagram, or subscribe to our Youtube Channel.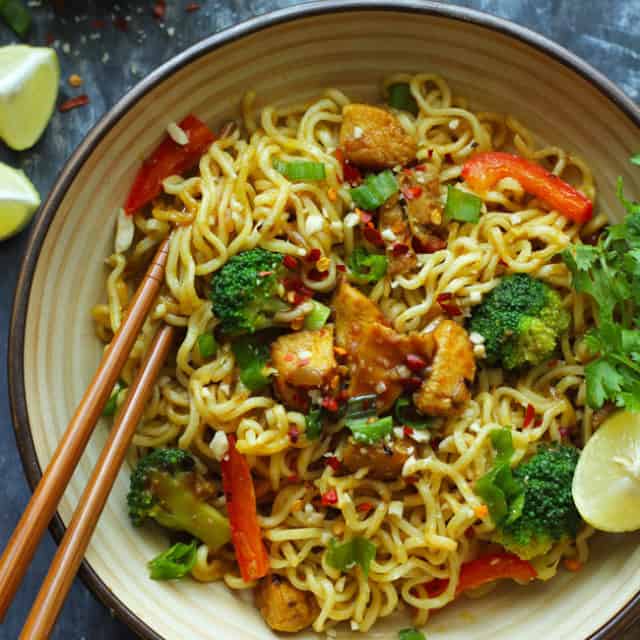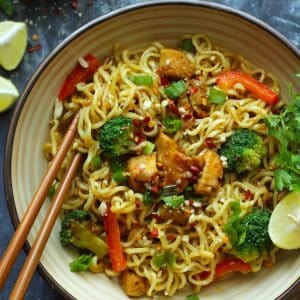 20 Minute Chicken Maggi Stir Fry
This 20 Minute Chicken Maggi Stir Fry is a terrific fridge and pantry forage meal, made with your favorite Maggi Noodles. Find how to make Maggi Stir Fry.
Print
Pin
Rate
Ingredients
1

Cup

sliced red bell pepper

1

teaspoon

red chili flakes

1

teaspoon

light soy sauce

1/2

teaspoon

white vinegar

1

teaspoon

sriracha sauce

Salt to taste

2

tablespoon

cooking oil

Ingredients to serve:

1

tablespoon

spring onion greens chopped

Juice of one lemon

2

teaspoon

roasted peanuts
Instructions
Cook Maggi Noodles according to package directions without the tastemaker. Drain and set aside.

Combine soy sauce, sriracha sauce, vinegar and set aside.

Heat oil in a shallow frying pan or wok.

Add garlic and chili flakes. Stir-fry for 10 – 15 seconds.

Next, add the chopped onion and fry for next few seconds.

Add the chicken pieces and fry till they turn white in color.

Add the sauce mixture, salt, Maggi tastemaker along with 1/4 Cup of water.

Cook till the chicken is almost done. Add the broccoli and bell pepper. Stir fry for less than a minute.

Now, add the boiled noodles and mix nicely. Turn off the heat.

Serve Maggi Noodles Stir Fry garnished with roasted peanuts, spring onion, and lemon juice.
Recipe Notes:
I have Maggi Chicken Flavor for the recipe but you can use any other flavor variant as well.
Love this? Pin it for Later!
Follow @hinagujral on Pinterest!