Punjabi Kadhi Pakora Recipe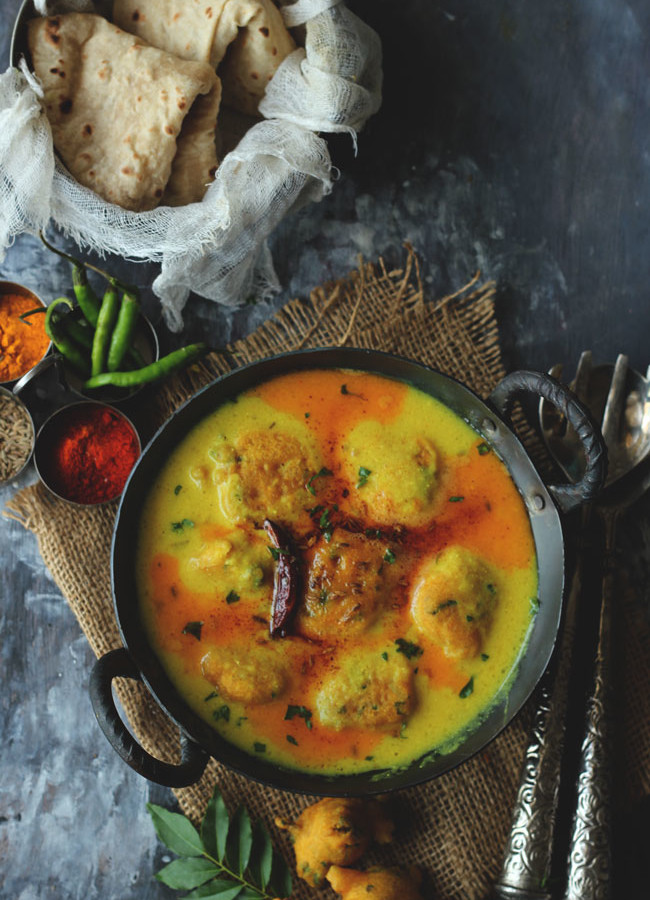 Kadhi Pakora is an ultimate definition of homemade comfort food. The simple and unique flavors of this Indian curry never fail to impress. There are different versions of prepared across India. Every regional cuisine has its own take and twist to the Kadhi Recipe. Punjabi Kadhi Pakora is one such regional kadhi recipe influenced by the flavors of Punjabi Cuisine. But whatever be the Kadhi Pakorae recipe Kadhi Pakora has always been the most popular Indian dishes. Served with the steamed rice, jeera pulao or chapati Kadhi Pakora is one of the best gluten free curries recipe.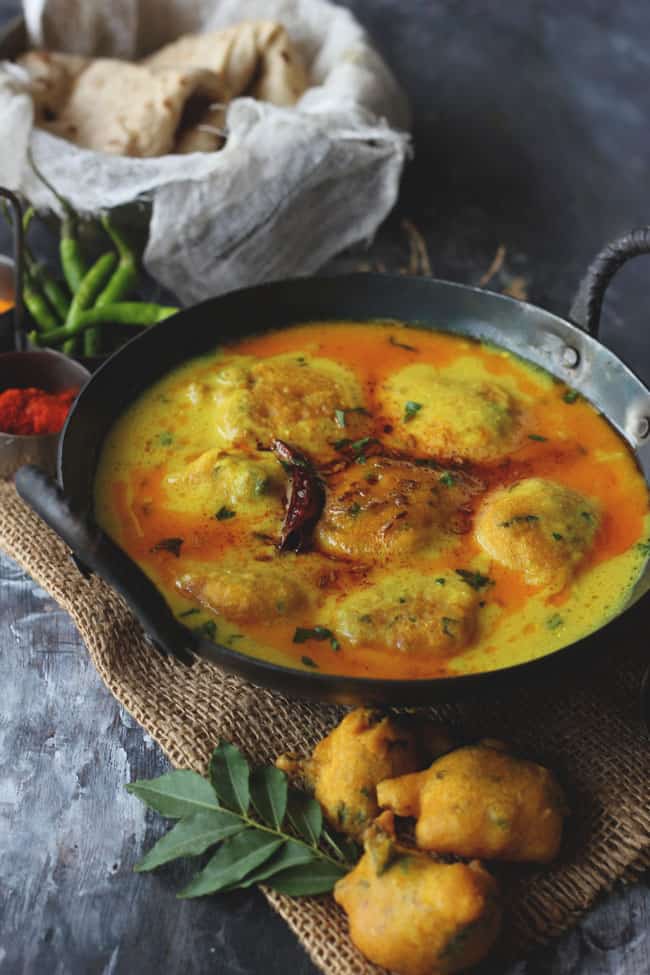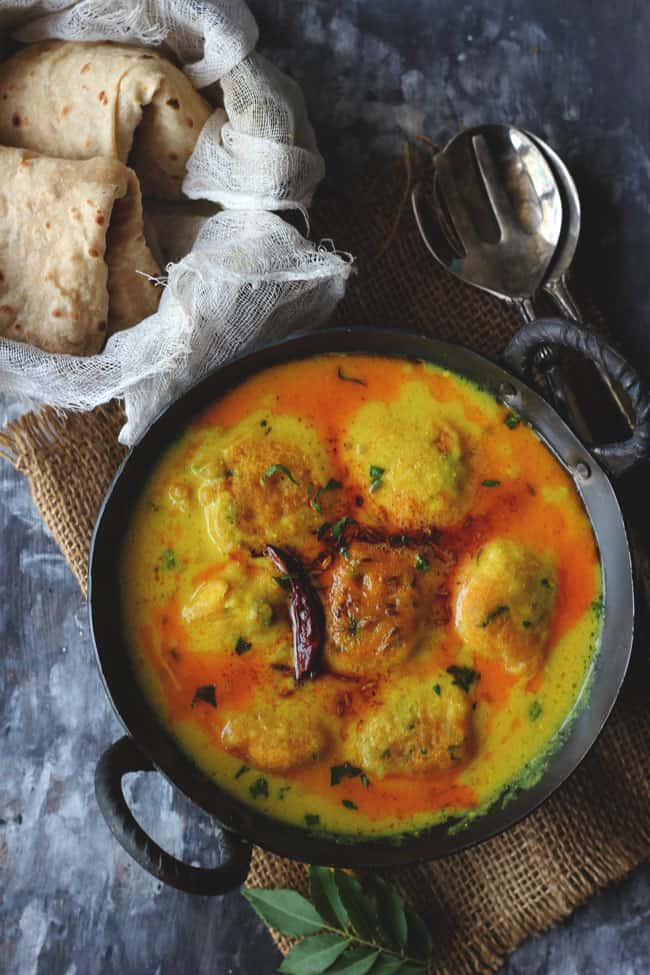 The secret to making a perfect Kadhi Pakora lies in the light, fluffy and airy pakora (fritters). I never prefer using baking soda for making the fritters more fluffy. Rather I stick to an old trick – whisking the fritter batter with hand. Just whisk the batter in a clockwise direction for approximately 5 minutes, and you will get the perfectly soft pakora.That is pretty much the only rule with this Kadhi Pakora recipe. Another crucial point to keep in mind while making the pakora is to keep the fritter batter thick. While adding water start with 1/4 Cup of water at a time. I have added chopped onion in the pakora but you can totally skip that and make pakora only of gram flour, coriander, and spices.
I keep my Kadhi Pakora as simple as possible using the basic spices available. It is not the array of spices that does the magic in a Kadhi but the slow, simmering time that allows the flavors to mature. Don't forget to stir the Kadhi at regular intervals. While the kadhi is stewing add the pakoras and allow them to simmer for few minutes to absorb the flavor of the Kadhi. This way you will have the mouth melting, bursting with flavors pakoras. And the final tempering of ghee, cumin, and chilies towards the end provide the subtle aroma and color to the Kadhi. Who could say no to this delicious bowl of sunshine? I definitely cannot.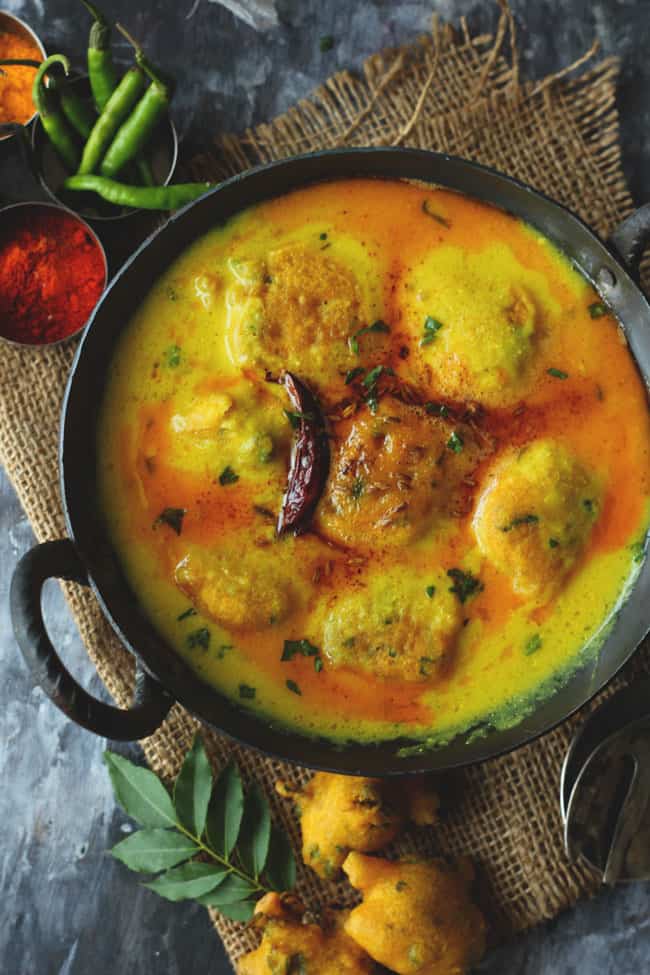 For more such fun recipes in your life, follow along on Facebook, Instagram, or subscribe to our Youtube Channel. Follow our Pinterest Board to get the collection of Gluten Free Indian Recipes.
How to make Punjabi Kadhi Pakora in few simple steps: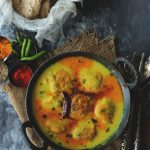 Punjabi Kadhi Pakora
2017-06-22 07:09:30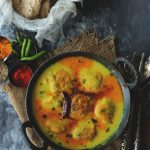 Serves 6
1 Cup gram flour (besan)
1 medium-size onion fine chopped
1 tsp turmeric powder
1 tbsp finely chopped coriander
1/4 tsp red chili powder
Salt to taste
Oil for deep frying the
2 Cup yogurt (dahi)
4 tbsp gram flour (besan)
1 tsp turmeric powder
1 tsp red chili powder
2 - 3 dry red chilies broken into halves
1 tsp cumin seeds (jeera)
a pinch of asafoetida (hing)
Salt to taste
1 tbsp ghee
To prepare the pakora, combine all the ingredients except oil together in a bowl. Mix nicely.
Add approximately 1/4 cup of water to make a thick batter.
Whisk the batter nicely using your fingers for 2 - 3 minutes. This way pakoras are more light in texture.
Heat the oil in a deep non-stick pan.
Drop spoonfuls of the batter into the hot oil without over-crowding the pan.
Deep-fry the pakora over medium heat till they turn crisp from all the sides.
Drain on an oil absorbent paper and keep aside.
Whisk together curd, turmeric powder, red chili powder, gram flour and salt along with 2 Cups of water. Make sure no lumps remain in this mixture.
Add the curd mixture in a kadhai and bring it to boil.
Reduce the heat to low and allow the kadhi to simmer for 5 - 10 minutes.
Stir at regular intervals. Taste and adjust the seasoning accordingly.
Once the Kadhi is almost done add the pakora. Cook for 5 more minutes. Turn off the heat.
Heat ghee in a small tadka pan. Add cumin seeds and red chilies. Cook for less than a minute.
Pour this tempering over the kadhi. Stir to combine.
Serve Kadhi Pakora garnished with chopped coriander leaves.
Fun FOOD and Frolic http://www.funfoodfrolic.com/
Comments
Leave a Comment