Some dishes never lose their glory nor they are ever out of trend, one such classic desert is Gajar Ka Halwa, winter specialty of Indian households though carrots are available all round the year but only during winters market is flooded with those juicy, sweet and long deep orange carrots. These winter carrots have altogether different taste and texture than the regular small carrots; with a hint of natural sweetness these are perfect for Halwa.
I have some sweet memories related to Gajar Ka Halwa back from childhood, when loads of carrots use to come from our farm and all the ladies and kids in the family use to sit in a circle in the verandah and grate carrots for Gajar Ka Halwa, enjoying chit chatting and snacking on peanuts. Then my great grandmother used to cook Gajar Ka Halwa on chullah and let it simmer in cow's milk for hours, at night after dinner we all use to relish Gajar Ka Halwa – sometimes I feel spending my childhood in a joint family has taught me so many things like sharing, eating together, socializing and most importantly team work.
I have tried different recipes of Gajar Ka Halwa from cookbooks and internet but every time I ended up with mushed up Gajar Ka Halwa like Carrot Kheer then finally I discussed the whole issue with my aunt (father's sister) who lives in Nainital, she is one fabulous cook and her family has the business of sweets from past three generations so she shared with me this recipe of Gajar Ka Halwa, the way it is cooked in their sweet – shop and the result is simply divine!!! No condensed milk, no milk just three ingredients – carrot, mawa and sugar.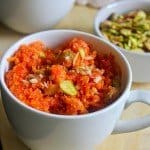 Gajar Ka Halwa (Carrot Halwa)
2015-10-16 05:26:21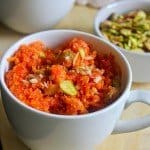 Serves 5
Ingredients
½ kg Carrot
1 Cup Sugar or as per taste
½ Cup Khoya/ Mawa, roughly crumbled
¼ Cup Water
2 Tbsp Ghee
2 – 3 Green Cardamom Pods, crushed
¼ Cup raisins
¼ Cup almonds, blanched and sliced
Instructions
Wash, peel and grate carrots. While grating carrot use the bigger holes of the grater than the smaller ones to have long strands.
Transfer grated carrots to a clean kitchen towel and squeeze out all the excess water.
In a pressure cooker add grated carrots, water and sprinkle sugar on top do not mix. Put on the lid and once the whistle is about to come switch off the gas and release the pressure.
Now heat ghee in a heavy bottomed deep pan transfer the carrots to it keeping flame on low. Add dry fruits and preserve some for garnishing.
Mix in crushed cardamom pods and crumbled mawa. Keep on cooking the halwa on low flame stirring frequently for about 15 – 20 minutes.
Switch off the flame and before serving sprinkle remaining dry fruits and mawa.
This can be stored in airtight container in refrigerator for 1 – 2 weeks, simply reheat just before serving.
Fun FOOD and Frolic http://www.funfoodfrolic.com/