Sabudana kheer is a creamy Indian pudding made with sago pearls (sabudana), milk, and sugar. I am sharing a delicious sabudana kheer recipe with carrots. It is perfect for festive feasts, Navratri puja, or other celebrations. Be sure to watch the video!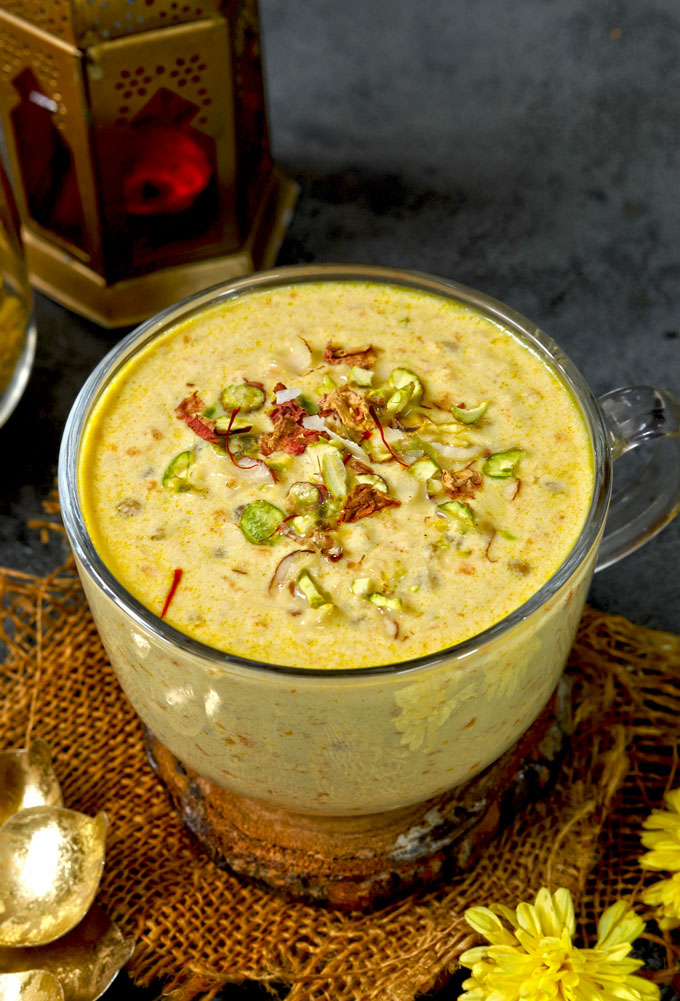 About Sabudana
Sabudana is a starch that's extracted from the soft core of tapioca and other tropical palms. It is also known as sago or tapioca pearl.
Sabudana is highly rich in carbohydrates. And are often consumed in tropical regions for their ability to keep one full and to provide instant energy. It is a gluten-free, plant-based vegan ingredient.
In India, sago pearls are commonly used in everyday cooking to prepare sabudana vada (cutlet), kheer, dessert, or upma (khichdi).
Mainly it is used to prepare various festive snacks and desserts during the Hindu festival.
Nowadays, packaged, dry sago pearls are easily available in supermarkets and grocery stores under the lentil & legume section, along with other whole grains like broken wheat, millets, or quinoa.
Sabudana Kheer
A sabudana kheer is a traditional Indian dessert. It is often made on the festive occasions of Hindu festivals and puja rituals. Many like to eat sabudana kheer while observing Navratri or Janmashtmi fast, which is considered a sattvic Indian dessert.
The classic version of the sabudana kheer requires only 3 ingredients – sago pearls (sabudana), milk, and sugar. My mom makes the creamiest sago pudding with these basic ingredients.
However, I do not like the taste of plain sabudana kheer. It is way too vanilla for my liking. Hence, with the addition of carrots, saffron, cardamom powder, and jaggery, I take the humble kheer up a notch.
Ingredients Required
For my carrot sabudana kheer you need these ingredients:
Sabudana: You need medium size tapioca pearls (sago). Follow my tips below on how to soak sabudana.
Carrot: Shred the carrots using a food processor. I prefer the texture of shredded carrots in a kheer than the grated ones.
Ghee: To fry the carrot so that all the water from the vegetable is dried up.
Milk: Use full-fat or cream milk to make a rich and creamy kheer.
Green Cardamom, Saffron – for the taste and aroma.
Sugar – I prefer using jaggery powder. It gives a delicious nutty taste to the sabudana kheer. You can use granulated white sugar or brown sugar.
Dry Fruits: Slived almond, unsalted pistachio, dried rose petals. You can roughly chop the nuts or process them in a food processor to make a coarse powder.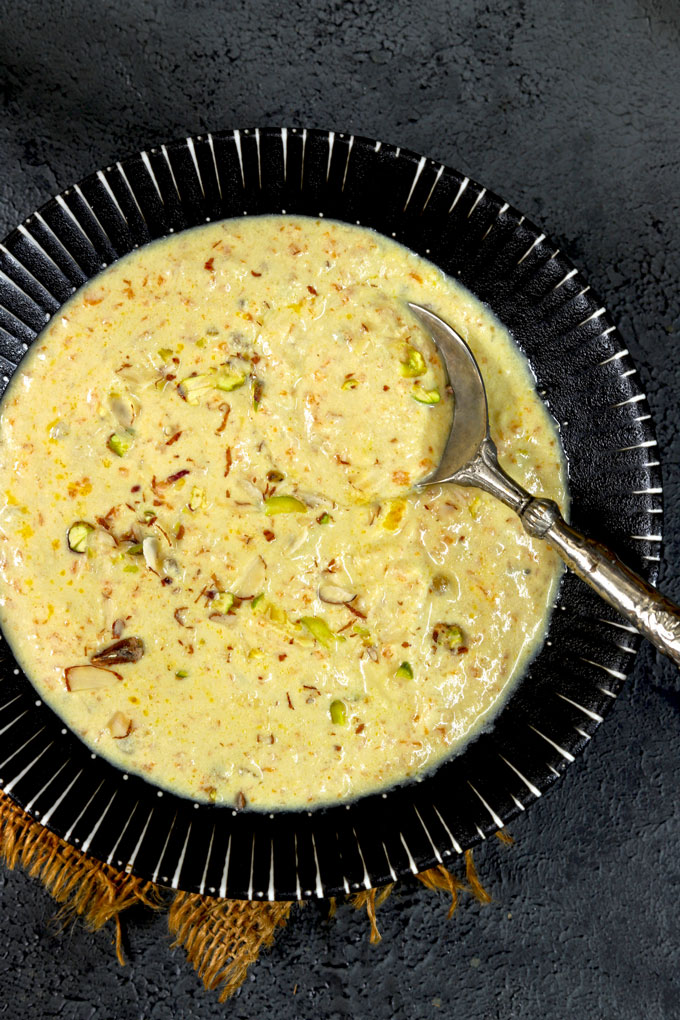 My Tried & True Tips
Tip 1: The perfect ratio of sabudana to water should be 1:1
Use a large bowl to soak sabudana as the pearls swell up after soaking. Soak one cup of sabudana in only one cup water – enough to drench the sago pearls in the water. Cover the bowl with a net or lid. Let it soak in water for 4 – 5 hours. I usually prefer soaking sabudana in water overnight.
For kheer, I double soak sabudana. After soaking in water, I soak it in milk for 1 hour.
Tip 2: Cook Kheer in 2 Steps
Sabudana Kheer is cooked in 2 phases. One, after adding milk to soften the carrots. Second, after adding sabudana to thicken the kheer.
Tip 3: Grated vs Shredded Carrot
The texture of the kheer made with shredded carrot is more creamy and luscious than the grated ones.
Tip 4: Ghee Roasting Carrot
Do not add carrots directly to the milk. First, saute them in ghee for 3 – 5 minutes. This step ensures that the carrot juices do not leech into the milk resulting in curdled or watery kheer.
Tip 5: Full Fat Milk
The best way to make thick and luscious sabudana kheer is to use full-cream milk. The milk's fat gives a thick texture and creamy mouthfeel to the kheer. Avoid using toned or skimmed milk for making Indian desserts.
Tip 6: Sugar
Add jaggery powder or sugar only once the kheer is almost ready. Never ever add sugar before milk is thickened and the key ingredient is fully cooked.
Watch Kheer Video
Storing Suggestion
You can serve carrot sabudana kheer warm or chilled.
For storing, let the kheer cool down completely. Transfer the leftover kheer to an airtight container. Store it in the refrigerator for 2 – 3 days. It remains fresh.
The sabudana kheer thickens a bit more after cooling down. Hence, add ⅛ cup water or milk while reheating in a saucepan to get the desired consistency. Else, you can enjoy it chilled like a thick, creamy milk pudding.
It cannot be frozen, as the milk will curdle when thawed or reheated.
More Indian Kheer Recipe
Subscribe to our weekly newsletter or follow us on Youtube for video recipes.
If you try this recipe and love it, please leave a comment and a rating. This helps us grow and reach other food lovers like you.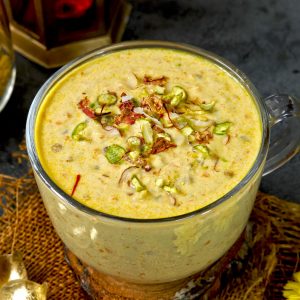 Carrot Sabudana Kheer Recipe
I am sharing with you a delicious version of sabudana kheer with carrots. This gluten-free kheer is perfect for festivals, puja, or fasting.
Print
Pin
Rate
Ingredients
½

Cup

sabudana (sago pearls)

2

tablespoon

ghee

1

liter

full fat milk

½

Cup

carrot (shredded or grated)

1

teaspoon

green cardamom powder

¼

teaspoon

saffron (kesar)

½

Cup

jaggery powder or sugar

1

tablespoon

almonds (sliced)
Instructions
Soak sabudana in ½ cup of water for 4 hours. After 4 hours, soak it once again in ½ cup milk for 1 hour.

Heat ghee in a kadhai. Once hot, add carrot. fry for 5 minutes to soften the carrot. Add milk, cardamom powder, saffron, and cook till one boil comes. Continuously, stir in betwee.

Add soaked sabudana along with milk it is soaked in. Stir the kheer. Cook over low heat till the milk is reduced to half, sabudana is fully cooked, and the texture of the kheer is thick. Keep on stirring at regular intervals.

Once the kheer is almost ready add jaggery powder and nuts. Stir to combine. Simmer over low heat for 5 minutes to dissolve the sweetener.

Garnish sabudana kheer with sliced almonds and pistachio.

Serve sabudana kheer warm or chilled.
Recipe Notes:
Soaking sabudana in milk makes it soft, reduces the cooking time, and also removes the bland taste. However, it is an optional step. You can make kheer directly using the water-soaked sabudana. 
Use a food processor for shredding the carrot for kheer. Shredded carrots give a delicious texture to the kheer. 
After cooling down kheer thickens a bit more. So do not thicken the kheer too much while cooking. 
Nutrition
Calories:
414
kcal
|
Carbohydrates:
57
g
|
Protein:
9
g
|
Fat:
17
g
|
Saturated Fat:
9
g
|
Polyunsaturated Fat:
1
g
|
Monounsaturated Fat:
5
g
|
Cholesterol:
44
mg
|
Sodium:
119
mg
|
Potassium:
407
mg
|
Fiber:
1
g
|
Sugar:
39
g
|
Vitamin A:
3078
IU
|
Vitamin C:
1
mg
|
Calcium:
309
mg
|
Iron:
1
mg
For Behind The Scene updates
Subscribe to our newsletter!