Dalia (Broken Wheat) Upma is a savory broken wheat porridge cooked with seasonal vegetables and flavored with spices. It is very important to have a healthy start of the day and the best way to do that is nutritious wholesome breakfast. Dali Upma is packed with the goodness of whole grains and vegetables. It takes minimal time to cook Dalia Upma and is a fantastic choice of meal for office lunchbox
Whenever I make Dalia Upma for breakfast the last few spoonful are always relished with the evening tea. The broken wheat that I have used for this recipe is already roasted. But if the broken wheat is not a roasted then it could be roasted in a pan with little oil before making the Upma. The ratio of 1 Cup broken wheat to 2 Cups of water is one foolproof trick to get the right consistency of Upma.
Learn how to make Dali Upma in few simple steps: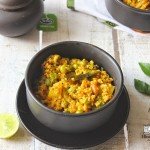 Dalia Upma
2016-02-23 01:12:00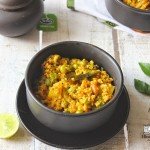 Serves 4
Ingredients
1 Cup roasted broken wheat (dalia)
1 medium size onion, roughly chopped
1/2 Cup green peas
1 medium size potato, cut into small cubes
2 tbsp peanuts
4 – 5 curry leaves
1 green chili, chopped
Salt, as per taste
1 tsp mustard seeds
1 tsp red chili powder
1 tsp turmeric powder
Juice of 1 lemon
2 tbsp cooking oil
2 Cup water
Instructions
To make dalia upma heat oil in pressure cooker over medium heat.
Once oil is hot enough add mustard seeds and wait till seeds starts crackling. Then add curry leaves and peanut fry for few seconds.
Add chopped onion and green chili. Saute over medium heat till onion turn light brown in color.
Now add green peas, potato and saute for 1 – 2 minutes.
Add broken wheat to the sautéed vegetables. Season with salt, chili powder and turmeric powder. Stir to evenly combine the seasoning.
Pour 2 Cups of water into the pressure cooker, stir once and close the pressure cooker with the lid. Put the pressure cooker weight on and after two whistle on medium heat turn off the heat.
Let the steam of pressure cooker release on it's own. Once steam is released remove the lid to open the pressure cooker. Check broken wheat if cooked evenly.
Transfer to serving plates and drizzle some lemon juice just before serving.
Serve Dalia Upma warm for breakfast.
Fun FOOD and Frolic http://www.funfoodfrolic.com/