This Vegan Tofu Stir Fry is a perfect one-pot dinner! It is a quick and healthy vegetable stir fry that gets ready in less than 30 minutes. Be sure to watch the video!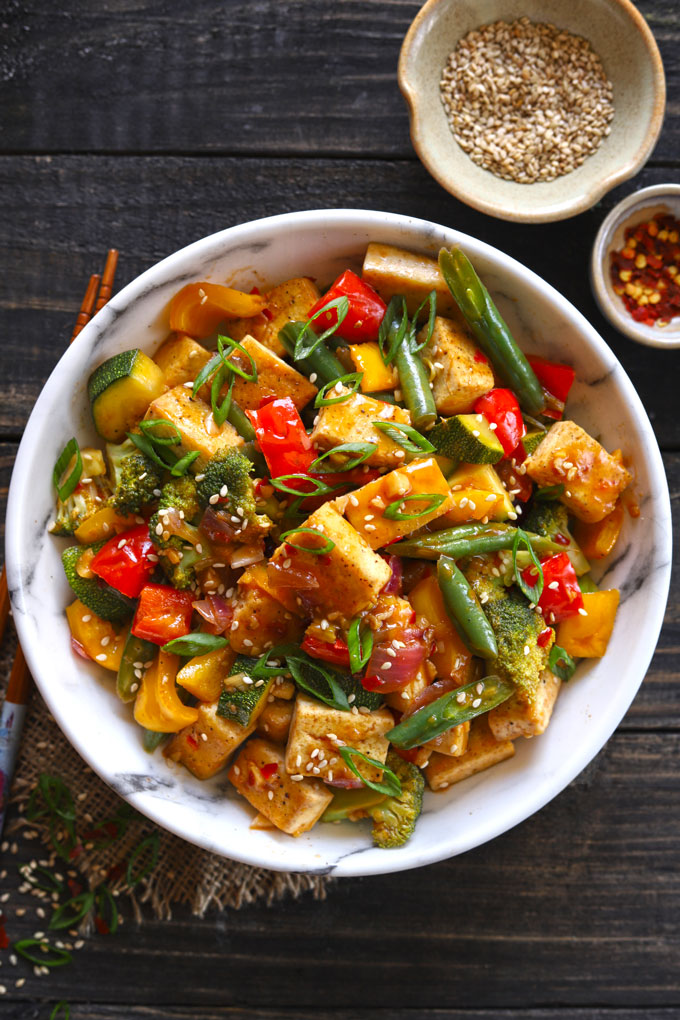 What is stir-frying?
Stir-Frying is a Chinese technique of cooking food quickly in a wok with hot oil.
In China, it began appearing in the Ming dynasty (1368-1644) but has only gained worldwide popularity in the last century, spreading west and well beyond Chinese communities.
Today we see stir-frying everywhere – at home, as kits in supermarkets, restaurants, and take-out.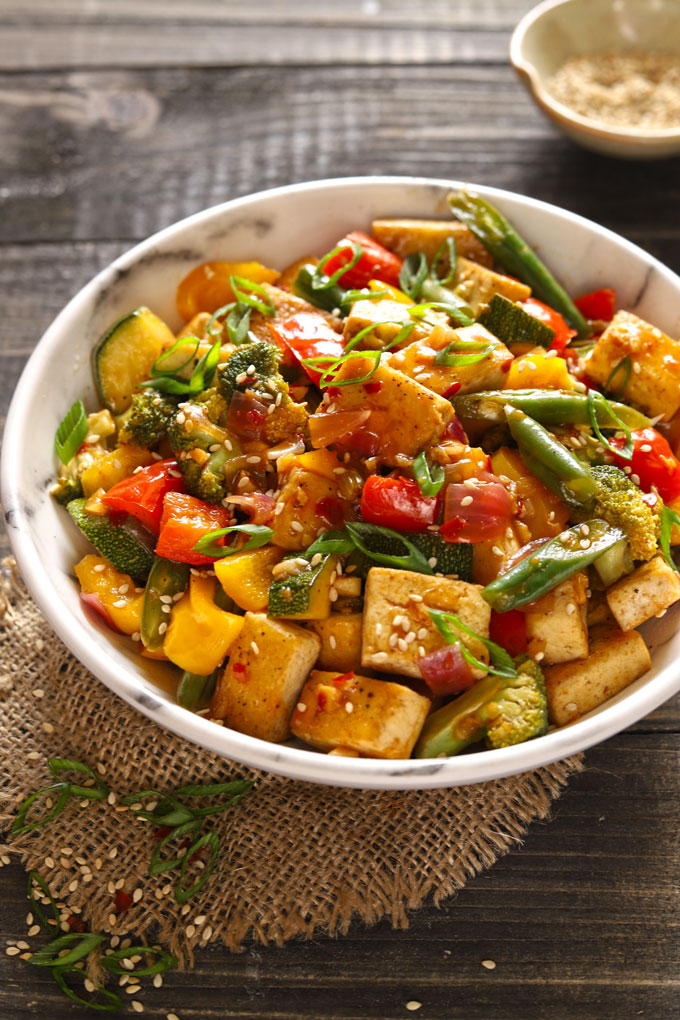 Why is stir-frying so good?
Your vegetables retain their nutrients! We know that as you cook vegetables, their nutritional value decreases. In a stir fry, you don't need to cook the veggies very long. Less cooking + optimal flavour = healthy win!
You can clean out your fridge! In this stir-fry recipe, I use green beans, broccoli, red and yellow bell peppers, and zucchini, but stir-fries are a great way to use leftover vegetables in the fridge.
It's healthy, gluten-free, and vegan! Stir-fries are primarily vegetables with herbs, spices, and a little soy sauce. There isn't much oil or flour used, keeping the calories low for a considerable volume of food.
It's quick & easy! Prep = 15 minutes, cooking = 15 minutes. The trickiest part is draining the tofu (which isn't hard at all!).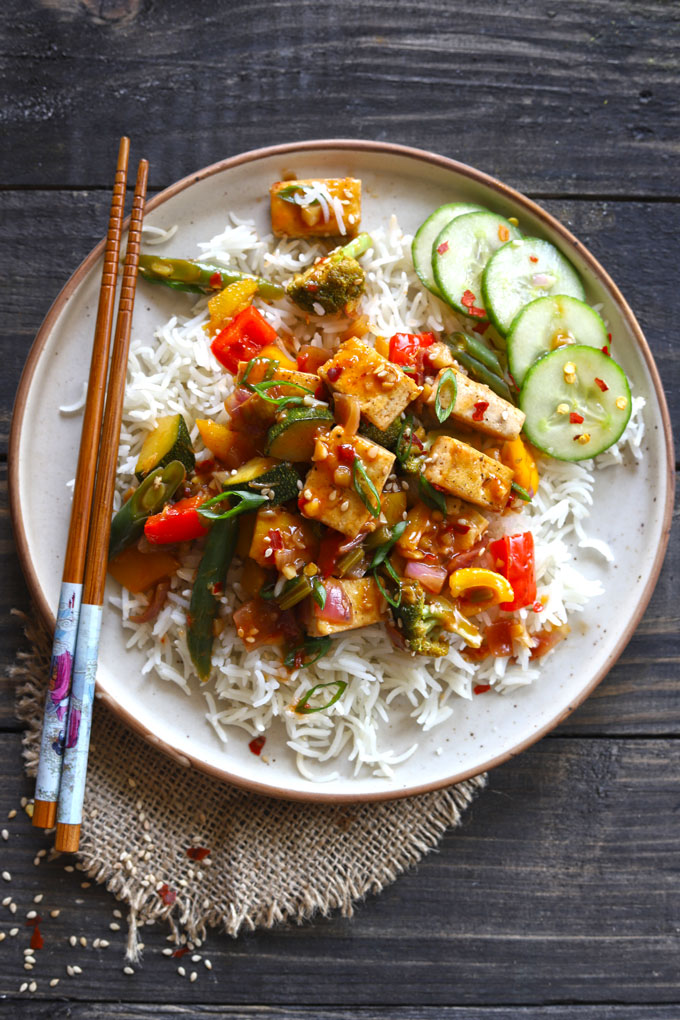 Ingredients Required
The main ingredients for making tofu stir fry are firm tofu, red and yellow peppers, broccoli, zucchini, green beans, onion, and celery.
For the sauce, you will need garlic ginger paste, rice vinegar, light soy sauce, vegetable stock, brown sugar, chilli powder, Chinese Five Spice Mix, salt, and pepper.
Equipment: You will need a towel to squeeze out the extra moisture from the tofu, a mixing bowl to season the tofu, a Wok or non-stick pan to cook in, a heat-safe spatula to flip the tofu, and stir the ingredients, a chopping board & knife.
How to prepare the Tofu
(follow step-by-step instructions as shown in the image below)
First of all, press the tofu firmly with a towel. You can use a cloth or paper towel (image 1).
Then, cut the tofu into cubes.
In a bowl, season the tofu cubes with salt, pepper, and soy sauce. Mix well, making sure the tofu is evenly coated.
Heat 2 of the 4 tablespoon of sesame oil in a non-stick pan, and cook the tofu until it's crispy on all sides, using the heatproof spatula to flip (image 4).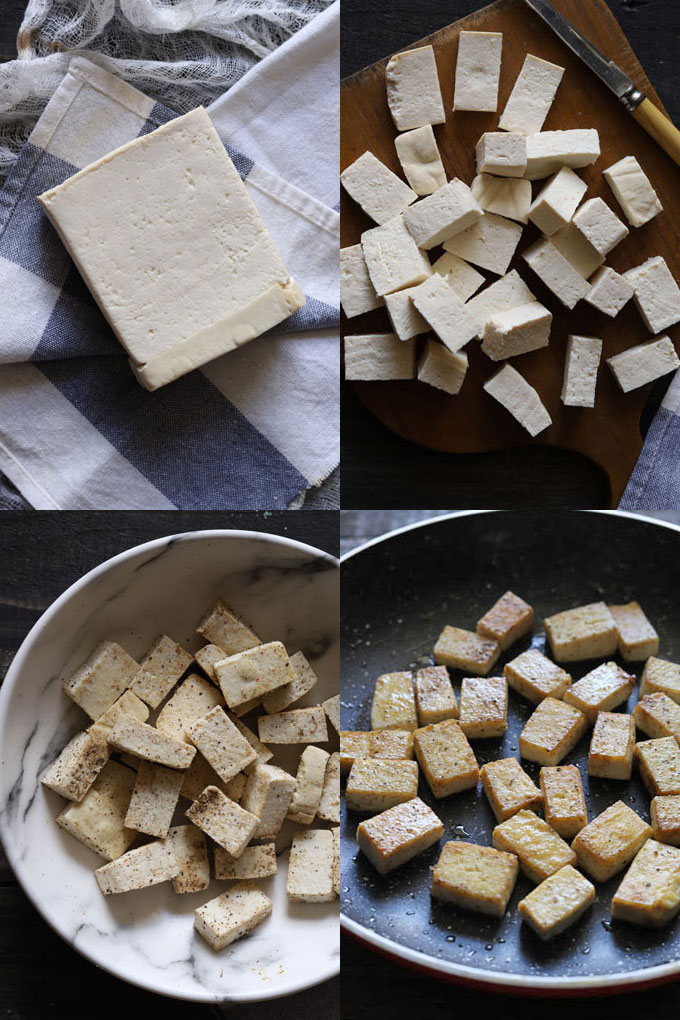 Tofu Stir Fry Recipe Variations
Can I use other vegetables? Yes! Other vegetables that work well in tofu stir fry are:
yellow summer squash
carrots
sugar snap peas
bean sprouts
water chestnuts
bok choy
baby corn
Brussels sprouts.
Feel free to suggest more options in the comments below!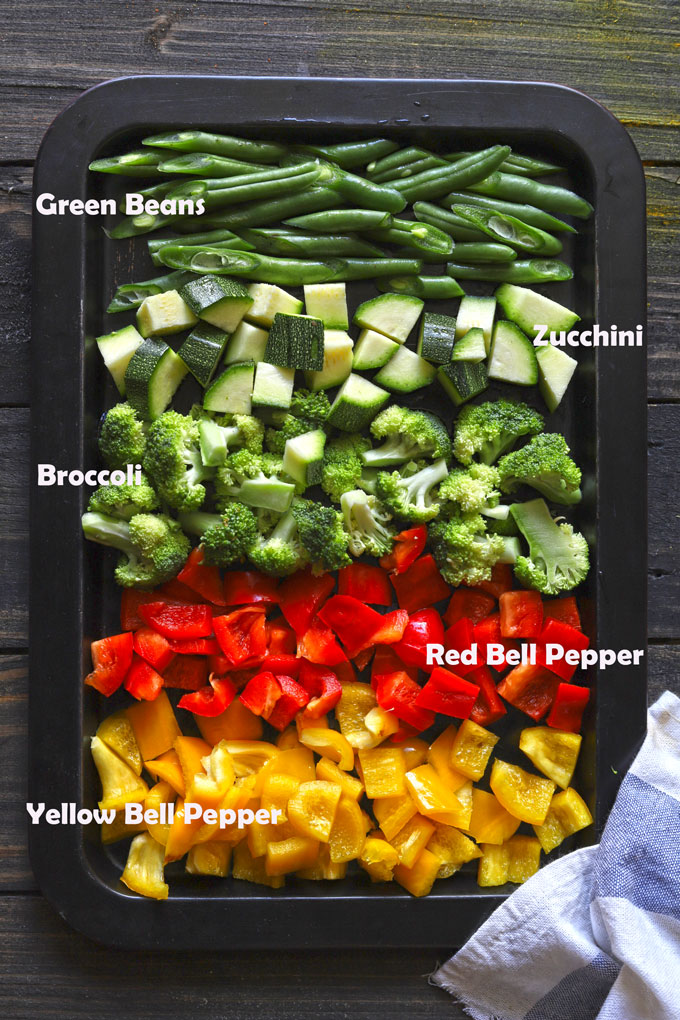 Meal Prep Tips
This Vegan Tofu Stir fry is great to make in bulk and store for lunch or dinner for the week!
Here are a few ideas for making this work for you:
Double the recipe! This recipe serves 4 people; doubling it would make 8 servings. I would freeze half and use it a few weeks later for an easy weeknight meal.
Take this dish to work for lunch! After you've finished cooking, separate the Vegan Tofu Stir Fry (plus a side of rice or noodles if desired) into 4 microwave-safe containers and, when cool, put their lids on and pop them in the fridge.
When you're going to work, if the container is in a warm environment for more than 2 hours, pack an ice pack with the container to keep it fresh.
To reheat, simply warm tofu stir fry in a microwave until it's piping hot.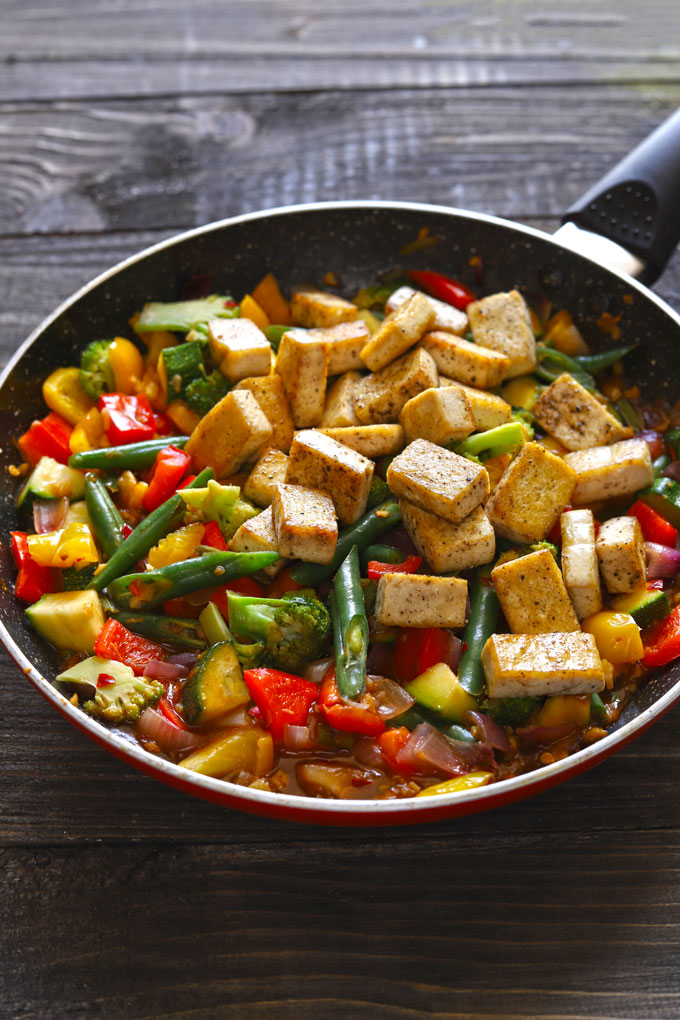 How do I store this stir fry?
Fridge: After the tofu stir fry has completely cooled, store it in an airtight container for up to 5 days.
Freezing: After completely cooling the stir fry, store it in a freezer bag or container for up to 3 months. The veggies may become relatively soft after freezing, but the flavour will still be amazing!
Serving Suggestion
The best way to enjoy this tofu stir fry is with aromatic jasmine rice. You can serve it with any other variety of rice as well.
For a vegan dinner, I serve it with fried chili oil noodles, or pineapple fried rice.
Store the leftover stir fry in the refrigerator. It remains fresh and suitable for consumption for 2 – 3 days. Reheat in a stir-frying pan or microwave.
Watch Tofu Stir Fry Video
Subscribe to our weekly newsletter or follow us on Youtube for video recipes.
If you try this recipe and love it, please leave a comment and a rating. This helps us grow and reach other food lovers like you.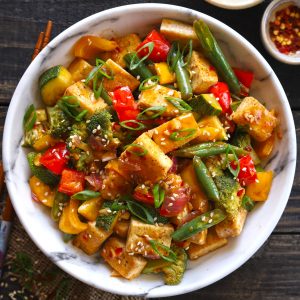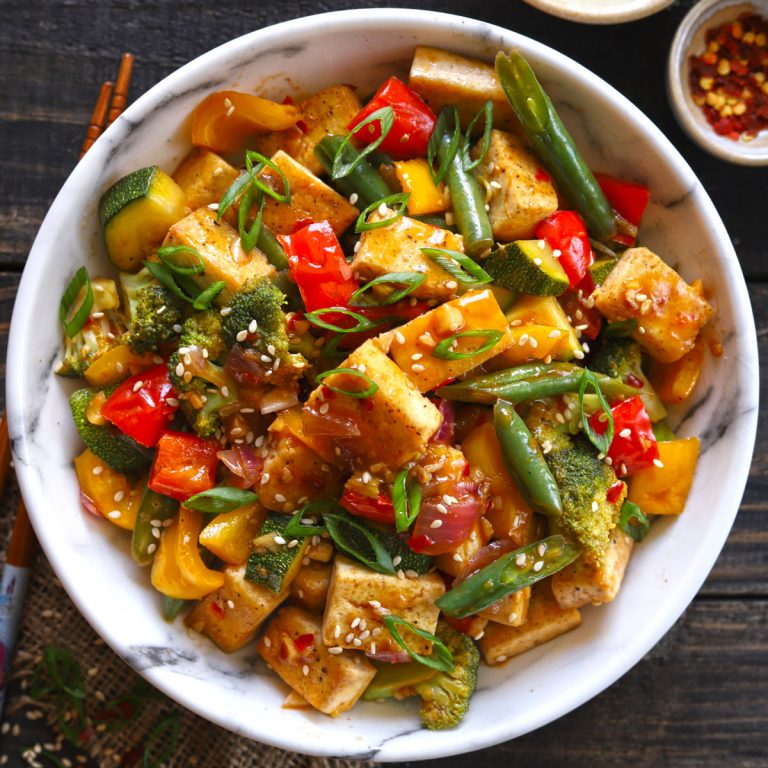 Vegan Tofu Stir Fry Recipe
This healthy tofu stir fry with veggies is ready in 30 minutes. It is a vegan, and gluten-free stir-fry recipe.
Print
Pin
Rate
Ingredients
200

gram

fresh tofu, cut into cubes

½

Cup

roughly chopped red onion

1

tablespoon

finely chopped ginger

1

tablespoon

finely chopped garlic

1

tablespoon

chopped celery stalk

5 – 6

green beans, cut into half lengthwise

½

Cup

broccoli florets

½

Cup

red bell pepper diced

½

Cup

zucchini cut into cubes

½

Cup

yellow bell pepper cut into cubes

4

tablespoon

sesame oil or olive oil

Salt and black pepper to taste
Ingredients For Sauce
½

Cup

vegetable stock or broth

(get recipe)

⅛

Cup

light soy sauce

2

tablespoon

rice vinegar

1

tablespoon

ginger garlic paste

(get recipe)

1

tablespoon

brown sugar

1

teaspoon

red chilli powder

1

teaspoon

Chinese Five Spice Mix
Ingredients For Garnish:
1

teaspoon

sesame seeds

2

tablespoon

spring onion greens
Instructions
Prepare Tofu:
Firmly press the tofu with a paper towel to drain all the moisture/water. Make sure tofu is completely dry. Then cut into cubes.

Combine salt, black pepper, half a tablespoon soy sauce, and tofu in a bowl. Mix nicely.

Heat 2 tablespoon oil in a non-stick pan. Fry the tofu cubes till crisp from both sides. Transfer to a plate lined with an oil absorbing paper. Set it aside.

Combine vegetable stock, soy sauce, vinegar, ginger garlic paste, brown sugar, Chinese five spice mix, salt, and pepper in a bowl. Whisk to combine. Keep it aside.

In a Chinese wok heat remaining oil and swirl to coat the wok with oil.

Add ginger, garlic, red chili, celery stalk, and red onion. Stir fry for 10 – 20 seconds to release the aroma of herbs.

Then add veggies one by one and stir-fry on high heat. Cook for 5 -7 minutes, stirring the skillet. When the vegetables have a shining layer and have softened a bit, add the sauce prepared earlier. Stir to combine.

Add the crispy tofu cubes. Mix. Cook the stir-fry for 3 – 5 minutes or until the sauce thickens.

Add spring onion greens and sesame seeds for garnishing.
Recipe Notes:
Make sure the tofu is completely dry before frying. Else, it might not turn crispy and stick to the pan. 
Do not cook the vegetables for too long. They will lose the colour and crunch. 
To thicken the sauce, you can use corn starch, potato starch, rice flour, or any other gluten-free thickening agent as well. 
Instead of tofu you can use paneer (cottage cheese), shrimp, boneless chicken, or fish. 
Nutrition
Calories:
229
kcal
|
Carbohydrates:
13
g
|
Protein:
7
g
|
Fat:
17
g
|
Saturated Fat:
2
g
|
Polyunsaturated Fat:
7
g
|
Monounsaturated Fat:
6
g
|
Sodium:
546
mg
|
Potassium:
291
mg
|
Fiber:
3
g
|
Sugar:
6
g
|
Vitamin A:
1080
IU
|
Vitamin C:
76
mg
|
Calcium:
108
mg
|
Iron:
2
mg
For Behind The Scene updates
Subscribe to our newsletter!