The charm of summer in Delhi is the lack of inspiration around. We miss the enticing last summer. We were in hometown, Nainital, far away from the rest of the world, where summer is for perfect family picnics, trekking expeditions, local berries and seasonal fruits. But by the time winter came, we started missing the urban civilization and buzzing lifestyle. And to experience that, we shifted our base to Delhi – the heart of the nation. Summer in Delhi is deserted – the only sound is of an occasional bird cuckooing in the garden or a slow, rusty leaf falling from the tree. As described by the famous writer Ahmed Ali, Delhi summer is the season of 'unending noon'. But even in the midst of such dullness, the beautiful hue of Jamun (Java Plum) inspired me to step ahead and play with the flavors of the fruit. Hence, the result is Jamun (Java Plum) frozen Yogurt.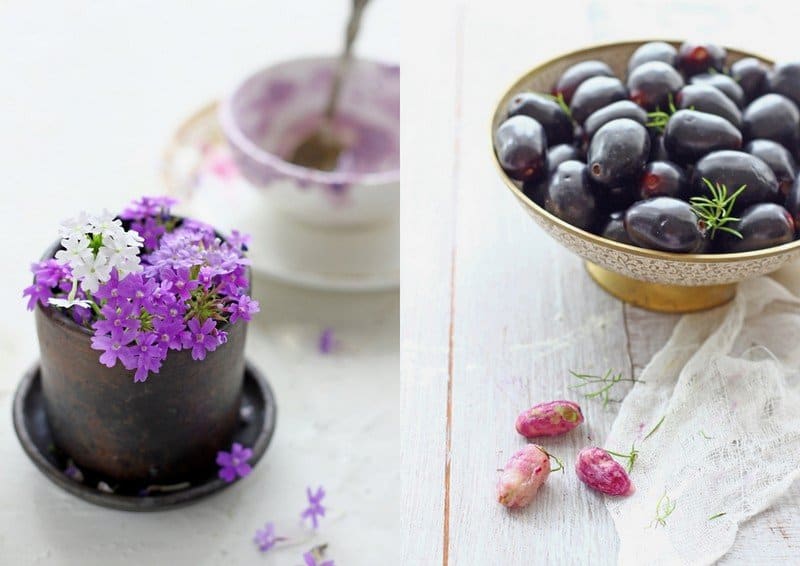 Every summer I discover something new. Something that will mark my memory and taste buds forever, like a simple Stone Fruit Cake, Lotus Stem Curry or an Indian style Kiwi Sherbet. Well, summer is still not over, and I guess I am not too late to share this frozen yogurt recipe. I love Jamun for their piquant flavor, vibrant hue, and a fibrous texture, and they shine when paired with contrasting flavors such as spices, yogurt or buttermilk. All you have to be creative with the crimson shades of the fruit. Jamun needs a little touch of sugar to be transformed into a thick, smooth puree ideal to combine with the cheese like hung curd. While I was uniting the two ingredients, it seems like they are made for each other.
Making frozen yogurts is like writing poetry. You can adapt to any season, add any ingredients you like and play around with the different textures. It's such a creative dessert, so scrumptious and beautiful to look at, and most of all, so delicious. Frozen Yogurts are exactly the kind of desserts I would like to be served on a hot summer afternoon. They look like little, iced balls of flavor, lavishly layered with the best that summer has to offer, Jamun, and yogurt we can all pitch in and scoop for the best. Learn how to make Jamun (Java Plum) Frozen Yogurt in few simple steps. For more such summer inspired recipes, follow our Pinterest Board dedicated to such amazing summer recipes.