Kiwi Ka Panna Recipe is a simple Indian style sherbet made with charred or roasted kiwis, flavoured with fresh mint sprigs and black salt. For the country where summers are scorching, clammy and extended till late August, refreshing homemade drinks are a necessity to resist the soaring high heat. With the last bottle of homemade Aam Panna already halfway through gulped by the sweltering souls and raw mango becoming a rare sight, we decided to make Kiwi Ka Panna.
In India, Aam Ka Panna is a popular summer drink made with sweet and sour raw mango, the recipe of Kiwi Ka Panna is inspired from the same. The plenty of kiwis sitting in our basket and slow depart of raw mangoes from the fruit vendor stall sparked an idea to churn up an Indian style sherbet out of these Chinese Gooseberries.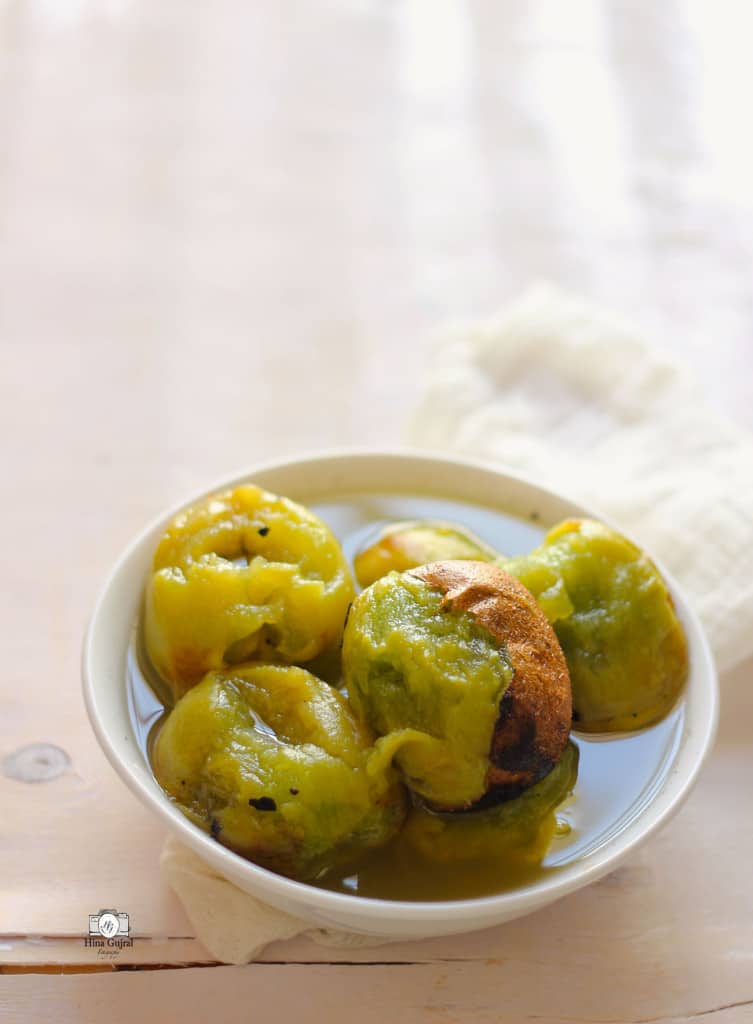 Pin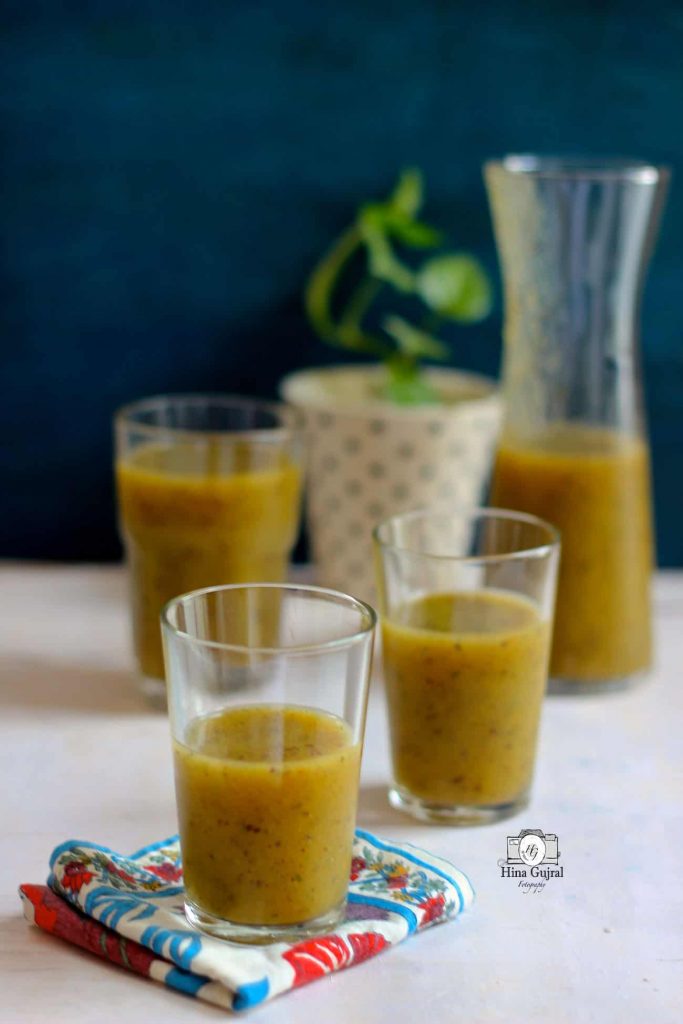 Pin
There is an eternal comfort in enjoying a glass of homemade sherbet during the summer evening with family. The sound of clinking glasses filled with one or the other in-house special drink with lots of ice cubes and a cooling breeze from the garden is how I remember summer from the childhood. The family favourite summer drinks were Rooh Afza, Nimbu Pani or overtly sweetened litchi squash, sweet, chilled and thirst quenching.
The evening chatter with cousins used to be prolonged till twilight while sipping the sherbets followed by a game of hiding and seek. The summer for me is no more so enticing, the tradition of enjoying sherbets with family in the evening is already a story of the past. With restless work schedules, we all find our solace and comfort in readymade bottled drinks. Still every year I sneak out some time to prepare a batch or two of the homemade drinks to relive with each glass the bygone days of summer spent in the ancestral family house.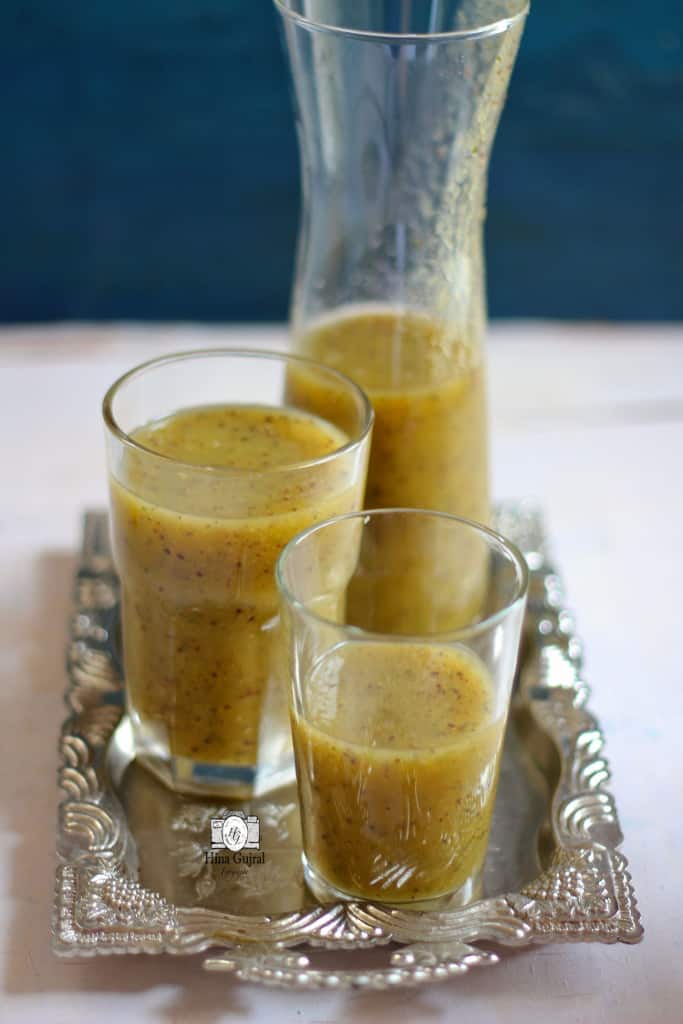 Pin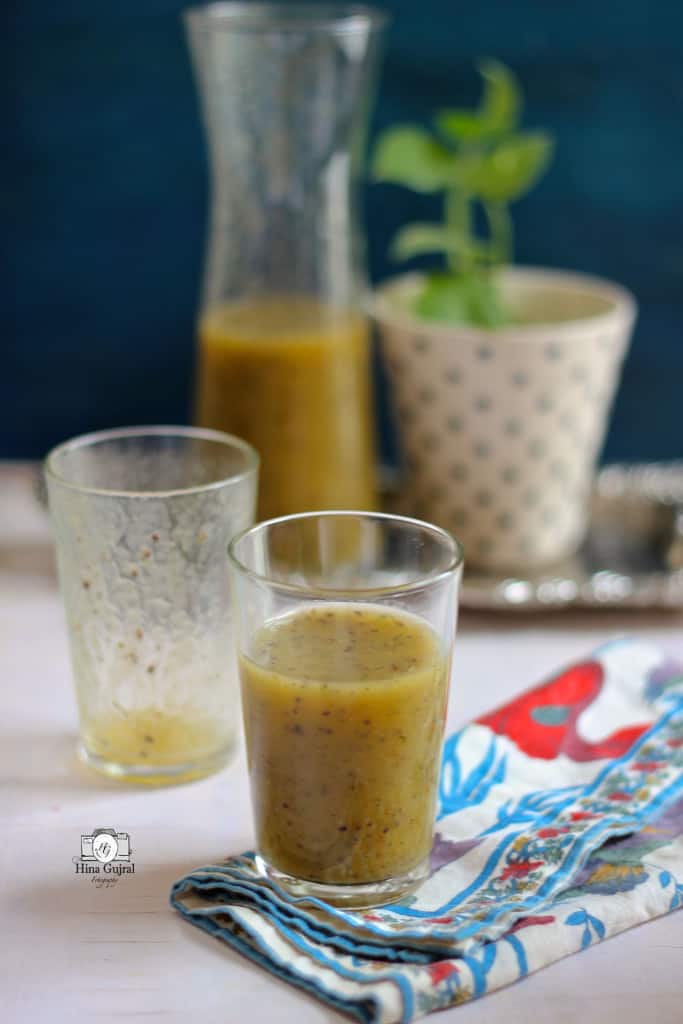 Pin
If you try this recipe and love it, please leave a comment and a rating. This helps us grow and reach many other food lovers like you, who are looking for a perfect tried and tested recipe.
Kiwi Ka Panna Recipe
Kiwi Ka Panna Recipe is a simple Indian style sherbet made with charred or roasted kiwis, flavored with fresh mint sprigs and black salt.
Print
Pin
Rate
Ingredients
4 - 5

Kiwi

2 - 3

sprigs of mint leaves

1

teaspoon

cumin powder

4

tablespoon

sugar or to taste

Salt to taste

2

teaspoon

black salt or to taste

Juice of 1 lemon
Instructions
To prepare the Kiwi Ka Panna, roast kiwis in the oven or direct over the gas flame with skin till black charred marks appear over the skin.

Once roasted let the kiwis cool down for sometime, then peel the skin and collect the pulp in a bowl.

Now in a blender (

buy it here

) or mixer grind roasted kiwi pulp, sugar, mint leaves together using little water to make a smooth liquid.

Pour the panna in a glass jar (

buy it here

), add salt, black salt, lemon juice, cumin powder and stir to combine. Taste and adjust the seasoning accordingly.

Add water if the sherbet consistency is too thick. Store Kiwi Ka Panna in the fridge in the bottle (

buy it here

).

To serve Kiwi Ka Panna, in a serving glass add ¼ Cup of panna and filled the glass with water. Stir to combine and serve Kiwi Ka Panna.
For Behind The Scene updates
Subscribe to our newsletter!