Aloo Tikki Chaat Recipe is hard to give a miss if you are on a tour to devour Indian Street Food. These simple burger patty like fritters are prepared with potato and subtle seasoning of spices. But when served with flavored yogurt and vibrant chutney each bite of Aloo Tikki Chaat is bursting with delectable savor. Over the years, Chaat has become emblematic of Indian Street Food. The tour of narrow, hustling bustling bylanes of India, to taste the true flavors served by local food carts is not considered concluded till you dig into some Chaat. The plate full of deep fried snacks laced with vivacious color condiments, some sweet while others spicy, is defined as Chaat.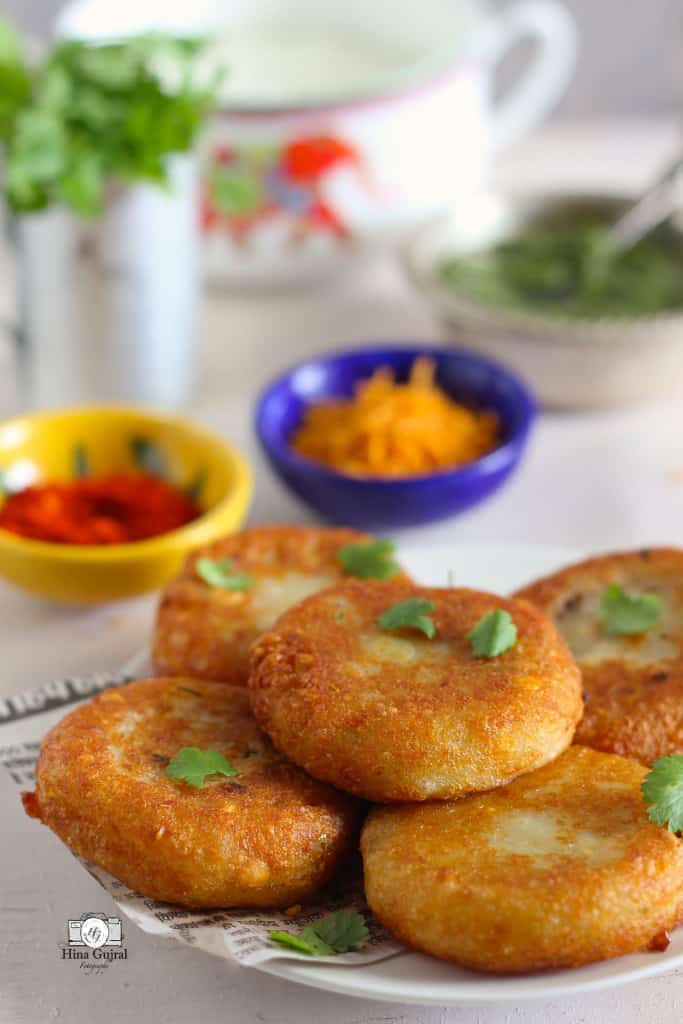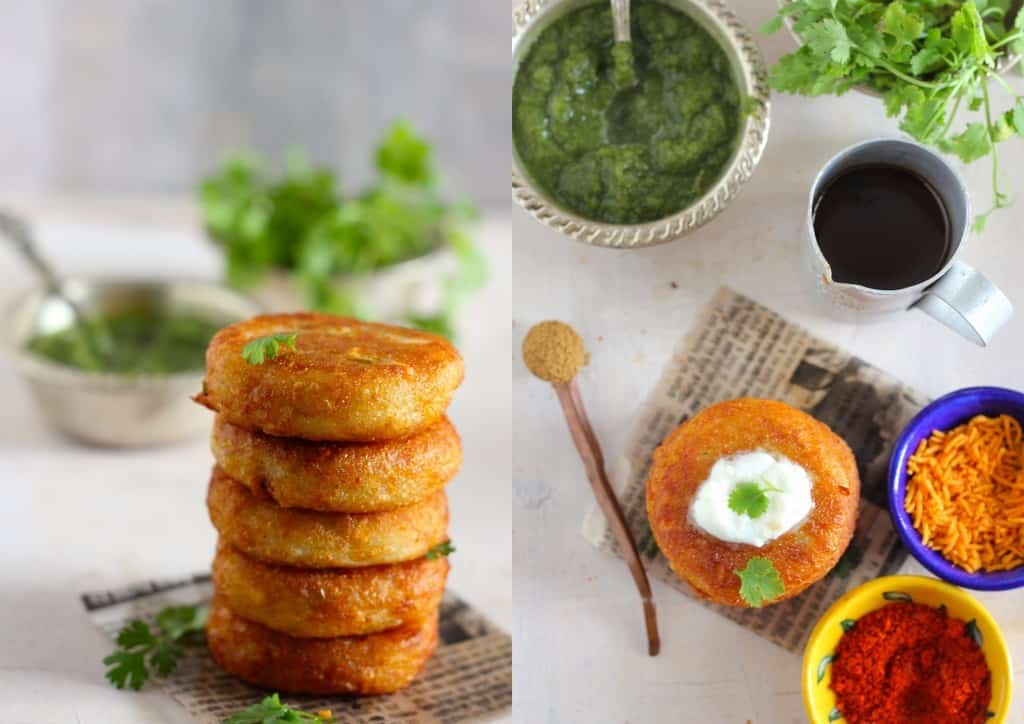 On routine visits to Chaat stall, the colossal and spacious pan of Chaat wala always fascinated me. The hot oil sputtering in that wide pan while he with skilled precision shallow fry so many Aloo Tikki at a time, is always a fascinating watch. As the evening progresses into night, the mob of hungry goblins starts gathering around the Chaat cart. Each gluttonous pair of eyes staring at the Aloo Tikkis swimming in the hot oil, waiting zealously for their plate of Aloo Tikki Chaat.
The surface of his Aloo Tikki is perfectly crisp, crunchy, deep golden in color while the inside layer is a mouth melting mashed potato. But over the years neither admiringly staring at the Chaat vendor's pan nor gulping plates full Aloo Tikki Chaat helped in replicating the quintessential dish at home. Till one day, when in a hush-hush tone I asked him the secret mantra to make enchanting Aloo Tikki. Without any apprehensions, with uttermost simplicity, he shared the recipe with me. While he shared the recipe, I was wondering why it took me so many years to have a word with this humble gentleman.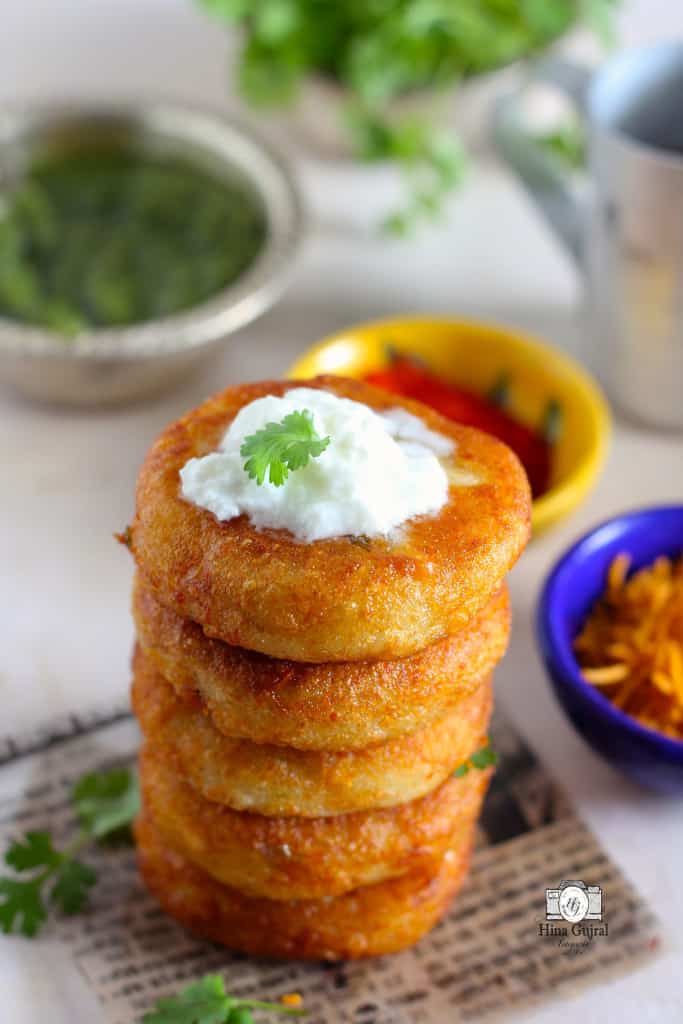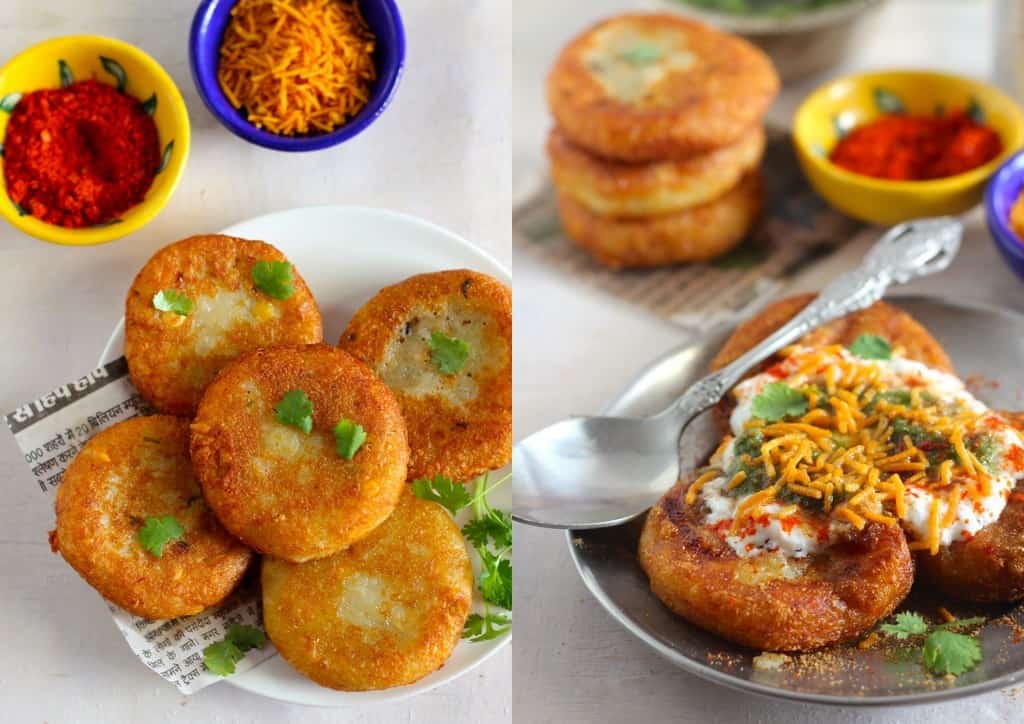 Post the conversation with the Chaat wala, I could not resist from rushing back home and try one's hand at Aloo Tikki following his recipe, which I memorized word by word. The end result was way beyond satisfactory. But that does not mean my visits to his food cart to hog on a plate full of Chaat, are cut down. The pleasure of relishing flavorful Aloo Tikki Chaat standing by the side of steamy hot griddle on a cold winter evening has its own old fashion charm to it.
Learn how to make best Aloo Tikki Chaat in few simple steps: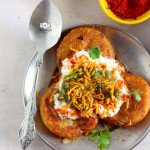 Aloo Tikki Chaat Recipe
2015-10-11 08:11:07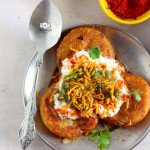 Aloo Tikki Chaat Recipe is hard to give a miss if you are on a tour to devour Indian Street Food.
Ingredients
4 - 5 medium - size boiled potato
1/2 Cup dried white peas (safed matar)
1/4 Cup chana dal
1 tbsp cornflour
Salt to taste
1 tsp red chili powder
1 tsp mango powder (amchur)
1 tsp cumin powder
a pinch of asafetida
half a bunch of coriander leaves
Oil for shallow frying
Ingredients to serve
1 Cup yogurt
1/4 Cup coriander chutney
1/4 Cup sweet tamarind chutney
1 tbsp bhujia sev
a pinch of red chili powder
a pinch of cumin powder
a pinch of chaat masala
Instructions
To prepare the Aloo Tikki Chaat, soak the white peas overnight and next day cook in pressure cooker along with chana dal and 1 Cup water.
Transfer cooked peas in a colander to drain excess liquid.
Meanwhile boil the potato, peel and grate them.
Mix cornflour in the grated potato, mix to combine and keep in the fridge.
Next heat a teaspoon of oil in a saute pan. Add asafetida followed by cooked peas, dal, chili powder, mango powder, salt, cumin powder. Stir to combine and fry to next few minutes for flavors to develop well.
Make sure no excess liquid remain in the mixture. Turn off the heat.
Let the pea mixture cool down a bit. Once cooled down, pulse it in the food processor or mixer to get a coarse powder. Transfer to a bowl, add chopped coriander leaves and set aside.
Now to prepare the tikki, heat oil in a frying pan ( buy it here ) over medium heat.
To shape the tikki, take a small portion of mashed potato in between you palms. Roll it and gently flatten it with your fingers. If the potato mixture seems sticky, moisten your fingers with water.
Make a well in the center of the potato ball, fill in half a teaspoon of pea stuffing. Close the edges.
Gently flatten the tikki once again to get the thickness of an inch or so. Shallow fry in hot oil over medium heat till crisp and golden from both sides.
While shallow frying keep on gently pressing the tikki to evenly cook from all sides.
Once cooked transfer to a plate lined with the paper napkin.
To serve Aloo Tikki Chaat, arrange tikki in a plate, add yogurt, chutney, spices over it.
Sprinkle bhujia sev, chopped coriander and serve immediately.
Fun FOOD and Frolic http://www.funfoodfrolic.com/