Aloo Tikki Chaat Recipe is hard to give a miss if you are on a tour to devour Indian Street Food. These simple burger patty like fritters are prepared with potato and subtle seasoning of spices. But when served with flavored yogurt and vibrant chutney each bite of Aloo Tikki Chaat is bursting with delectable savor. Over the years, Chaat has become emblematic of Indian Street Food. The tour of narrow, hustling bustling bylanes of India, to taste the true flavors served by local food carts is not considered concluded till you dig into some Chaat. The plate full of deep fried snacks laced with vivacious color condiments, some sweet while others spicy, is defined as Chaat.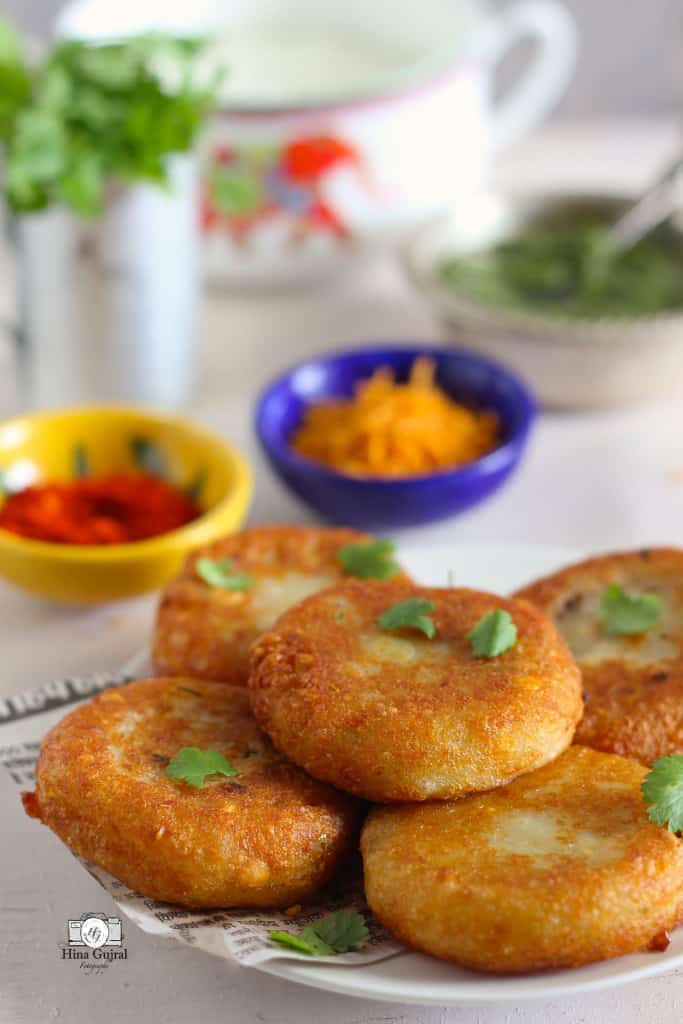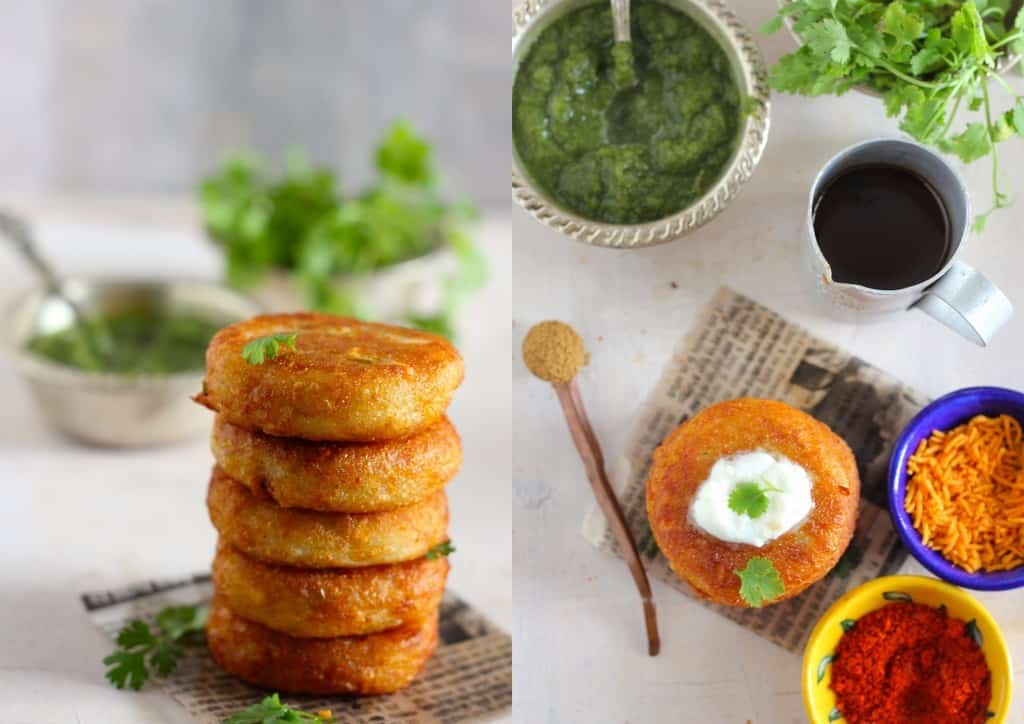 On routine visits to Chaat stall, the colossal and spacious pan of Chaat wala always fascinated me. The hot oil sputtering in that wide pan while he with skilled precision shallow fry so many Aloo Tikki at a time, is always a fascinating watch. As the evening progresses into night, the mob of hungry goblins starts gathering around the Chaat cart. Each gluttonous pair of eyes staring at the Aloo Tikkis swimming in the hot oil, waiting zealously for their plate of Aloo Tikki Chaat.
The surface of his Aloo Tikki is perfectly crisp, crunchy, deep golden in color while the inside layer is a mouth melting mashed potato. But over the years neither admiringly staring at the Chaat vendor's pan nor gulping plates full Aloo Tikki Chaat helped in replicating the quintessential dish at home. Till one day, when in a hush-hush tone I asked him the secret mantra to make enchanting Aloo Tikki. Without any apprehensions, with uttermost simplicity, he shared the recipe with me. While he shared the recipe, I was wondering why it took me so many years to have a word with this humble gentleman.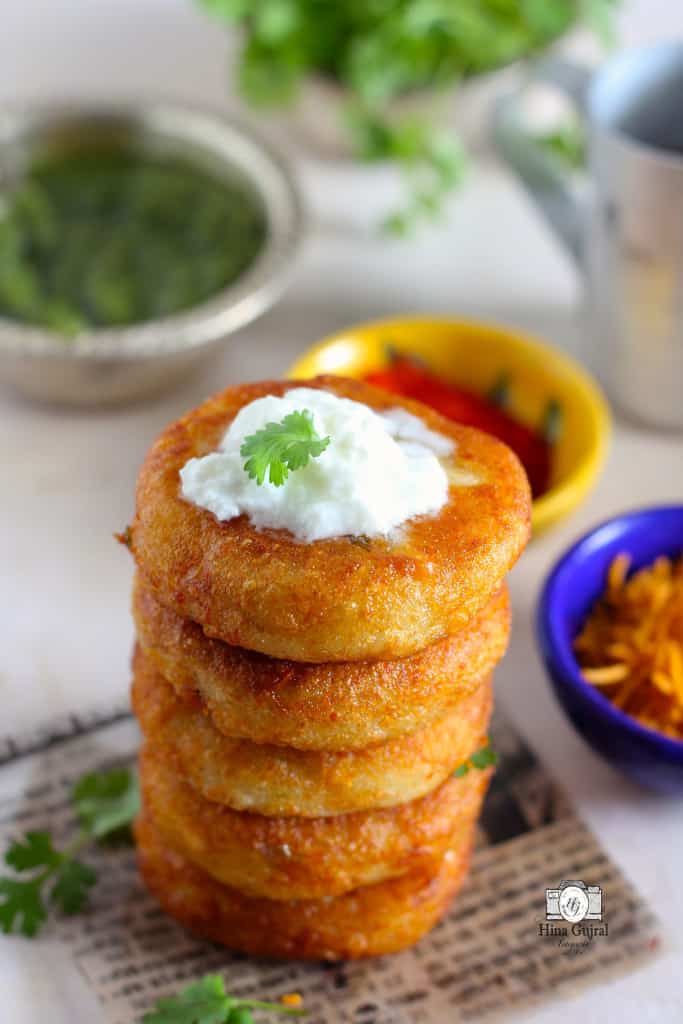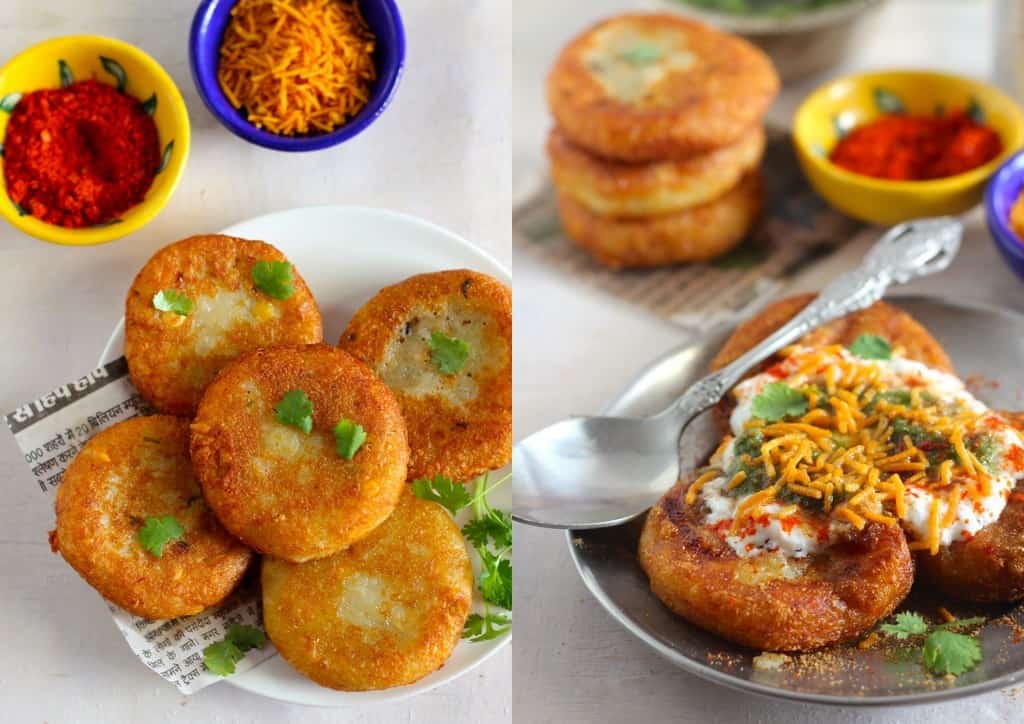 Post the conversation with the Chaat wala, I could not resist from rushing back home and try one's hand at Aloo Tikki following his recipe, which I memorized word by word. The end result was way beyond satisfactory. But that does not mean my visits to his food cart to hog on a plate full of Chaat, are cut down. The pleasure of relishing flavorful Aloo Tikki Chaat standing by the side of steamy hot griddle on a cold winter evening has its own old fashion charm to it.
Learn how to make best Aloo Tikki Chaat in few simple steps: