Introducing our new cool way to eat golgappa – Cheese Golgappa Pakora. The cheese golgappa pakora is the potato masala stuffed Indian style fritters loaded with cheese. Making it a perfect party snack for the festive season. Serve golgappa pakora with my signature mint and coriander chutney to spice up the flavours on the snack table. This Holi when everybody else is serving the regular pani-puri, step ahead and make cheese golgappa pakora.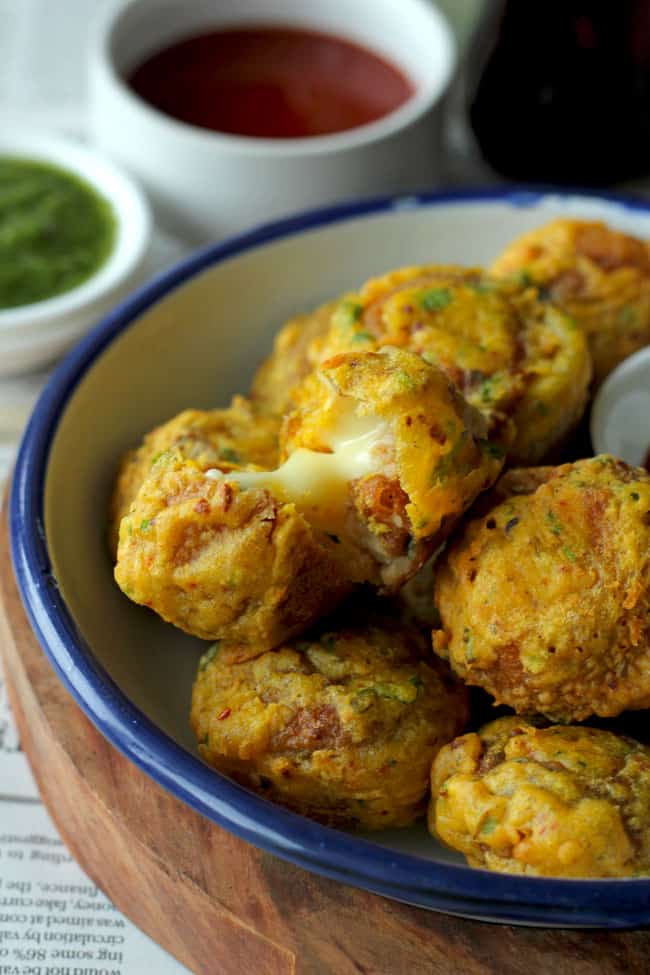 How did I even get the idea of making fritters using golgappa aka puri? All thanks to the talented ladies in the husband's family who always keep on trying and testing easy Indian food recipes. Apparently, these fritters are a popular snack in his family. Often served during the festive season, dinner parties or at family get-togethers. I have only added the cheesy twist to this recipe. The addition of cheese in the mashed potato stuffing made these fritters even more exquisite.
These fritters taste like heaven. Perfectly crispy from the outside with a melt in the mouth kind of cheesy interior. And the best part nobody can tell with a first bite that these fritters are prepared with golgappa shells. On certain occasions, I played a quick guessing game about the ingredients of the fritters and trust me, so far nobody got them all right.
Also, you can totally feel free to add seasoning, spices, herbs, and vegetables of your choice in the potato filling. In all honesty, these are so tasty as they are, they don't need anything more!
FEW SECRET TIPS TO MAKE GOLGAPPA PAKORA LIKE A PRO:
1) Try to use a bit thick and crisp golgappa shells for the recipe.
2) You can stuff cheese cubes or any other good quality grated cheese as well inside the pakora.
3) Once you stuff the potato filling inside the golgappa deep-fry them quickly. Otherwise, the shells will soften after few minutes with the moisture of the potato filling.
4) The gram flour batter should be of a dipping consistency. It should cling to the shells but not too thick.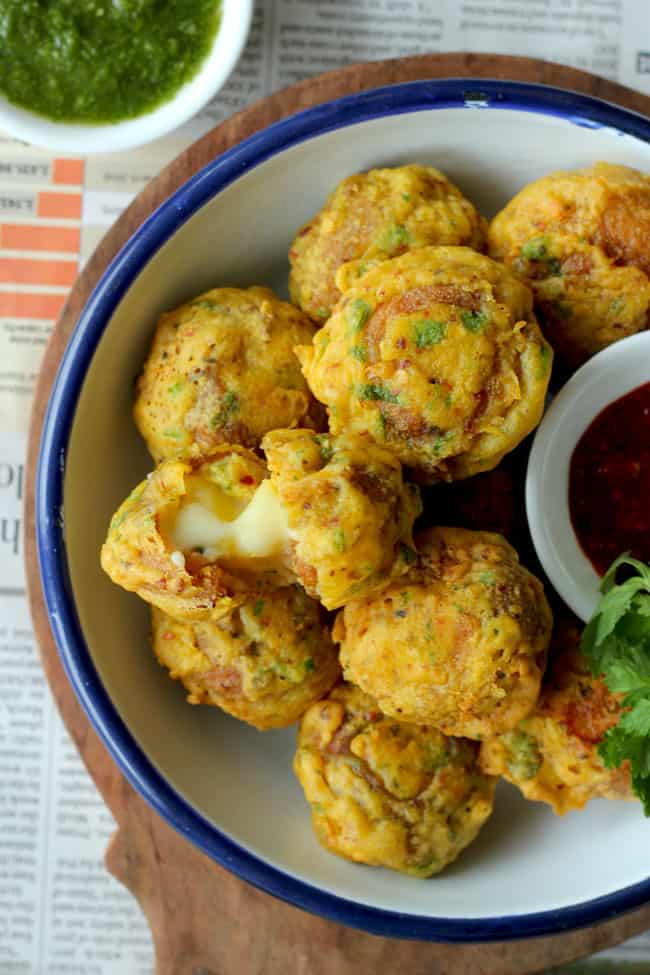 For more such fun food recipes in your life, follow along on Facebook, Instagram, or subscribe to our Youtube Channel.
If you try this recipe and love it, please leave a comment and a rating. This helps us grow and reach many other food lovers like you, who are looking for perfect tried and tested Indian food recipes.