Tea Time Strawberry Cake is a soft, moist cake perfect to make when fresh strawberries are in the season. With plenty of red beauties in the market, Strawberry Cake is a great way to put them to use. And the strawberry and sugar layer on top provides the delectable taste to the cake. Season of berries is on and the other day I saw bright red strawberries in the supermarket. I just grabbed the whole packet without giving it a second thought. The flavor of Strawberry is the right mix of sweetness and tartness. The skin may be particularly tart though it is juicy and goes extremely well in desert recipes especially cakes. The Tea Time Strawberry Cake is soft and moist from inside and has a brown, crusty uppermost layer. Strawberries add tanginess to the flavor, which along with the sugar creates an altogether divine taste. This is not a Christmas cake; it is just simple teatime cake, which you can make during any time of the year. I have not used any nuts or candied peel or rum, just fresh and ripe Strawberries, which are enough to get the desired taste and texture of the cake.
You may think that sliced strawberries, cut in half, layered on top would dry out while baking the cake but, the opposite is true. Heat causes the berries to soften and their juices to be released. So by the end of the baking time they become wonderfully soft and jam-like with nicely caramelized edges. Serve slices of warm Strawberry cake with whipped cream and fresh strawberries, this combination will surely enhance the charm of your high-tea menu.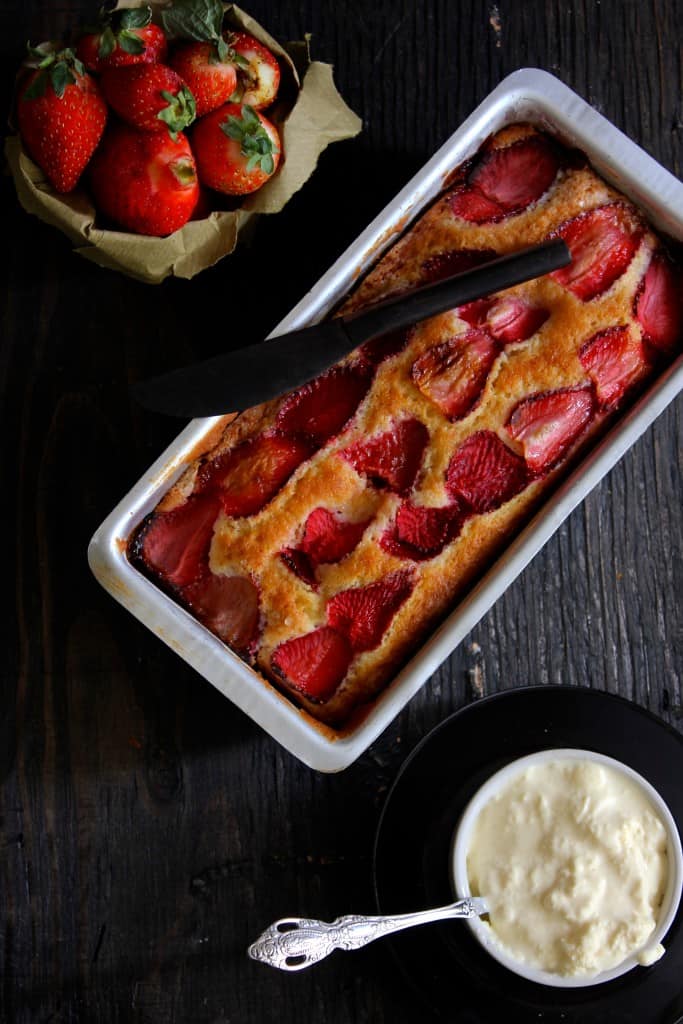 Learn how to make Tea Time Strawberry Cake in few simple steps: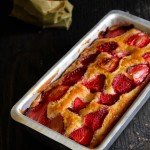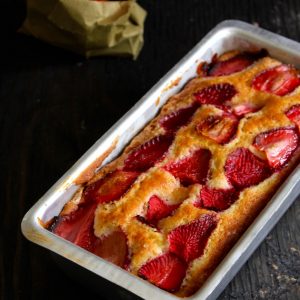 Tea Time Strawberry Cake Recipe
Tea Time Strawberry Cake is a soft, moist cake perfect to make when fresh strawberries are in the season with the right flavour of sweetness and tartness.
Ingredients
1/4

Cup

olive oil

1 1/2

cups

all-purpose flour

1 1/2

teaspoons

baking powder

a pinch of salt

1/2

cup

vanilla sugar plus 2 tablespoons to sprinkle on top

1

egg

1/2

cup

milk

at room temperature

1

teaspoon

vanilla extract

1

teaspoon

strawberry extract

200

gram

fresh strawberry thinly sliced
Instructions
Preheat oven to 350°F (180°C). Butter a 9 inch loaf pan with little butter and line it with parchment paper.

Whisk flour, baking powder and salt together in a small bowl. In a larger bowl, whisk butter and 1/2 Cup sugar until pale and fluffy with KitchenAid 7 Speed hand mixer, about 3 – 4 minutes. Add egg, milk and vanilla and whisk until just combined.

Add sifted mixture gradually, gently fold the batter until all ingredients combined well.

Pour the batter in the greased loaf pan. Arrange sliced strawberries on top of batter, as closely as possible in a single layer. Sprinkle remaining 2 tablespoons sugar over berries.

Bake cake for 50 minutes to 60 minutes or until a toothpick inserted in the center comes out clean. Let cool in the loaf pan over a wire rack.

Cut into slice and serve Strawberry Cake with cream along with a cup of coffee.