Karwa Chauth is the one day in a year when I am dressed up in traditional Indian attire sari. I do not enter the kitchen because as per our customs on the day of Karwa Chauth, a married woman is not supposed to touch any sharp objects or go near the fire. So that gives me a reason not to enter kitchen entire day and thanks to my sweet husband who is always there around me during this special day. Whether it is serving meSargi in the morning or helping me with wrapping sari. The entire day he is at my service, he never makes me realize that I am celebrating festival away from home.
Every year, on Karwa Chauth my traditional jewellery and clothes get a chance to come out of the box otherwise on routine days I do not spend much time on dressing up and matching accessories. As a teenager, I use to fancy about Karwa Chauth especially after watching our Bollywood movies, in which hero and heroine dance on romantic numbers on Karwa Chauth and now in real life when I actually keep fast sometimes it is so hard to stay without water entire day. But still, I enjoy this day it reminds me of my marriage when for the first time I got dressed up like a perfect Indian woman.
Recently I came across a recipe of Rasgulla and was planning to make it but was waiting for some special day and then my calendar reminded me of Karwa Chauth. I decided to break my fast this year with my favourite Bengali sweet, Roshogulla, and my husband also loves them. In the evening by the time moon shows up in the sky my throat is all dried up without water and in such if I eat a mouthful of chilled rasgulla, that is purely divine!! I make them one day in advance and keep them in the fridge, I feel Rasgulla taste best after few hours or next day when chenna balls absorb sugar syrup and become more light and airy.
So spongy and soft, Rasgullas are my all time favorite sweets, I can relish two to three in one go without having an overdose of sweetness. Only milk, sugar and water is required to make these spongy balls but still despite simple ingredients Rasgulla making is an art, which can be easily mastered if you follow the right technique. Cleaning up the kitchen after making Rasgullas is quite a task but once I take a piece of Rasgulla in my mouth, a big smile comes to my face and all I could say it was all worth it!!
In my recipe I have tried to cover each and every detail related to making perfect Rasgulla but if you want to know more detailed version of the recipe then Soma's
eCurry
is the page for you, where she has covered minutest detailed information required for making Rasgulla and I must say she was my inspiration to try out Rasgullas at home.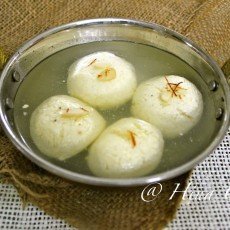 Rasgulla Recipe
Rasgulla is a delicious Indian dessert prepared from cottage cheese. Learn how to make rasgulla at home in few simple steps
Print
Pin
Rate
Ingredients
1

Litre Milk

Try use full cream

3

tablespoon

lemon Juice/Vinegar

2

Cup

Sugar

3

Cup

Water

1

teaspoon

Cardamom powder

Few Saffron Strands for Garnish

optional
Instructions
Pour the milk into a deep heavy bottomed pot. Bring it to boil and when the milk comes to a roaring boil, add the lemon juice (or vinegar) a little at a time (about a tablespoon), and lower the heat. Keep stirring the milk as you add the lemon juice.

After sometime the milk will start separating and a greenish but clear whey along with the curdled milk will start forming. Now immediately stop adding the lemon juice/or vinegar and stop stirring. If too much of the curdling agent, the chenna will be tough and also sour.

Turn off the heat, remove the pot from the stove and allow the curdled milk to sit for about 8-12 minutes. Do not stir. At this stage some people add ice cubes also to prevent milk from further curdling and it prevents chenna from becoming sour and tough.

Place a clean kitchen cloth or a muslin cloth over a colander or strainer. Pour curdled milk over the strainer. Give the chenna/cheese a quick wash with a spray of cold water. This removes the smell of the curdling agent and also prevents the cheese from getting stiff. Allow the whey to drain completely, about 30 minutes.

Tie all the ends of the cloth, squeeze out the excess liquid from chenna and hang it on tab of kitchen sink. Leave it this way for about 2 – 3 hours. When you squeeze there should be no more moisture dripping out and yet the chenna should should be really soft and moist.

Now start kneading the chenna with your fingers at initial stage it will be sticky but gradually it will form into a smooth dough, it takes around 20 – 30 minutes to get the perfect consistency dough.

Divide the dough into 10 rough portions. Roll them in into small sized balls gently in your palms.

Take the sugar,cardamom powder and water in a pressure cooker and boil it until the sugar has completely dissolved and the solution is in roaring boil. Just before you add the chenna balls, reduce the heat to medium-high. If there are too many chenna balls you might have to cook them in batches because chenna balls increase in size once cooked. The level of the liquid should be just high enough that the balls completely submerge. Add chenna balls one by one in pressure cooker.

Cover the pressure cooker and cook it till you get one whistle in low flame. After a whistle,simmer more and keep for another 5 minutes.

Put off the flame and let the pressure gets released by itself,then open the lid to see the rasgullas – by now it would have doubled in size.

Let the rasgullas cooled down in the same sugar syrup. Once rasgullas cooled down completely garnish with saffron and nuts and keep in the refrigerator.

Serve Rasgulla chilled!!
For Behind The Scene updates
Subscribe to our newsletter!