Corn and Cheese Muffin recipe is a savory baked treat loaded with cheese, sweet corn, and fresh basil. Corn and Cheese muffins are perfect for the evening tea-time snack along with a cup of coffee. Corn and Cheese Muffins can be served before dinner along with your favorite wine and some good pesto on the side. The Good Housekeeping has fascinated me since I was a teenager and started reading magazines, the beautiful pictures, amazing decoration ideas, handy kitchen tips and inspiring cover stories is the reason that even today after so many years it is still in my must read list. Recently, I bought The Good Housekeeping Cookbook – 125th Anniversary Edition, it has a collection of some 1275 recipes published all these years. The recipe is inspired from the section in the book called – 'QuickBreads'.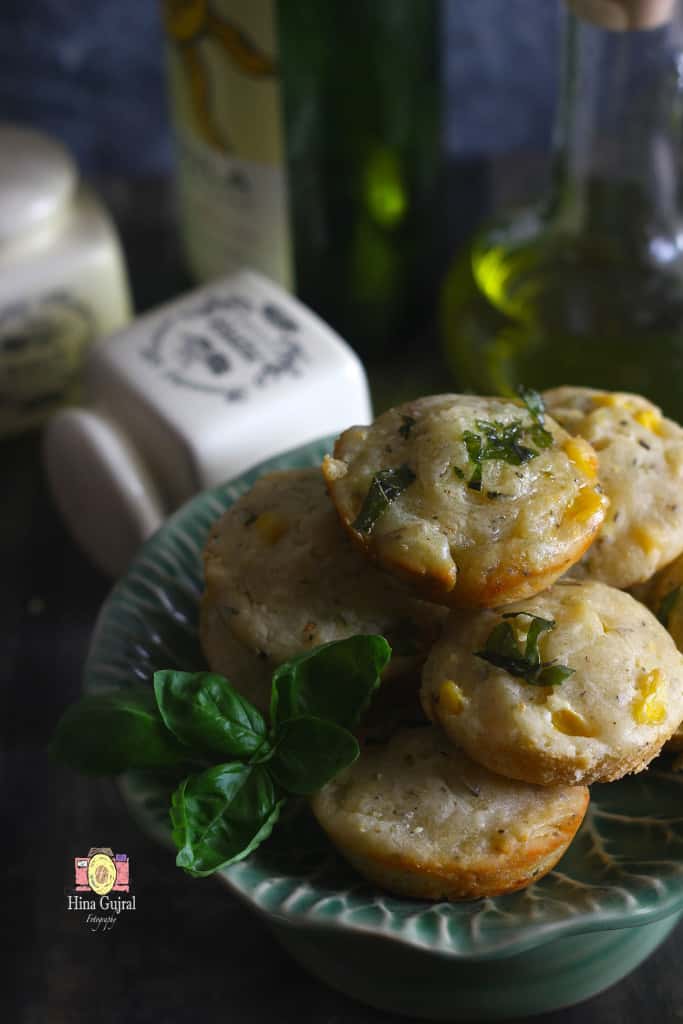 The batter for this Corn Muffins can be prepared in no time and it can be baked into a single loaf as well. This is my first attempt at baking savory muffins and I am totally addicted to these cheesy little bites. The aroma of freshly plucked basil from the pot sitting in the kitchen window, the sweetness of the corn kernels and the hint of saltiness from the cheese make these muffins an absolute crowd pleaser. Knowingly I have kept the size of the muffins small to sneak them easily inside the lunchbox or snack box for the husband. Even while serving Corn and Cheese Muffins for the cocktail party, small size makes them a good choice to serve as finger food along with drinks.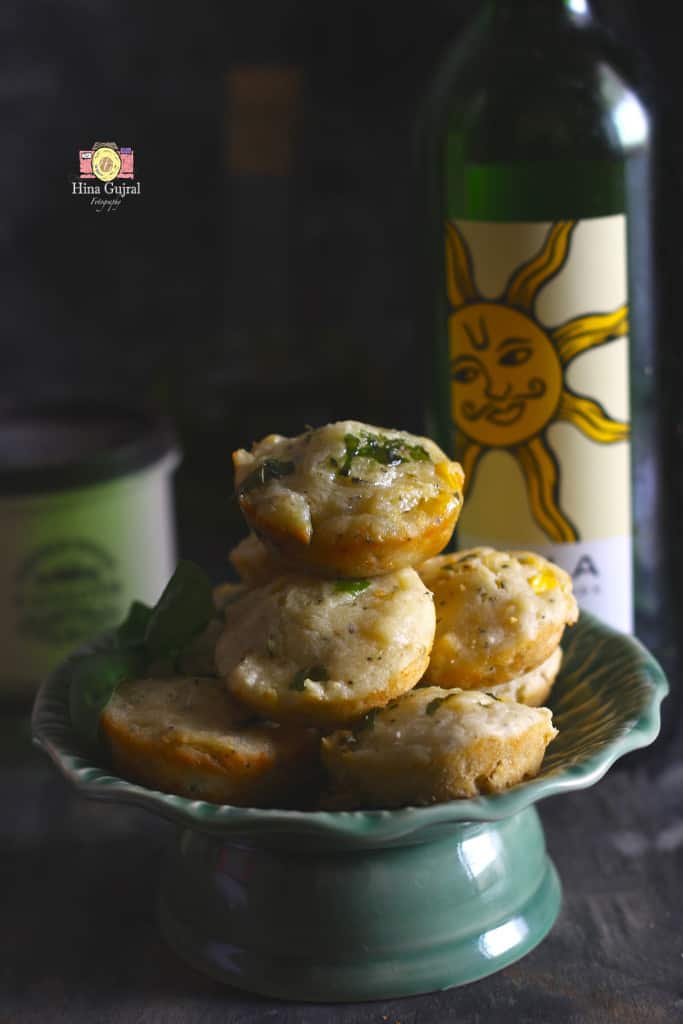 Learn how to make Corn and Cheese Muffins in few simple steps: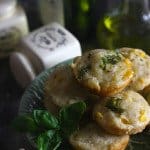 Corn and Cheese Muffin Recipe
2015-11-09 12:10:08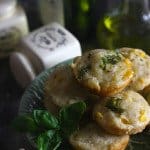 Corn and Cheese Muffin recipe is a savory baked treat loaded with cheese, sweet corn, and fresh basil.
Ingredients
1/4 Cup Corn Kernels
1/4 Cup grated cheese
1/4 Cup olive oil
1 egg
1/4 Cup milk, at room temperature
1 Cup all purpose flour (maida)
1 1/2 tsp Baking Powder
1 tsp Italian Herb Mix ( buy it here )
Salt to taste
5 - 6 Fresh Basil Leaves, (fine chopped)
Instructions
Preheat oven at 180 degree celsius. Line muffin tray with paper liners or grease lightly with olive oil.
In a bowl whisk milk and olive oil until combined well using hand blender.
Add egg and whisk again for 2 – 3 minutes. Keep aside.
In a separate bowl sift flour, baking soda, salt together.
Next add black pepper, corn kernels, grated cheese and Italian seasoning mix in the flour mixture. Stir to combine.
Combine wet and dry ingredients to form a smooth batter for the bread.
Do not over mix the batter and make sure no lumps of flour remain in the batter.
Fill the muffin cups 3/4 with the muffin batter. Add chopped basil leaves on top of each muffin.
Bake in the preheated oven for 20 – 25 minutes.
Insert toothpick in the center to check if its done.
Transfer Corn and Cheese Muffins to a wire rack to cool down for sometime.
Serve Corn and Cheese Muffin warm or store in an airtight container to be served later.
Fun FOOD and Frolic http://www.funfoodfrolic.com/