Khas Khas Ka Doodh is a traditional Punjabi winter drink made with white poppy seeds, almonds, and milk. It is an incredibly comforting, warming drink for the cold winter nights. In the Punjabi dialect, it is called Khus – khaas.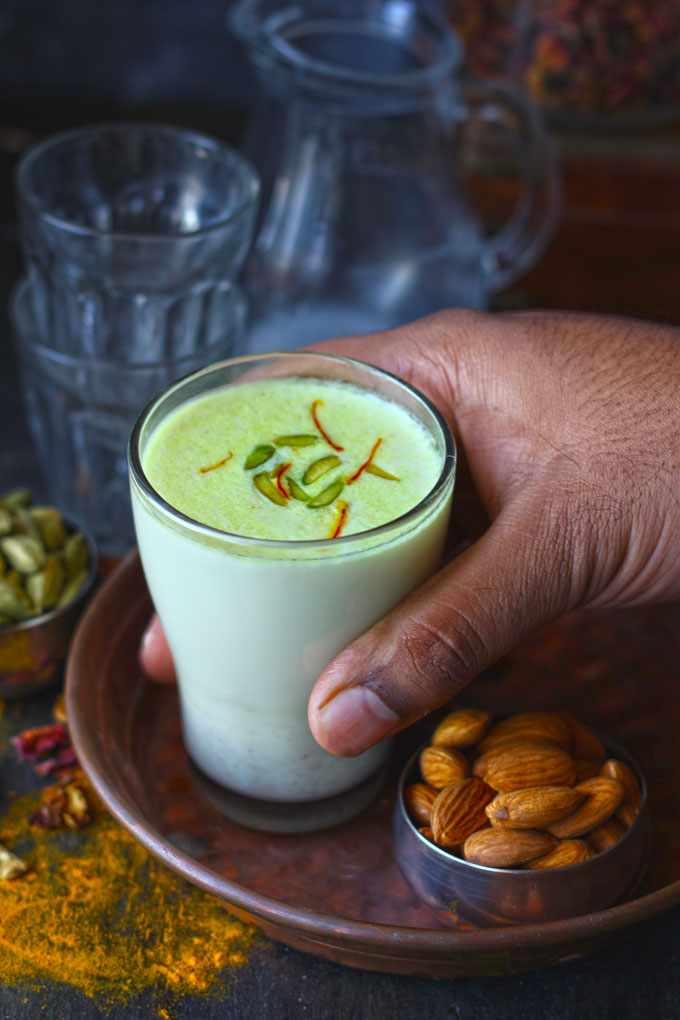 About Khus Khus (Poppy Seeds)
The tiny white poppy seeds are called Khus Khus in Hindi.
In Indian Cuisine, white poppy seeds are used as a paste to make rich, creamy, and indulgent Mughlai style curries.
Along with curries, khus khus is also added to the famous Indian drink – Thandai.
These poppy seeds have tons of health benefits along with a nutty taste. They are well known for a comforting, cooling, and calming affect.
The white poppy seeds are easily available in supermarkets, online grocery shops, and Amazon.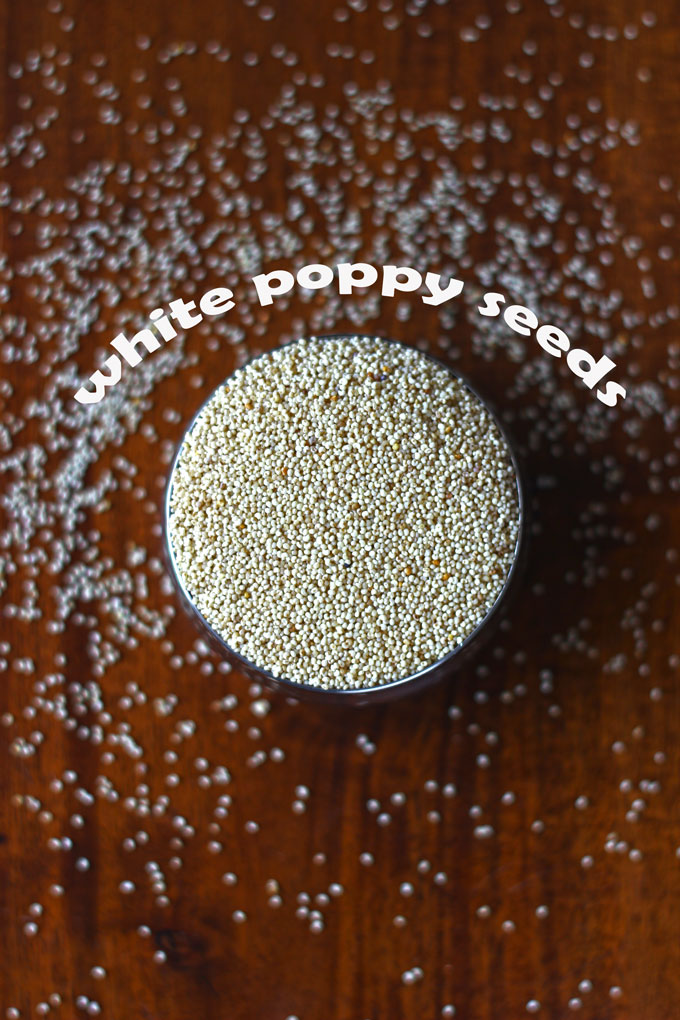 Punjabi Khas Khas Ka Doodh
In a Punjabi household, badama khas khas ka doodh (milk) is a winter nightcap.
Khas Khas Ka Doodh is quite tasty, distinctly warm, earthy with a slight notes of sweetness. It is very similar to badam milk with the addition of poppy seeds.
It is a regional recipe that is not so popular in urban areas. A few handfuls of Punjabi families still make khus khas regularly during the winter season.
Khas Khas Ka Doodh is made with milk, cardamom, sugar, almonds, and poppy seeds (khus khus).
I add a pinch of turmeric and saffron to the khas khas doodh. In a traditional khas khas doodh recipe, neither turmeric or saffron are the listed ingredients.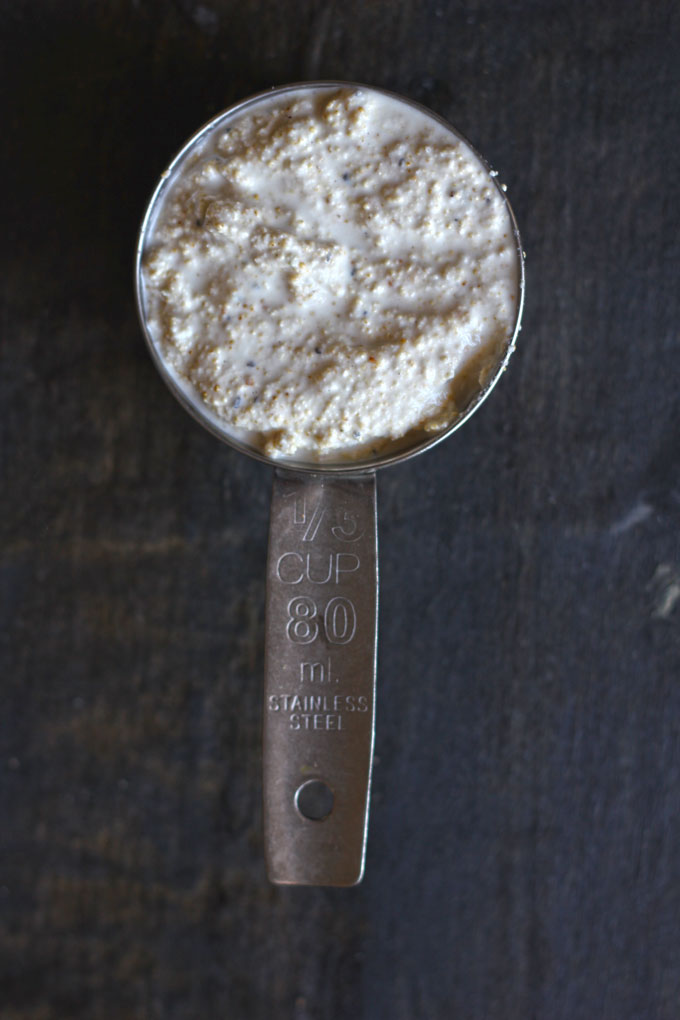 Ingredients Required
You need a few handful of ingredients to make Punjabi khas khas ka doodh.
White Poppy Seeds: Use clean, dry khus khus (poppy seeds) and make sure to soak them in water before grinding.
Almond: Soaked, peeled almonds help grinding poppy seeds easily and give a thick, rich texture to the milk.
Milk: You can use full-fat, toned, or low-fat milk for this recipe.
Green Cardamom: It is for the taste and aroma.
Sugar: From brown sugar, jaggery powder, to white sugar feel free to pick one according to your preference. Adjust the quantity according to taste.
Optional Ingredients: Saffron or a pinch of organic turmeric powder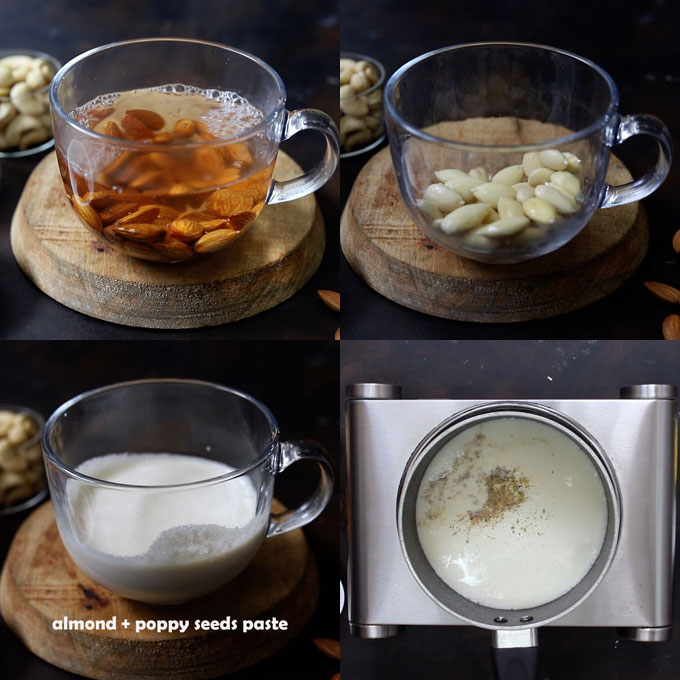 Serving Suggestion
Khas Khas Ka Doodh is served fresh and warm.
I would not recommend storing it in the refrigerator or serving at room temperature. The medicinal benefits and the warming effect are lost after keeping it in the refrigerator/reheating.
However, you can store the poppy seeds and almond paste for 1 – 2 days in the refrigerator. Do not leave it at room temperature for more than 1 hour as it spoils very fast.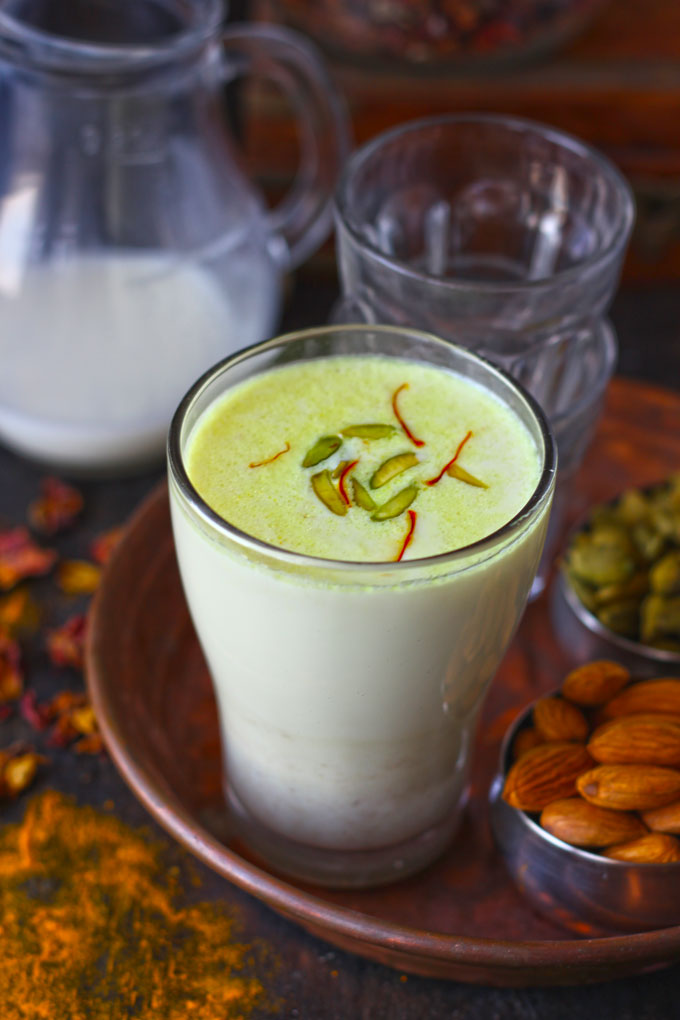 More Drink Recipes For You
For more such fun recipes in your life subscribe to our weekly newsletter or follow us on Instagram and Youtube for video recipes.
If you try this recipe and love it, please leave a comment and a rating. This helps us grow and reach many other food lovers like you, who are looking for a perfect tried and tested recipe.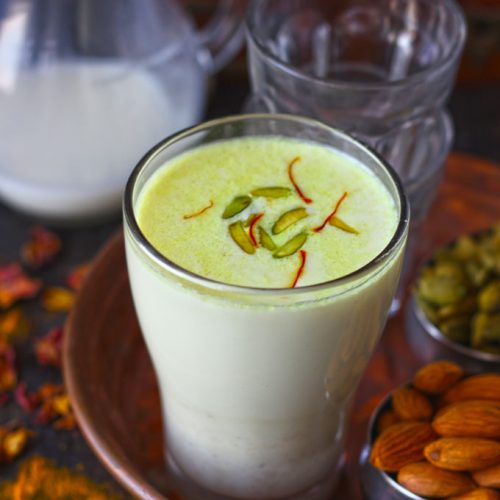 Badam Khas Khas Doodh Recipe
Khas Khas Ka Doodh is a traditional Punjabi winter drink made with white poppy seeds, almond, and milk. Learn how to make khus khas doodh in a few simple steps.
Print
Pin
Rate
Ingredients
1

Tablespoon

white poppy seeds (khus khus)

1/4

Cup

almonds

1

Tablespoon

ghee

2

Cup

milk, room temperature

1

Teaspoon

cardamom powder or 2 – 3 green cardamoms

2

Tablespoon

sugar or to taste

1/4

Teaspoon

turmeric powder or Saffron (optional)
Instructions
Prep Work
Soak almonds in hot water for 10 – 15 minutes or room temperature water overnight. Remove the skin and collect skinned almonds in a bowl.

In a separate bowl, soak the khus khus (white poppy seeds) in 1/4 Cup of water overnight or 3 – 4 hours.
Make Paste
Next day, strain the soaked khus khus in a metal strainer. Drain the water.

In a small jar of the blender, combine khus khus and peeled almonds. Grind to a smooth paste. If required, use 1 – 2 tablespoon of water to grind the paste. Transfer the paste to a bowl.

This might take a while due to the small quantity of the ingredients. Scrape the paste from the sides of the blender, stir and grind is the trick.
Prepare Khus Khus Ka Doodh
Heat ghee in a heavy bottom saucepan or kadhai. Add the khus khus paste and saute over low heat.

Keep cooking the paste till it turns light brown in color and starts leaving the sides of the pan. This might take between 5 – 10 minutes over low heat. During all this time, the paste requires stirring at regular intervals.

Next, add the milk and cardamom powder. Stir and bring to a boil once over high heat. Reduce the heat to low and allow the milk to simmer uncovered for 10 more minutes to thicken a bit.

Scrape the sides of the pan to collect the thick cream and add it back to the milk.

Now add sugar to taste and turmeric/saffron to the khas khas doodh. Stir to combine. Taste and adjust the sweetness accordingly. Turn off the heat.

Serve Khas Khas Ka Doodh warm.
Recipe Notes:
Soaking white poppy seeds softens them and makes them easy to grind. 
Use a heavy bottom saucepan to prepare khas khas ka doodh. Else, while frying and simmering the paste might get burnt.
It is optional to add turmeric or saffron to the milk.
For a Vegan Khas Khas Doodh, use almond milk instead of regular dairy milk. And use vegan fat to fry the poppy seeds paste.
I would not suggest reheating, storing, or serving cold khas khas doodh.
Nutrition
Calories:
396
kcal
|
Carbohydrates:
31
g
|
Protein:
13
g
|
Fat:
26
g
|
Saturated Fat:
10
g
|
Cholesterol:
44
mg
|
Sodium:
107
mg
|
Potassium:
508
mg
|
Fiber:
4
g
|
Sugar:
25
g
|
Vitamin A:
395
IU
|
Vitamin C:
1
mg
|
Calcium:
397
mg
|
Iron:
2
mg
Love this? Pin it for Later!
Follow @hinagujral on Pinterest!