Curd Rice is a traditional South Indian dish. It is also known as thayir sadam. Curd Rice is full of probiotic goodness and cooling properties – just the meal you need to deal with summer. Be sure to watch the video!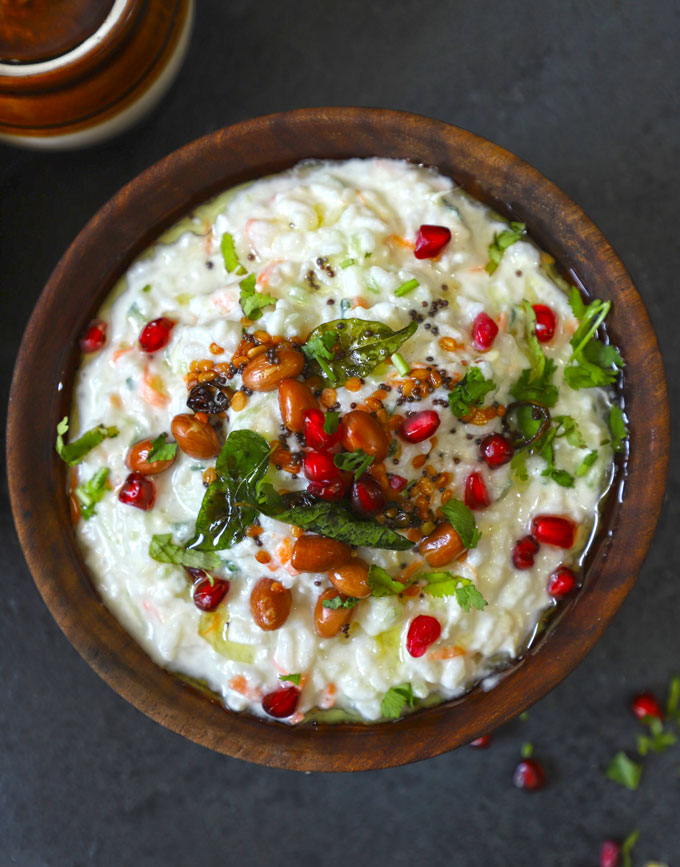 What is curd rice?
Curd Rice is a savoury South Indian dish prepared with curd and pre-cooked white rice. It is tempered with ghee, mustard seeds, urad dal, and peanuts for flavour and crunch.
Thayir Sadam is an everyday staple meal in almost every southern household. The word 'thayir' in the Tamil language means curd, whereas 'sadam' refers to cooked rice.
In many Hindu temples, it is part of 'prasad.' It does not have onion, garlic, or any tamasic ingredients and requires minimal ingredients.
Health Benefits Of Curd Rice
Aids in digestion: Thayir Sadam is often eaten after a meal, so the good bacteria in the curd may help the body digest food quickly. For generations, this has been the cure for an upset stomach or gastric issues, including constipation and bloating.
Calms Acidity: A milder version of the South Indian thayir sadam made with buttermilk (chaas) is excellent for fighting acid reflux.
Prevent Heat Strokes: Curd rice balances out your body's internal temperature and is an excellent coolant during the hot summer.
Gluten-Free: It contains no gluten or preservatives.
Ingredient Required
Rice – Pre-cooked rice at room temperature is preferred for making curd rice. If using leftover cooked rice, add a tiny amount of water and mash it to a soft consistency (like broken wheat consistency).
Curd – Full-fat curd is an excellent choice if you want super soft and creamy thayir sadam. Choose curd that is not too sweet but has a hint of sourness.
Cream: I add a spoonful of fresh malai (milk cream) to get a creamy mouthfeel. You can add milk as well.
Tempering – The tempering for the Thayir Sadam is a typical South Indian style packed with – mustard seeds, urad dal, curry leaves, cashews, and peanuts.
Vegetables: I add grated vegetables like carrots, chopped raw mango, and cucumber. The vegetables add colour, taste, and texture to the dish. They also increase the nutritional value of the dish.
Toppings: Pomegranate, fresh coriander, or khara boondi are a few of my favourite toppings for thayir sadam.
Watch Curd Rice Video
Serving Suggestion
The curd rice tastes best with deep-fried papadum and a spoonful of a spicy homemade pickle (thokku).
A few of my favourite dishes to accompany thayir sadam are South Indian style masala potato fry and medu vada.
FAQs Related To Curd Rice
Why should curd not be mixed with hot rice?
If hot rice is combined with curd, it affects the nutritional properties of curd, and digestion problems are bound to happen. Also, the curd might turn sour after mixing with the hot rice. Hence, it is best to enjoy cold yoghurt rice or room temperature.
Can I heat Thayir Sadam?
Thayir Sadam is best enjoyed cold or at room temperature. Heating kills the nutritional benefits of the curd. Hence, it is not advisable to heat thayir sadam.
How to store curd rice?
It is best to make it a few hours before eating. I would not recommend storing or keeping it at room temperature for more than 2 hours. It is one of those dishes you make in small batches, fresh for each meal.
Subscribe to our weekly newsletter or follow us on Instagram for video recipes.
If you try this recipe and love it, please leave a comment and a rating. This helps us grow and reach other food lovers like you.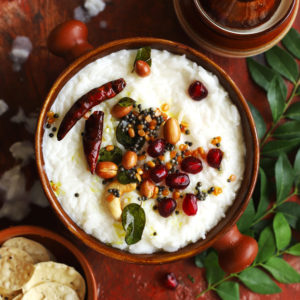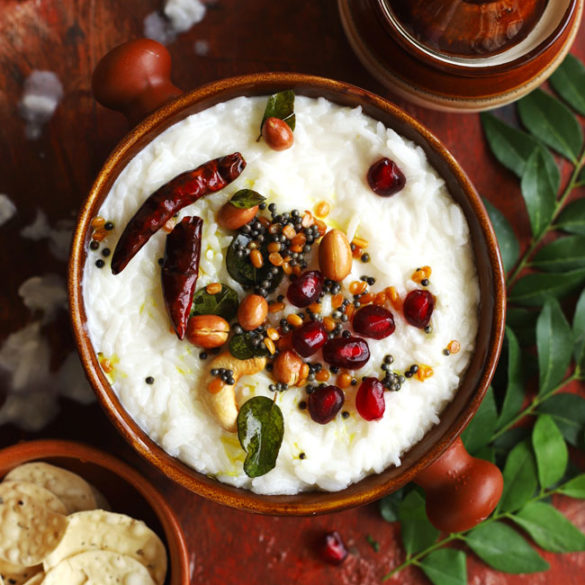 Curd Rice Recipe (Thayir Sadam)
Curd Rice is a traditional South Indian savory dish of rice and curd. Learn how to make the crunchy and creamy thayir sadam in a few simple steps.
Print
Pin
Rate
Ingredients
1 ½

Cup

cooked white rice

1 ¼

Cup

curd (yogurt)

1

teaspoon

salt or to taste

1

tablespoon

ginger

¼

Cup

cucumber, grated

¼

Cup

carrot, shredded

¼

Cup

pomegranate

¼

Cup

malai (milk cream)
Ingredients For Tempering:
2

tablespoon

cooking oil

1

teaspoon

mustard seeds (rai)

1

teaspoon

white urad dal

8

fresh curry leaves

1

tablespoon

green chili, chopped

2

tablespoon

peanuts
Instructions
Take cooked rice in a wide mixing bowl. Mash it gently using the back of the spoon to break the lumps.

Combine rice with curd, ginger, grated cucumber, carrot, and salt. Mix nicely. Add cream (malai) and mix one more time. At this stage, you can keep curd rice in the refrigerator for 10 – 15 minutes.

To prepare the tempering, heat oil in a small pan.

Add mustard seeds, dal, curry leaves, and green chili. Fry for 10 – 20 seconds or till the seeds starts popping. 

Add peanuts. Fry for another 10 seconds. Turn off the heat.

Pour the tempering over the curd rice. 

Garnish curd rice with pomegranate pearls and fresh coriander. 

Serve curd rice immediately with fried papadum or potato roast. 
Recipe Notes:
Instead of malai you can use cold milk as well.  
For tempering, you can use either, ghee, refined oil, coconut oil, or any other cooking oil of choice. 
Leftover rice is best for making curd rice. But try to use short grain rice and not basmati or any other long-grain rice. Short grain rice is high in starch content. Hence, helpful in making creamy curd rice. 
Soft rice that is overcooked or slightly mushy is perfect for making curd rice.
Nutrition
Calories:
262
kcal
|
Carbohydrates:
28
g
|
Protein:
7
g
|
Fat:
14
g
|
Saturated Fat:
3
g
|
Polyunsaturated Fat:
3
g
|
Monounsaturated Fat:
8
g
|
Trans Fat:
1
g
|
Cholesterol:
10
mg
|
Sodium:
647
mg
|
Potassium:
290
mg
|
Fiber:
2
g
|
Sugar:
8
g
|
Vitamin A:
1496
IU
|
Vitamin C:
43
mg
|
Calcium:
122
mg
|
Iron:
1
mg
For Behind The Scene updates
Subscribe to our newsletter!