South Indian Curd Rice is full of probiotic goodness and cooling properties – just the kind of meal you need to deal with Indian summer. Curd Rice is a creamy, traditional side-dish of soft pre-cooked rice and sweet yogurt made delicious with a South Indian style tempering.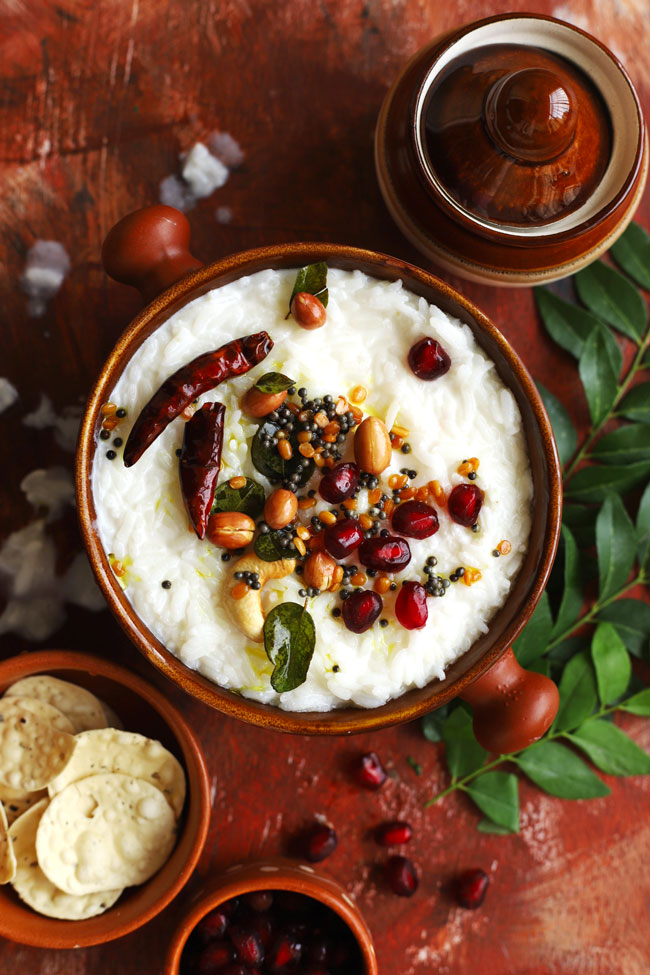 What is curd rice?
Curd Rice is a gluten-free, savory Indian side-dish prepared with yogurt and pre-cooked steamed rice.
For the flavor, it is often tempered with ghee, mustard seeds, peanuts, and dry red chilies.
Yogurt Rice is a post-lunch favorite in almost every southern household, it also finds its place during festivals and is served with a fried vada in a platter.
It is well known for being served as part of 'prasad' in temples, and the taste is unique and gratifying.
Health Benefits
Because curd is a major ingredient in this dish, it also has several healthful properties as well:
Aids in digestion: Thayir Sadam is often eaten after a meal so that the good bacteria present in the curd may help the body digest food easier. For generations, this has been the cure for an upset stomach or gastric issues including constipation and bloating.
Calms Acidity: A milder version of the South Indian thayir sadam made with thinner curd or even buttermilk is excellent for fighting acid reflux
Prevent Heat Strokes: Curd rice balances out the internal temperature of your body and is an excellent coolant during the hot summer months.
Since it is served cold, one can almost immediately feel the respite from blazing temperatures even externally, before the nutrients begin to break down in one's system.
Controls Weight: Since Thayir Sadam is relatively low in calories but can still be eaten by itself as a meal and is quite filling, you can include this in your low-calorie diet as a viable menu choice.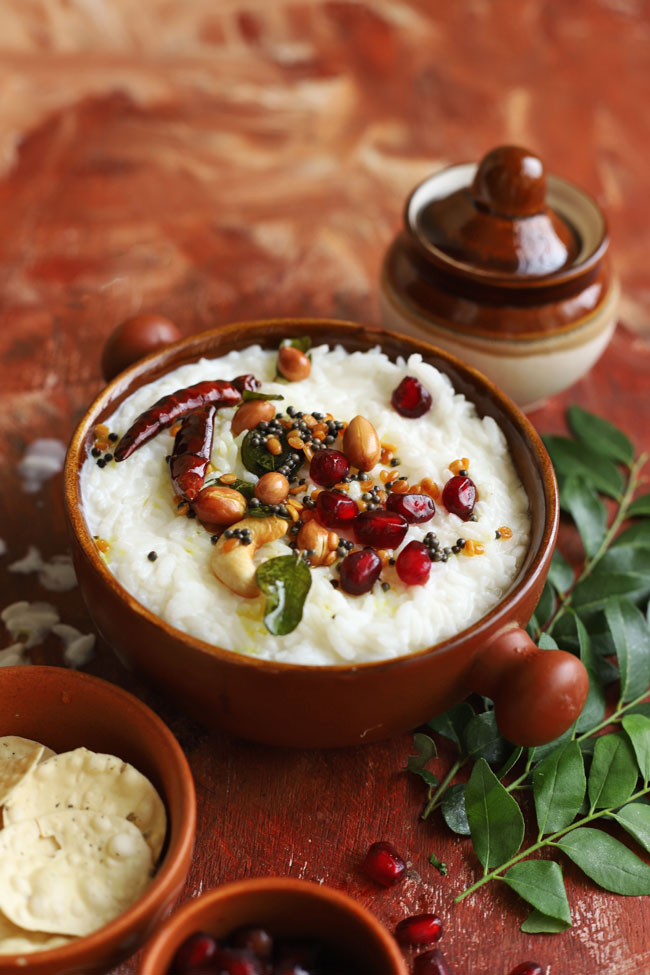 How To Make South Indian Style Thayir Sadam
Three major components are needed to prepare South Indian style curd rice:
Rice – Pre-cooked rice at room temperature is preferred for making yogurt rice. You can also use leftover steamed rice for making the dish. If using leftover cooked rice, add a tiny amount of water and mash it to a soft consistency (like broken wheat consistency).
Soft rice that is overcooked or slightly mushy is perfect for making creamy curd rice.
Curd – Full-fat curd is great if you want super soft and creamy curd rice, but you can use low-fat curd as well. Choose curd that is not too sweet but has a hint of sourness to it.
Tempering – The tempering for the Thayir Sadam is a typical South Indian style packed with – mustard seeds, urad dal, channa dal, curry leaves, peanuts, whole dry red chilies, and a pinch of asafoetida (aids in digestion).
You can mix grated carrot or pomegranate as well in your yogurt rice for that extra crunch and freshness.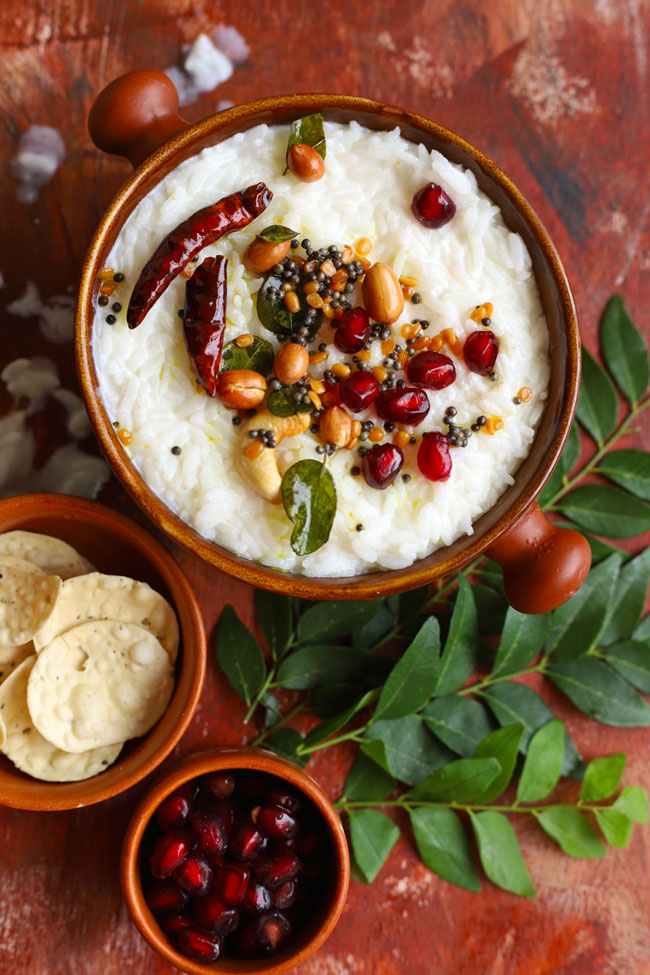 Serving Suggestions
The curd rice taste best with:
Fried Papadum/Fryums
Homemade Thoku/Pickle
FAQ's Related To Curd Rice
Why should curd not be mixed with hot rice?
It is always ideal to combine chilled yogurt and room temperature rice to make creamy and delicious yogurt rice.
If hot rice is combined with curd, it affects the nutritional properties of yogurt, and the digestion problems are bound to happen.
Also, the curd might turn sour after mixing the hot rice. Hence, it is best to enjoy yogurt rice cold or at least at room temperature.
Can Thayir Sadam be heated?
Thayir Sadam is best enjoyed cold or at room temperature. Heating kills the nutritional benefits of the curd. Hence, it is not advisable to heat the yogurt rice. It is always ideal to serve it straight out of the fridge especially during the summer season.
More Rice Recipes For You:
For more such fun recipes in your life subscribe to our weekly newsletter or follow us on Instagram and Youtube for video recipes.
If you try this recipe and love it, please leave a comment and a Star Rating. This helps us grow and reach many other food lovers like you, who are looking for a perfect tried and tested recipe.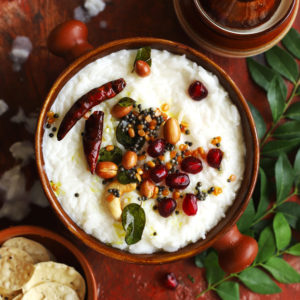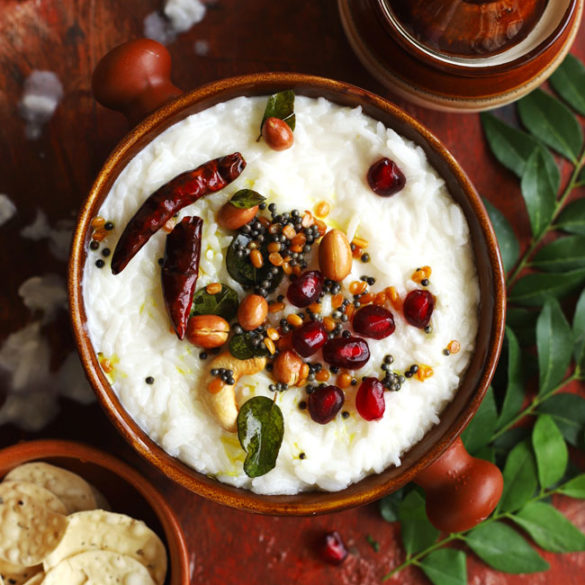 Curd Rice (Thayir Sadam)
Curd Rice is a gluten-free, savory Indian side-dish prepared with yogurt and pre-cooked steamed rice. Learn how to make South Indian thayir sadam in a few simple steps.
Print
Pin
Rate
Ingredients
1/2

Cup

short grain rice

2

Cup

curd (yogurt)

1/4

Cup

pomegranate pearls

Salt to taste
Ingredients For Tempering:
1

tablespoon

ghee or cooking oil

1

teaspoon

mustard seeds (rai)

2

tablespoon

peanuts

1

teaspoon

white urad dal

1

teaspoon

chana dal

2 – 3

dry red chilies

5 – 6

fresh curry leaves
Instructions
How To Prepare Rice:
Wash and soak rice in water for 10 – 20 minutes.

Next, cook the rice until it is soft and mushy. You can cook the rice in a pressure cooker or instant pot as well. Transfer to a wide bowl or plate and allow to cool down completely.
How To Make Curd Rice:
Mix salt and yogurt. Whisk nicely so that no lumps remain.

Combine rice with curd. If the mixture seems too thick add 1/4 cup of cold milk or water to get the desired consistency.

To prepare the tempering, heat oil in a small pan.

Add mustard seeds, dal, and peanuts. Roast for 2 – 3 seconds.

Add red chillies and curry leaves. Roast for another one or two seconds.

Pour the tempering over the curd rice and mix nicely.

Garnish curd rice with pomegranate pearls.

Serve curd rice immediately with fried papadum or potato roast.
Recipe Notes:
If the curd rice seems too thick, use either cold water or milk to get the desired consistency. 
Grated carrot or diced cucumber can be combined in the curd rice before tempering. 
For tempering, you can use either, ghee, refined oil, coconut oil or any other cooking oil of choice. 
Leftover rice can also be used for making curd rice. But try to use short grain rice and not basmati or any other long grain rice. Short grain rice is high on starch content. Hence, helpful in making creamy curd rice. 
Rice can be cooked in a pressure cooker or instant pot as well. 
Nutrition
Serving:
1
serving
|
Calories:
248
kcal
|
Carbohydrates:
30
g
|
Protein:
8
g
|
Fat:
11
g
|
Saturated Fat:
5
g
|
Cholesterol:
26
mg
|
Sodium:
60
mg
|
Potassium:
270
mg
|
Fiber:
2
g
|
Sugar:
7
g
|
Vitamin A:
262
IU
|
Vitamin C:
57
mg
|
Calcium:
165
mg
|
Iron:
2
mg
Love this? Pin it for Later!
Follow @hinagujral on Pinterest!