Tomato and Garlic Rasam….ohh the spicy, tangy, soupy curry made with blushing red ripe tomatoes and flavored with lots of garlic. When I say lot, in actual sense there is whole lot of garlic in this rasam recipe. The aromas of garlic mingle with the warmth of homemade rasam powder to create a sapid bowl of curry. The bold whiff of garlic long last in the fingers, used to peel the garlic pods for making the rasam. The whole rasam making affair from grinding rasam powder to peeling garlic and finally mopping the curry with hot steamed rice, in itself is a appetizing experience, which I always savour.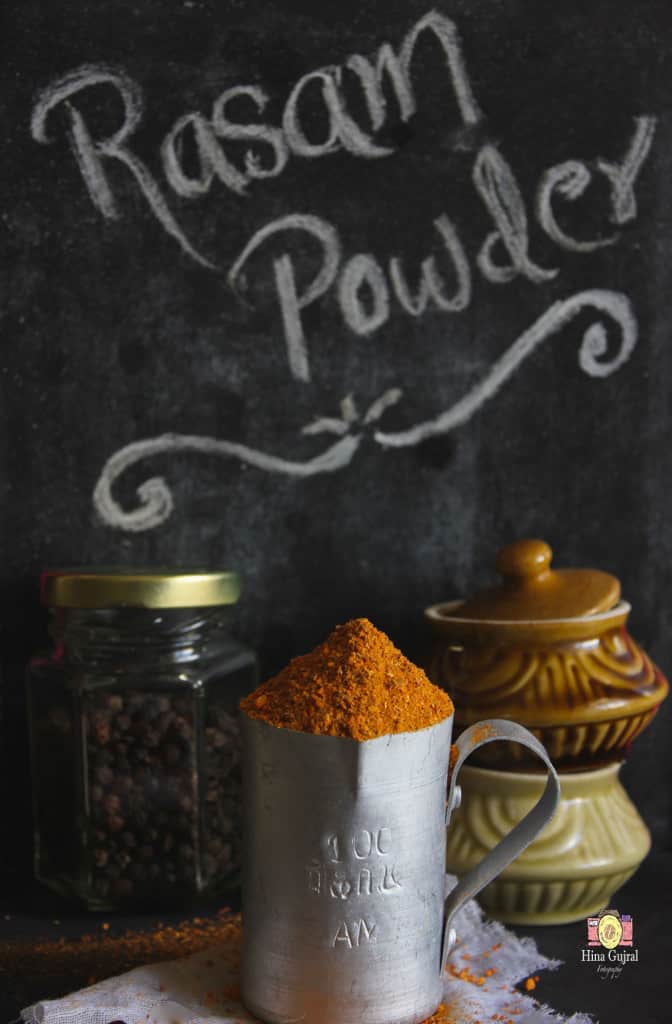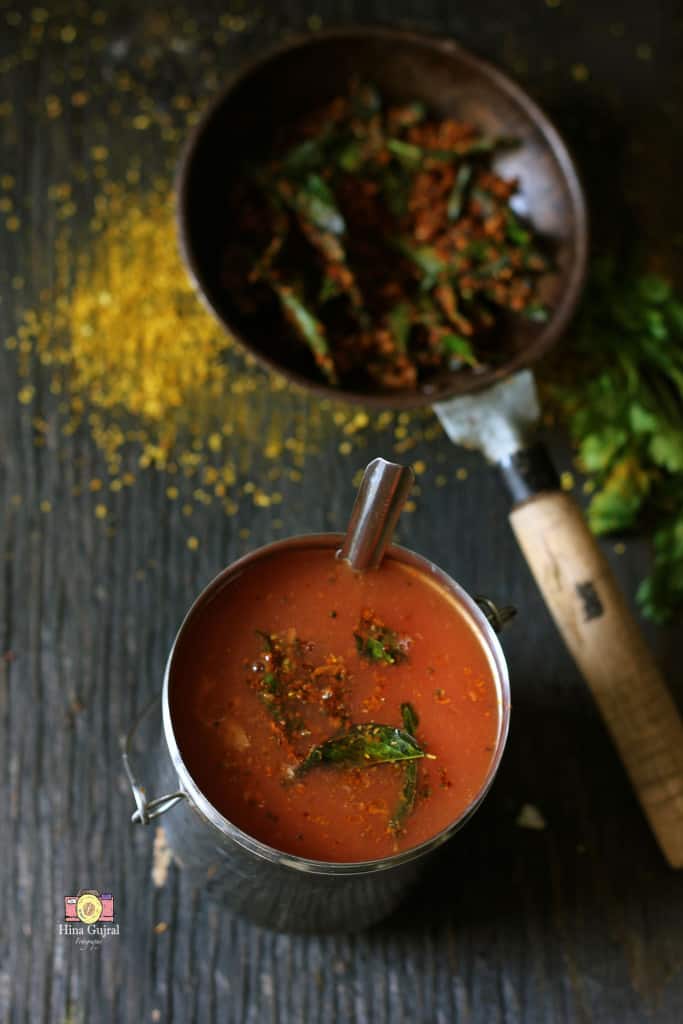 This rasam recipe is not one of those which I learnt from the family recipe journal or any regional cookbook. This recipe was humbly penned down by the house-help with other bunch of recipes as a parting gift while leaving Bangalore. Tomato and Garlic Rasam Recipe was one of her forte dishes, the taste of which still lingers in our memory. She had no accurate measure of the ingredients for the rasam recipe, someday she will add more of garlic while on some occasions a fistfull of chopped fresh coriander leaves. But each time the rasam had different flavor profile equally delectable than the previous one. She never followed a set recipe for rasam, but her Tomato Garlic Rasam always revolved around the same core – a striking looking curry with succulent flavors.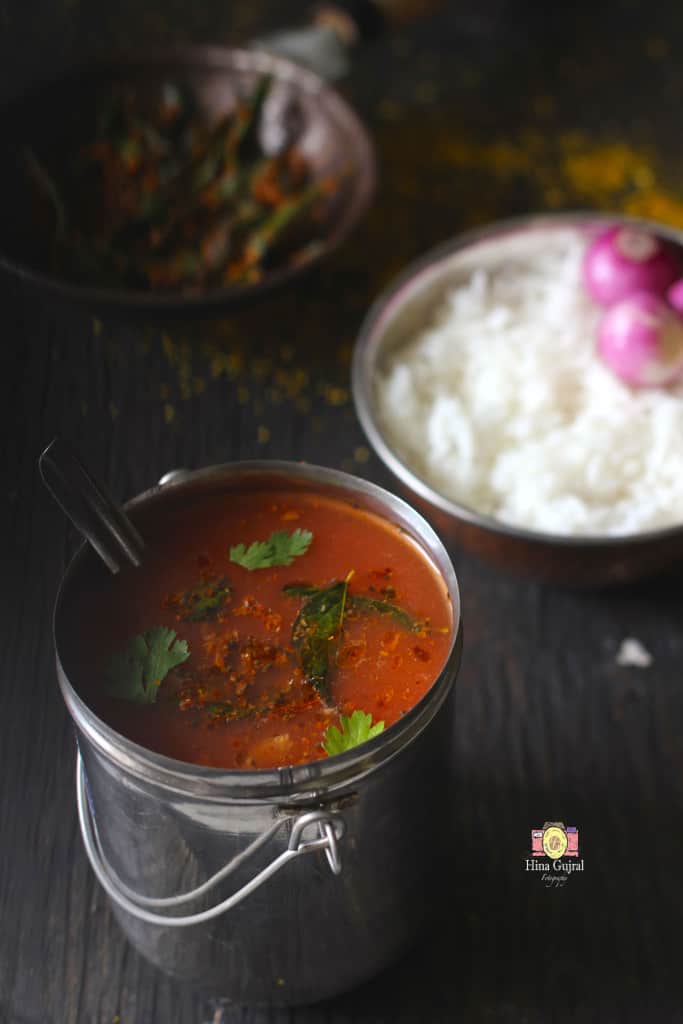 Back to present: few days back I tried her recipe of Tomato and Garlic Rasam for the Sunday lunch along with Chicken Chettinad. The rasam was delicious but it nowhere had her signature taste character. Here is the recipe of Munni Didi's Tomato and Garlic Rasam: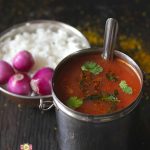 Tomato and Garlic Rasam Recipe
2015-06-07 12:11:26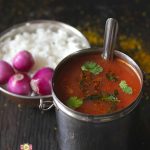 Serves 4
Tomato and Garlic Rasam is the spicy, tangy, soupy curry made with blushing red ripe tomatoes and flavored with lots of garlic.
Ingredients
500 gram red and juicy tomato chopped
5 - 6 garlic pods roughly smashed
salt to taste
1 tbsp black peppercorns
an inch piece of ginger peeled and grated
1 tbsp Rasam Powder (see recipe here)
2 tsp turmeric powder
1 tsp red chili powder
Ingredients for tempering
2 tbsp ghee
2 to 3 sprig of curry leaves
a pinch of asafoetida
1 tsp black mustard seeds
5 garlic cloves fine chopped
Instructions
To make the Tomato Garlic Rasam, in a pressure cooker (buy it here) add the chopped tomato along with garlic cloves, black peppercorns, grated ginger and salt. Add 4 Cups of water, close the lid of the pressure cooker and cook the tomato for 1 or 2 whistle over medium heat. Turn off the gas.
Let the steam release naturally from the pressure cooker, open the lid and let the tomato mixture cool down.
In a mixer (buy it here) or blender, grind the tomato mixture to smooth consistency.
Heat a saucepan (buy it here) over medium heat and add the pureed tomato mixture. Add the turmeric powder, rasam powder, red chili powder and let it simmer over medium heat while you prepare the tempering.
For tempering, heat ghee in a tadka pan (buy it here) over medium heat, add the mustard seeds, once they start crackle, add the chopped garlic cloves and asafetida. Fry for a minute or till garlic turn light brown in color.
Add the curry leaves and again fry for a minute. Turn off the heat.
Pour the tempering over the simmering tomato garlic rasam. Stir to combine.
Bring the rasam to a thorough boil once and then simmer for 10 minutes or so. To thin down the consistency of rasam, add little water.
Garnish Tomato Garlic rasam with half a bunch of chopped coriander leaves.
Serve Tomato Garlica Rasam warm with steamed rice and a dollop of ghee.
Fun FOOD and Frolic http://www.funfoodfrolic.com/