In South Indian Cuisine the coconut is abundantly used. Reason being the tall, handsome coconut trees standing with utmost pride by the sea-coast. Loaded with the bountiful produce of tender coconut. From curries, chutneys to poriyals and puddings, the coconut is omnipresent in Southern Cuisine. One such sought after South Indian condiment is Coconut Chutney. The matured coconut scrapping is grounded and later, tempered with curry leaves, mustard seeds, and red chilies to make the chutney. Unlike cuisine of Northern India, chutneys of Southern Cuisine are tempered. The tadka of chutney is commonly comprised of curry leaves, red chilies, and mustard seeds. The simple but aromatic tempering of basic ingredients complements the mild flavor of the chutney. And add crunch to the texture of the chutney.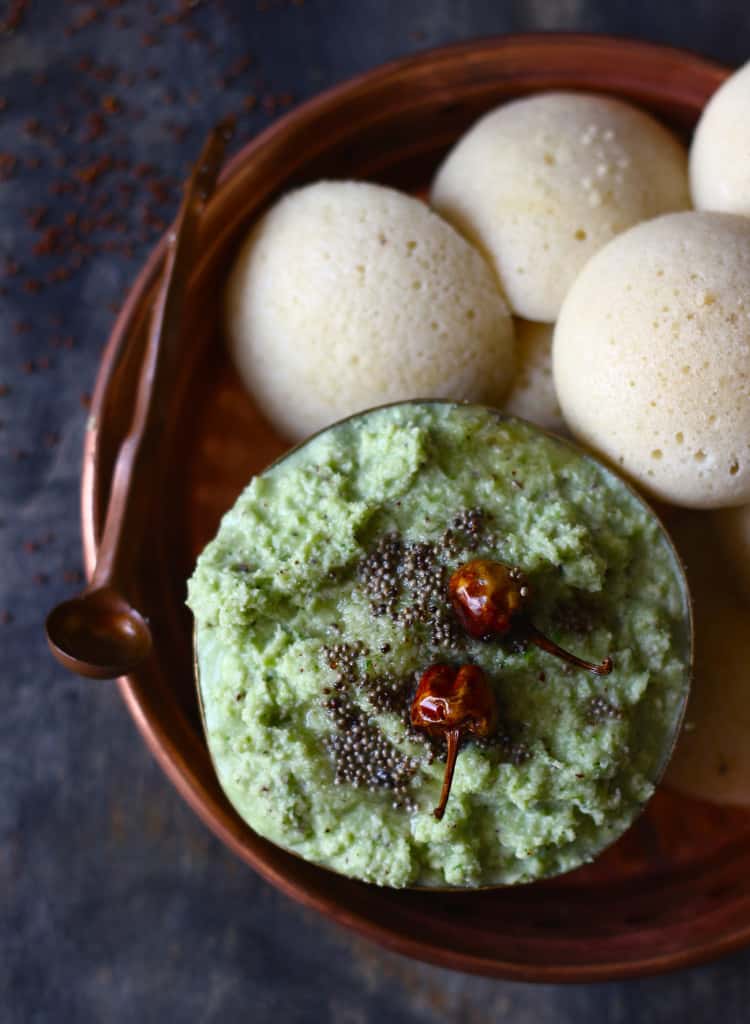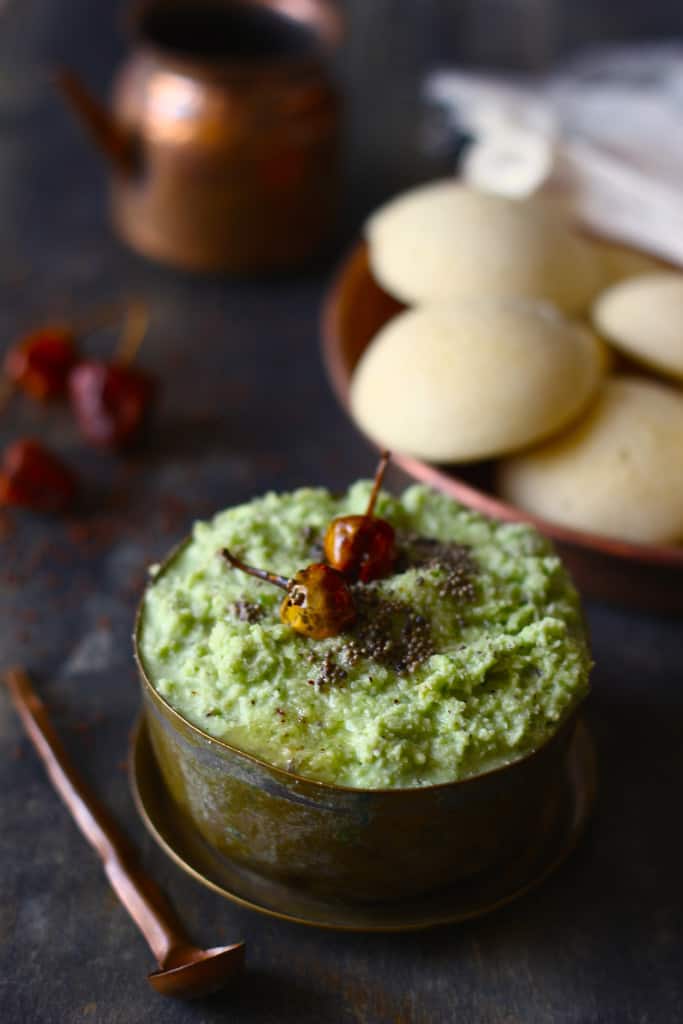 The Coconut Coriander Chutney is a variant of traditional Coconut Chutney. The addition of fresh coriander leaves, garlic cloves, and green chili enhance the subtle flavor of coconut by giving it a refreshing boost. The Coconut and Coriander Chutney is the best accompaniment for South Indian breakfast dishes such as – idli, dosa, uttapam, vada. It tastes fabulous with deep-fried snacks as well. Many recipes recommend adding roasted chana dal to the Coconut Coriander Chutney. You can try the trick. But in the recipe given below, we have skipped the roasted chana dal. Sometimes, we add a teaspoon of urad dal while tempering the chutney.
Learn how to make Coconut Coriander Chutney in few simple steps: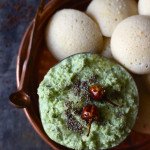 Coconut Coriander Chutney Recipe
2016-02-01 02:59:30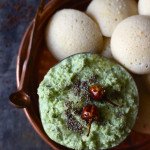 Serves 6
Ingredients
1 cup coconut scrapping
half a bunch fresh coriander leaves
1 to 2 green chilies
2 - 3 garlic cloves
Salt to taste
Ingredients for tempering
1 tbsp ghee
1 - 2 dry red chili broken into halves
1 sprig of curry leaves
¼ tsp mustard seeds (rai)
Instructions
To prepare the Coconut Coriander Chutney, chop the coconut scrapping into bite size pieces.
Add coconut, coriander, green chili, garlic and salt in a blender and blend till smooth. Add 2 - 3 tablespoon of water to get the smooth consistency of the chutney.
Transfer chutney to a bowl.
To temper the chutney, heat ghee in a tadka pan over medium heat.
Add mustard seeds.
When the seeds crackle add red chili and curry leaves.
Once the curry leaves start changing color and the aroma of red chilies is released turn off the heat.
Pour the tempering over the prepared chutney.
Serve Coconut Coriander Chutney with dosa, idli or pongal.
Fun FOOD and Frolic http://www.funfoodfrolic.com/