Today morning I got up early and while "he" and Momo were asleep I had ample time in hand for myself so I decide to visit the nearby vegetable flea market. Luckily the fresh stock of fruits and vegetables just arrived there, those fresh greens, vegetables, and fruits lured and tempted the cook inside me and I ended up overstocking my pantry despite knowing vegetables will perish if not consumed soon. By the time I reached home it was time to decide today's menu and after having one look at my bag full of vegetables I knew what is going to be the lunch menu. Immediately, I rushed to the pantry to check if some tawa masala is in stock – a great ingredient for popular Indian food recipes. I usually make it in advance and store it for such kitchen emergencies, yes I had enough for today but made a note in my diary to grind another batch for storing.
Tawa Bhaji is a staple in North India at every wedding, there is one stall dedicated to Tawa Fry Vegetables. The Tawa Bhajji is nothing but mix vegetables pan-fried in spicy Indian masala either stuffed or simply coated in masala. I too have relished it so many times at the weddings but all the bhajis in that Tawa taste exactly the same. Maybe due to time and quantity constraint it is difficult for caterers to give different taste profile to each vegetable but I quite liked the concept behind. So today I decided to recreate the same tawa platter in my kitchen but with individual taste profile for each vegetable.
Sometimes I make only pan fried bitter gourd along with julienned onions and potato wedges. For that once bitter gourd are almost done add onions and potato in the same pan, sprinkle some tawa masala on top, give it a nice mix and let it cook until potato is done. That is a complete side dish on its own and it compliments well simple Jeera Dal/Dal Tadka among other Indian food recipes.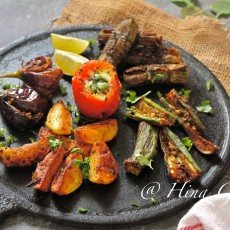 Tawa Bhaji Recipe
Tawa Bhaji is a delicious combination of seasonal vegetables cooked in an Indian griddle pan. Learn how to make tawa fry mixed vegetable in few simple steps
Print
Pin
Rate
Ingredients
Mix vegetables
4

round small brinjals

slit halfway

2

medium sized bitter gourd

karele, slit in between and cut each into half

4

– 5 ladyfinger

slit in between and cut into half

2

– 3 potato

peeled and cut into wedges

2 to

mato

cut from top and remove the pulp
Ingredients for the tawa masala
2

teaspoon

coriander seeds

2

tablespoon

fennel seeds

saunf

2

teaspoon

cumin seeds

2

teaspoon

methi seeds

2

teaspoon

onion seeds

kalonji

2

teaspoon

pomegranate seeds

anardana

A pinch of asafoetida

2

dried red chilli

1

teaspoon

turmeric powder

2

teaspoon

mango powder
Ingredients for stuffing bitter gourd (karela)
2

onion

finely chopped

1

teaspoon

ginger garlic paste

salt

as per taste

oil for cooking

2

teaspoon

tawa masala

mentioned above
Ingredients for stuffing tomato
1

small onion

chopped

¼

Cup

grated cottage cheese

paneer

1

teaspoon

tawa masala

mentioned above

1

cube processed cheese

grated

salt

as per taste
Other ingredients
Salt

as per taste

Oil for pan frying

2

tablespoon

mustard oil
Instructions
To make tawa masala

Clean coriander, fennel, methi, cumin and put them on a hot Tawa (flat pan) to roast.

Add red chillies to the roasted spices and dry roast for 1 minutes. Allow the spices to cool off then grind them to fine powder along with other spices except turmeric powder.

Put turmeric powder to the grounded spices and mix. Salt, as per taste can also be mixed in this masala if you don't want to add it later.

To stuff vegetables

Clean, wash and dry all the vegetables.

For stuffing ladyfinger and brinjal, slit them halfway and fill in each pieces with spoonful of tawa masala, coat exterior as well with tawa masala and sprinkle 2 tablespoon mustard oil so that masala stick nicely to vegetables. Set aside meanwhile you prepare other vegetables.

Sprinkle tawa masala over potato wedges along with tablespoon of mustard oil and set aside.
For preparing bitter gourd
Peel out the skin and remove seeds of bitter gourd, slit in between and cut into half.

Rub each piece with generous amount of salt and leave aside for atleast 6 hours.

Once all the water has drained out of bitter gourd, rinse it under cold water and dry with a kitchen towel. Set aside.

To prepare filling, saute onions in oil until golden, add ginger garlic paste and saute again for 5 minutes.

Add tawa masala and mix nicely. Fill in spoonful of filling in each piece and tie it with cotton thread/butcher's string.
For preparing tomatoes
Cut a small disc on top and with the help of desert spoon scoop out pulp and seeds from inside.

To prepare filling, saute onion in oil, once translucent add grated paneer and tawa masala. Adjust salt, as per taste. Mix nicely. Fill inside hollow tomatoes, press filling with your fingers and add grated cheese on top. Set aside.

In a large heavy bottomed flat pan, heat oil for pan frying vegetables. Once oil is heated, arrange all the vegetables in it. Do not overcrowd the pan if pan is small you can do it in batches.

Keep on turning vegetables until golden and crisp on both sides. Keep gas flame to low.

Potato, ladyfinger and tomato will take less time whereas brinjal and bitter gourd requires more time to get cooked from deep inside.

Once all the vegetables done, serve hot in a platter with lemon wedges along with main dishes.
For Behind The Scene updates
Subscribe to our newsletter!