This is a Grandma-style orange marmalade recipe. You can spread it on your toast or swirl it in oats or ice cream- so many delicious reasons to make a big batch of marmalade at home. Be sure to watch the video!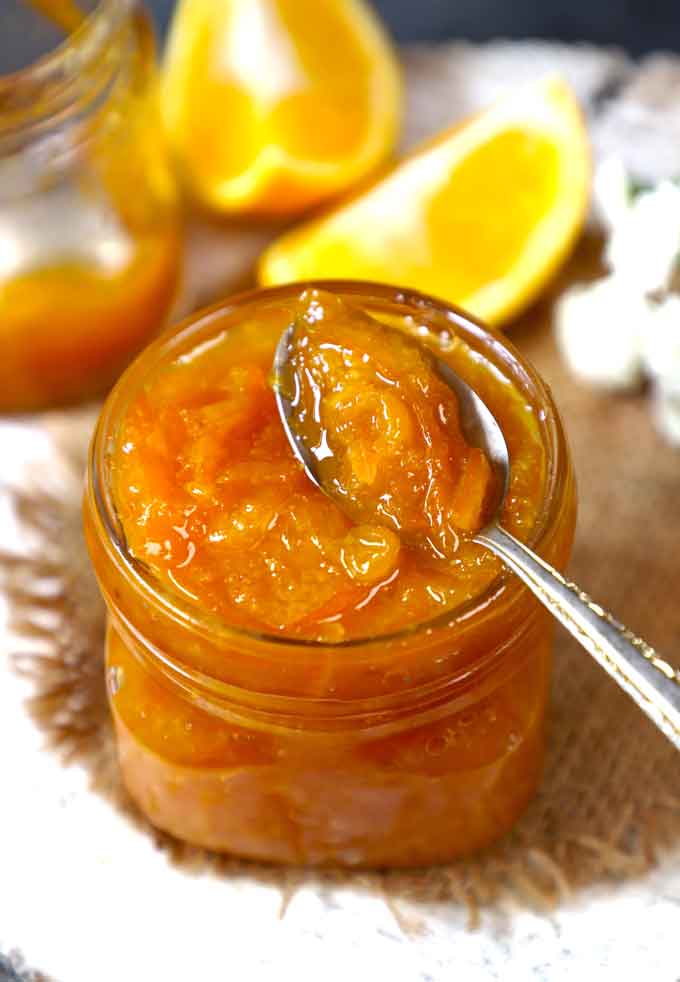 Making your marmalade at home cannot be easier. You need only 3 ingredients!
And in my opinion, it is undoubtedly wiser! Aside from enjoying it in various delicious ways, such as orange cakes, yogurt, ice cream, and bread toast, here are more reasons to LOVE this fruit preserve.
It is so easy to make! You only need three ingredients, a juicer, and one pan to make this orange marmalade from scratch.
Vegan and Gluten-Free– so it can be enjoyed by almost everyone! And unlike store-bought marmalades, this recipe is certified free of preservatives, additives, and chemicals. So even kids and toddlers can enjoy this all-natural treat without any worries!
Customizable– another perk of making from-scratch recipes is your control over the ingredients used. Make it as sweet or as tangy as you like it to be. Mix it with other citruses like bergamots, mandarins, and grapefruits, or add ginger or cinnamon. Whatever takes your fancy!
Budget Friendly– Lastly, making it yourself would cost less than buying branded, organic marmalades off the shelves. So next time you see those plump, juicy oranges in the farmer's market, buy them in bulk and make a delicious citrus preserve at home!
What type of oranges to use?
The most common type used when making marmalade is Spanish Seville. These are favoured over other oranges because they naturally contain a high amount of pectin.
Pectin is a fibre found in most fruits that acts as a natural thickener essential in making marmalades. However, Australian Orange, Tangerines, Mandarin Orange, or Naval are great options.
In India, Kinnow Oranges are the best for making marmalade. They are available during the winter season from December to February. Do not use regular oranges or santara.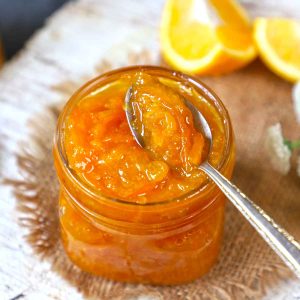 Marmalades VS Jams- What is the difference?
Some might think that marmalades are just a fancy term for jams. But these two are different from each other. They differ in process, fruits used, and outcome regarding flavour and texture.
Fruit used
Jam- any fruit or berries can be used to make one.
Marmalade – is usually made of citruses only.
Process
Jam- fruit flesh is chopped or crushed, then boiled with fruit juice and sugar.
Marmalade- the citrus juice, pulp, and peel/ rind are boiled with sugar.
Texture
Jam- thick and spreadable with tiny bits of fruits in it.
Marmalade- jelly-like and sticky with noticeable chunks of peel/ rind.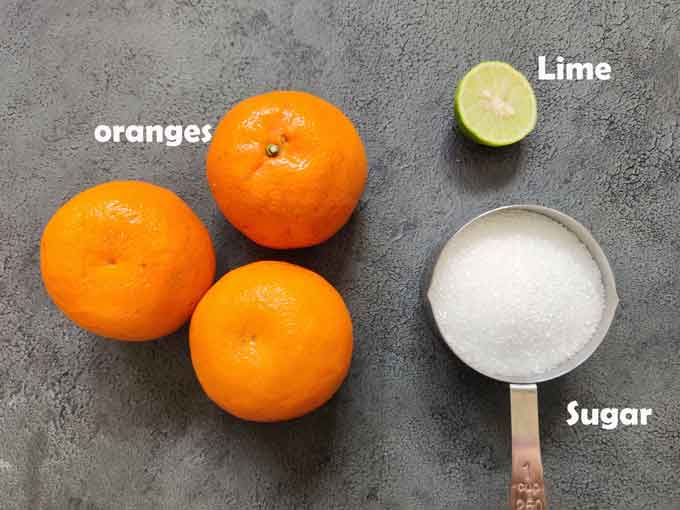 Ingredients Required
Orange: Juice, pulp, and the orange rind are all used to make marmalade.
Sugar: Granulated white sugar works best for making any fruit preserve.
Lime Juice balances the sweet flavour and acts as a natural preservative.
Juicer: You need a citrus juicer (electric or manual) to squeeze out all the juice from the oranges.
Saucepan: Use a non-stick, ceramic, or stainless steel saucepan to make a jam. Cast iron and other reactive metals alter the colour and taste of the marmalade.
Orange to Sugar Ratio
Usually, it is always best to taste citrus fruits to check their sweetness and tartness. Then add sugar accordingly.
I follow a thumb rule of 2:1 (orange to sugar). So, for example, if you have 200 grams of orange pulp and juice, add 100 grams of granulated white sugar.
Remember that a citrus marmalade with slight tartness and bitterness is more delicious than one tastes like a sugar syrup with no original fruit flavour.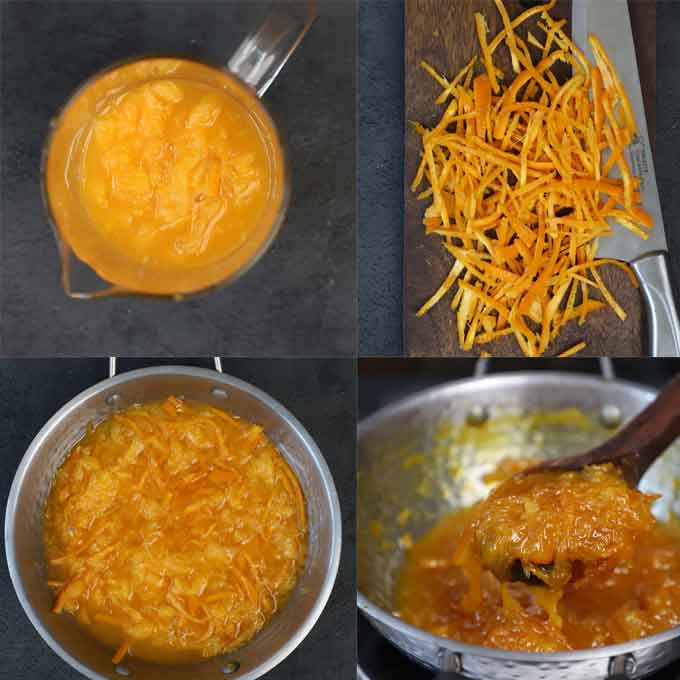 My Tried & True Tips
Baking Soda and water solution helps clean the orange skin and eliminate chemicals/dirt/germs.
Use refined granulated white sugar for this marmalade recipe. Powdered sugar or icing sugar dissolves more quickly than granulated sugar.
Stay away from reactive metal cookware. Instead, make sure to use an enamel-coated ceramic or non-stick saucepan for making the marmalade rather than the cast iron pan or aluminium cookware.
Trust the process until and unless the white foam from the top disappears. Keep cooking the orange marmalade.
Do not add any water while cooking the orange marmalade. It needs to cook in its natural juices and sugar.
To check if the marmalade is done, take a big spoonful and spread it on a plate. It should be sticky with a sheen to it and not watery. Usually, any jam or fruit preserve thickens more after cooling down. Hence, do not cook them for too long to get the right consistency.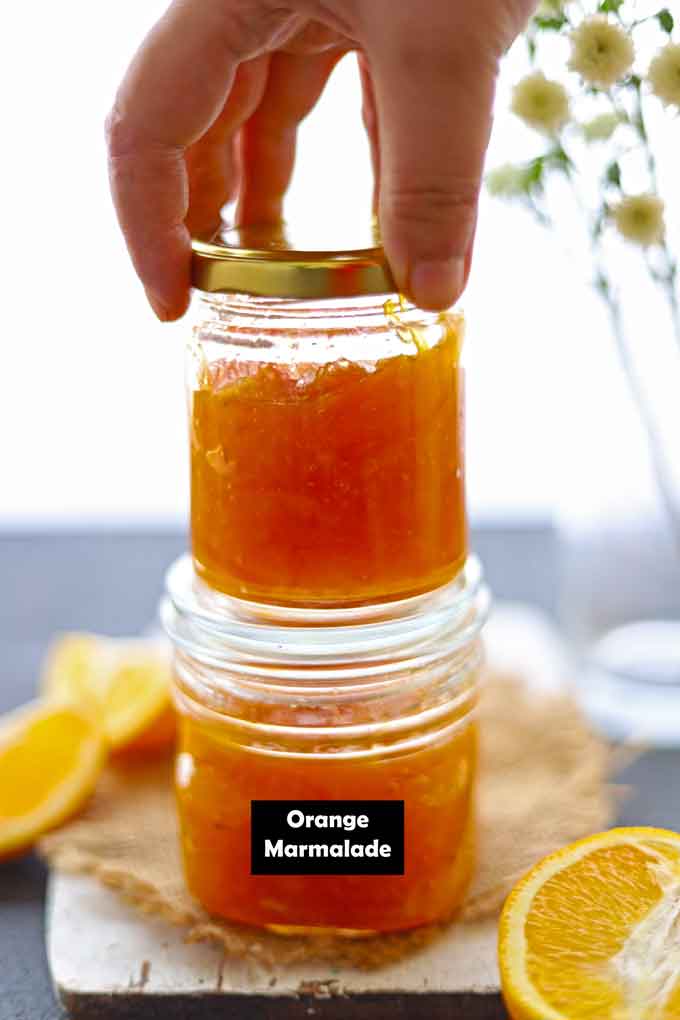 How To Store
Always start with a clean, sterilized glass jar. Soak the jar and lid in hot water for a few minutes, then let them dry naturally.
Once the marmalade has cooled down at room temperature, you can transfer it into the jar. Note: fill the jar almost to the brim to prevent bacteria build-up and early spoilage.
Seal the jar tightly, place it in a cool area, or let it chill in the refrigerator. It should last for a couple of weeks to a month. Note: Always use a clean spoon when scooping portions from the jar to keep it fresh longer!
Watch Marmalade Video
More Fruit Preserve Recipe
Subscribe to our weekly newsletter or follow us on Youtube for video recipes.
If you try this recipe and love it, please leave a comment and a rating. This helps us grow and reach other food lovers like you.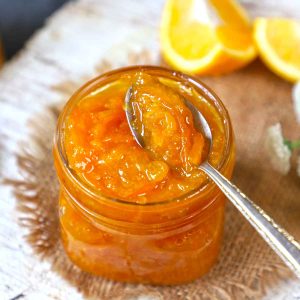 Orange Marmalade Recipe
This is a classic Grandma-style orange marmalade recipe that requires only 3 ingredients. It is a vegan, gluten, and chemical-free marmalade recipe.
Print
Pin
Rate
Ingredients
300

ml

orange juice (approx 5 Kinnow Oranges)

200

gram

orange pulp

60

gram

orange rind, julienned

250

gram

granulated white sugar

1

tablespoon

lime juice
Ingredients To Clean Oranges:
1

teaspoon

baking soda

water
Instructions
Add a teaspoon of baking soda to water. Wash the oranges with the skin in baking soda water. Pat dry with a clean kitchen towel. 

Cut the oranges in half. Using a sharp fruit knife remove seeds from oranges. 

Using a citrus juicer squeeze out the juice from the oranges. Scoop out the pulp in a separate bowl. Discard white pith, seeds, or transparent skin covering the pulp. Combine juice and pulp. Total they should be 500 gram (300 ml Juice + 200 gram Pulp). 

Using a spoon remove the white pith inside the rind. It tastes bitter and spoils the marmalade. Now, julienne the orange rind or cut it into thin strips. It should be 60 gram. I use the rind of two oranges.

Add sugar, line juice, and mix. Cover and keep aside. After 15 minutes, sugar will be completely dissolved with the fruit. Do not rush this process.

Start cooking the marmalade in a heavy-duty ceramic, enamel, steel, or glass saucepan.

Stage 1, the marmalade will be watery, and white foam on top. Keep cooking on low heat, while stirring at regular intervals.

Slowly, the white foam will start reducing, the texture of the marmalade would thicken a bit. Use a potato masher or a ladle to gently mash the pulp and orange rind.

After 20 minutes on low heat, the white foam on top will disappear, pulp mashed nicely, and the marmalade will start sticking to the spoon. Turn off the heat.

Take a big spoonful of marmalade and spread it on a plate. It should be sticky and not watery with a sheen to it. That is the signal that marmalade is ready!

Allow the marmalade to cool down completely at room temperature. Store the cooled marmalade in a clean, sterilised glass jar with a tight-fitting lid.
Recipe Notes:
Use fine granulated white sugar for this recipe. And not powdered sugar, icing sugar, or big crystals of sugar.
Make sure to use an enamel-coated ceramic or non-stick saucepan for making the marmalade rather than the cast iron pan, aluminum, or any other reactive metal cookware.
Until and unless the white foam from the top disappears keep cooking it. Please note the cooking time may vary according to the quantity and type of oranges. 
Do not add any water while cooking the marmalade. It needs to cook in its own natural juices and sugar.
Nutrition
Calories:
3
kcal
|
Carbohydrates:
1
g
|
Protein:
1
g
|
Fat:
1
g
|
Saturated Fat:
1
g
|
Polyunsaturated Fat:
1
g
|
Monounsaturated Fat:
1
g
|
Sodium:
2
mg
|
Potassium:
2
mg
|
Fiber:
1
g
|
Sugar:
1
g
|
Vitamin A:
3
IU
|
Vitamin C:
1
mg
|
Calcium:
1
mg
|
Iron:
1
mg
For Behind The Scene updates
Subscribe to our newsletter!