Ragi Rotti is a simple and healthy traditional flatbread of Karnataka, finger millet flour is mixed with variety of colorful seasonal vegetables and formed into dough to make delicious breads served with variety of condiments on the side. I settled for uncomplicated Tomato Chutney tempered with mustard seeds swimming in the ghee with some aromatic curry leaves. Ragi is one of the staple crops of Karnataka from the ancient era hence that explains the abundance of finger millet use in the cuisine of the state. Some of the conventional dishes of Karnataka has Ragi as the key ingredient like Ragi Dosa, Ragi Mudde, Ragi Idli and Ragi Ambli. While I was listing down recipes for the January month theme 'Karnataka' for #thekitchendivas (an endeavor to create a collection of recipes of Traditional Indian Cuisines in collaboration with a few bloggers who share the same passion of cooking) Ragi Rotti was one of the obvious choices to showcase the influence of local ingredients on the cuisine.
Sometimes dishes that are loaded with health benefits are greeted with furrowed brows on the breakfast table, the mere presence of any such dish that does not satisfy the family criteria of good food, drain out the appetite from the table. Such healthy mornings (I address them as healthy mornings) are a rare occasion in my kitchen but with some experience as a house maker any premature announcements about the ingredients is avoided, so that the food on the plate could be tasted without any pre conceived notions and taste buds share their genuine verdict about the same. But Ragi Rotti is one exception to the above list, it has become a routine affair for the breakfast or lunch with humble Tomato Chutney and each bite of the flavorsome bread embedded with sweetness of carrot, freshness of coriander is dipped in radiant sloppy chutney with equal enthusiasm till the finishing line.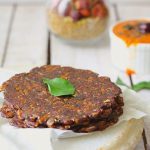 Ragi Rotti (Finger Millet Flat Bread)
2015-07-25 12:32:22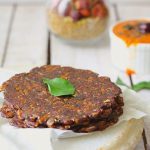 Ragi Rotti is a traditional flatbread of Karnataka, finger millet flour is mixed with colorful seasonal vegetables and formed into dough to make flat breads.
Ingredients
2 Cup Ragi Flour (finger millet flour) ( buy it here )
1 medium size onion
4 – 5 curry leaves
Half bunch of coriander leaves
1 medium size carrot, grated
Salt, as per taste
1 tsp red chili powder
Water to bind dough
Oil for cooking rotis
Fun FOOD and Frolic http://www.funfoodfrolic.com/
Tomato Chutney Recipe
2015-07-25 12:35:08
Ingredients
2 large size tomato, roughly chopped
1 medium size onion, chopped
4 cloves of garlic, chopped
Salt, as per taste
1 tsp turmeric powder
2 tsp red chili powder
1 tbsp oil
For tempering
1 tsp mustard seeds
4 – 5 curry leaves
2 dry red chili
2 tbsp ghee
Instructions
To prepare the chutney, heat oil in a pan over medium heat and saute onion, garlic until they turn light brown in color.
Then add chopped tomato, salt, turmeric powder and chili powder. Fry the masala till tomato are soft and oil get separated from the masala. Turn off the heat and let masala cool down to room temperature.
Blend the masala in mixer (buy it here) to smooth puree and transfer to a bowl.
For tempering the chutney, heat ghee in a pan over medium heat.
Add mustard seeds once they start making crackling noise add curry leaves and dry red chili. Fry for 1 – 2 minutes and then pour the tempering over the chutney.
Serve Tomato Chutney with Ragi Rotti.
Fun FOOD and Frolic http://www.funfoodfrolic.com/