Looking for an easy microwave chocolate cake recipe? We have got one for you. Easy Microwave Chocolate Cake Recipe is a savior for those who want to bake a super moist, spongy and a rich chocolate cake in a microwave. With readers of the blog continuously requesting for a foolproof, tried and tested microwave cake recipe and my oven being under repair, gave me enough reasons to experiment with microwave baking. Microwave Cake isn't supposed to be boring, tasteless and far from delicious. In fact, this microwave chocolate cake recipe has become one of our favorite sweet fixations – one it has no butter, second it takes just 5 minutes to bake and third with a layer of ganache the cake can compete with any oven baked counterparts. So no need to switch on your gas stove or oven to make this Chocolate Cake. All you need is a microwave.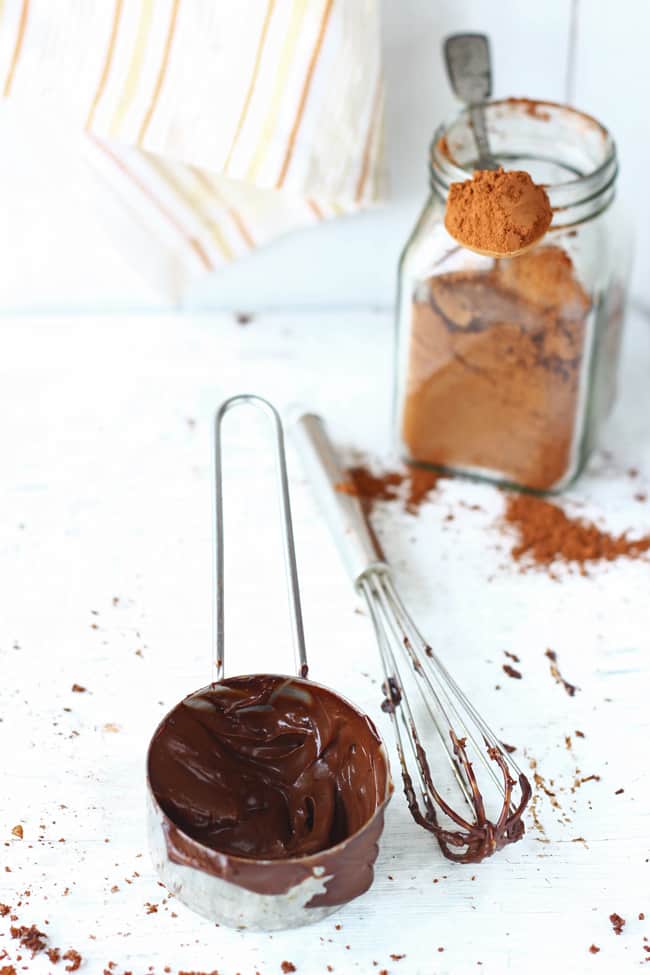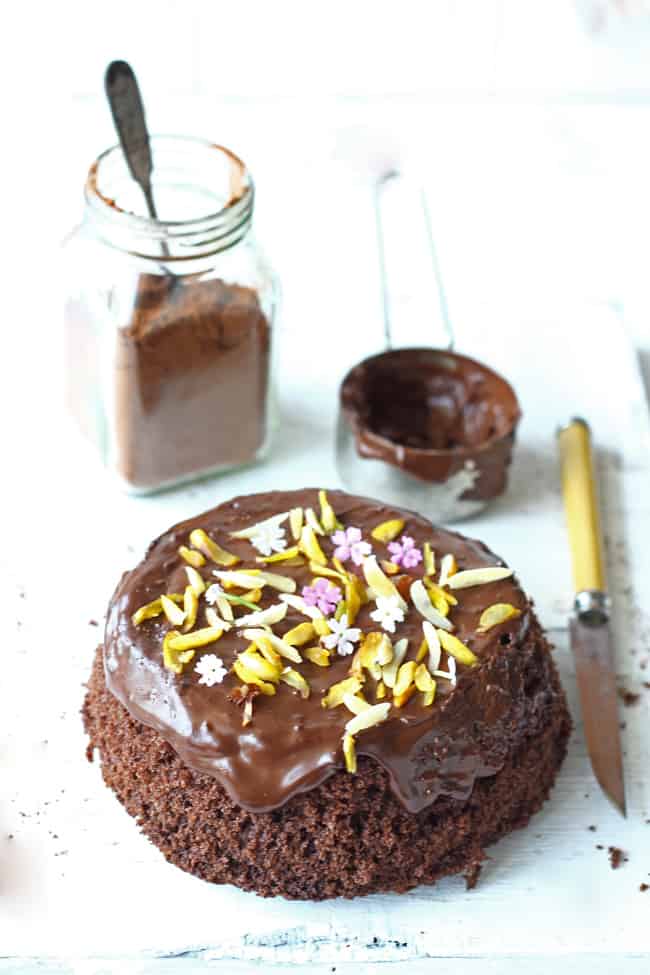 What can possibly go wrong in this simple microwave cake recipe? There are many possibilities. But the few obvious ones are – over/under cooking the cake, wrong measurement of ingredients and over-mixing the cake batter. You need to bake this microwave cake for exactly 5 minutes, covered at 800 watts. For covering the cake pan, use either the cling film or the lid of the pan. But covering the batter while baking is a must to prevent ending up with a dry cake. Measure the requisite ingredients using the standard
measuring cups/spoons
or a
digital weighing machine
. No matter how strong killer instinct you have it is always better to rely on measuring instruments for baking. And last but not the least, do not mix the cake batter for more than 2 – 3 minutes. Once no flour streaks or lumps remain, stop mixing.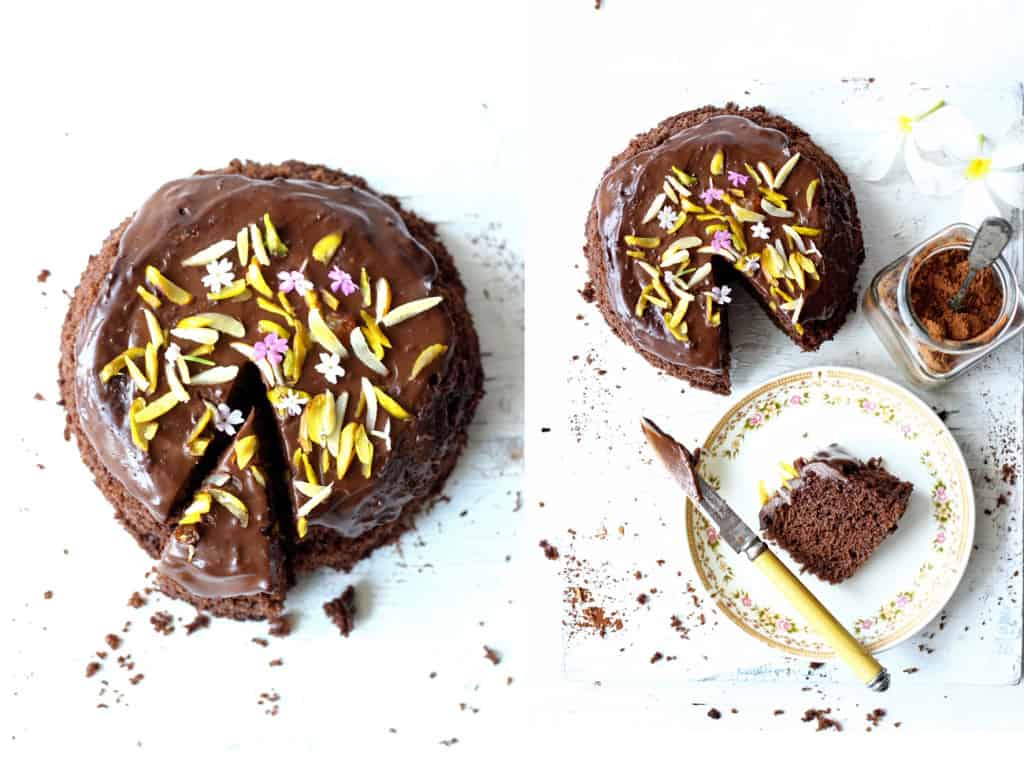 Don't worry about all the serious instructions shared above. This is a simple, fuss-free, easy to bake Microwave Chocolate Cake. Trust me once after the first trial, you are surely going to bookmark this recipe. Learn how to make easy microwave cake in few simple steps:
Easy Microwave Chocolate Cake Recipe
2016-09-02 14:30:49
Ingredients
100 gramm all-purpose flour (1 Cup) (maida)
45 gram unsweetened cocoa powder (3 tbsp)
100 ml olive oil (1/2 Cup)
2 eggs
2 tsp baking powder
a pinch of salt
1 tsp vanilla essence
1 tsp Kahlua liquor (optional)
1 tsp instant coffee powder
150 - 160 gram caster sugar (1 1/4 Cup)
50 ml lukewarm water (1/4 Cup)
Ingredients for the chocolate ganache
100 gm dark chocolate broken into pieces
5 tbsp cream
Instructions
Sift flour, baking powder, coffee powder and salt together in a large mixing bowl.
Next combine caster sugar in the flour mixture. Set aside.
Now mix together lukewarm water and cocoa powder to make a smooth paste. Once done keep aside.
In a clean mixing bowl whisk together oil, eggs, vanilla and liquor for 3 - 5 minutes.
First add half of the egg mixture into the sifted flour. Combine using a spatula.
Next add the cocoa paste and fold gently.
At last, add the remaining egg mixture and gently fold the cake batter using a spatula.
Make sure no lumps or flour streaks remain in the cake batter. Do not mix the batter for too long.
Grease a 9 inch microwave safe dish with a teaspoon of butter or oil.
Pour cake batter into the greased pan and gently tap to pop any air bubbles. Cover with cling film.
Microwave on full power (800 watts) for 5 minutes. Insert a skewer and check if the cake is cooked. If it comes out clean it is ready.
Allow cake to stand for 5 minutes in the pan, then remove the cling film and turn out onto a cooling rack.
While the cake is cooling, prepare the chocolate ganache. Melt the chocolate in microwave on half power (600 watts) for approximately 2 minutes, stirring every 30 secs until melted.
Add the cream and mix thoroughly until the liquid turns smooth and glossy.
Spread the chocolate ganache over the cake only when it cools down to room temperature.
Serve easy microwave chocolate cake immediately or later.
Fun FOOD and Frolic http://www.funfoodfrolic.com/