Bibikhana Pitha or Bikrampurer Badshahi Pithe is a prestigious and unique Bengali dessert from Bikrampur, Dhaka, Bangladesh. Bibikhana Pitha is a soft delicate cake with 'melt in your mouth' kind of texture. It's a mildly sweet rice cake with an earthy touch from rice flour, crunch from coconut, enriched with thickened milk, sweetened with date palm jaggery and molasses and flavored with ghee (clarified butter) and freshly crushed cardamom.
But the uniqueness of this pitha is the smoky flavour which comes from the kath koyla (burnt charcoal) on which this cake is traditionally cooked. This is why it is also called as pora pithe or Poda Pitha.
As this recipe calls for quite a preparation from preparing flame to cooking, this bibikhana pitha is cooked and enjoyed when some special guests arrive at home. And to make it special for guests it is mixed with milk instead of water like other pitha. That is why Bibikhana Pitha is also known as Badshahi Pithe. Traditionally this classic Bibikhana Pitha is cooked by the bride.
The newly wedded women begin their cooking journey at in-law's home with this bibikhana pitha right after the wedding. It is said in old days it was a test of the cooking skill of bride; if she could cook it perfectly the responsibility of kitchen would be her onwards.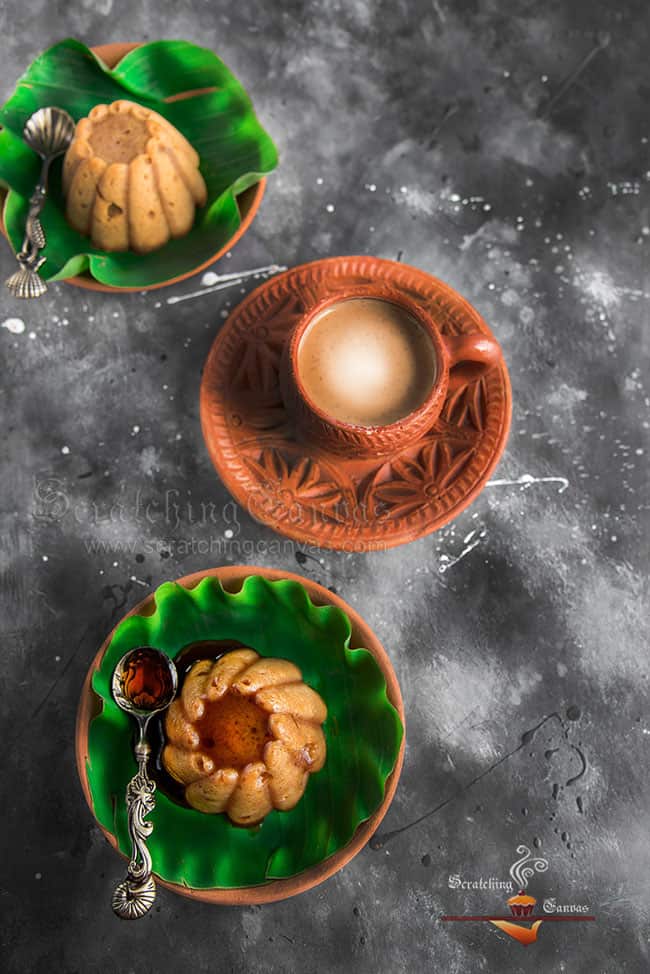 Pin
If you wondering how do I know so much about this local dessert, all thanks to Rimli, who is an expert in the Bengali cuisine. She is the only person that comes to my mind if I talk about authentic Bengali recipes. Her each recipe is a labour of hard work and would transport you to a Bengali kitchen in every sense.
While I was compiling the list of guest bloggers for this year she was the first one to make it to the list. I regularly find myself getting inspired by many other Indian food bloggers and Instagrammers who are doing an amazing work and she is one of them. Her blog Scratching Canvas is a treat for any Bengali food lover.
Rimly says, 'Hi there, a warm greeting to the entire family of Fun FOOD and Frolic. It's a wonderful feeling to share this heirloom recipe with fun food family. When Hina invited me to share a guest post I was more than happy to do so. I know Hina for a long time through social media and we had little chit chat over there when she visited my city recently. I'm an ardent fan of her blogging and management skills. I admire her passion and energy towards the job and how she manages the entire thing so effortlessly.
So when I was thinking of making a post for her I knew it has to be something special, very close to my heart; a classic Bengali delicacy – Bibikhana Pitha. So here I have a very unique and traditional dessert in my sleeves, Bibikhana Pitha, straight from the soil of Bangladesh where my soul truly belongs.'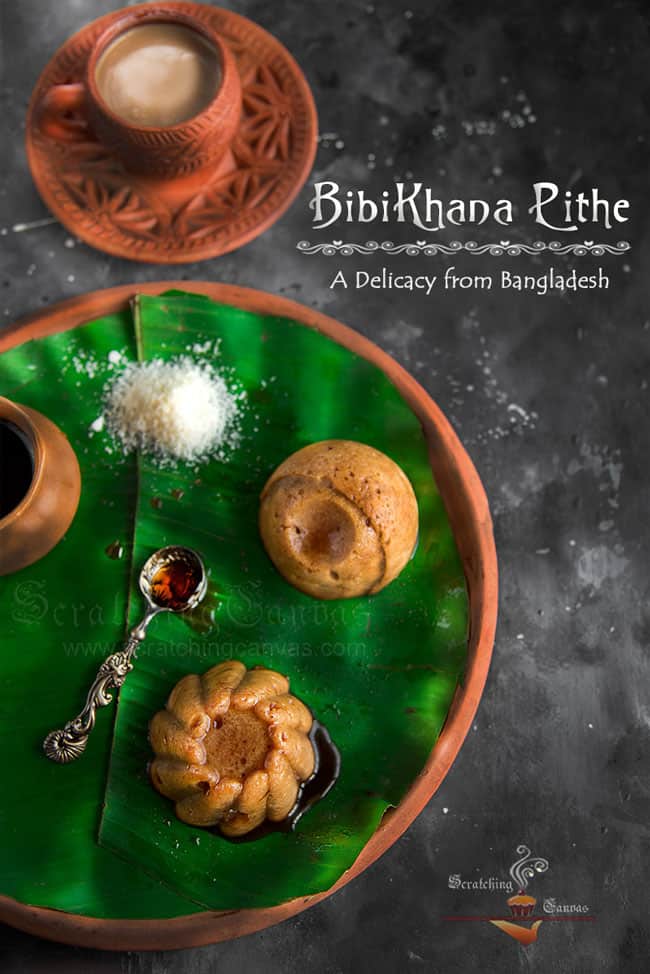 Pin
Other Regional Indian Desserts You Might Like To Try:
How To Make Bibikhana Pitha In Few Simple Steps:
If you try this recipe and love it, please leave a comment and a rating. This helps us grow and reach many other food lovers like you, who are looking for a perfect tried and tested recipe.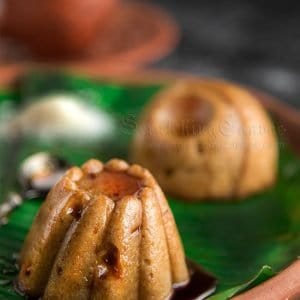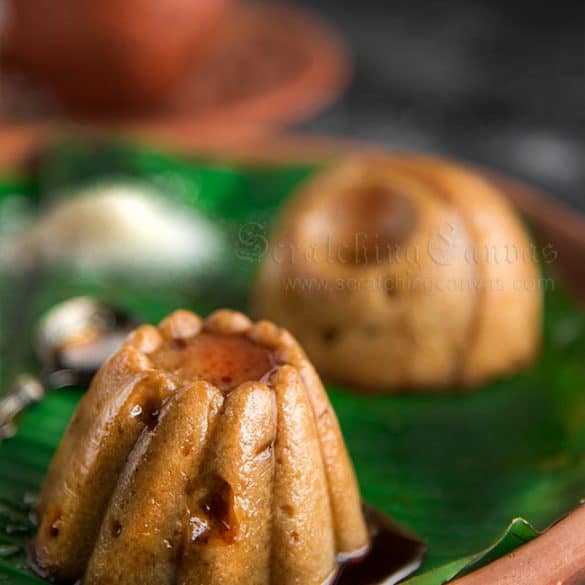 Bibikhana Pitha Recipe
Bibikhana Pitha is a soft delicate cake with 'melt in your mouth' texture from Bangladesh. Learn how to make bikrampurer badshahi pithe in few simple steps.
Print
Pin
Rate
Ingredients
1

Cup

rice flour

2

tablespoon

all-purpose flour (maida)

optional

1

Cup

desiccated coconut

1

teaspoon

cardamom powder (elaichi powder)

¼

teaspoon

black pepper powder

a pinch of salt

½

Cup

date palm jaggery (nolen gur)

2

tablespoon

date palm molasses+ more for serving

¼

Cup

clarified butter (ghee)

1

Cup

milk

2

eggs
Instructions
Sieve and sift all-purpose flour and rice flour together. Mix desiccated coconut and ground spices (including salt) with

the flour

mixture

and set aside.

Whisk egg, ghee, and jaggery together to a fluffy batter. Use a hand blender if required for the purpose.

Add molasses to milk mixture and whisk briskly.

Add flour and milk alternately in 3:2 ratios to the egg batter and mix until smooth lump-free batter

forms.

Grease a heatproof pan/bowl with ghee and pour the batter into the pan/bowl.
Gas Stove Method:
If you are cooking bibikhana pitha on a gas stove/stovetop take a large pan with tightly fitted cover. Place a

wire rack inside and place batter filled pan/bowl on the stand. Cover the large pan with

the lid

and keep on

low-medium flame. Cook the

pithe

this way for 60-70 mins or until a skewer comes out clean once

inserted in the middle of the

pithe

.
Oven Method:
If cooking in the oven preheat oven @160C and bake the pithe for 55-65 mins or until a skewer comes out

clean once inserted in the middle of the pithe. Remove cooked pithe from oven/gastop and keep on a

wire

rack to bring to room temperature.

Serve Bibikhana pitha warm freshly made along with nolen gur (date palm jaggery).
Recipe Notes:
This recipe yields either one pitha of 8 inch or small cupcake size 8 pitha. 
You can use either the gas stive method or the oven one to cook the pitha. 
★ Did you make this recipe? Don't forget to give it a star rating below!
For Behind The Scene updates
Subscribe to our newsletter!