Besan Bhindi Fry is truly a delicious Indian side-dish with a lot of crunch to it. What is Besan Bhindi Fry? Tender okra (bhindi) marinated in a spicy gram flour based marinade and then shallow fried till crisp. It is one of the best side dishes to serve with Dal, Kadhi or any other vegetarian curries. It tastes so good with rice, pulao, paratha and even chapati as well. Since the day I figured out the Besan Bhindi Fry Recipe, it is a regular affair on my everyday lunch plate. And things that are regular in my kitchen definitely make it to the blog post to spread the cheer of easy, everyday comfort food. If you have an okra hate club member in your family then this Besan Bindi Fry recipe will definitely change their opinion forever.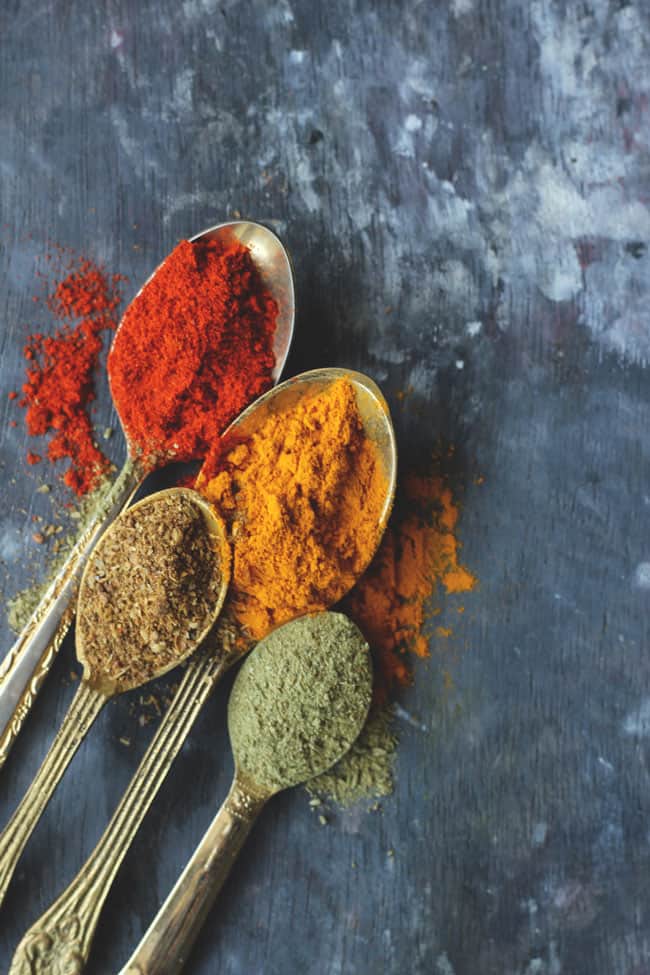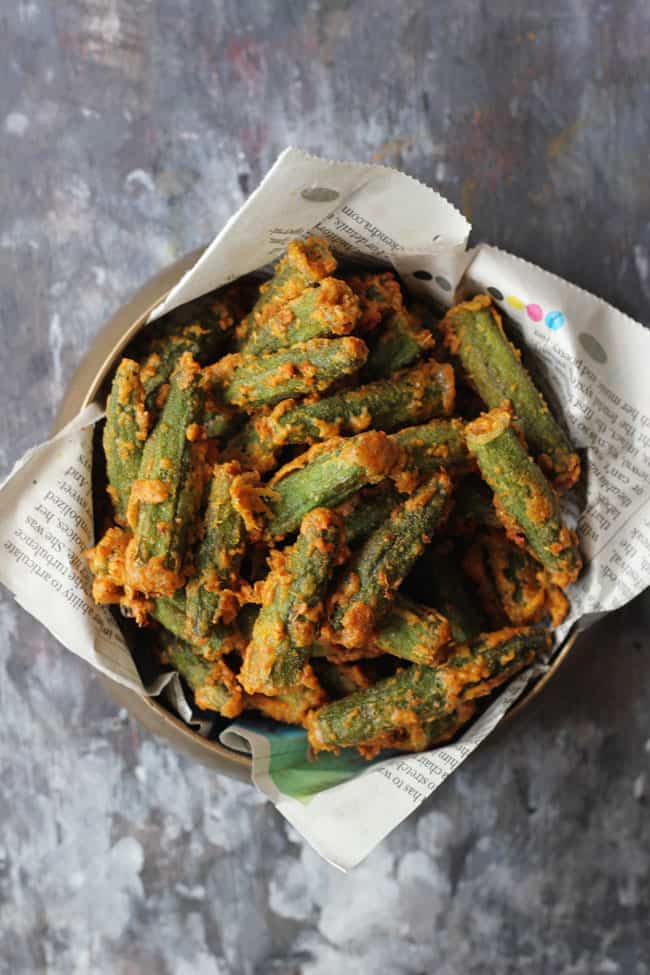 There are certain things to keep in mind while making Besan Bhindi Fry. If these key points are missed, there is a high probability you might end up with an inedible version of Besan Bhindi Fry. It happened with me during the initial phase of recipe trial.
Make sure the bhindi (okra) is completely dry before chopping and marinating. Else, it might turn sticky to handle.
While marinating the okra in the masala do not add too much water. One to two tablespoon of water is sufficient. We do not require too liquid batter for the marinade.
Always shallow fry the okra over medium heat. So that they cooked evenly from the inside too.
Do not wait for the okra to get crisp while shallow frying. You need to bring it out of the oil just before it is about to turn crisp. Because fried okra turn crisper a few minutes later, once it comes out of the oil.
Serve Besan Bhindi Fry immediately post shallow frying as this dish does not stand re-heating process very well. It turns soft post re-heating.
There are two methods to make this Besan Bhindi Fry. You can follow either one of them. The one involving oven is a healthier version. While the other one suggests a regular shallow frying method. Depending upon the time and leisure you can pick any of these two methods to make this Besan Bhindi Fry.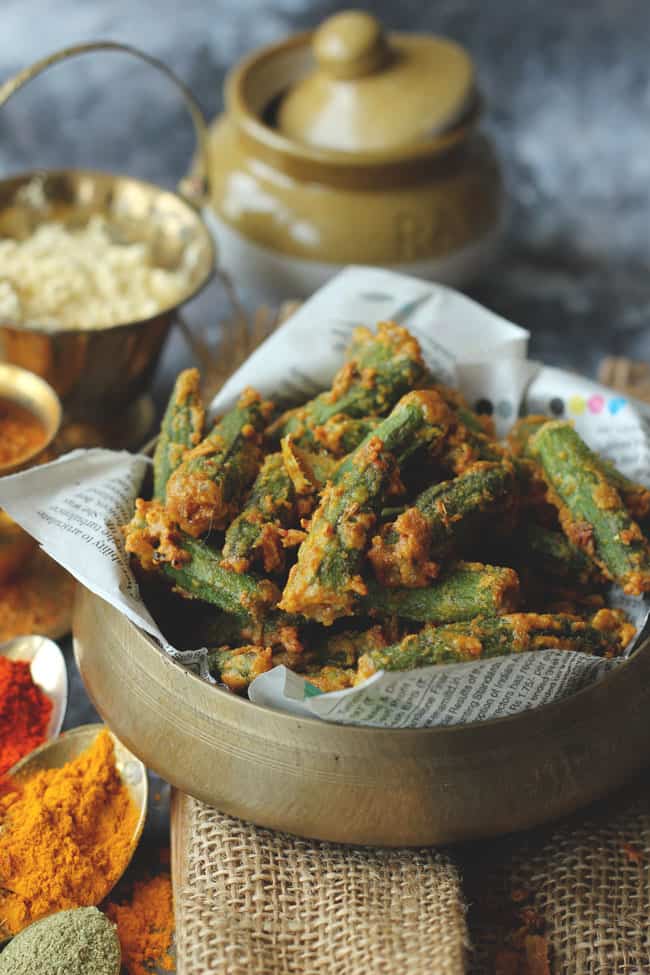 Method 1:
You can bake this Besan Bhindi Fry as well. All you need to do is marinade the okra as suggested in the recipe below. Preheat the oven to 180 degree Celsius. Drizzle a tablespoon of oil in the baking tray. Spread the marinated okra in the baking tray. Bake in the preheated oven for 40 minutes. Turing the okra after 20 minutes for the even, crisp texture. The oven baked version of Besan Bhindi Fry is super healthy and tastes equally good. It requires a bit of time but that is totally worth it if you are conscious about the calories.
Method 2:
Shallow Frying is the conventional method to make the Besan Bhindi Fry. And you get crisp, crunchy, tasty Besan Bhindi Fry in no time. This method is explained in detail in the recipe mentioned below.
Let me remind you whatever way you follow to cook this Besan Bhindi Fry – the end result would be delicious and succulent. Or maybe, you can try both of them on different occasions, like I did, and then take your pick before making final notes about this recipe.
For more such fun recipes in your life, follow along on Facebook, Instagram, or subscribe to our Youtube Channel.

How to make delicious Besan Bhindi Fry?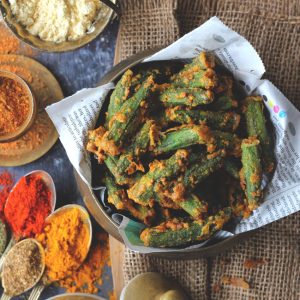 Besan Bhindi Recipe
Besan Bhindi Fry is truly a delicious Indian side-dish with a lot of crunch to it. Learn how to make crispy besan bhindi fry in few simple steps.
Print
Pin
Rate
Ingredients
250

gram

ladyfinger

bhindi

1/4

Cup

gram flour

besan

2

tsp

achaar ka masala

see recipe

a pinch of asafoetida

1

tsp

red chili powder

1

tsp

turmeric powder

1

tsp

dry mango powder

amchur

1

tsp

coriander powder

Salt to taste

Oil to shallow fry the bhindi
Instructions
Wash the ladyfingers. Spread them on a dry kitchen towel.

Pat dry using paper napkin or kitchen towel.

Remove pointed top and bottom tip of the okra.

Make a slit lengthwise in the okra without cutting them into two equal halves.

The slit should be wide enough for masala to get stuffed inside.

If the size of okra is too big, cut it into two equal halves for even cooking.

Add all the ingredients except oil over the prepared okra.

Mix nicely using your fingers. Add a tablespoon or two of water to moisten the masala.

Make sure the masala is nicely stick to the okra.

Keep it in the fridge till you are ready to shallow fry.

Heat oil in a wide shallow fry pan.

Once oil is heated reduce the heat to medium.

Fry marinated okra in small batches till crisp from all the sides.

Transfer to a plate lined with paper towel.

Similarly, fry the entire batch of marinated okra.

Serve Besan Bhindi Fry with Arhar Dal (

see recipe

) and Phulka for lunch.
Watch Recipe Video